The Chanhassen Dinner Theatre has been producing shows for 50 years now, and the history is written on the walls. "You can feel the history in the building, in the dressing rooms, in the warm up spaces—there's signatures on the wall from people. It's a cool space to be in," says Rush Benson, a first time performer with the Chanhassen Dinner Theatre.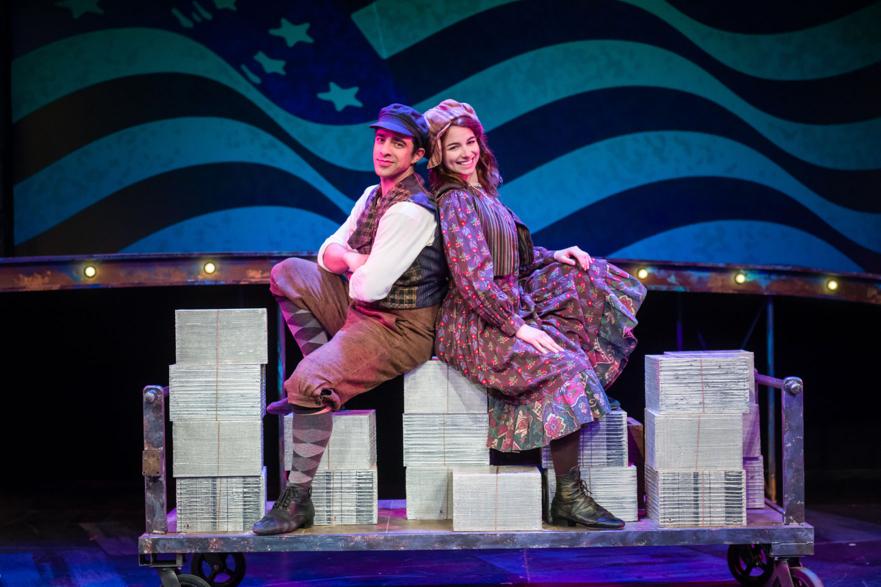 In celebration of these 50 years of history making productions, the Chanhassen Dinner Theatre is introducing "Disney's Newsies" to the Main Stage. They summarize the show as, "Inspired by the real-life Newsboys Strike of 1899 in New York City, Jack Kelly hawks the headlines day-in and day-out with countless other newsboys ("newsies") trying to save enough money to make his dreams a reality. New York World publisher, Joseph Pulitzer, realizes he can maximize profits by raising the price of the "papes" and does so without a word to the newsies. Upon seeing Pulitzer's greed, the newsboys protest and declare a strike against the publishing giants. Realizing it will take more than his friends to make a difference, Jack rallies all the newsies in New York City. Through courage, determination and friendship the newsies are ready to seize the day and take a stand."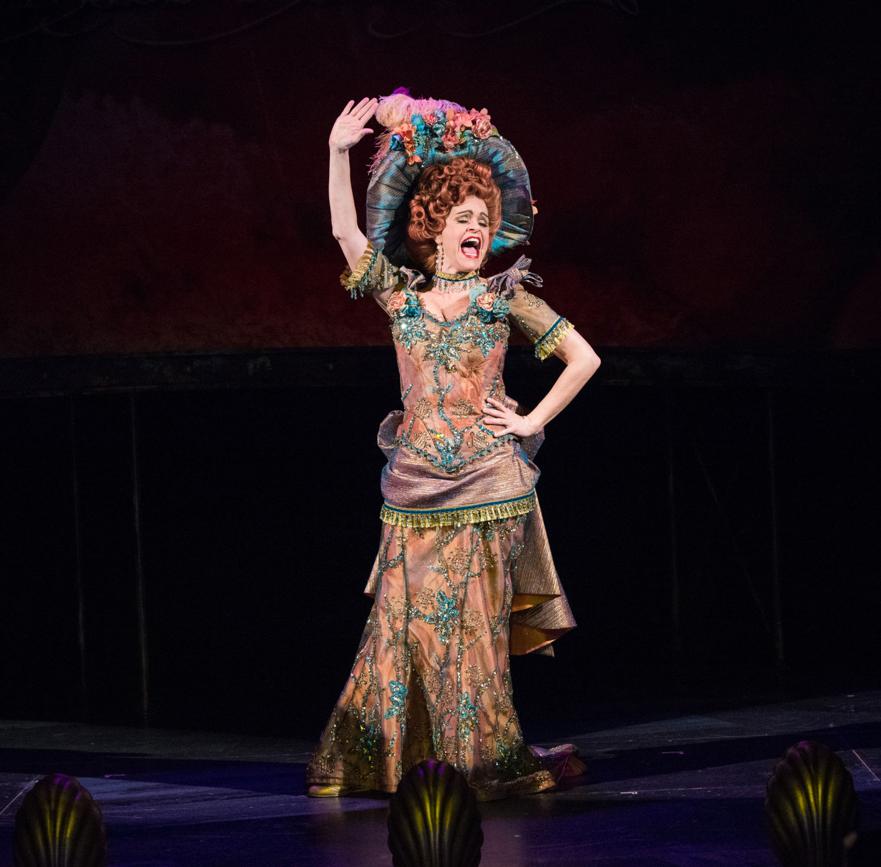 President and Artistic Director Michael Brindisi is enthusiastic about "Disney's Newsies." He says, "We always get excited to bring our audiences the newer productions as they become available to our market. As is the case with 'Newsies,' Chanhassen is the first theatre to get the rights to produce it in the region." Brindisi continued, "It's such an appealing show, and an important one because its story is based on a real historical event. Young people standing up for justice, for what's important, it's very important stuff. For this reason, it will resonate with today's audiences. We've put our own mark on it and can't wait to share it with everyone."
Renee Guittar, a veteran performer with the Chanhassen Dinner Theatre, is equally enthusiastic about this season's production. When asked to share her favorite aspect of the show Guittar stated, "I think for me my go to would be the message of the play. Just the fact that it's about doing what's right and what's just, and these kids standing up for themselves when they really don't have much. They have no money, a lot of them were homeless, and they decided to stand up for themselves anyway and I think that's really cool. And I wonder if I would have done that if I were them?"
"I love the thematic content of the show and that it just resonates with us--and empowering the voice of the young generation I think is really important. And that we get to do that everyday makes me very fortunate," Benson agrees.
This is Rush Benson's first show at the Chanhassen Dinner Theatre, which meant he was able to experience one of the Theatre's many traditions after his first performance. "It's called The Fall," says Benson. "When a new person is taking on a role for the first time, to commemorate that performance the opposite gender cast dressing room storms into the other dressing room and all falls down at the end of the show," says Benson. Before storming the dressing room the opposite gender cast bang on the walls, whooping and cheering, and once they enter the room they locate the first-time performer and all fall down in front of them, cheering and flailing their limbs in the air. "It's like a big WOO! It was fun," says Benson.
"I think Rush was scared," Guittar adds with a laugh.
Benson says that part of why he came to work at the Chanhassen Dinner Theatre for the first time was to have the chance to work with his girlfriend, Guittar, but also because he really loves this particular show. "I wanted to do 'Newsies.' Really, that's the dream. They picked a winner from my dream list and I worked my tail off to get here," says Benson.
Unlike Benson, Guittar has been in several other productions at the Dinner Theatre in the past, including "Beauty and the Beast," "Camelot," and "Grease." With all of her experience at the Chanhassen Dinner Theatre, Guittar was able to speak to the blend of professionalism and family that she has found with the theatre. "I really love the mix here of professionalism, but also family. We're all here for each other and help celebrate each other's life events and things, but with eight shows a week you also just have to be on top of your game. And sometimes that can be a hard mix but I feel like here there's a good chemistry and a good vibe and it helps also that everyone seems to really like the show."
Guittar went on to add that a big part of the 50-year success of the Chanhassen Dinner Theatre is owed to the successful partnership of director Michael Brindisi, choreographer Tamara Kangas Erickson, and musical director Andrew Bourgoin.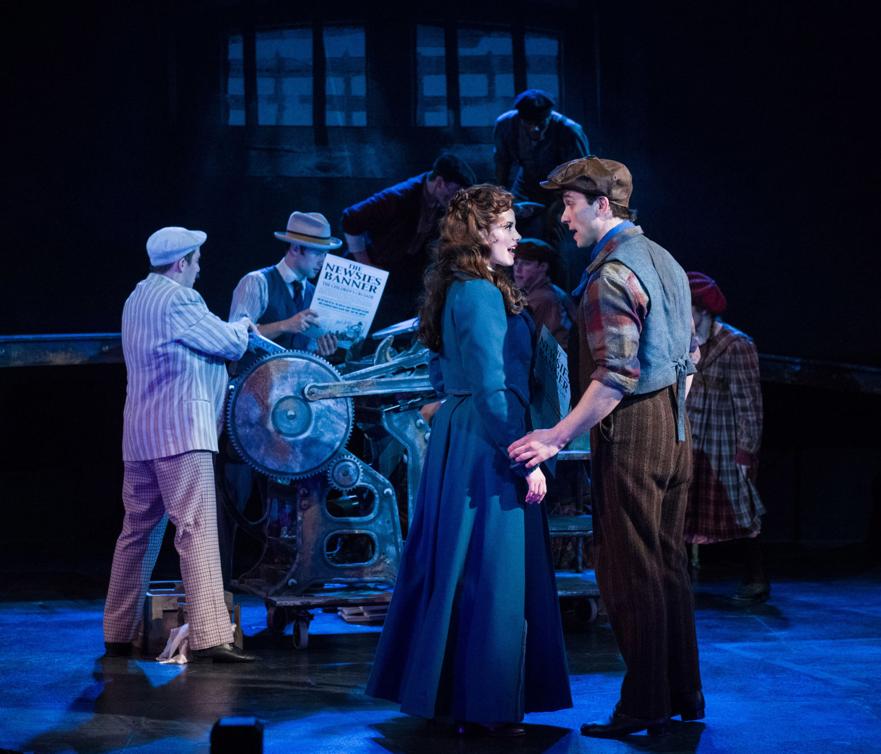 "I think that one thing to note about the Dinner Theatre that's really cool is that Michael, our director, and Tamara, our choreographer, they've worked together for so long and they have a really good working relationship, and again very professional, very friendly, and that trickles down. I think it can be hard when you're in a show where there's not that relationship. So it's really cool to be in a place where you know the director and the choreographer and the music director are all, they have each other's back and then they have your back too," says Guittar.
"Disney's Newsies" will run through September 29. For times and prices for the show, go to ChanhassenDT.com or call the box office at 952-934-1525.