Massage is no longer considered a luxury. It's about taking care of yourself.
That's the biggest change in perception Cathy Stahlke has seen she became a massage therapist 23 years ago, and it's the mantra of Balance Life Wellness, her Waconia business that marks its 10th anniversary this year.
Balance Life is a group of wellness professionals offering massage therapy, yoga and pilates studio classes, acupuncture and reflexology. The focus is on providing relaxation, therapy and healthy alternatives to help individuals achieve balance and wellness in their lives.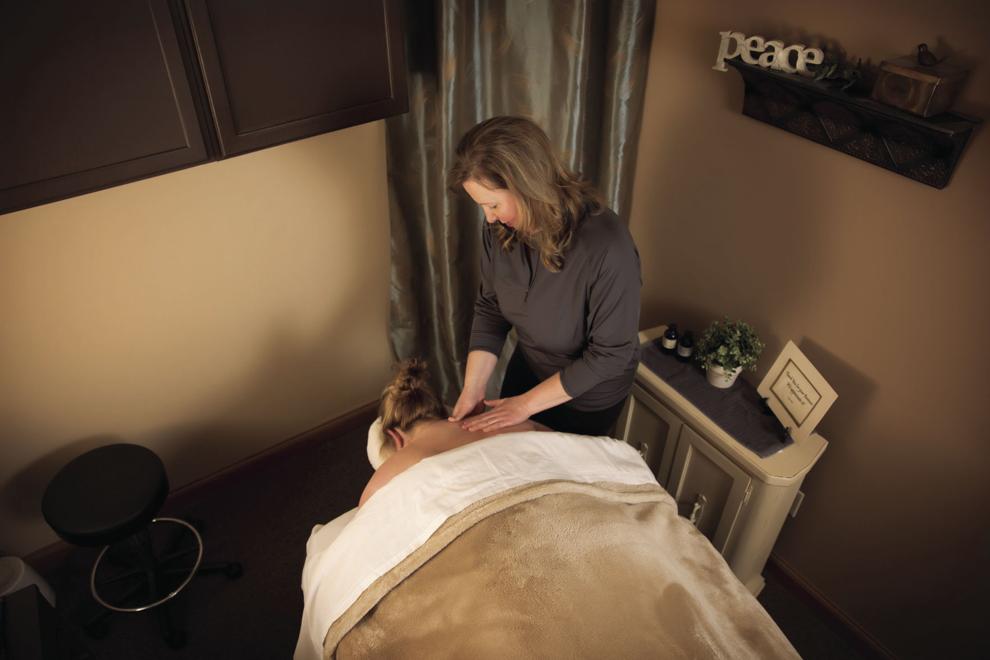 "Taking care of yourself should never be considered a luxury. There is only one you," Stahlke said. "Traditional health care waits for signs or symptoms to occur and then reacts. We emphasize that it is easier to stay healthy than it is to get healthy."
And she emphasizes that massage can offer significant benefits in terms of relieving stress, treating injuries – even helping cancer patients deal with the effects of chemotherapy.
"We have recognized the healing power of touch for some time," Stahlke said. "But now doctors are prescribing massage, which has given it a greater level of validity."
When she started doing massage therapy, the general perception was that massage was a luxury offered at clubs and expensive spas, a notion she dislikes immensely.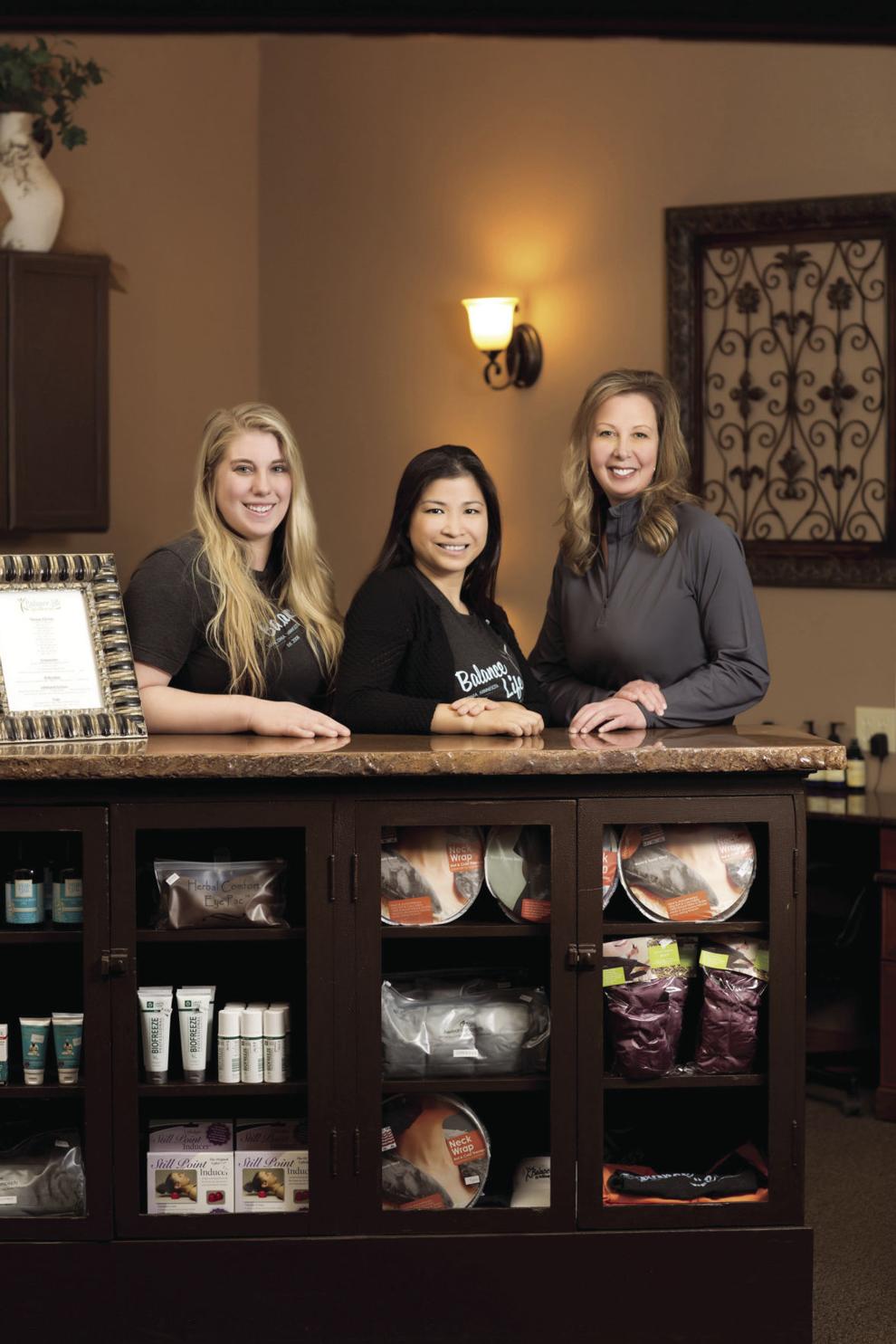 "Makes massage seem elite and superficial," she said.
But now massage is applied widely not only for relaxation and stress relief; but also for recovery from neck and other pain from automobile accidents, repetitive stress and other injuries, treatment for concussions, and more.
Stahlke became a part-time massage therapist to help people, but massage also helped her deal with her own stresses working in the marketing and advertising field. As a migraine headache-sufferer, Stahlke says she experienced the benefits of massage therapy first-hand. Strongly interested in providing the same relief to others, and in making a career change, she began her education to become a certified massage therapist.
After receiving her certification in 1995, Stahlke began her new career at a Mankato chiropractic office. Embracing the opportunity to work with clients and patients, she effectively began marketing the therapeutic massage offerings.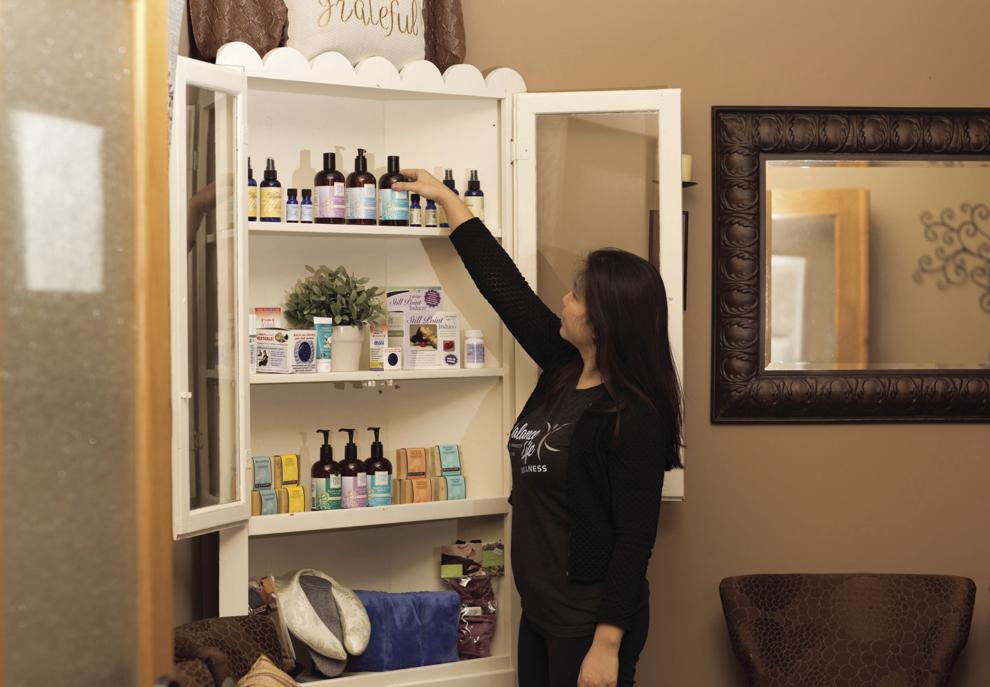 After building up that aspect of the business to four therapists and finding success and repeat clients, Stahlke sought a greater challenge and the satisfaction of owning her own business. She also recognized the need and growing interest in natural and quality wellness products, as well as holistic alternatives and enhancements to traditional healthcare.
In 1998, she parlayed her skills into Balance Life, LLC, in Mankato. Based on the theory of "stronger together," Stahlke brought a group of experienced certified massage therapists under one roof, sharing expertise, and enabling the group as a whole to have a greater outreach than each could do individually.
"I am not surprised by Cathy's success," said Marsha Murphy, one of her Mankato clients. "From the moment I met Cathy I could tell she had a genuine compassion and caring for those around her. More than 20 years later, I continue to experience the benefits of regular monthly massages."
Stahlke and her husband Gary eventually relocated to the Twin Cities area and she sold her business to a therapist who had worked with her for years. That business continues to operate in Mankato under a new name. While starting their family, Cathy worked part-time at a chiropractic office in the west metro, again implementing tissue therapy and therapeutic massage sessions prior to chiropractic care.
Realizing a need in the Waconia area for massage therapy services, and knowing the success of the business model she had used in Mankato, Stahlke made the decision to create and build a Balance Life in Waconia. In 2008, Balance Life opened its doors with three experienced therapists and massage therapy as a foundation of business.
Gayle Guthland was one of the first people to walk through Balance Life's door and has remained a loyal client ever since.
"I do weekly studio classes, as well as, regular massage and acupuncture sessions," she said. "Balance Life has helped me recover from injuries and cancer treatments, and continues to help me maintain a healthy lifestyle. "
Balance Life added acupuncture and Chinese medicine to its menu of wellness services in January 2011. In August 2012, Balance Life expanded to its current 2,400 square-foot location at 138 South Olive St. And again, Stahlke's marketing imprint was not only on the new service offerings but also on the facility design. The welcoming and soothing space offers a comfortable waiting area, warm and relaxing treatment rooms, and a large studio facility with weekly class offerings.
Today the Balance Life team comprises 12 wellness practitioners and two front office staff, with plans to add another acupuncturist and one more massage therapist this year.
"You are only as good as those around you, and I have surrounded myself with the best," Stahlke said. "Balance Life has success because of our incredible group of wellness practitioners. I am grateful to have this team. They are educated, highly trained, with more than 75 years of combined experience."
"I am so blessed to be a part of the Balance Life group," said Kim Heckmann, certified massage therapist. "I love working with Cathy. She is always encouraging me to learn and to grow in my profession,"
The Balance Life team also is deeply vested in the community, Stahlke notes, volunteering at Relay for Life and other local charity and fundraising events.
"The goal of Balance Life is to help our community be healthier and make a difference in the lives of the people around us," Stahlke said. "As a society, we pack as much in to one day that we possibly can and, let's face it – people are stressed out. Educating and promoting self-care and healing is the business of Balance Life.
"I have found a number of benefits from regular massage from the Balance Life team, especially after weight training and strenuous exercise," said Robert Schmatlz, one of a growing number of men using wellness services. "I have found that I recover faster and feel better. This helps me to get more out of my workouts and the ability to perform better. Therapeutic massage has become a regular part of my wellness routine."
For the future, Stahlke notes that massage as hospital based complementary care continues to grow.
"We are coming into the best years for it," she said. "For illness, injury, post-surgical treatment and infant delivery, complementary care decreases pain and anxiety and increases the healing process. Never underestimate the healing power of touch!"