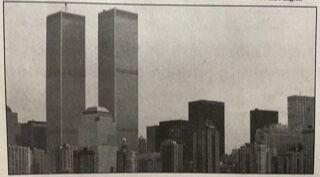 Tuesday was layout day during my 30-plus years as editor of the Princeton Union-Eagle and I had gotten to work early on the morning of Sept. 11, 2001, to begin writing two columns that I wrote weekly. I was working on the sports column when the phone rang about 7:50, an unusual occurrence since the office wasn't yet open for business.
Against my better judgment I answered, wondering who it could be at that time of day. These words came from a friend in the Twin Cities: "Are you watching television?" I answered no, that I wasn't, because I was at work. "Why?" I asked.
The answer was my notification that a Boeing 767 loaded with 20,000 gallons of jet fuel had crashed into the north tower of the World Trade Center. And as we talked the person on the other end of the line said, "Oh my god. Another plane just crashed into the other tower."
And that began a day of anger, sadness and confusion as we in the United States contemplated what had just happened. It was made even worse as there was an attack in Washington, D.C. about a half hour after the second tower was hit, and then about a half hour later a plane hurtling to the ground in Pennsylvania as brave passengers, including a Minnesotan, brought that plane to the ground as they kept it from causing further damage on a day that none of us who are old enough to remember will ever forget.
Now here we are, an unbelievable 20 years later, as we remember one of the darkest days in our country's history. About 15 years before the 9/11 attack I had visited in New York City for a couple weeks, staying in a place across the street from one of the city's oldest firehouses. I spent part of an afternoon talking to firefighters who were lounging outside on a beautiful September afternoon, waiting for their next call. Some of them were very young second- and third-generation firefighters, not an unusual happening in a city where there are third- and fourth-generation firefighters and police officers. They talked about how they had always wanted to be firefighters like their fathers and had fulfilled their dreams by doing so.
I thought of them that afternoon of Sept. 11, 2001, wondering if any were among the 343 firefighters lost that day, firefighters who rushed to the scene as others were doing their best to get away from the two towers. Today in 2021, as I think about that day, I think of a good friend in Florida who is a retired New York City cop who lost a number of friends that day. Whenever we have talked about that day I sense a change in him, seemingly a vacant stare as his thoughts go back to that day while he talks about the friends he lost.
At 10:30 our time I began a column that day that ended up being written at six different junctures, the final one being at 7 a.m. the next morning as the enormity of what happened had begun to unfold. "Our world has changed forever," was my first sentence the morning of the attack and later I thought I had  been too reactionary. But I soon realized it was true, and wrote, "When life is valued so little that something like this can happen, there is not a place in the world that is safe, not even a little town in Mille Lacs County."
That evening, after the paper was finished, I refereed a ninth-grade football game. A school board meeting set for that night was called off, although some Princeton High School events went on, some thinking it was best to not let an event like the attack change what we normally do. All the talk at halftime of that ninth-grade football game was about the terrorist attack, words of retribution being part of the conversation.
When I got home from the game and turned on the television and saw those horrible pictures, the anger for me, and I'm sure for many others, began to build. Meanwhile, lines a couple blocks long formed at Princeton gas stations as rumors of $3.50 for a gallon of gas began to spread. The cost in Cambridge was said to be $6 and $8 in Mora, someone told me, and he swore that a fight began in Cambridge when someone hauled a bunch of gas cans into a gas station on a truck. It was obvious that we didn't know what was going to happen next in our country.
At 10:30 that night I sat staring at the computer screen as I worked on the column that ended up being titled, "Anger — and a fear for the years ahead." I wondered in the column about what was next and what possessed "anyone to plan such a gutless and destructive act." As the hours went by that night there was more and more a need felt to strike back for what had happened, even though it wouldn't bring back any of the thousands of lives (the final tally was 2,977) that had been taken that day.
"Life can be a beautiful thing," I wrote. "On most days I absolutely enjoy it. And there's never been a day when I didn't love this country (even when I disagreed with some of its actions). But tonight I fear for my children's generation, and their children's generation, and for the world."
I finished the column at 7 a.m. the next morning as they found some survivors in New York City, the city that never sleeps. "That offers some hope," I wrote. "But more than anything our country must be united in purpose as we search for the "faceless cowards" that President Bush talked about last night."
And, for awhile, the county was united like it hadn't been for a long time. Patriotism was no longer ridiculed. A night after the attack I was at a bar in St. Cloud when an older fellow walked in and, disregarding the karaoke going on in another section of the establishment, began singing "God Bless America." Some laughed - after all, it was a bar - but there was also applause and some of us joined him in the last few bars of the song. As it turned, he was ahead of the curve because that song and the "Star-Spangled Banner" became the songs of choice in America. The anthem was played two nights later by the Princeton High School band at the football game and there were no snickers as there sometimes are when someone puts their hand over their heart. There was a run on flags being displayed at homes. The American Legion post in Princeton had a large stock of flags and people drove from other towns to purchase them, 89 being sold the first two days and then 15 more sold early the next Monday morning. Mike Haehn at Princeton Hardware bought 20 from the Legion to sell, and then bought 20 more two days later.
We did stories galore the following week in the Union-Eagle with people who knew people who were in New York City and others who were involved. Maureen Gould of the local Public Utilities office received word from the FBI to increase security of the city's water supply as there was worry about more terrorism. Gas, a week later, was still at $1.71, as the rumors about an increase in gas prices turned out to be just that, rumors. Publisher Elmer Andersen wrote that there was an opportunity to unite the "peace-loving world to eliminate terrorism and isolate countries that condone and harbor those who plan such horrendous acts." Andersen, once the governor of Minnesota, warned against hasty military action because then there would be millions of lives in jeopardy, not thousands.
The country truly was united and patriotism wasn't considered something to make fun of. Twenty years later that's not always the case. Myself, and many others, were hoping back then that patriotism would last a lot longer, never guessing we would end up with a president who made fun of the military and called some of its members who lost their lives in war "losers and suckers." Luckily, not everyone feels that way. It's still a good country and it didn't become a good country overnight because of the attack, as some seemed to think back then.
This weekend will be a time for those of us who can remember that day to think again of what happened, as well as thinking of the people who died in those planes, and those on the ground as they rushed to help. There have been stories in newspapers, on the radio and on television this week, and there will surely be more on Saturday, the 20th anniversary of that awful day. I will watch, as millions of others will, and we will relive the horrors of what happened that day.
And many of us will wish for a country as united as we were in September of 2001.