It will be a Big, Bright, Beautiful World in the Princeton Performing Arts Center when the stage is transformed into the fairy-tale land of Duloc- a place where ogres enjoy taking mud showers and snacking on slugs and bugs.
Princeton High School presents Shrek the Musical Nov. 5-7 and Nov. 12-14. Friday and Saturday performances are at 7:30 p.m. Sunday performances are 2 p.m. matinees.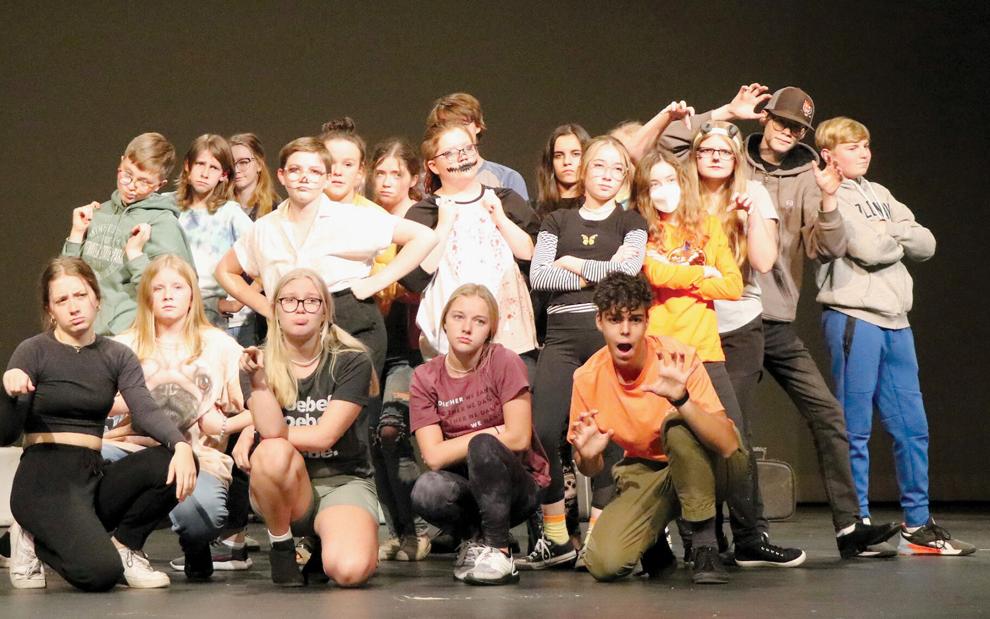 "Shrek the Musical" follows an ogre who fights to keep his home after the wicked Lord Farquaad evicts a group of fairytale creatures on his land. Shrek ends up tasked with rescuing Princess Fiona from a dragon-guarded castle. Aided by his friend, a talking donkey, he rescues the princess and quickly learns that looks can be deceiving.
Based on the 2001 DreamWorks Animation film "Shrek," along with elements of its sequels: "Shrek 2," "Shrek Forever After" and William Steig's 1990 book "Shrek!" The musical was developed with music by Jeanine Tesori and lyrics by David Lindsay-Abaire. It debuted on Broadway in 2008, with a movie version of the musical released in 2013.
Alex Frantesl plays Shrek the ogre. Iris Bienusa plays Fiona, a princess who is transformed into an ogre. Owen Haubenschild plays the role of Donkey, which befriends Shrek and follows the ogre on his escapades.
All three leads in Princeton High School's performance of Shrek have a history in PHS theater.
Alex Frantesl says he never imagined himself having the opportunity to play the role of Shrek.
"But it's one of the favorite characters I've ever played," Alex said.
That's saying a lot when he's has a role in "Annie", played Pugsley in the "Addams Family", and Lon Smith in "Meet Me in St. Louis."'
Shrek lives in a swamp in the middle of the forest by himself. Shrek appears to like being by himself and enjoys scaring people, but never hurts them. 
In one of the opening scenes, a group of villagers approach Shrek and try to convince him to scare away a group trying to force the villagers from their homes. Shrek agrees in order to return to a life of peace and quiet.
Alex enjoys playing a character who is so grumpy, but at the same time, so fun.
He has also found in fun to play a role that is friends with Donkey.
"For me, that's fun, because Shrek befriends Donkey, and I am friends with Haubenschild," Alex said of his fellow actor who plays Donkey.
Iris Bienusa enjoys playing Fiona because she is a confident and funny character. Fiona is also sometimes "hot-headed," Iris says. That also makes the character fun to play.
"Fiona definitely has her own personality. She's a lot of fun," Iris said.
Iris also enjoys being in a lead role in a musical because of the music she gets to perform.
"I perform about eight songs," she said.
Owen Haubenschild might be familiar to the Princeton audience from his past role as Warren Sheffield in "Meet Me in St. Louis" and lead roles in the past two years' one act plays.
Owen says he has always liked performing in musicals and the fact that he gets to step out of his own persona and act like someone else. Or something else, in the case of playing Donkey.
Of Donkey, Owen says, "He's a funny character that allows me to goof around and say funny things and sing funny songs."
Owen particularly likes the song, "Don't Let Me Go," which he sings right after meeting Shrek.
"It's a song in which Donkey compares himself to the ogre and has memorable lines, such as "You don't know what it's like to be considered a freak! Well maybe you do. But that's why we gotta stick together!"
Hannah Jenson is the artistic director of the musical. Charles Moe is the music director. Julie Moore is the assistant director and Laura-jean Jones is the choreographer. Richard Fillafer is the lighting and sound coordinator.
The performance runs 2 hours and 30 minutes with a 15 minute intermission.