Princeton Public Utilities has a "Know Before You Vote" button prominently placed in the top left corner of the electric and water utility's website page.
There's a good reason for that. Clicking on the provided link opens a list of frequently asked questions about a Nov. 3 ballot question that asks city residents if the three-member commission that oversees PPU should be abolished.
Near the end of the FAQ, there's an interesting question involving who gets to vote on what's become a contentious local issue that will be decided on Election Day.
Not all PPU customers will get a say in abolishing or keeping the three-person commission because the ballot question is city precinct specific in nature.
The issue was examined during the PUC's Sept. 23 meeting when General Manager Keith Butcher was asked to provide additional information as well as interpret a Princeton map showing city limits and a map showing PPU's service territory.
Butcher was asked if there was a way to determine exactly how many PPU customers would not get to vote.
He responded by presenting demographic data from the U.S. Census and other information in an attempt to answer the question.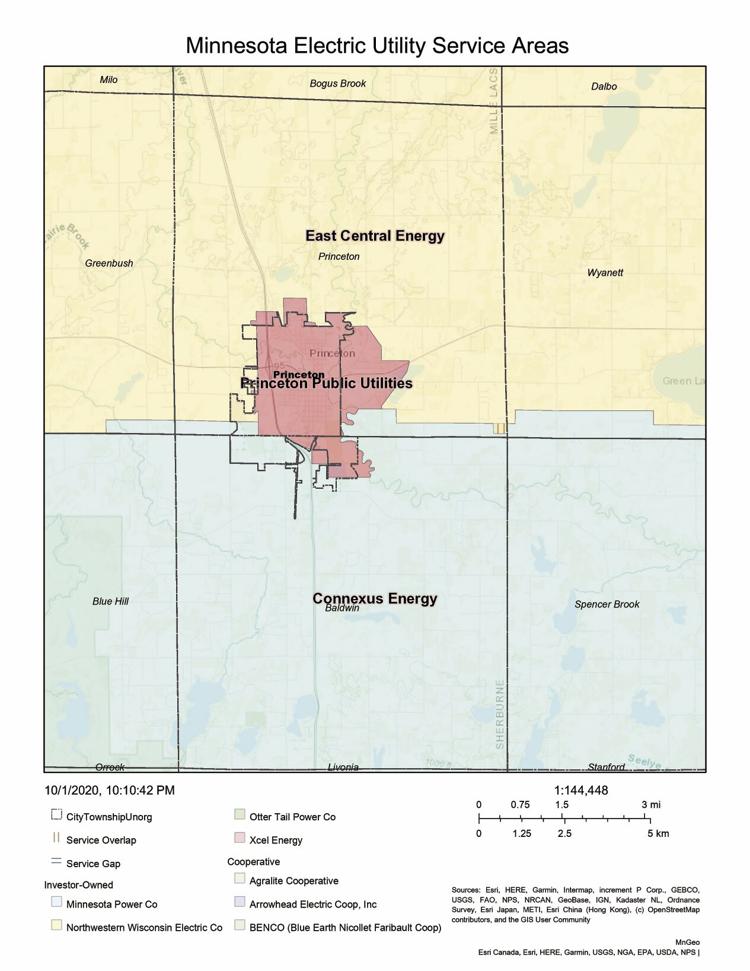 "In looking at our electric service territory, we have 2,300 residential accounts," he said. "We did a review of our billing system, and determined if someone was within city limits by whether or not they were being charged a franchise fee. That's the metric that we had used. Of those residential accounts, 248, or 10.8 percent, were not being charged a franchise fee, and therefore, would not be within city limits," Butcher told the Union-Times in his direct response at the Sept. 23 meeting.
Butcher said that according to the Census data he found, the average household size in Princeton is 2.4 people. "That's obviously a high number, and we would have to discount it and be careful in considering those people voters."
The other item that Butcher found in the Census data was under demographics.
There, 28.9 percent of the Princeton population is under the age of 20. Butcher said he took 2.4 people per household, but then discounted that by 71.1 percent, to arrive at an average of 1.7 people over the age of 20 in each local household.
"If you assume one PPU account per household, which is a pretty reasonable but not perfect assumption that's as close as I can get, and assuming you have 249 residential accounts, and if you multiply that by 1.7 people per household, I get a rough number of 422 people who can't vote on the Nov. 3 ballot question."
City Administrator Robert Barbian advised Butcher and the Union-Times several times during the Sept. 23 meeting to check with the Minnesota Secretary of State's Office regarding the ballot question and who gets to vote.
"It's not a ballot question outside of the city limits," Barbain said. "If you really want to know the correct answer, I think you ought to look at the source that makes the determination. If nobody has checked there, it's something you or the city attorney or the county ought to double-check. I have no further comment."
Butcher then addressed PUC Chairman Greg Hanson with a reply comment.
"I think our website statement that there are people outside of city limits who cannot vote on this ballot question is accurate," Butcher said.
Hanson said the Nov. 3 vote stays within the city. "It was the city's decision to put this on the ballot. It's a city issue. People who are city residents get a chance to vote."
The Union-Times contacted Risikat Adesaogun, press secretary and deputy communications director with the Minnesota Secretary of State's Office, for clarification regarding the Nov. 3 ballot question.
Adesaogun checked with an attorney in her office and explained that Princeton is a statutory city.
Under Chapter 412, statutory cities may have public utilities. Sections 412.321 to 412.391 govern those utilities. Section 412.391 provides for the abolition of a commission.
"Because the commission is a city agency, the voters referenced here are city voters," she explained. "So, this is entirely determined by statute. This is really a municipal law issue more than anything else."
Mille Lacs County Auditor-Treasurer Eric Bartusch also attempted to answer the question originally asked by the Union-Times during the Sept. 23 PUC regular meeting.
"I think there is a misconception out there that every utility ratepayer is going to be able to vote on this topic," Bartusch said. "The answer is, 'No, they can't.' The city put this particular ballot question together. It deals with the way the utility should be governed. That's another way of putting this question."
Bartusch said the city can't put things on township ballots, because non-ratepayers would end up voting on a question that doesn't concern them.
"I get there are a couple of hundred ratepayers who may not have the ability to vote on this topic," he said. "This is a city issue, not a township issue. That's what the Minnesota Secretary of State's Office would get at if they addressed this further."
Bartusch disagreed with Barbian's assessment regarding the secretary of state.
"It's really a precinct issue," Bartusch said. "In Mille Lacs County, in Princeton Township, and in Sherburne County, in Baldwin Township, each of those townships has its own ballot. The ballot design does not drill down to the individual address level. Even using a utility service territory overlay map, there would be no way to insure 100% of all Princeton Public Utilities ratepayers had the ability to vote on this particular topic while keeping other voters out, especially those who live outside of Princeton city limits and just happen to be on Princeton electric lines."
Bartusch used the example of property owners living in Twin Cities or metro suburbs who pay partial taxes on Mille Lacs Lake properties to further his point.
"Here in Mille Lacs County, we have a lot of cabin owners who may live in Edina or a similar location," he explained "They may not like some of the local politics up here, or they may not like the tax rates. They can't for a commissioner because they don't live here. Regarding the situation with the utility in Princeton, people might not like it, but this is an issue that really involves a city ballot question."
Bartusch said a likely practice in such situations is for the Minnesota Secretary of State's Office to defer comment to the local election authority at the county auditor level.
Bartusch said he had spoken with Sherburne County Auditor-Treasurer Diane Arnold about the Princeton Public Utilities Commission Nov. 3 ballot question.
'It's not on any of her township ballots, either, for the same reason," he said. "She does have a sliver of Princeton city that appears on Sherburne ballots."
Prior to coming to Mille Lacs County, Bartusch worked a financial analyst the Minnesota Public Utilities Commission and as an administrative assistant CenterPoint Energy. Those positions were in St. Paul and Minneapolis.
"This is a vote to send control to the council. If there's a 'Yes' vote, that doesn't mean Connexus Energy is going to come rolling through and take over. If this passes, the council has oversight. That's where the debate is occurring. Is it better to have a three-person commission acting strictly in the interest of the utility or the city council in control and making decisions? There's arguments to be had on both sides," Bartusch said.
"If the Princeton city council tells me to put a question on, I put it on," he added.