Ho hum, it's another one of those three-day weekends Americans have come to look forward to, although the Memorial Day weekend has turned into a four-day excursion for many who leave on Thursday after work and don't return until Monday night or Tuesday morning.
And, ho hum, this is another of those Memorial Day columns I wrote for more than 30 years as a newspaper editor in Princeton, and in the past six-plus years of this blog. That's not said in apology, only to warn those who aren't interested in such things.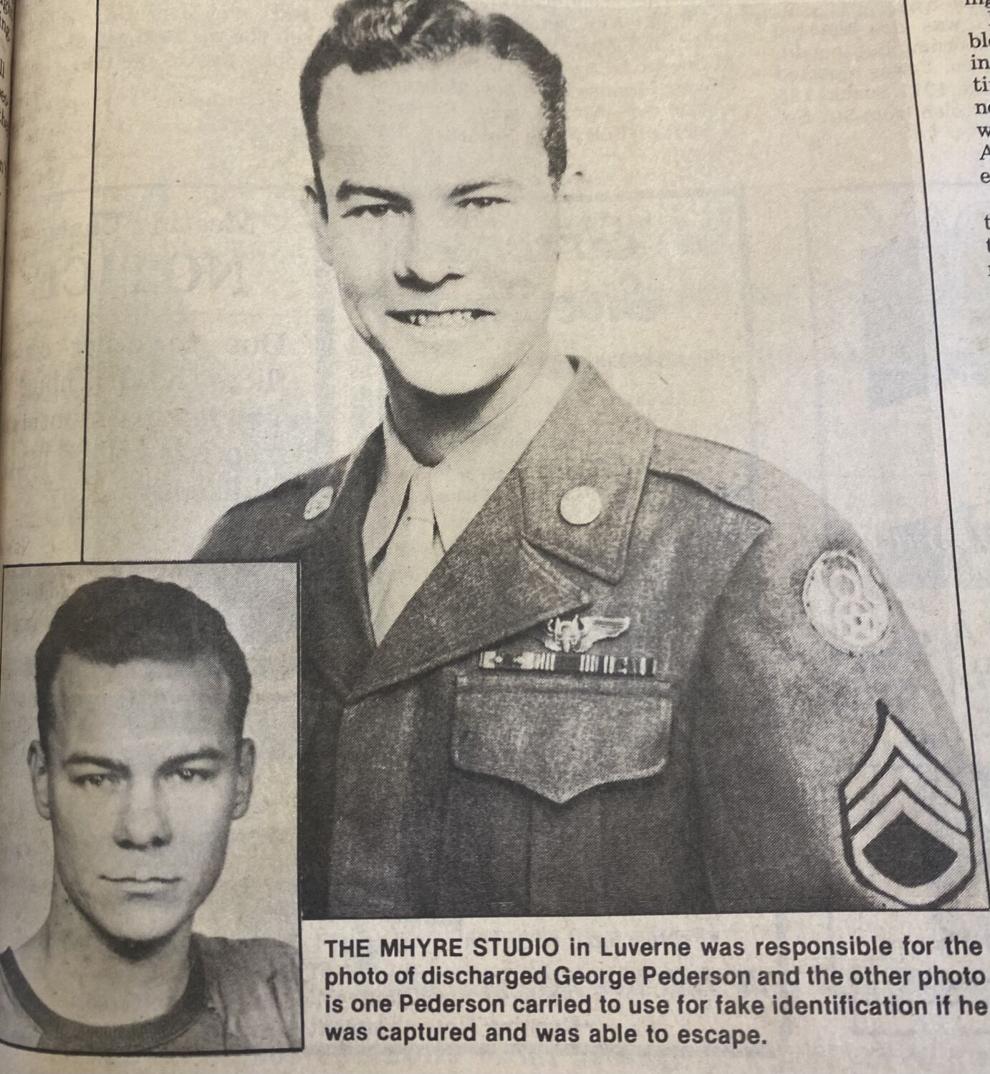 Thirty-six years ago, at the urging of a fellow journalist, I undertook the task of interviewing, and writing about, two men who had served their country in the military. One was 63-year-old George Pederson, an optometrist in Princeton, originally from near Luverne, Minn., who served as Princeton's mayor and on the City Council after serving as a gunner on a B-17 in World War II.
The other was Dale Thiel, a 1964 graduate of Princeton High School who joined the Marines and served in the infantry in Vietnam. The idea for that two-page spread in the Union-Eagle was to take a look at two men who were in combat in different wars and to get their take on what they had experienced. George has since passed away and Dale lives in the Princeton area.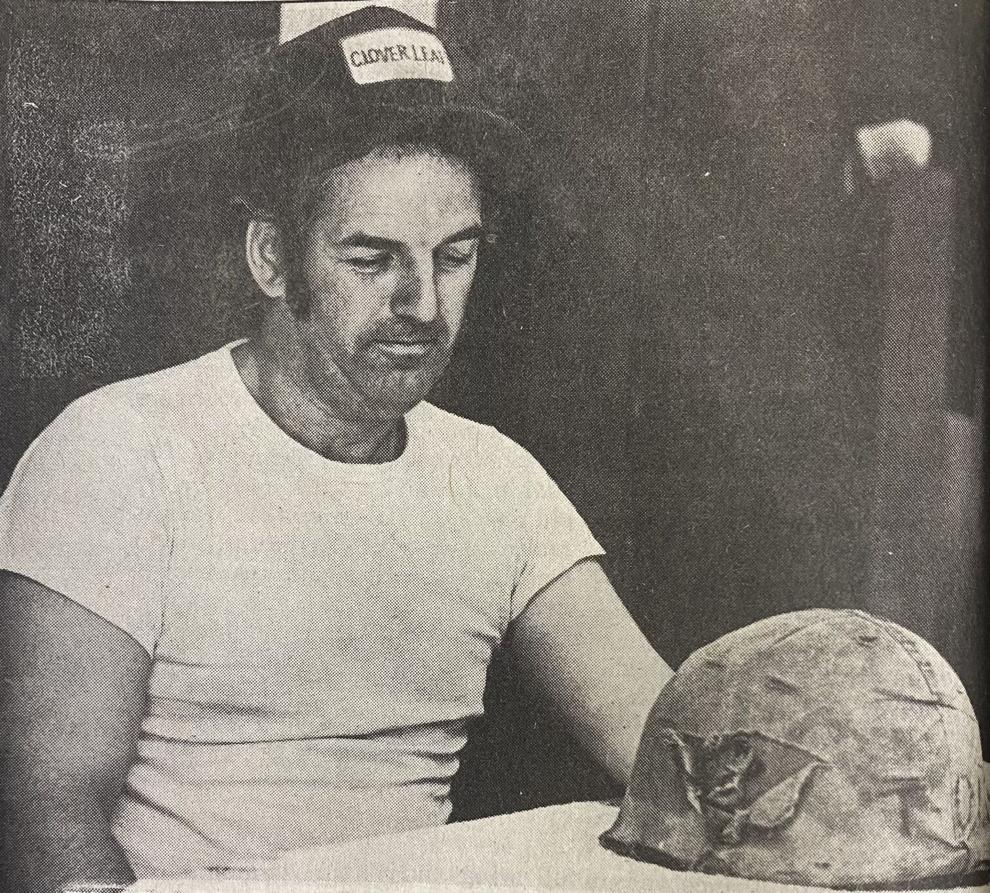 George did his fighting over the skies of Europe and Dale did his in the rice paddies of Vietnam. George was in a war that had the backing of most in the United States, while Dale was in a war that at that time was the most unpopular war in which the United States had been involved. Their time in the military was separated by two decades and vastly different ideologies. But for me, when Memorial Day rolls around each year their stories, and the stories of many like them who served, are inseparable.  
George signed up for the air force (part of the U.S. Army back then) four days after the attack on Pearl Harbor. He was trained as an airplane mechanic but was offered a chance to work in the intelligence sector and took it. He had applied for pilot training but failed the physical because of high blood pressure. He appeared to be stuck with an office job but a medic friend doctored Peterson's records to make his blood pressure appear normal. His first flight as a waist gunner (located in the middle of a B-17) came over France a year after he enlisted and a 19-year-old friend in a nearby plane was killed. "I thought maybe it would be harder than I thought (knowing a man was dead)," George told me, "but when you're young . . ."
He flew 18 missions in four months and was briefed for about 50, the weather scrubbing some of those missions. He eventually became a nose gunner and the euphoria of going on six missions from which every plane came back ended when half of the six planes on a mission to bomb a plane-repair factory in Antwerp didn't return. "Most who had gone down were old friends . . . and I was convinced I wouldn't make it," he told me.
On an April 17, 1943, mission his plane was hit and the radio man, both waist gunners and the ball-turret gunner were killed, and two engines damaged. There were a dozen enemy fighters coming, only two engines were working and there were only two gunners left, a fire started, and the pilot told everyone to bail out. He landed safely but was captured, along with two other men from his plane, and taken to a POW camp. He was moved in October 1943 to Stalag 17 in Austria where there were 2,000 American prisoners.
When the Russians moved into Vienna, Austria, in April 1945, the prisoners in Stalag 17 were moved. He was one of 10 escapees the first night after being moved. On their third night of heading toward Czechoslovakia their leader was feeling his way with a stick in the darkness and accidentally woke up a German sentry by poking him.The group was captured and taken to a farmhouse where SS troops hassled them all night. On May 4 they were liberated by American troops and George and another guy he never saw again caught a ride with an American jeep to Nuremberg, Germany. They were sprayed with DDT, something they didn't know existed, "and we didn't have to scratch anymore," he said. 
He made it back to the States on a voyage that took nine days on a "liberty" ship.  He caught a train from Boston to Fort Snelling in Minnesota and then took a train to his hometown of Hills,  Minn., listening to the conductor complain about the military getting good steaks, coffee, tires, etc. George eventually told him he had been a POW and George said the conductor then shut up. He took a job with Eastern Airlines for $18 a week but decided to attend optometry school and came to Princeton in 1956 after stints in three other towns.
"I'm glad that fellow put down those false blood pressure readings," George told me as our interview neared an end. "I would have missed all that history. It was a million dollar experience you wouldn't want to miss but wouldn't take a million to do it."
And when Memorial Day comes? "I guess every day is Memorial Day for me," he said. "My feelings are so deep that I avoid going to the cemetery. And there isn't a day that goes by that I don't make that bomb run over Bremen again."
Dale characterized himself as kind of a military buff who watched every war movie there was and said the Marine Corps was a childhood dream. "Basically I looked forward to going (into the service). It was something I always wanted to do, to go into a war," Dale told me. So he enlisted late in the summer of 1964 after his days as a football and baseball player at Princeton High School.  His father wanted him to go into the Navy but Dale opted for the Marine Corps to "show" his father, signing up after a summer of playing Legion and town team baseball.
After a 30-day leave in March 1965 following boot camp and four weeks of advanced infantry training, he was assigned to a weapons platoon. They trained until June and then left for Vietnam in a ship, the last combat unit of the Vietnam War to do so. They ended up in DaNang in North Vietnam, a name known well by Americans who followed the war. Operation Harvest Moon, another well-known part of that war, began in December 1965 but Dale said he and his buddies didn't take it seriously. "It started out as a joke to us," he said. "We were having a good time." 
They took prisoners on some patrols and then, on Dec. 9, 1965, they walked into what they found out later was a horseshoe ambush. Things changed dramatically as the fun and games were over. "All of a sudden there was dirt kicking up and we were taking fire from all three sides," Dale remembered."Guys were getting picked off and we looked back and we were there all by ourselves." He was a machine gunner and they found out later a sniper was looking for those with machine guns. "At that point they assaulted and that brings your stomach up into your throat." Dale told me.
Dale took a Vietnamese round to the head, his helmet and helmet liner deflecting the bullet so that it just grazed his head, Dale being told later that the round hit a rivet on the helmet liner and blew it out the side instead of going into his head. He woke up unconscious on a helicopter pad. "A corpsman asked me if I was ok and I said I wanted to stay. He cleaned my ear out for me." And stay Dale did. 
He finished his 13-month tour in Vietnam, becoming a squad leader at the age of 19 when his 22-year-old squad leader was hit, and came back to the States in July 1966 and served until November 1968 when he was discharged. He had lost his desire to be in a war, he said. Most of the rest of his enlistment was spent with guys who had been in combat. "But you never talked about it," he said. "It was just there."
When I wrote the story in 1985 Dale told me he had never seen any of those he served with, including his friend Dave Baggett, the squad leader he replaced, although he said in 1985, 17 years after he was discharged, that he finally might be able to do that. He had thought about his time in Vietnam when I interviewed him and said hesitatingly that he didn't know what to think. "When we went over I really thought we were going to accomplish something," he said. "But I don't know."
He told me then that the war had never completely left him, and probably never would. "It's tough at times," he said. I guess the one thing that gets me is the noise of a helicopter . . . the slap of those blades. I always look up when I hear one to see what's going on. And I haven't shot a gun since I got out and I own three. I suppose I hide a lot of things and avoid it. I never talked to my Mom about it and I respect her because she never asked."
 And when Memorial Day comes? "No, I don't show anything. I don't want to flaunt what I did but I'll usually find someplace to go by myself for a couple hours."
There you have it - words from two longtime Princeton residents who served in combat 20 years apart in different eras. It's obvious that their experiences were still with them in 1985, and are still with Dale 56 years later, some years that were tough for him as he worked out his feelings with help from the VA. He's been a good friend since the '60s and we've talked about it on occasion.
The stories of George and Dale, shortened as I've made them for this piece, should be enough to make all of us think about them, and the millions of others like them who have served, as Memorial Day comes and goes again. Come to the performing arts center on Monday if you're around, or maybe to Oak Knoll Cemetery where the number of flags on graves of veterans has doubled to about 800 the last few decades. Or at least take a few minutes somewhere in the privacy of your home to acknowledge, if only to yourself, what veterans have done for our country. They deserve it.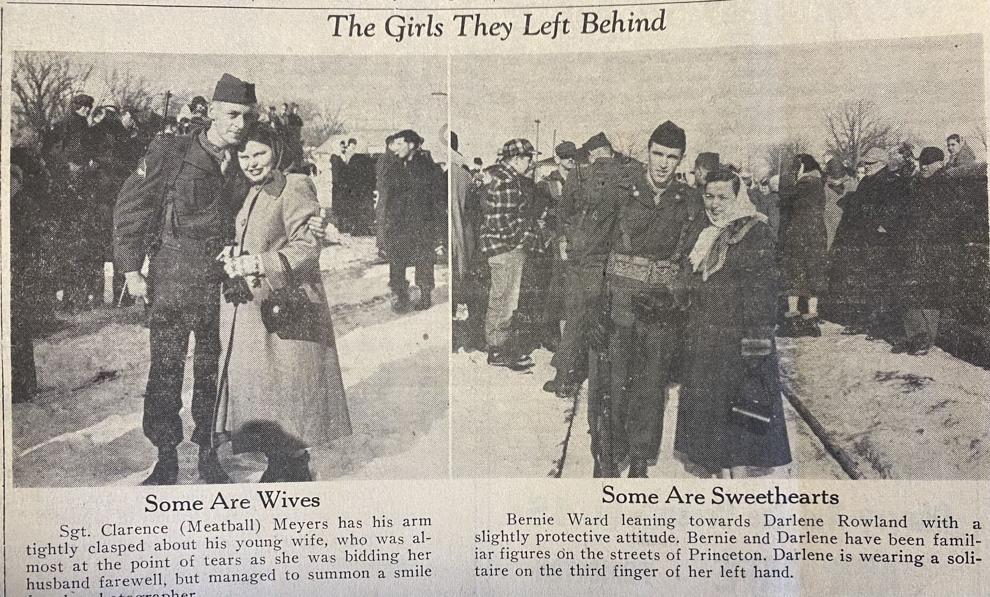 Memorial Day program to feature footage of 1951 Guard unit mobilized during Korean War
Some of them had served in World War II and now, as members of the National Guard unit in Princeton, they had been summoned to serve at least 21 months in the Army during the Korean War in January of 1951, six years after World War II ended. That's the story that Editor Jeff Hage told in his story on the front page of the Union-Times newspaper this week.
Better yet, the story told us, there is film footage of the day they marched to the train depot in Princeton and boarded a train that would take them to Camp Rucker in Alabama, as well as footage from their training at Rucker.  Better yet, a four-minute montage taken from seven reels of film will be shown Monday during the Memorial Day program at the performing arts center, along with some spoken words about what transpired that day and in the days of training ahead.
Eleven pairs of brothers had been in the local Guard unit when they were mobilized during World War II and in 1951 there were again 11 pairs of brothers, although some were different and one 17-year-old received his discharge so he could finish his senior year at Princeton High School and thus not go to Rucker with his brother. Three brothers from the Ed Henschel family were among those leaving, Ed having served in World War I. One of those three brothers was Reed Henschel who had possession of the reels of film shot by his brother Charles who then sent them back to Doc Reynolds, the proprietor of the Strand Theater in Princeton, who would show them prior to the feature film for that week.
The Park Cafe hosted a chicken dinner for the men on Jan. 10, with 68 members attending, six days before the unit was mobilized to active duty in the U.S. Army The men immediately began spending their days at the armory. 
Saturday night of that week a dance was held at the armory with admission at $1 for singles and $1.50 for couples. The amount of $239.50 was reported raised for a fund for the company and by the time they left that fund had grown to $1,500,  $500 more than the goal of $1,000, the local American Legion post contributing $140.
The following Monday, Jan.22, the company boarded a train for Camp Rucker that had picked up a company of Guard members in Milaca and then also picked up companies from Anoka and Hutchinson after its stop in Princeton. Businesses in Princeton closed from 11:30 a.m. to 12:30 p.m. so people could view the departure. Many in the community remained despite the train arriving late at 2:15 on a pleasant January day, as opposed to the very cold weather in March 1941 when the Princeton Guard unit left for training.,
All five commissioned officers of the company were veterans of World War II and five of the top non-commissioned officers (NCOs) were also World War II veterans. The Princeton Union reported that fact this way: "To these men it was somewhat of an old story and there was no glamour in the occasion for them. They were serving as good soldiers who realized their obligations."
The newspaper reported that the men of Company D had been eating each day at Shirkey's Cafe after the unit was mobilized. It was reported that the Shirkeys "really went to bat for them on their final dinner Monday morning at which turkey and pumpkin pie were served."
The train arrived at Camp Rucker at 5 p.m. two days later. They took over guard duty that night and then spent the next three days cleaning the barracks to which they had been assigned. Each soldier was issued a set of new clothes and then granted an allowance of $4.20 a month to purchase other clothes they desired.
In the following weeks Sgt. Emerick Johnson sent letters to the newspaper to be published, one week telling that Capt. Les Gamradt was notified by phone that he had a new baby daughter and he left by plane from Dothan, Ala., to fly home to see her. A couple guys were in the hospital, Johnson reported, and passes had been issued for a weekend in February, although the soldiers had to be back by midnight. And a few weeks later five Princeton women either drove or went by plane to visit their husbands, two planning to stay indefinitely.
Meanwhile, in the editorial section of the Princeton Union, Editor Grace Dunn, who had that position for more than 30 years, was questioning the United States' involvement in the war in Korea.
There are three members of the 1951 group still living in the Princeton area  and Earl Brooks, Barry Hatch and Arnie Whitcomb are all expected to attend at the performing arts center on Monday.
A surprising Minnesota Twins statistic
There will be no report on the surging Minnesota Twins this week, even though they have escaped the basement of the Central Division, moving ahead of Detroit.
Meanwhile, there is this surprising statistic from the first 49 games. The Twins have a record of 11-14 (.440 percentage)  in games without Byron Buxton, their star center fielder, and have a lower record of 9-15 (.375) with him. 
Would you have guessed that? 
PRINCETON SPORTS MEMORIES
June 7, 1951 - The PHS baseball team was to play Elk River at 8 p.m. under the lights in Elk River with the winner playing Mora or Anoka for the District 16 title. It was the first night game ever for a PHS team.
June 9, 1961 - The summer baseball program began with teams for pre-peewees (grades 1-4), peewees (grades 5-8). midgets (grades 8 and 9) and Legion (mainly high school players). Sponsors were the Princeton American Legion, Commercial Club and school district.
June 2, 1966 - Chuck Skarohlid struck out 13 to lead Princeton to a 9-3 win over Clearwater in town team baseball. Bob Nienaber had three hits.
June 9, 1971 - With a jump of 6'3" Ken Top placed fourth in the high jump at the state meet . . . Mike Grow hit .388 to lead the PHS baseball team that had a team average of .305 . . . The town team lost 5-4 in 12 innings at Monticello despite doubles in the top of the 12th by Tom Enger and Luther Dorr to give Princeton the lead.
June 9, 1976 - Dan Johnson placed fifth in the 440-yard dash at the state meet with a time of :50.0 in the large-school competition . . . Dave Mingo struck out 17 in an 8-1 win for the town team over Forest Lake,
June 3, 1981 - A 13-game winning streak and a 15-2 record didn't help as Princeton lost 2-1 to St. Francis in subdistrict baseball . . . Doug Burns won the 1,600-meter run in 4:32.2 at the Region Flour meet and was second in the 3,200 to advance to state in both events . . . Les Nelson (for the second time), Keven Kiloran, Steve Wankel and Jim Belfiori were all-conference for the Tiger baseball team which finished 9-0 in Rum River play.
June 5, 1986 - Karry Schimming, a junior, became the first PHS female to qualify for the state track meet. She was second in the discus at 111'10" in the region meet . . . Ward Thompson placed second in the long jump at the region meet and qualified for state.
June 6, 1991 - Mark Freitag placed first in the 100 and second in the 200 at the section meet to advance to the state track meet. , , , Kris Bottema was second in the discus and advanced to the state meet . . . A Duluth Central team that had a 4-15 record upset a 12-8 Princeton team, 2-1, in section baseball.Tom Kluk had three hits.
June 6, 1996 - Mandee Young (softball) and Jesse Zimmer (baseball) were chosen to play in the state all-star series for those sports . . . Matt England cleared the bar at 6'3" to place second in the high jump at the section meet and qualified for state.
May 31, 2001 - Freshman Angie Haehn qualified for the state golf meet by placing sixth in the Section 8AA golf meet. She shot an 85 . . . Chris Pruett advanced to Section 7AA quarterfinals in tennis by beating a Forest Lake player 6-4 and 7-5 after he lost the first set by a 6-0 score . . . The boys golf team placed second in the conference meet as Cory Pike and Joe Schwartz made all-conference. The girls were third in the conference meet and Jami Sternquist and Haehn made all-conference. 
June 1, 2006 - Junior Alex Osowski earned a trip to the state golf tournament, shooting a 77 the first day and a 78 the second day in Coleraine and tied for fourth place . . . Freshman Katie Loberg earned a return trip to state by placing second in the section high jump. She had qualified as a seventh-grader.
June 2, 2011 - Isaiah Mayerchak advanced in Section 7AA tennis with wins over a North Branch player, 6-0 and 6-0, and over a Chisago Lakes player, 6-3 and 6-1 . . . The PHS baseball team won four of its last six conference games, beating Zimmerman 8-6 in the final conference game after losing to the Thunder earlier in the season. Zack Ludwig got the win. 
June 2, 2016 - Matt Hofstad placed second in the conference for the PHS trapshooting team and Scott Furman was fourth . . . Taylor Laabs placed second  in the long jump in the Mississippi 8 track meet and Larkin Walter was second in the 100 hurdles. Laabs set a school record of 17'8" in the long jump. 
(Dorr is the former editor of the Princeton Eagle (2 years) and Princeton Union-Eagle (31 years), and has written about sports in the area for the past 54 years.)