So Roger Stone got off the hook despite repeatedly lying to members of Congress (five counts), as well as tampering with a witness and his obstruction of a congressional investigation. Word came a few days ago that President Donald Trump commuted the 40-month sentence that Stone was about to start serving.
Speaker of the House Nancy Pelosi has predictably complained and says she might try to change the system. But she didn't say anything when a Democrat was in office.
The president kept a friend, who worked for him during the 2016 election, out of prison. If you or I had gotten convicted of what Stone did, we'd be serving that sentence right now, without a doubt. It's a felony and it should be noted that Stone remains a convicted felon. But it should also be noted that he has gone free because he's a buddy of the president.
Attorney General William Barr said the prosecution of Stone was "righteous" and "appropriate." Robert Mueller, special counsel for the Justice Department, said the decisions made in Stone's case were based on facts and the law, and in accordance with the rule of law.
It seems a majority of Americans think Stone should be behind bars. Many Democrats and even some in Trump's own party have said it's farce that Stone isn't going to prison.
Be that as it may, take a look at what some other presidents have done in the last 240 years, although we'll concentrate on recent presidents. Back in the early days George Washington pardoned only 16 people, Thomas Jefferson 119, Abe Lincoln 343 (including 264 of 303 Dakota Indians, the other 37 being hung in Mankato), Ulysses Grant 1,332 (mostly Confederate leaders), Grover Cleveland 1,107 (including a Mormon convicted of polygamy, and Billy Wilson, an associate of the outlaw Billy The Kid), Teddy Roosevelt 981, Woodrow Wilson 2,480, Franklin Roosevelt 3,687, Harry Truman 2,044 (including 1,523 who violated the Selective Service Act of 1940), and Dwight Eisenhower 1,157.
Jack Kennedy, in office for about only 34 months before being assassinated, issued 575 pardons, Lyndon Johnson managed to pardon 1,187 in his five-plus years (including crime boss Jimmy Hoffa), Gerald Ford included Richard Nixon and Confederate general Robert E. Lee among his total of 409, Jimmy Carter pardoned 566 in only one term and also pardoned 2,000-plus Vietnam War draft dodgers, and Ronald Reagan had only 406 in eight years, including well-known NASCAR driver Junior Johnson who had been convicted of moonshining 32 years earlier.
George W. Bush showed some smarts by issuing only 77 pardons, Bill Clinton had only 459, one of those being his brother Roger who was convicted for cocaine possession. Clinton also pardoned Susan McDougal who went to jail for contempt of court rather than telling about the infamous failed Whitewater land deal of Bill and Hillary Clinton. Clinton also pardoned former business partner Marc Rich who was indicted for tax evasion and illegal trading with Iran, the pardon coming after Rich's ex-wife made large donations to the Democratic Party and the Clinton Foundation. 
The second George Bush pardoned 200 during his time in the White House and Barack Obama topped out at 1,927 for his eight years. One of those was Chelsea Manning, a U.S. Army whistleblower convicted by court-martial in July 2013 and given a 35-year sentence for providing classified documents to WikiLeaks that jeopardized American troops. That sentence was commuted a couple days before Obama left office in January 2017. 
So far, Trump has issued only 36 pardons, including one in his first year in office for an Arizona sheriff who was convicted of contempt for refusing to stop "immigrant roundups." There will likely be some more pardons during the rest of his term, especially if he is not re-elected.
Many consider his pardon of Stone an abuse of power. But there's a long, long line before him of other presidents who have done the same, some certainly to a greater extent. 
---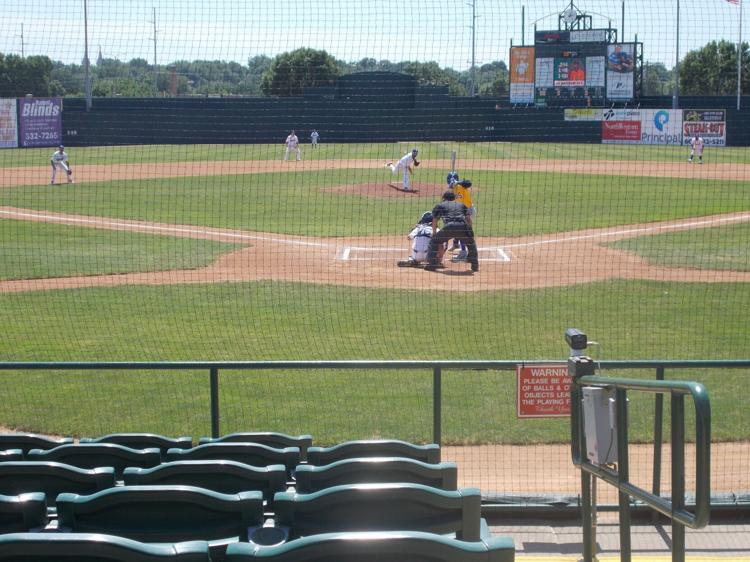 A partial fix for baseball addiction
I had never envisioned a summer where the middle of June would roll around without me attending a baseball game. The last time that happened was about 70 years ago before I discovered baseball during the 1949 World Series between the Yankees and Dodgers.
So I made a trip a couple weeks ago to Quamba to watch Quamba (population 129) play against Cambridge's Rum River Bandits in a town team game. A few days later I attended a town team game in Pierz (population 1,367, TWO teams) to watch those two teams square off against each other on a  steamy Sunday afternoon.
There is no town team this summer in Princeton (population 4,676) — but that's another story, a sad one.
A few days passed and, having never seen the St. Paul Saints (a team in an independent minor league) play, off I went to Sioux Falls on Tuesday of last week to watch them play two games against the Sioux Falls Canaries in the Bird Cage (that's the name of the ballpark). The Saints, unless something changes here in Minnesota, will play all their home games in Sioux Falls this summer during an abbreviated season.
(I didn't run into him but Zach Neubauer, a PHS grad who played high school, Legion and town team baseball in Princeton and is the older brother of PHS baseball coach Jordan Neubauer, works in the promotions department for the Saints.)
Ironically, shortly after completing the 280-mile trip, as I was heading to the park for Tuesday night's game I passed a youth baseball complex where four teams were playing, something that hasn't been allowed in Minnesota. 
We had the usual, it seems, too-lengthy rendition of the national anthem, with extra notes thrown in, and then we had an entertaining game with the temperature in the 70s and a cool breeze. The Saints, after taking two of three from Sioux Falls in a preceding series, lost that night and the next day in the afternoon as their hitting attack was nowhere to be seen. But, no matter, it was good brand of baseball with the hilarious PA announcer (on site from St. Paul, as it was a home game for the Saints), entertaining the crowd throughout both games. I had heard about him and he was as good as advertised.
A Sioux Falls player fouled off seven straight pitches in the night game and the PA guy said, "We have a lot of baseballs but not an unlimited supply." He got the desired laugh. And, late in the game, as a helicopter flew over in the darkness, he came up with, "There's a high chopper over the mound," and it appeared there were only a few in the stands who got it. He had lines for everything. The pig they use in St. Paul to bring the baseballs to the umpire was left back in the Saintly City. But there was a promotion of some kind every inning.
I had conversations both days with fans from Minnesota among the small crowds and that was enjoyable. And the price, at $12 per game, was right. The trip back to Minnesota after the Wednesday noon game was on a different, faster route but it was still 280 miles. I didn't mind — it had been worth it.
You've probably seen South Dakota governor Kristi Noem, in her  pompous TV ad that promotes South Dakota where "we trust our people, we respect their rights, and we don't shut down." She also reminds us there are no income taxes. Thing is, all the states that have no income tax find a way to get you. The Star Tribune, $1.50 here, is taxed there and it costs $1.60. A small cheese strip that goes for 69 cents in Minnesota went for $1.23 in the no-tax state. At the motel there was a "flat tax"  of $2, whatever that is, as well as a state tax and a city tax. In a state where the governor says people are free to do what they want, there were many, many wearing masks, even in an outdoor stadium. Florida, another no-income tax state, levies a 12% rental tax so a $2,000 rental costs you $2,240. The Sunshine State also taxes newspapers. What it amounts to is that the no-tax states find other ways to get you, thus leaving you with fewer discretionary dollars.
To continue the baseball fix I was the PA guy and scoreboard operator last Thursday for a Princeton VFW doubleheader against Monticello, and then ran the scoreboard Friday night for a 19U (high school/Legion age) game that produced a 6-1 win for Princeton over Forest Lake, with some Zimmerman kids playing with the Princeton team.
And, in a few days, the Twins will open the season, Byron Buxton or no Byron Buxton. All we'll get is television games with no fans in the 60-game season but that'll be better than nothing and will provide a regular fix for those addicted to baseball.
---
PRINCETON SPORTS MEMORIES
July 22, 1965 —The Princeton town team, on a coin flip that was decided by league directors, failed to make the Independent Central League playoffs. A rained-out game with Santiago wasn't replayed and was ruled a loss, tying Princeton with Clearwater. Clearwater won the flip . . . Two members of the town team participated in the league all-star game. Willard Daml was the starting catcher and had two hits, and Roland Benson also had a hit. The all-stars lost to first -place Foley 11-2 after Santiago's Luther Dorr began the game by retiring nine Foley batters in a row. He had pitched a no-hitter against Clearwater the previous week.
July 22  1970 — The Legion baseball team upped its record to19-6 with a doubleheader sweep of Aitkin at Princeton. Ron Deglmann (8-1) struck out 13 in a 6-5 win and Bob Soule struck out 11 in a 4-2 win . . . The Princeton town team, with a 5-0 record that led the Independent Central League, folded after forfeiting two games on a weekend because of not having enough players.
July 23, 1975 — Buzz Johnson homered and Dan Kne pitched a 5-2 win at Hinckley for the town team. Two Hinckley players were ejected in the seventh inning and the umpire ended the game because of unsportsmanlike conduct . . .The Legion baseball team (22-2) beat Milaca 10-0 in the opening playoff game on a Keith Julson three-hitter.
July 24, 1980 — Dick Gustafson won the senior men's title at Rum River Golf Club, edging Arnie Dahle by two strokes with a 79 . . . Steve Wankel pitched a no-hitter in a 13-0 playoff win over Mora in Legion baseball. Joel Johnson, hitting .449, drive in three runs.
July 25, 1985 — Tim Vagle pitched a no-hitter and Chad Campbell and Dan Voce each drove in two runs in an 8-0 playoff win over St. Francis in Legion baseball . . . The town team beat St. Cloud Coke, 4-1 and 6-4, at St. Cloud Municipal Stadium in Middlesota League games. Fred Jenson and Bill Riley pitched complete-game wins and Brian Dorr homered.
July 26, 1990 — Matt Skarohlid and Troy Kinney pitched wins for the Legion baseball team over North Branch and Pine City to win league playoffs and advance to District 10 play . . . Chris Klinghagen hit three homers in a 10-9 Princeton Panther win over Hinckley.
July 27, 1995 — Karen Southard won the women's championship at Princeton Golf Club and Rick Cotter, who shot a 74 in the State Amateur Tournament two days later, won the men's title . . . Complete-game wins from Troy Kinney, Matt Skarohlid and Rod Gohman put the Princeton Panthers in first place in their division with a 14-2 record.
July 20, 2000 — Three wins in six days gave the Legion baseball team (15-8-1, 10-2 in league play) its third straight North End League regular-season title as Brent Julson, P. J. Wiedewitsch (only 79 pitches) and Luke Bakken (136 pitches) pitched complete games, Julson homering in a 5-2 win over Hinckley. Corey Erickson homered in Bakken's 8-5 win over St. Francis . . . The Princeton Panthers (15-3 in league play) beat Elk River 10-0 behind Jason Miller's four-hitter in which he threw only 87 pitches, and beat Nowthen 17-3 behind Paul Deglmann (120 pitches) as Brian Dorr drove in three runs and Mark Beattie and Troy Scheffel each drove in two.
July 28, 2005 — The Five Star ladies golf team from Princeton won the five-city competition at the local course as Kelly Dorr was co-medalist with an 82. Other members of the team were Michelle Hicks, Helen Sanborn, Donna Brooks, Marianne Ossell, Judy Ziegler, Kelly Savage and RaeLee Johnson . . . The Princeton Panthers, behind the pitching of Luke Bakken, beat Mora 3-2 to win its league division as Brian Dorr (3 hits, 2 RBIs) singled in the winning run with two outs in the bottom of the ninth . . . Four Class D co-rec softball teams from Princeton - Warzecha Auto, Kingsley Construction, C.A. Olson Construction and Northern Attitudes - qualified for the state tournament at Walker.
July 29, 2010 — The Princeton Panthers beat Mora 3-1 and 4-3 in playoff games to advance to the region tournament. Josh Ludwig (5-0) pitched the 3-1 win and Joe Swanson (8-3) pitched the earlier 4-3 win over Mora
July 23, 2015 — The Princeton Legion baseball team was only 1-2 at its annual tournament but moved on to the Sub State 13 tournament which it was hosting again. Princeton was the No.1 seed with hopes of making it to the state tournament. The one win came on a 5-0 shutout of Marshall pitched by Luke Hallbeck in the opening round. Lino Lakes beat Howard Lake for the title.
.