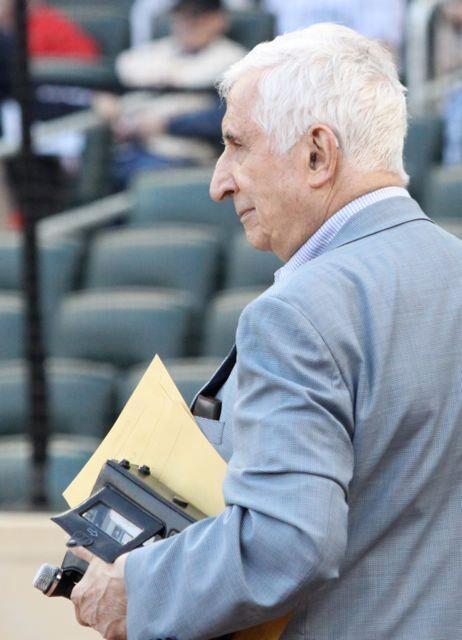 I had my Sunday all planned out. I was going to Minneapolis, for the first time since February in this pandemic year, to watch a granddaughter play tennis, drive back to Princeton and watch what was left of the Vikings game, and then spend three hours gathering and mulching leaves. But now those leaves lie buried beneath Tuesday's snow because I got a text at 3:05 p.m. Sunday notifying me that Sid Hartman had died.
I spent the next few hours listening to WCCO Radio as people from across the state and around the country called in with their remembrances of Sid, the 100-year old dynamo who wrote for Minneapolis papers for 75 years and spent 65 years as a regular on WCCO. And then on Monday for 13 hours until 10:30 p.m. I listened to 'CCO during its day-long tribute to Sid, and then caught a few minutes more around midnight as nationally-known broadcaster Brent Mussberger talked about Sid. The coverage in the Star Tribune has been wonderful this week, with a feature story every day, and the accolades have poured in from all around the country.
As I watched the Tampa Bay-Green Bay game on Sunday there came a moment when I knew that Sid, by one day, had missed a happening that might have been the lead for a Monday column. Tyler Johnson, a Minneapolis North kid who became a star receiver at the University of Minnesota, caught a touchdown pass from Tom Brady. It was his first touchdown reception as a pro. Sid, forever an unabashed supporter of U of M athletics, as well as wondering the last few decades why there were no Minneapolis kids on the Gopher football team anymore, would have been ecstatic. And you can bet that if he was still doing the Sports Hero snippet on WCCO, Johnson would have been the guy Sid had on the phone.
Nearly everyone who has talked about Sid this week mentioned his work ethic, even in his later years when he couldn't get around like he had for decades. Case in point: He broke his hip four years ago, at age 96, when he slipped on some ice. He was up and about a couple weeks later at a news conference announcing the hiring of P.J. Fleck as Minnesota's new football coach, Tribune columnist Pat Reusse writing on Monday that Sid guilted the new coach "into a sacred vow to make weekly appearances on Sid's Sunday radio show."
Many who talked about Sid on the radio brought up the oversized tape recorder he carried around, as well as the microphone that he would stick in someone's face and demand an answer, meanwhile looking around the room or the field to see if there was someone more important to interview. More than one person has noted this week that he would suddenly end an interview and  hurry off to talk to someone else. Legend has it that he followed Joe Namath into the shower for an interview after Namath's Jets upset the Baltimore Colts in Super Bowl III in January 1969, a happening that gave the neophyte AFL credibility by beating an NFL power.
He was a bit rough around the edges at time and he was a true "homer" as he covered Minnesota teams, especially when a University of Minnesota team was involved. I criticized him in print two or three times for making excuses for Gopher teams, as well as blaming the officials for some of Minnesota's losses. After one of those  columns I was in the press box at the Metrodome and the Great Man (Reusse's occasional way of referring to Sid) came walking toward me and I thought "Oh, oh," I'm going to catch it now, even though I thought it unlikely that he had seen an edition of the Princeton Union-Eagle. He asked my name, I answered, and he only wanted to know if I had seen a person he was looking for. I breathed a sigh of relief and answered that I hadn't seen that guy.
There were only two or three other times I talked to him and those occasions consisted mostly of listening to him in the elevator at TCF Bank Stadium after a Gopher football game as he criticized a coaching decision or some other happening on the field. He'd offer an opinion on something the head coach had done, sometimes in colorful language, and then the next morning on WCCO he'd praise that coach to the high heavens. That was a constant through his years — ripping a player or a coach but then cozying up to them the next day or two on the radio. On more than a few occasions he was a cheerleader in the press box for the Gophers, a no-no that carries a reminder that you can be asked to leave. But he was Sid Hartman and could get by with it. One day he made it to the press box shortly before game time and found that there was a shortage of the pre-game food provided for those in the press box. He opened the door to the kitchen and, not so gently, demanded more food — and got it. That was Sid.
As the years went by I began to appreciate more and more his quest for news, or "scoops." I read his column religiously at an early age, listened to him on the radio whenever I could, and watched the Sports Show on television on Sunday nights when he, Dark Star, Reusse (now the dean of sports reporters in the Twin Cities, and a fantastic writer with a vast knowledge of Minnesota sports), Mike Max and other assorted guests would discuss local sports for a half hour. It was must-watch television as Sid and Dark Star sparred with regularity. I'd go out of my way to make sure to be in front of a television set when that show came on the air. And in the last couple decades as he moved into his 80s and 90s, I grew to appreciate that he was still working, still writing columns and still being on the radio. I didn't think much anymore about him being a homer as my admiration grew for his tenacity and his 21,000-plus bylines over the years.
Compared to Sid my nearly 54 years of sports reporting — in a much, much smaller market than that in which Sid worked — may relegate me to the status of being just a cub reporter. But I did have something that happened awhile back, involving my name and Sid's, that made me feel surprised to be mentioned in the same breath. 
A few years ago I had a bit of a dust-up with a couple sports reporters from the Twin Cities after I criticized the way they had reported on a game. One of the two, someone who is well thought of and has been in the Twin Cities market for a long time, gave me a call and we discussed what I had written. By the time the call ended we had come to a fairly good resolution of our differences and he said, "I did some checking and was told you're the Sid Hartman of the north woods, so we're OK."  When I thought about it after the call ended, I took it as a compliment. Besides, it was likely the only time my name and that of Sid Hartman were mentioned in the same sentence.
There truly will never be another Sid Hartman. His was an information column, not a column to probe the whys and wherefores of a particular team or game, with many of us waiting each morning to read the nuggets his "jottings" would reveal. Sure, he had his favorites, he was a bit crusty at times, and he demanded — and usually got — preferential treatment. But he had a heart of gold, as we've heard from many the past few days, and he worked and worked and worked to age 100. And, in a storybook ending, he had a column published the day he died.
The word "icon" gets thrown around loosely at times but Sid was an icon.
---
The time I (almost) scooped Sid
The year was 1982 and there was a new sports publication in St. Cloud with a vision of covering high school, college and professional sports in central Minnesota. The publisher found out I was going to spring training games of the Twins in Orlando and asked if I would do a story about Jim Eisenreich, a St. Cloud Tech athlete who had excelled in baseball at St. Cloud State and was on the Minnesota spring training roster. I told him I would try, not knowing if an editor of a weekly paper from the small town of Princeton, Minn., could even get an interview.
But I wangled an audience with Billy Gardner, manager of the Twins, and in our interview as we stood outside the dugout at Tinker Field he revealed that Eisenreich, in a bit of a surprise, was going to be his starting center fielder when the season opened. I quickly wrote my story (longhand, no computer), included a roll of black and white film, and sent it off to St. Cloud in the mail. I'll admit to being kind of excited that I had a story I surmised no one else had.
Imagine my consternation when I got home a few days later, saw the latest issue of the new publication, and there was no story. I called the publisher and he said he wasn't sure what I had written about a hometown boy was going to happen. A few days later Sid had an item in his column that Eisenreich was going to be the starter in center field. My story appeared in the next issue of the St. Cloud publication AFTER Sid reported it. I would/should have scooped Sid.
An addendum to the story: Eisenreich was hitting .303 after 34 games and 111 at-bats that season, a season that ended early when he walked off the field in Boston during a game as he was being booed by the boorish Boston fans because of nervous tics that were caused by Tourette Syndrome. He didn't play the rest of that season and then had a few at-bats with the Twins the next two seasons, as he battled Tourette Syndrome, and was eventually released by the Twins after the 1984 season.
He went home to St. Cloud and began playing in 1985 with the St. Cloud Saints, a very good amateur baseball team. The Saints, two other St. Çloud teams and Princeton formed a new league called the Middlesota League and Eisy, as he was called by many, played games in both 1985 and 1986 at Solheim Veterans Field in Princeton. We had some great games with the Saints and had a decent record against them, Eisenreich once hitting the longest homer to the opposite field by a left-handed hitter that I have seen in 50 years of watching games at that field. I got to know him a little and talked to him about that spring in Orlando when he was dealing with Tourette. I believe he hit .625 in his first season with the Saints.
After the 1986 season a former Sauk Rapids player (Bob Hegman, who pitched against and lost to Princeton in his senior year) who played in the Kansas City Royals system talked the Royals into signing Eisenreich for a tiny amount of money. He had a hot streak in Class AA ball at Memphis and got called up in 1987 after a drug had been found to help deal with Tourette. He had good years with Kansas City, where he lives now, and later played with the Philadelphia Phillies and Miami Marlins, playing in a World Series with both. The Marlins, a wild card team, won the Series in 1997 as Eisenreich batted .500 and hit a three-run homer. He retired after the 1998 season, leaving behind a .290  career average and five seasons of hitting .300 or higher, including a .361 average in 1996 during which his on-base percentage was a lofty .413. He was a nice guy and it's safe to say all who got to know him were happy for his success.
And to think I could have scooped Sid . . . 
---
PRINCETON SPORTS MEMORIES 
Oct. 28, 1965 — Princeton (2-4-1) lost 13-0 to Elk River to finish 1-4-1 in the Rum River Conference . . .In a pro wrestling card at the armory The Crusher (252 pounds) was to go against Yugoslavian Chris Markoff (245 pounds) in the featured match. Larry Henning of Robbinsdale (270 pounds) was also on the card.
Oct. 28,  1970 — Princeton lost 14-0  to Foley, the first shutout of Princeton in an RRC game in 28 games . . .The new swimming pool, with an exercise area and wrestling room included, was to open. The cost of the building was $538,000 . . . The PHS cross-county team placed second in the Region Four meet.
Oct. 29, 1975 — Dan Johnson and Kevin VanHooser were all-conference in football . . . The volleyball team finished 5-7, 5-5 in the Rum River. Gloria Dubiel led in scoring serves in the final volleyball match, a loss to Braham.
Oct. 30, 1980 — Doug Burns led early in the state Class AA cross-country race but tightened up later and was unable to finish. During the season Burns had beaten almost all of those who placed in the top 10 . . .The volleyball team finished 10-10 after a subregion loss to Cambridge.
Oct. 31, 1985 — After seven straight wins the PHS football team lost 14-0 to Sauk Rapids in the playoffs, finishing with an 8-2 record . . . The PHS volleyball team had a 12-5 record but then lost to Cathedral and North Branch as Karry Schimming led in kills. The team was 5-0 in the Rum River but then lost to St. Francis, Cambridge, Sauk Rapids and North Branch.
Nov. 1, 1990 — PHS grad Craig Talberg set a single-season interception record at the University of Minnesota, Crookston with 11 . . .Princeton (13-11) was told it had the top seed for subsection volleyball but at the last  minute had to play at Cambridge, athletic director Jeff McGonigal saying he had forgotten to add one result.
Nov. 2 1995 — After beating St. Francis 15-6 in subsection play, the PHS volleyball team lost in five sets despite holding a 2-1 edge in sets . . . Justine Topel was involved in four first places as Princeton placed second in the conference swim meet.
Oct. 26, 2000 — The football team lost 20-19 to Foley on a touchdown with 1:14 to go and that meant a tie for the conference title.. But then the team (7-2) beat Cloquet 35-0 to reach the section semifinals, outgaining the Lumberjacks 409-157 as Dane Larsen ran for two touchdowns and threw for another. Princeton averaged 7.6 yards a  play . . .  Kayla Walker had 17 kills as Princeton (10-15, 2-5 in the Rum River) beat Pine City in volleyball to end the regular season.
Nov. 3, 2005 — The volleyball team finished 10-16, 2-6 in the M8 in sixth place, and lost to North Branch in section quarterfinals.. . The football team upset Duluth East 19-13 and advanced as the No. 5 seed to play No. 2 Duluth Central for the section title. Dwayne Warren ran for two touchdowns and quarterback Scott Roehl and Grady Milesko hooked up on a 73-yard pass for the other touchdown. The team had earlier beaten Grand Rapids 36-35 in overtime to advance to the semifinals. Warren, who ran for 150 yards, ran for the two-point conversion in the overtime to earn the victory after Grand Rapids had gone ahead 35-28.
Nov. 4, 2010 — The name of the new conference that Princeton was to be a part of for the 2011-12 school year was Granite Ridge,with Milaca and Princeton scheduled to play each other in football for the first time since 2004, Other schools were St.Cloud Cathedral, Milaca, Foley, Zimmerman, Mora and Little Falls . . . The football team finished 0-9 in what was scheduled to be its final year of competition in the Mississippi 8, losing 34-6 to Becker in the first round of playoffs. Two years later Princeton was back in the M8.
Oct. 29, 2015 — The girls soccer team earned its second straight trip to the state tournament with a 4-0 win over Hermantown, the team it had beaten the previous year to win the section. Goalkeeper Eden Betzler got the shutout as the team's winning streak reached 10. Goals were by Larkin Walter, Kara Schramel, Alanna Mattson and Taylor Laabs . . .  The football team (5-6) lost 41-14 to Hermantown in the title game in Section 7AAAA.
(Dorr is the former editor of the Princeton Eagle (2 years) and Princeton Union-Eagle (31 years), and has covered sports in the area for the past 53 years.)