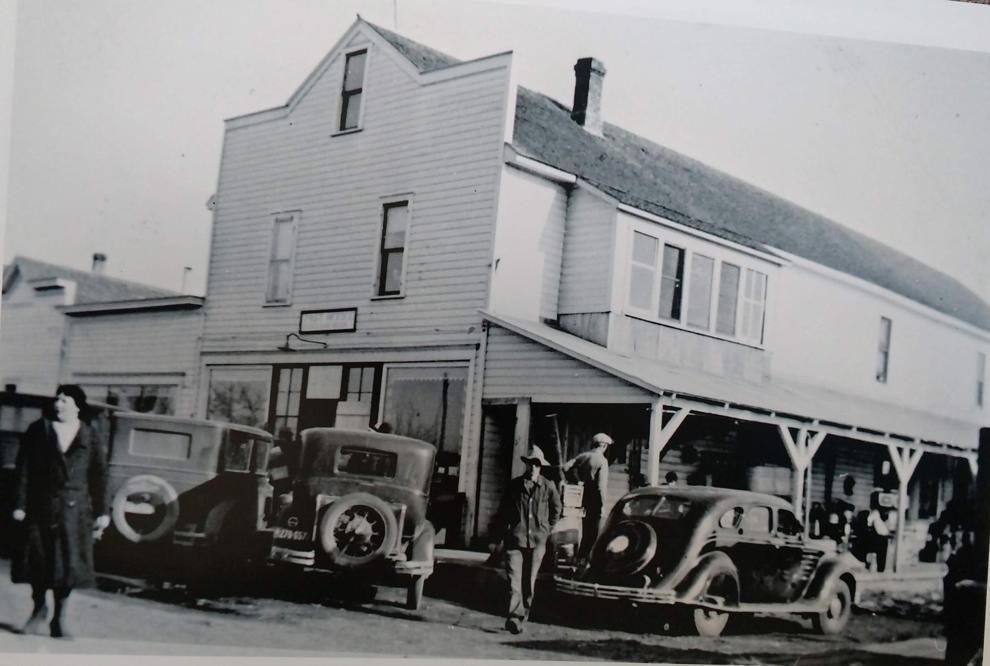 For some it was just a wide spot in the road.
But for many of us who lived in or near Santiago — a small unincorporated Sherburne County town 14 miles west of Princeton — in the 1950s and 1960s, it was heaven. We rarely got to the big town of Princeton (population 2,500) and, besides, everything we needed was in Santiago, located about three miles from our family's house.
The businesses that were there then are all gone, although some of the buildings remain as a gentle reminder of the glory days of the little town, population under 100, that helped shape our lives.
When we went to town from the east the first thing we encountered was the baseball field where the social event of the week during the summer took place in the form of a baseball game on Sunday afternoon. Everyone attended (more later).
Next in line was Art's Pure Oil where Art George, his coveralls caked with grease, would repair your tractor or car, and fill your gas tank. On the other side of the road was, for that era, a large house that housed the family of the town's banker.
Wally Orrock (left) and Alois Alickson, the butter maker, working at the creamery in Santiago during its heyday.
Then came a church and, on the other side of the road, a creamery, an establishment that nearly every little town had back then. Next, on the other side of the road was a locker plant, a place we loved to go to visit on a hot summer day because it was so cold inside. We'd pull open the drawer and get our frozen chicken or beef to take home.
The Santiago State Bank, now closed, was on the same side of the main drag as the locker. It was the site of a couple robberies, one in 1966 by three young lads, including two from Princeton and one who had just been paroled from a correctional facility. They were captured in Princeton as they drove through town in a well-known pink automobile.
 And on the other (south) side of the street was another mansion-like house, a hardware store/post office, and a general store. Those buildings, which housed businesses that provided everything most people in rural Sherburne County needed, are still there today, providing another reminder of the bustling little town we once knew. 
Next in line was the only intersection in town. Straight ahead was a Ford dealership that also sold Allis-Chalmers tractors, Santiago said to be the smallest town in America that had a Ford dealership. Every fall when the new cars arrived there would be a lineup of area residents to see what was next, including the year that Ford came out with the Edsel, a line that was extinct a couple years later. (The Santiago Country Store is at that location today.)
Next door was a bar. It had no name but was a staple of the community, a place where a barber from nearby Clear Lake would come to a back room for a few hours a week to cut hair. And when Sunday's ball game was over, it was for some THE place to be for a few hours, hashing out what had gone right, or gone wrong, at the game. (Bailey Ray's, a bar/restaurant, is on that site today.) And, for a few years before a fire claimed it, there was Sexton's Cafe kiddy corner from the car dealership. The portions were so large that if you ordered a hamburger steak, the hash browns came on a separate full-sized plate. On occasion owner Tom Sexton let ballplayers sneak a beer into the back room to wash down their meal.
And, where the Centra Sota Agronomy Center sits today, there was a mill. 
So, you see, we had everything.You could buy a car or tractor, get your car repaired, fill up your gas tank at two places, go to the bank. get your mail, stop at the locker to get some frozen steaks from a cow that had been butchered, go to church, stop for a beer (not after church), and get any and everything you wanted at the hardware store or general store, the hardware store manned by owner/postmaster Larry Hanson, one of the most legendary pitchers who ever wore a Santiago baseball uniform. (He and brother Mickey, pitching for Orrock, once hooked up in an 18-inning game.) I saved and saved one summer and then paid $3 or $4 for a fiber glass rod and reel at the hardware store, a step up from the metal one that helped rescue some northerns from the nearby St. Francis River on those hot summer days. I achieved the status of a returning hero when I'd bike home with fish that immediately became part of a meal for our good-sized family. 
Speaking of the St. Francis River which runs through the north side of town, there was a swimming hole on the river east of town that was used by many. It was said that girls sometimes surprised boys who had jumped in to swim without the benefit of most, or all, of their clothing.
Unfortunately, or so I thought back then, there was a bulletin board at the bank that anyone could use. My father, without my knowledge, posted our phone number and a statement that said a young guy was looking for work. That led to a few jobs such as plowing, cultivating, picking rocks and even staying at a nearby farm for three days to help out. I also spent one summer walking across the section to milk cows because the farmer and his wife had outside jobs to make ends meet, having to wade through tall, wet grass in the morning to get there. They'd set out cake or cookies for me and let me watch their TV — that's where I was introduced to the evils of American Bandstand, unbeknownst to my very conservative parents.

The biggest draw to Santiago for me, other than the baseball field, was the general store. It was right out of a movie — the floor boards creaked as you wandered around the store wishing that you had more, or even just some, money. Mabel and Ozzie Lee had everything there. One of my sisters remembers being able to buy penny candles. Another sister remembers pooling her money with another sister to buy something "expensive" that cost 50 cents instead of 25 for a Mother's Day present. Two sisters got their first new boots there, memorable ones with fur on top. And if you were a kid standing in line at the checkout counter, there was a good chance Mabel would hand you a 1-cent piece of candy.
A big deal for our family was to go to town on Saturday night. We'd go to the general store and each of the seven kids would get an ice cream cone for 5 cents, or a double-dipper for 10 cents on a night when we had saved up our own money. One year the price of a bottle of pop went up to 7 cents but, if you returned the bottle, you got 3 cents back. Without knowing it, that might have been the beginning of recycling in Minnesota.
In December Ozzie Lee would discard his butcher's apron and dress up like Santa Claus on the Saturday before Christmas. And he would pass out treats to kids — maybe a candy bar or an ice cream bar.
We weren't a well-to-do family and the Lees let our family have a charge account, as did the Fohrman and Hermanson grocery store in nearby Glendorado, an even-smaller Benton County town than Santiago. Our father was a pastor and both stores gave us a 10-percent discount. The Glendorado store was where we had our eggs candled before selling them. And each winter the Glendorado store would put out a box of ice skates where you could turn in your old ones that no longer fit and get a different pair for free. 
Then there was Market Day. Each year on a Saturday in May, there would be an auction near the bank for many and varied items. And there were boxes and boxes of old clothes that were sold outside the general store. The two streets would be crowded and dozens and dozens of kids would roam around town for hours, with no fear of anything bad happening — except for those of us with peashooters who would take shots at kids we liked and kids we didn't like. Market Day seemed to go on for most of the day. One Santiago old-timer told a story about a driver from Minneapolis stopping for gas in the morning at the Ford dealership, with cars backed up for a quarter mile in all four directions. He asked co-owner Abner Gilyard what was going on. Abner, the story goes, said with a straight face, "Oh, it's Saturday," and the Minneapolis guy walked away shaking his head. 
And then you might go home, perhaps after finding a new girl friend or boy friend that day, and call them on the phone, always with the chance that there would be others listening in. There were 32 customers on the party line and all kinds of "rubberneckers." One day, when our parents were gone, we cranked out our number — a short, short, long and a short — and listened as at least 13 other receivers were lifted. I guess everyone wanted to know what was going on at the parsonage.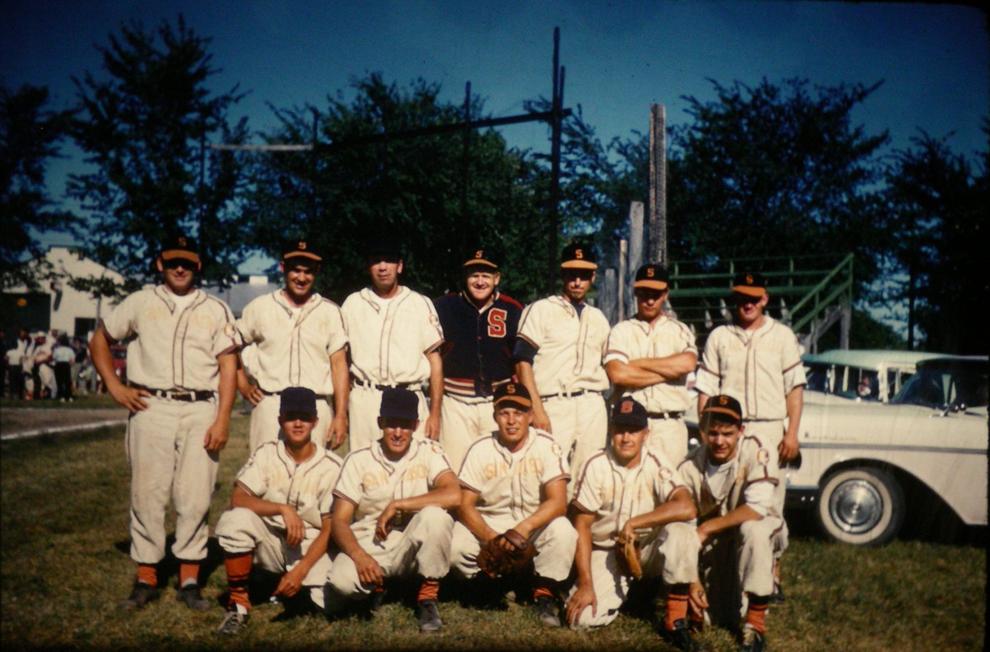 Sunday afternoons at the ballpark
In the accompanying picture you see the Santiago baseball team, likely from 1959 or 1960. Many of those players were farm kids who just loved playing baseball. Back in that era one of them wasn't allowed to play high school ball because he was the youngest brother of three and had to stay home to do the chores. They were a bunch of hardy Norwegians, for the most part, who played hard. How hardy were they? Lee Gilyard is an example. He took a beating behind the plate back then, as catchers often do. But a couple days ago when I checked with him to try to put a name on a player in the picture, he was out combining. No big deal? He's 83 and said he still has a number of days left to combine. I'd call him hardy.
They were Santiago's Boys of Summer and those Sunday afternoon games were truly the social event of each week. After church that morning there would be talk among members of the congregation about the opponent for that day. Dinner (they call it lunch now) had to be wolfed down and then players would head to the Santiago ballpark for the 2 p.m. start, or band together to drive to another town.
There were five teams from the Independent Central League in Sherburne County — Santiago, Clear Lake, Zimmerman, Palmer and the metropolis of Elk River. Other teams were nearby Clearwater, Nowthen, Foley and eventually Princeton.  The fields were not of the quality we have today. Sherburne County's sandy soil contained sandburs in some of the outfields, the fences were largely just snow fences, and the dimensions to the mound and between the bases might or might not have been accurate. In Palmer there was a drop-off in left field and you couldn't see all of the left fielder's legs — it dropped off that much.
Our uniforms were crummy and our equipment was nothing special. But we didn't care. There were games just on Sunday back then, unless there was a makeup game at the lighted fields in Elk River or Foley. We'd get together for batting practice and infield practice every Wednesday night in Santiago and there were some Wednesdays when we also had to mow the field, with baseballs whizzing all over the place. And, if you had to do chores that night, you might not make it to practice. Sometimes there was even a beer after practice.
Everybody came to the games — young and old, male and female. It was the place to be. If the game was especially important (Santiago had a good team for many years), cars would ring the fence, both in the infield and outfield. And if someone from the Santiago team hit a home run, or perhaps just scored a run, the celebration would start with the honking of the horns from those cars. They'd honk again if Santiago won the game. And then some players would head for the "joint," the term used for the bar that had no name, and some fans would already have a case or two of beer ready for their heroes on a picnic table outside the bar. Sometimes those celebrations lasted for a few hours, and sometimes some of the boys had to head for home to milk cows. 
BELOW: The main street in Santiago, looking east, perhaps at Market Day in the 1930s. As years went by the street was even more crowded on the Saturday in May when people came from miles and miles around to participate in Market Day activities. The general store is at right.
It was a simpler time, a simpler life
Nobody locked their cars. Nobody locked their houses. Very few people had much money. Riding three miles one way to the ballpark on a bike was was no big deal. 
Many people had big gardens and raised their own meat and had chickens that provided eggs and meat. It was a way of life. The Ladies Aid meetings at church on Thursdays got kids together to play, and the leftover food that found its way to the parsonage afterwards was always a highlight for its inhabitants.
Farmers worked from sunrise to sunset much of the time. I remember very well one day when a couple of us worked all day in the hot summer sun as part of a threshing crew and then headed for a game that night in Foley. Everyone was tired but we didn't care — we felt lucky to be playing baseball.
Entertainment might consist of a hay ride with a church youth group.  Or going to a 4-H meeting. Or playing another country grade school in softball with, of all things, an all-girl outfield. We'd hurry through noon lunch at our country school in the winter and then head to a nearby pond to skate for 45 minutes. Or, one winter, to a small ski jump we made over the weekend at a nearby hill, falling a few times but eventually mastering the jump. We'd walk the mile and a quarter to and from school many days, even sometimes in the winter. And we even thought PTA meetings were fun because we'd play together outside the school while the teacher, the pastor and parents had their meeting, perhaps trying to figure out what to do with the troublemakers among us. There was one year when our family had a kid in six of the eight grades.
Oh yes, in later and perhaps not wiser adult years, there was even some Halloween trick or treating at selected residences with shot glasses in hand. And there were rumors of outhouses being tipped over, although I can't say for sure.
We didn't feel put upon because we didn't have much to do. Our family would gather around the radio to listen to a program together. And then when our grandpa came through with a television set one Christmas, we had to determine which of the FIVE channels we were going to watch — and there was some arguing.
Life in and around Santiago truly was simple. But there were so many good people and it was a tight-knit community. It was, Lee Gilyard and I agreed a couple days ago, a great place to grow up and a wonderful time in which to live.  Those of us still around from those days cherish the memories we have.   
-------------------------------------------------------------------------------------
Nov. 7, 1963 - Dale Thiel, Rick Hobert, Bob Robideau and Steve Lindell — the starting PHS backfield — were named all-conference in football. Lindell threw for 893 yards and 10 touchdowns, and Thiel caught 36 passes for all 10 touchdowns and averaged 18.6 yards per reception. Bob Nienaber and Roger Young were named captains for 1964.
Nov. 13, 1968 - PHS grad (1964) Steve Lindell threw for two touchdowns as Army beat Boston College 58-2. He completed 18 of 29 passes for 258 yards the week before in a narrow loss to No. 4-ranked Penn State.
Nov. 8, 1973 - In a first-ever playoff game with the Minnesota Valley champion, Rum River champ Princeton lost 6-0 to Shakopee at Osseo. Princeton ended the season 7-3, gaining only 121 yards on a cold, rainy night. (Today's playoff system was not being used yet. Conferences could arrange an extra game for the first time ever.)
Nov. 9, 1978 - Vonnie Moore was the only winner for Princeton as the Tigers lost 111-61 to Cambridge in swimming . . . Credit Union opened defense of its city basketball league title with a 78-33 win over Zim City, the second-place team from the previous season. Mike Arnold led Credit Union with 22 points.
Nov. 10, 1983 - The girls swim team placed second in the Two Rivers Conference (a conference for swim teams only) meet as Mary Beth Sauer broke the school butterfly record for the fourth time that season . . . Todd Knutson, a 1980 PHS grad, ended his four-year career as a starting defensive end for the Sioux Falls College team.
Nov. 10, 1988 - Princeton finished as the runner-up in the second-ever Rum River Conference girls swim meet, Cambridge winning. Michelle Sanford set a conference record while winning the 500 freestyle . . . Princeton (12-11) won the first two games against Proctor in section volleyball quarterfinals but lost the last three to a team PHS had beaten twice during the season. 
Nov. 11, 1993 - Princeton lost 14-8 at Mora in the Section 5A football title game. Jay Thiel caught a 19-yard touchdown pass from Clint Gray, John Marma ran for 71 yards, and Derrick Thiel caught six passes for 61 yards. The season record was 8-3.
Nov. 5, 1998 - Amanda Gray and Shanda Ruis beat an Anoka doubles team at the state tennis tournament, becoming the first PHS tennis players to win a first-round match after appearances by PHS athletes the previous three years.They then lost in three sets to a Winona team . . . Princeton (2-8) played well but lost 19-12 to Cambridge in a section semifinal game as Jesse Donner ran for 96 yards, Chad Carlson threw for 132 and Kyle Breitkreutz caught  5 passes for 68 yards . . . The girls swim team won the Rum River title, its first since 1987, the first year of Rum River girls swimming. Justine Topel and Stephanie Green each won two individual events and swam on a winning relay team.
Nov. 6, 2003 - Princeton (9-1, No. 1 seed) beat No. 2 Duluth East 35-14 to win the Section 7AAAA football title at John Harvey Field in Princeton. Mike Patnode scored twice and threw a touchdown pass to Josh Lundeen (4 catches, 94 yards).
Nov. 7, 2008 - In the first year of boys soccer in Princeton, the team finished 6-8 . . . The girls soccer team, in its second year, went from 1-11-1 in 2007 to 10-3-2,  
Nov. 7, 2013 -  The girls swim team was preparing for the Section 5A meet, with 16 qualifiers.
Nov. 9, 2017 - No sports stories in that issue.
Dorr is the former editor of the Princeton Eagle (2 years) and Princeton Union-Eagle (31 years), and has covered sports in the Princeton area for 51 years.