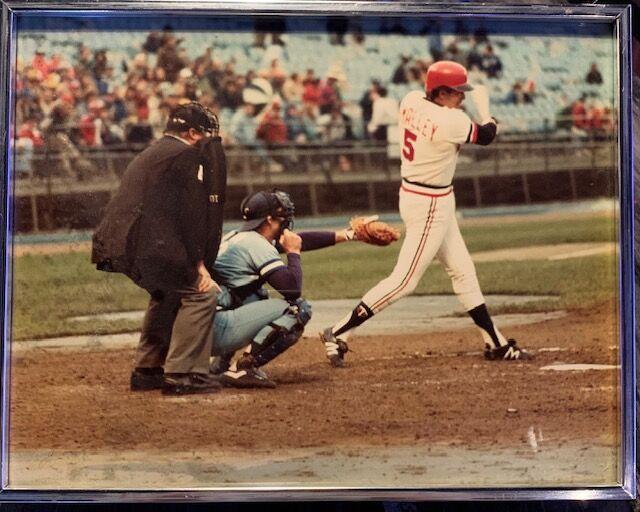 The plan for this week was to write about the insanity that is taking place all around the country, Minnesota included, as school board members are taken to task, physically in some cases, for their stands on whether or not students in those districts should be required to wear masks.
But then, as I watched the final home game of the Minnesota Twins Thursday night (Sept. 30), I was reminded that  it was 40 years ago to the day that the last baseball game at Metropolitan Stadium was played. And that sparked some memories for me. (It was also three years ago on that date that Joe Mauer, more than likely a first-ballot Hall of Fame selection if he had been a catcher his whole career, retired. Time does fly.)
The Met, as many called it, opened  in 1956 as the home of the minor league Class AAA Minneapolis Millers, on the site of a former farm in the suburb of Bloomington, boosters hoping the new stadium would lead to the Twin Cities getting a major league team. And it did, the Washington Senators moving to Minnesota from Washington, D.C., in 1961.
It was a pretty basic stadium at first, built for a capacity of only 18,200. But, it was the first stadium in the major leagues that had no girders holding up the second and third decks - in other words, no posts in the way for fans to have to look around. It was kind of an Eighth Wonder of the World for us out here on the  prairie.
My first trip to the new stadium came in April of 1957 as a freshman in high school when a bunch of us from Mankato made a trip up Highway 169 to watch the Millers take on the Milwaukee Braves in an exhibition, a major league team that had enjoyed success at its relatively new stadium in Milwaukee, a stadium was the newest until The Met was built. The Braves won, three pitchers carrying a no-hitter until late in the game, the Millers featuring such eventual San Francisco Giants as eventual Hall of Famer Orlando Cepeda who had played in St. Cloud in 1956 and made the jump from Class C, bypassing the B, A and AA classifications on the way to Minneapolis before becoming a star in the majors. We sat in the third deck and were awed by a stadium we had never seen, and by the fact that there were three decks.
The Twins came to town in April 1961 and later that year the fledgling Minnesota Vikings played their first year there in the NFL. The capacity had been increased by then to about 30,000 and it went to 48,000 for football in 1965 when the Vikings kicked in some money to build seats behind left field.  There were 50,596 fans at The Met for a World Series game in 1965.
My first game there came in the summer of 1961 when the Yankees were in town with Mickey Mantle and Roger Maris battling it out for the American League home run lead, Maris eventually breaking Babe Ruth's major league record of 60 that September. I went to the game with a guy I had played Legion baseball with the previous year and we sat on the grass on a berm beyond the fence in left, there being no seats there at that time. Four years later, fresh out of the U.S. Army, I pitched off the mound there at a Twins tryout camp, being one of those called back for the final day of the camp but my dreams of being a pro ballplayer dying on that mound that day.
In June 1967 Harmon Killebrew hit a home run into the upper deck in left field that was measured at 520 feet. If I remember right, I was there the next day as he hit the facing of the upper deck. Some say the ball measured at 520 feet would have gone much farther than that because the measurement was taken just to the seat and didn't take into account the apex of the ball as it would have come to the ground (not falling straight down). Anyway, it was a long, long homer, the longest of a long and storied career.
I was there on a Sunday in June 1977 when Rod Carew, who ended up winning the batting title with a .388 average that year, was chasing the magic .400 mark. There was a huge crowd that day as the Twins won a wild 19-12 game and Carew had four hits, scored five runs and batted in six, ending the day with a .403 average that had everyone talking about the possibility of him hitting 400 for the season, something last done by Ted Williams in 1941 when he hit .406 and got on base 55 percent of the times he came to bat. (Williams had a Princeton connection, marrying Doris Soule from Princeton in 1944. They were divorced 11 years later.)
I went to hundreds and hundreds of Twins games through the years, and purchased season tickets for the Vikings late in the '60s, the tickets costing only $5 to sit in the bleachers on the north side of the stadium along the third base line. It was the only way to see a Vikings home game back then - they weren't on television every Sunday home game back then and people would drive to Duluth, Mankato and Alexandria to watch games on stations that were outside the viewing area of the Twin Cities.  The next 10 years or so were great years for the Vikings and the games were a blast outdoors - outside, no matter the weather, with the best bratwurst on sale this side of Milwaukee. We'd line up at halftime, after grilling in the parking lot (often before and after), to get those brats and we'd also line up at halftime to get to one of the few bathrooms in a stadium that was already woefully behind the eight ball in that regard. Those of us who sat together on those benches (no chairs) became friends and sometimes there was even an illegal bottle or two passed around to celebrate a touchdown, nobody worrying about the different sets of lips that touched the bottle.
The stadium hosted a Beatles concert in 1965 and the Minnesota Kicks soccer team had some good years there. But it was the Twins and the Vikings that were the constants. I loved that old stadium, even when it fell behind the times as the years went by. Going to a major league baseball game there was top of the line. And the Viking games were a treat seven times a season in those early years, even in the rain and snow, it being impossible to see the other end of the field for one game with the 49ers in a swirling snowstorm.
And so we came to 1981 and the Metrodome was under construction. I didn't want a new stadium but the powers-that-be did and so it was that on the afternoon of Sept. 30, 1981, that the last baseball game was played there against the Kansas City Royals. The Twins lost 5-2 under a cloudy sky with only 15,900 attending. The last homer at The Met was by a journeyman Twins infielder named Pete Mackanin in the third inning that drove in the only two runs of the game for Minnesota, the third baseman that day being a rookie named Gary Gaetti.
The last out of the game came when Roy Smalley, the designated hitter that day who was batting fourth and is now an analyst for the Twins' TV broadcast crew, popped out to left. I ran around from my seat near third base to the first base side just in time to take the picture that accompanies this piece. Marty Springsted was the umpire and John Wathan the Kansas City catcher.  Like many other fans that day, I went on the field after the last out but eventually left the field when a policeman on a horse instructed his horse to bump me out of the way when I didn't listen quickly enough to the command to go back to the stands. I figured that was a good time to head back to Princeton.
It was a sad day for me. I didn't want an indoor stadium. Yes, I went to many games at the Metrodome, including the seventh games of two World Series that the Twins won. Those were great times. But there was nothing like being at the The Met. It's hard to believe it was 40 years ago yesterday when I sat under that grey sky and watched the last baseball game ever played there. The stadium was demolished four years later but the memories of the games, and the players, will stay with me forever.
Here and there in sports . . . 
It was nice to see Justin Morneau go into the Hall of Fame of the Minnesota Twins last Saturday night. Morneau was headed for lofty career totals until his career was derailed by a concussion suffered on a slide into second base in 2010. He had been chosen the American League's MVP in 2006 when he hit 34 homers, knocked in 130 runs and hit .321. Beginning with that year and going through the next three years through 2009, he averaged 31 homers and 117 RBIs. Then came the concussion and he was never the same. In 2010, the year of the injury, he had 18 homers, 56 RBIs and was hitting 345 through 81 games (half of the season). It might have ended up being his best season. He did win a batting title at .319 with Colorado in 2014 but the power numbers never returned after that first concussion and a couple other injuries, including another concussion. He would likely have gone over 400 homers for his career and the RBI numbers would likely have been very good. He's on the Twins' TV crew now and does a good job offering some insights. His acceptance speech Saturday was very long but very heartfelt . . . Someone asked if I had ever seen a football season in Princeton like the one so far this year. My answer was no, which includes 56 seasons of watching PHS football, as well as a few games of other seasons preceding 1965. The team is 2-2, with the wins coming at home, and has scored 175 points, while giving up 161. Included is a 63-35 win over Little Falls and a 38-36 win over Milaca here last Friday. I don't remember a Princeton team averaging 44 points a game and I certainly don't remember one giving up 40 points a game. Zimmerman ran for 480 yards in a 49-40 win over PHS in the second week and had seven rushing touchdowns . . . Can you suspend a college football coach for a game? Probably not. But there are many who would like to after Minnesota's 14-10 loss to 31-point underdog Bowling Green in Minneapolis last Saturday. Yes, the Gophers took horrendous penalties and messed up in other areas. But the biggest blunder for the day was Coach P. J. Fleck, with a 3-0 lead and Bowling Green doing absolutely nothing on offense, deciding to go for a first down on 4th-and-1 at the Minnesota 29 in the second quarter. The play failed and Bowling Green immediately scored for a 7-3 lead. Without that score, which seemed to change the game, Minnesota wins, despite playing horribly. Then in the third quarter, after taking a 10-7 lead, the Gophers had a 3rd-and-6 at the Bowling Green 33. A running play lost a yard and a 52-yard field try missed. Why run on 3rd-and-6 if you are going to follow it up with a long field goal try? Those two plays, especially going for a first down on fourth down on your own 29, were hard to figure out. In his post-game interview on the radio, Fleck mentioned a number of things that led to the defeat but didn't mention the failed fourth-down attempt on his team's 29. It was an ugly game . . .  The Ryder Cup telecast was riveting last weekend and I thought one of the cool things was the emotion showed by Rory McIlroy of the European team. It was nice to see a player of that stature struggle to hold back tears as he talked about  his team's loss, and his failure to do better than he expected. He didn't give us the standard line about doing better next time - he let us know how tough it had been to lose this time. That event has become one of the better television events in sports . . . Kirk Cousins of the Vikings completed passes at a 79% clip Sunday in the win over Seattle, threw no interceptions and had three touchdown passes, including one to Adam Thielen that was perfect on a play on which there was very tight coverage. And Cousins' performance Sunday came without Dalvin Cook in the lineup, making those stats even more impressive. Cousins is 88 for 119 as a passer (74 percent), has thrown for 8 touchdowns with no interceptions, and has passed for 918 yards. It should be noted that the offensive line was very good against Seattle. The Vikings should be 2-1 for sure, and probably 3-0, a Cook fumble taking away a good chance for an overtime win against Cincinnati in the season opener . . . I've thought it a little early for sainthood to be conferred on the Twins' Joe Ryan and Thursday night he showed that he is human as his ERA went from 2.25 to 4.05 when he gave up six runs in 4 2/3 innings, including two homers (and four runs) to Twins' castoff Nico Goodrum. HIs first two innings were the same as he had shown previously - a bunch of strikeouts and 1-2-3 innings. He's been good so far but it's a small sample size. He will still be classified as a rookie in 2022 and let's see how that goes as he tries to make the Nelson Cruz trade look good . . . Byron Buxton hit two home runs Thursday night, has 18 in only 221 at-bats this year (one every 12.3 at-bats), a very good ratio that translates into about 45 in 550 at-bats, realistic or not. Of course, he has never had more than 462 at-bats in a season and he's only a .247 lifetime hitter. But he's made it impossible for the Twins not to sign him. The contract needs to be a spendy one but it's one that must be done . . . Miguel Sano, with all his imperfections, hit his 30th homer a couple days ago and became only the seventh Twin to have two or more seasons of at least 30 homers. That's pretty good company. The leader? Harmon Killebrew with eight. The most recent? Brian Dozier with two.
PRINCETON SPORTS MEMORIES
Oct. 11, 1951 — Princeton beat Sauk Rapids 20-6 on the Tigers' home field at Riverside Park as Johnson, Bob Paulson and Dick Gamradt scored.
Oct. 11, 1956 — Halfback Jerry Kish scored all 19 points as Princeton took a 19-7 lead in the Homecoming game with Mora, once on a 61-yard Statue of Liberty play. But Mora scored twice late in the game for a 21-19 win.
Oct. 12, 1961 — Princeton lost 7-0 to Elk River at the Elks' Homecoming game as Dean Hansen attempted 18 passes, an unusual amount at that time.
Oct. 6, 1966 — Ross Johnson ran for 66 yards and Tim Enger and Steve Cartwright each scored twice in a 39-7 win over Braham. . . . A delegation of fans from Princeton drove to South Bend, Ind., to watch PHS grads Dean Hansen and Steve Lindell play for Army against Notre Dame.
Oct. 13, 1971 — Kevin Gerth won the individual championship in the Rum River Conference cross-country meet but two Princeton runners were passed in the final few yards and Elk River edged Princeton 45-51 for the team title . . . Don Cordes ran for 189 yards but Princeton lost 50-14 to Cambridge.
Oct. 14, 1976 — Quarterback Tom Hoffman was lost for the season with an injury and the Tigers lost 7-6 to Braham on a score and extra point with 44 seconds remaining , , , Dave Wankel intercepted five passes and scored the only touchdown in an 8-6 junior varsity football win over Braham.
Oct. 8, 1981 — Princeton won its Homecoming game over Pine City, 14-0, as Jon Larsen (71 yards rushing) scored twice and linebacker Rod Lind was in on 16 tackles (2 solos), recovered a fumble, made an interception and had a tackle for a loss.
Oct. 9, 1986 — Quarterback Bryan Hoff threw for 176 yards in a 23-17 loss to a Cambridge team that went on to win the state title. Mike Sternquist caught 4 passes for 67 yards . . . Karry Schimming was chosen to the all-tournament team as Princeton finished second in a volleyball tournament at Becker, the Tigers losing to  St. Cloud Cathedral after beating three other teams.
Oct. 10, 1991 — Princeton beat North Branch 35-7 in the Homecoming game as Jesse McAlpine ran for 91 yards and a touchdown . . . Princeton (10-6) rallied from 9-1 and 7-2 deficits to beat the Cambridge volleyball team in three sets. Corrine Lundell had 16 kills and Becky Cook 27 set assists.
Oct. 10, 1996 — Justine Topel had four first places in a 95-91 swimming win over Milaca. The teams had tied the previous year . . . Brad Hatch ran for 102 yards and Jason Kral ran 84 yards for atouchdown after teammate Tony Stay intercepted a pass, ran six yards and handed the ball to Kral in a 14-12 win over Foley.
Oct. 4, 2001 — All-conference in girls tennis were Abby Lingle and Kayla Julson (doubles) and Dianna Johnson (singles) . . . The PHS football team beat Pine City 40-20 despite the Dragons having the ball for 10 more minutes than the Tigers, and having a 17-12 edge in first downs. Kevin Englund ran for 175 yards.
Oct. 5, 2006 — All-conference in girls tennis were Kelli Winkelman, Steph Turnquist and Holly Weissenfluh . . . Former PHS football teammates Blake Henke and Mike Patnode were on teams opposing each other in college football, Henke as a safety for Carleton and Patnode as a running back for St. John's, a 29-19 winner over Carleton that day . . . Jason Nelson, a 2002 PHS grad, was on the golf team at Bethany Lutheran College. He was going to the national meet with the Bethany team later in the season.
Oct. 6, 2011 — Carissa Fuller broke the 19-year-old PHS diving record by scoring 209.5 points with previous record holder Jen (Sanford) Bartlett there as a judge . . . The girls soccer team went undefeated in four matches, tying St. Cloud Cathedral and beating Becker 6-0, Big Lake  3-0 and St. John's Prep 3-2, Naomi Kohloff scoring all three goals.
Oct. 6, 2016 — The girls tennis team won it fourth straight Mississippi 8 Conference title, and fifth overall with a Granite Ridge title in 2012. A 4-3 win over a good Big Lake team, followed by a 7-0 win over North Branch, clinched the title, Big Lake finishing second at 8-1. The team was 9-0 in the M8, 16-3 overall and got the No 2 seed for the Section 7AA tournament . . .The first event ever in the new PHS gym was a volleyball match between Princeton and St. Michael-Albertville. The visitors won. Princeton was 2-4 in the M8, 11-6 overall.
(Dorr is the former editor of the Princeton Eagle (2 years) and Princeton Union-Eagle (31 years), and has written about sports in the area for the past 54 years.)
(Note: Memory Lane is published once a month with items from that month's editions of the Princeton Union and Princeton Union-Eagle  from1996, 1971, 1946, 1921 and 1896.)
October, 1996 — Princeton's VFW post could be out of the gambling business by next year if what  state gambling officials told representatives of the post on Sept. 20 holds up as the final say about major problems at the post. The post was told it had 60 days to pay the state $250,000 in unpaid gambling revenue, as well as paying a civil penalty of $4,000.
Hints of the possibility of reconstructing LaGrande Avenue (now Rum River Drive) and three blocks of First Street in 1997 were made at a City Council meeting.
Demolition of the vacant and deteriorated Princeton Mill complex (located near today's civic center building that also houses the historical society) began last week and will continue through the fall and winter. Extermination of rats, a health problem at the site, has been completed, it was noted at a City Council meeting.
Headline: Jail capacity to increase by 40 as Sherburne County decides to go with $8 million expansion.
After six weeks of discussion the Princeton School Board decided to allow nonpublic school students in the district to participate in extracurricular activities. Along with that approval went a fee of $100 per activity per student, with a maximum of $300 per family. In addition, there was a fee of $100 per year and $35 per activity to the Minnesota State High School League, as required by the league.
Headline: School district to have excess-levy referendum on general election ballot. The story said if approved it would raise $1.069 million, with the state paying 76% of that amount.
Princeton ranks fourth in the state for the amount of property taxes among non-metro communities with a population of 2,500 or more. The tax on a $65,000 home is $1,129. Cambridge (ranked 10th) was at $1,038, Mora (ranked 25th) at $941, St. Cloud at $822, Elk River at $707 (ranked 116th) and Baldwin Township (ranked 124th) at  $592. The study by the Minnesota Taxpayers Association showed that a home assessed at $65,000 in Princeton would likely sell for $70,119. 
A lady from Buffalo made a proposal to the Princeton Planning Commission to buy the 83-year-old armory and set up an interior design business and offer retail merchandising and services.
United States Distilled Products owes the city $51,631 for the extra cost the city incurred in handling the company's wastewater through Nov. 15, the city says. The company says it should be only $17,550 for extra processing costs the first nine months of the year.
Headline: School district has purchase agreement for $126,000 sale of 4.4 acres to funeral home. (Note: The sale didn't go thorough.)
October, 1971 — Officials of the Princeton Fire Department said they suspect the fires which started in the crawl space below the ground floor of Kathy's Cafe and the second floors of the cafe and Mark's store (northeast corner of the main downtown intersection) at 10 p.m were intentionally set.
Neither the rain nor the opening of duck season kept an estimated 1,200 people from attending the Homemakers Fair in Princeton at North Elementary. The two-day event was capped by the awarding of 164 prizes donated by the Princeton Retail Merchants organization and national sponsors of the program.
Cotten's Automotive, the business which lost its building in a fire last spring, will hold an open house Oct. 18 in its new store located at 403 First Street.
Making its debut on Tuesday was the Rum River News (precursor of the Town & Country Shopper), a free circulation newspaper which is distributed by mail each week to postal patrons in and around Princeton.  It replaced the Princeton Union Shopper printed by Princeton Publishing.
The Princeton post office will become part of Area Mail Processing, one of the newest innovations of the U.S. Postal Service, on Oct. 23. Area Mail Processing will apply primarily to mail originating here which is destined for delivery outside Princeton, said postmaster Jerome Chmielewski.
After its second appearance in as many weeks, the new publication, the Rum River News (a shopper) is getting an enthusiastic response from readers, as well as advertisers. Princeton has always been a going, growing town.
Three Princeton High School classes will be conducted in downtown Princeton this week in observance of American Education week.
Bill Puffer of Conoco and Dry Cleaning fame has installed a new automatic car wash at his station. You simply sit in your car while huge brushes pass over and around the vehicle carrying water, soap and a rinse. In two minutes you drive out with a sparkling clean car. Some deal.
The first combined music department concert and art show of the season will be held at the high school Nov. 8.
The annual fall conservation workshop was held last week at Sherburne National Wildlife Refuge. Eleven hundred sixth-graders from Mille Lacs, Sherburne and Benton counties participated in the two-day event.
October, 1946 — From all sections of the country come wails of despair concerning the meat shortage. The housewives of the nation for more than three years have suffered from a fearful sugar shortage. Stocks of certain wearing apparel, including shoes, are amazingly short, Probably one of the worst shortages in the country is that of lumber which, in turn, makes the housing problem exceedingly difficult.  But with all these shortages about 130 million Americans are managing to eke out an existence that is not too difficult after the end of World War II. There are some very valuable possessions that are not rationed to the vast majority of our citizens — sunlight, moonlight, the whisper of the winds, and the songs of birds. Added to those blessings right now is the gorgeous coloring of the autumn woods, A drive along the north shore of Lake Superior will make anyone forget even the OPA (Editor's note: The Office of Public Assistance was a federal organization created in the 1940s.)
Princeton fortunately has a number of young brides, girls who have married servicemen. Some of them are native to this section of the country; others have come from the South, the East or West, and a few are from overseas. There are adjustments to be made on all sides, by the people residing in this community and by these young strangers. On the whole these young brides will find the village exceedingly friendly . . . The best cure for a feeling of loneliness or depression is to start giving, and whatever is done let those desiring happiness be sure to give of themselves.
Members of the local American Legion post will sponsor an Armistice Day dance. Arrangements have been made to secure the Karl Hawkins orchestra from St. Paul which consists of six pieces and a girl singer.
Members of the Parent Teacher Association voted at their business meeting Monday evening to buy a radio phonograph for the school at a cost of $200. At the tea and reception for the teachers approximately 115 attended. Mrs. E. T. Hanson presided at the business meeting.
The wiener roast held last Thursday evening in they pines by a group of the younger people of the village proved to be a delightful affair. Raleigh Henschel with a huge bonfire had arranged a perfect setting for the frolic. The young matrons did their bit by furnishing an array of tempting hot dishes and desserts. Everyone was introduced so that at least the members of the younger group will have a speaking acquaintance with each other. The party was concluded with songs around the campfire. This was the first of a series of such gatherings planned for the fall and winter. About 40 attended.
Mrs. Grover Umberhocker was elected president of the Princeton chapter of the Women's Christian Temperance Union at its annual institute held at the Methodist parsonage on Tuesday.
Members of the Masonic lodge and Kedron Chapter of the Eastern Star are sponsoring a jamboree at the armory Halloween night for the benefit of the community hospital. The program includes a basket social, costume ball and bingo . . . Couples with a basket will be admitted free, high school students without baskets will be charged 25 cents, and anyone else without a basket will be charged 50 cents.
October, 1921 — On Friday, October 21, there will be held in Princeton a county rally for the Red Cross and Public Health association. During the afternoon session, which will be held in the high school auditorium, officers will be elected.
The Dorcas society will hold a towel shower at the home of Mrs. John F. Patterson next Wednesday afternoon. Every member is requested to bring a kitchen towel. The home was located in the 300 block of South Sixth Avenue.
Mrs. Lynn Hall left on Monday for Castlewood N. Dak., to attend the funeral of her brother who was killed overseas in the war. He was killed three years ago and his body has just arrived.
Miss Margaret Armitage went to Sparta, Wis., on Friday in consequence of the serious illness of her sister Anna's husband.
Thomas H. Caley, prominent progressive American citizen and veteran of the Civil War, died at his house Friday, October 14 at 12:30. He was conversing with his wife and Mrs. Charles Rines when he collapsed. The passing of Thomas H. Caley means a heavy loss to the village of Princeton and county of Mille Lacs. His memory will always be revered.
This is the season of the year for wiener roasts and during the past week several friends and neighbors assembled for two of these night frolics. Tuesday evening Mr. and Mrs. Oscar Stark entertained a number of their friends at a wiener roast.
Early Tuesday morning an electric bolt descended upon the armory and ripped the flagstaff to smithereens, scattering it in pieces upon the ground. The current passed through the roof, bored small holes in the basement ceiling and temporarily incapacitated the right arm of a young woman member of a religious cult who was preparing breakfast. The armory was occupied at the time by several hundred of this cult, who slept there, and it was indeed fortunate that no greater injury resulted.
Mrs. Viola Branchaud has purchased a nifty Dodge sedan for the purpose of conveying passengers from the depot to her hotel and return. Hotel Branchaud, which recently installed steam heat, has a good patronage and its proprietress is a first class business woman who believes in keeping abreast of the times.
October, 1896 — Dr. Fridley, the dentist, will be at the Commercial Hotel in Princeton, October 19 and 20, and will make regular trips every two months thereafter.
Ducks are making their appearance in considerable numbers but, on account of warm weather, are flying too high for good shooting.
A. J. Bullis has put up a new and convenient greenhouse where he will keep his flowers this winter. It is nicely arranged and supplied with heat.
One of the pleasant occasions of the week was the surprise tendered Mrs. F. Irish in honor of her seventy-second birthday at the home of Dr. O. C. Tarbox on Tuesday afternoon. Fifteen ladies were seated at the table, the eldest lady being ninety years old, and the average age sixty-nine. 
Main street is again loaded with loads of potatoes. It is several hours before a farmer can get a chance to unload.
Typhoid fever is reported in Milaca. The up-river town should get a hump on itself and clean up.
Two Stillwater hunters, James Hansen and Will Alexander, had a short hunt at Mille Lacs lake last week.They went Saturday night, intending to stay a couple weeks, and took a tent, food and camp equipment. They camped about 18 miles from Aitkin, pitching a tent on the lake which fairly teemed with ducks. That evening they had company. A number of Indians called to welcome the young men to their hunting grounds and incidentally to beg whiskey and tobacco, but they got neither. The next morning the boys started out early to knock over a bunch of ducks. On their return they could not find their camp. Everything had vanished There could be little doubt as to had taken their property but they decided it would be useless to seek to recover it. So they went home.
Ben Soule Jr. will close his mill about November 10. All those who have planing to be done must get the lumber in before that time.
Butter has become quite scarce in the Princeton market, due no doubt to the closing of the season for cattle running at large.