Light-Up Princeton, the new holiday event planned by the city and the Princeton Area Chamber of Commerce, continues to receive community financial support.
Right now, the biggest need is for volunteers to help set-up and staff the event.
Riverside Park Campground will be transformed into an illuminated and animated wonderland next week, with a kick-off event set for 6 p.m. Saturday, Nov. 28.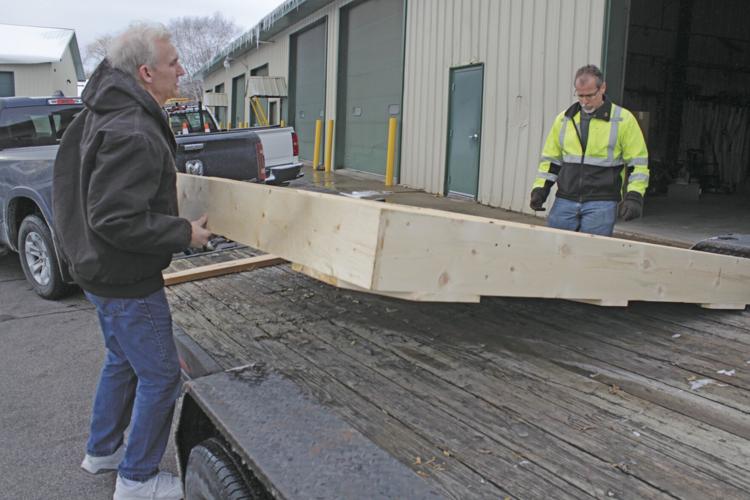 A shipment of boxed decorations was delivered to city hall last week, reported Stephanie Hillesheim, city of Princeton community development specialist.
Some of the highly detailed lighted displays were stored at the Princeton Public Works Department facility located at 1012 Fifth Ave N. after they were delivered.
Those displays include a North Pole express train and crossing, fire engine, a Santa airplane with banner, and Santa sleigh with three reindeer, and lots of lights.
The event is designed as a unique tradition for the city and the community.
In conjunction with the Riverside Park display, which includes lighting the trees along Rum River Drive, local businesses will be encouraged to light up their windows and buildings while participating in a community lighting contest.
Hillesheim said Walmart, the Princeton Lions' Club, Princeton Insurance Agency, Princeton Twice New Clothing and Treasurers, Princeton Public Utilities, and Princeton American Legion Post 216 have pledged support to the new event.
Walmart has provided the city with a $1,500 grant for Light-Up Princeton, Hillesheim recently reported. The American Legion has donated $2,000 thus far.
She added the overall goal is raising $14,000 for the new community event.
Last month, city leaders decided to put up $5,000 of budgeted, unused community promotion dollars towards matching donations for the project.
In discussions with the PPU, the local utility has provided a rebate program to help cover the cost of the LED lights that are purchase for the project, which can cover up to 50% off, depending on the number of bulbs, Hillesheim said.
As part of Small Business Saturday on Nov. 28, the Princeton Area Chamber of Commerce is hosting a Shop Local QR Code Scavenger Hunt, as another incentive and push to encourage people to shop locally in Princeton this holiday season.
"We've got a lot going on to help kick-off the holiday season, but we need your help," Young said, referring to the need for volunteers to set up the light display.
Young said the Local QR Code Scavenger Hunt will start at Marv's True Value.
Those completing the scavenger hunt will be entered into a drawing for a $25 gift certificate. Marv's is making it easy for residents to purchase a $10 string of lights to donate to the display and participate in the Light-Up Princeton effort.
Visit a Marv's True Value checkout counter to learn more about light purchases.
Other activities on Saturday, Nov. 28, include a 10 a.m. to 2 p.m. craft fair at the North Mall in Princeton.
The Civic Betterment Club of Princeton has scheduled a 10 a.m. to 2 p.m. drive-by treat bag distribution at the little house south of Berry Law Office.
Santa Claus is scheduled to appear on the Riverside Park pier from 2 to 4 p.m. and at 6 p.m. the switch will be flipped to light up the park displays.
Businesses that want to donate should contact Hillesheim at (763) 389-2040 or shillesheim@princetonmn.org or PACC Executive Director Kim Young at kim.young@princetonmnchamber.org.
Donors will be acknowledged on social media, individual and event signage, print and digital advertising and lighting contest maps. Organizers need volunteers for event set-up and take-down.
"We need at least 16 volunteers to help on Nov. 23 and Nov. 24 to help set up the lighting displays," Hillesheim said. "We will also need three volunteers each Friday, Saturday, and Sunday night to collect food shelf items and supervise. "Volunteer organizations will get to keep half of all proceeds from working."
Next week's set-up on Nov. 23 and Nov. 24 involves two shifts: 2 p.m. to 4 p.m. and 4 p.m. to 6 p.m. To sign-up, visit the city's webpage at princetonmn.org and click on the community info link. That link will take you to Light-Up Princeton.
Take-down is scheduled for the week of Jan. 1, 2021. More information is coming about this task, Hillesheim said. To sign-up for this activity, also click on the link on the Light-Up Princeton page on the city's webpage.
Event workers will work from 5:30 p.m. to 9 p.m. on weekends. Event organizers need a minimum of three volunteers, Hillesheim said, but more are welcome.