---
HOW TO ORDER MACARONS 
Jessica Crafton bakes French macarons for sale to the public through her Facebook page, Gracie's Treats N Sweets. For Valentine's Day, she is offering the Romantic Box with vanilla, strawberry cheesecake and red velvet macarons or the Be Mine Box with lemon zest, mint, vanilla, strawberry, cake batter, and honey orange macarons. The macarons will feature messages written in edible food markers - much like a conversation heart. Crafton will also take orders by phone at 952-297-6178.
---
 Six months ago Jessica Crafton didn't know the difference between a macaron and a macaroon.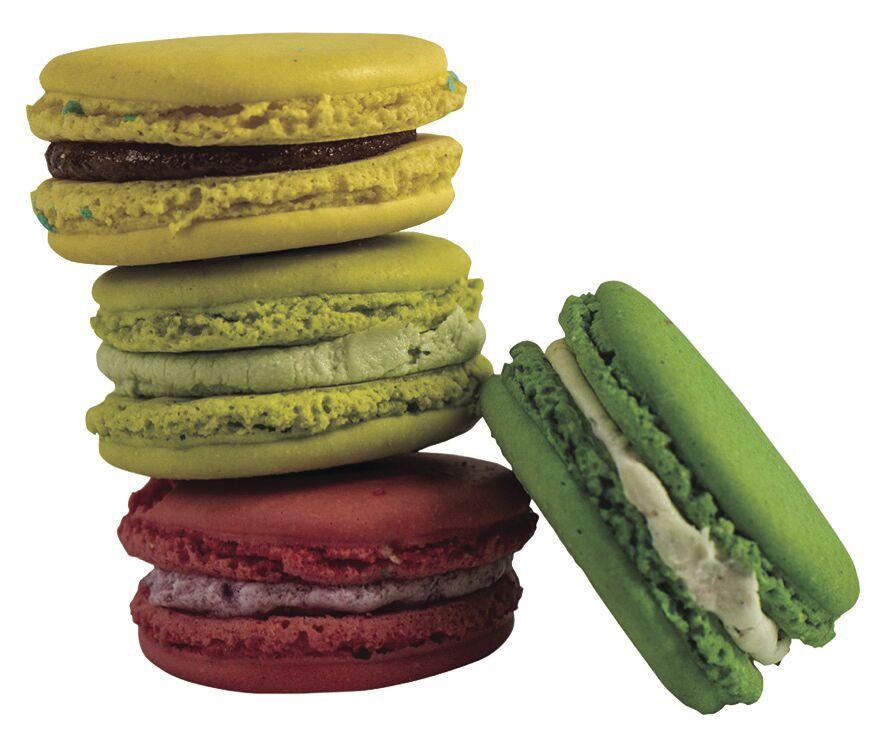 Now Crafton is running a budding business out of her Milaca-area home selling French macarons - the small treats with the meringue-like filling sandwiched between lots of sugary sweetness.
Crafton is an adult basic education teacher in the Milaca School District and has a passion for broadening the education of adults through community education programs and programs at the Mille Lacs County Jail. And while she never intends to leave her "day job," its her hobby as a macaron baker and owner of Gracie's Treats N Sweets (named after a Australian shepherd, black lab mix) that is bringing a newfound magic into Crafton's life- and kitchen these days.
"I truly love baking. I get that from my mom, who baked all the time," Crafton said.
As a matter of fact, she loved baking so much that as a little girl she dreamed of someday owning a bakery.
That passion was stoked by visits with her sister to the Weisbrod's Bakery outlet in Milaca, which was in the back corner of the building which was most recently the Corner Mart at 205 Central Avenue N. in Milaca.
"We went there all the time, and I loved their maple doughnuts," she said.
While Crafton once dreamed of having a bakery of her own, it is nearly by accident that Crafton's dream became a reality. Without the inspiration of her 12-year-old son, Jacob, Crafton might not be turning out the 200 to 300 macarons each week that people in Milaca and  Princeton can't seem to get enough of.
Jacob is into cooking shows, which is how he learned of macrons.
"He wanted to make them," Jessica Crafton recalls. "I said OK, but there was just one problem."
"I had never had a macaron," she said.
She and Jacob set out to the Twin Cities to find a macaron so she could experience the texture and taste of the sweeter-than-sweet treat.
Crafton and her son found their macarons, and soon set out to make their own in the kitchen of her home east of Milaca.
"I had heard that they were hard to make, but my first batch came out perfect," Crafton said.
Her success in the kitchen, however, proved to be a fluke.
While that first batch of macarons was perfect. The next six or seven batches?
But Crafton worked on honing her craft. By November she was experimenting with different flavors of macarons.
Soon afterwards she was ready for her big test.
"I gave them to family and friends for Christmas," she said.
The macarons were so good that she was encouraged to create a Facebook page through which to sell her treats within the community.
Crafton was issued a cottage license which allowed her to bake and sell her product locally.
Facebook has provided Gracie's Treats N Sweets with loyal customers, and word of mouth has kept the demand for macarons growing.
"My plan was to bake a little in the evening and on weekends," Crafton said. "But it got crazy."
Not only was Crafton getting orders for her macarons from people in the Milaca, Princeton, Foley, and Cambridge areas. She was being solicited to bake macarons for weddings and graduation parties, as well.
As many as 300 macarons were coming out of her kitchen on a weekly basis.
Crafton sys that as the popularity of her macarons grew, so did her creativity. 
"Each week I try to introduce two new flavors," she said.
Some of her favorite creations include Fruity Pebbles, red velvet and brownie batter macarons. Those are the flavors she says her customers ask for every week.
"My family loves them and when my sister comes over, she grabs all she can to take home," Crafton said.
Crafton says she has enjoyed all the new people she has met through something as simple as a little macaron.
But like anything, the art of making macarons has come with challenges.
"They're tough to make sometimes, but I've had a lot of fun doing it," she said.