Mille Lacs County Sheriff Brent C. Lindgren reports that at approximately 2:54 p.m. March 11, the Mille Lacs County Sheriff's Office received a 911 call from 69-year-old Mark Gregory Woken of rural Milaca. 
Woken reported that he received a call from an individual identified as Isaiah Alan Pedersen, 25, 5879 185th Street, Milaca, who reported to him that his mom was stabbed to death in a bedroom at their house.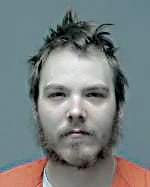 Sheriff Lindgren reported that shortly after the first 911 call, Woken called 911 again, reporting that Isaiah Pedersen was now at his house in a total panic.
Sheriff Lindgren reports that Mille Lacs County deputies responded to the scene of Woken's home and picked up Isaiah Pedersen, who appeared to have blood on his clothes, and responded to 5879 185th Street with a North Memorial ambulance. Deputies and ambulance personnel entered the home and discovered Ariel Suzette Pedersen, 59, deceased with apparent homicidal blunt-force injuries.
Lindgren said deputies, investigators, BCA agents and crime-scene team members processed the scenes collecting and documenting evidence throughout the remainder of March 11 and on March 12.
Sheriff Lindgren reports that Mille Lacs County Sheriff's Office arrested Isaiah Alan Pedersen and booked him into the Mille Lacs County Jail on probable cause murder charges following an initial mirandized interview. In the interview, Isaiah Pedersen admitted to striking his mother with fists, hitting her in the head with an object, and stabbing her. He also admitted to dragging her body to another room, all following an argument that reportedly happened after returning home from the liquor store, states the sheriff's release.
The sheriff reports that the body of Ariel Suzette Pedersen was transported to the Anoka County Medical Examiner's office for an autopsy, which was performed March 12. The results of the autopsy with cause and manner of death are pending and will be released at a later date and time by the medical examiner.
Lindgren reports that Pedersen was arraigned in Mille Lacs District Court March 13 on second degree murder and for intentional second degree murder, and was returned to Mille Lacs County Jail where he remains held on $300,000 unconditional and $100,000 conditional bail.
The case remains under active investigation by the Mille Lacs County Sheriff's Office, BCA, and the medical examiner's office. Anyone with additional information is asked to contact the Mille Lacs County Sheriff's Office at 320-983-8250