Milaca High School didn't have to go too far from home to find its new activities director and dean of students.
Brian Julson was chosen by school administration over three other finalists and will start his duties on July 8.
He is a 1998 Princeton High School graduate and is looking forward to heading the athletic programs of his high school rival.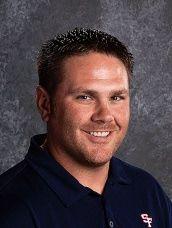 "I'm looking forward to that. I know the community well and their strengths in activities and athletics," said Julson, who lives in Princeton with wife Sarah and their two boys. "I'm hoping to continue on with that tradition and add to the culture that's already been established. I'm very familiar with the great culture they have with Milaca athletics. I enjoy the community and the Wolfpack pride. That goes back to when I played for Princeton and then coached against Milaca."
Julson replaces Ben Kvidt, who resigned who resigned after the 2018-19 school year. He comes to Milaca from St. Francis, where he has taught physical education since 2005. He also was at Princeton High School from 2002-05.
Milaca Superintendent of Schools Tim Truebenbach said Julson's energy and experience were both key factors in his hiring.
"We're super-excited to have him on board for a number of reasons," Truebenbach said. "He did very well in the interviews and he brings a great background of leadership along with a lot of coaching experience."
"You could tell he'd done his homework," Truebenbach added. "When he was at Princeton, they still played Milaca, so he's familiar with our programs. He said he really wanted to be a part of this team, and that impressed me. He's used to getting up in front of groups and teaching teachers. He brings great energy and has a great work ethic. All of his references said we won't be let down.
Julson received his Bachelor of Science degree from Hamline University in 2002 – where he was a catcher for the baseball team and earned a Master of Science degree from St. Mary's University in Winona in 2004. He received his degree in Administration from St. Mary's in January.
His head coaching experience includes time with the baseball and football programs as well as strength and speed coordinator.
Julson spent last week moving his things into his new office while getting to know staff and students.
As dean of students, he will assist Principal Damian Patnode with day-to-day operations at the school but added that most of his duties will focus on activities and athletics.
"I have a really good feeling about the community and I'm excited to get into the administration world," Julson said.
He is looking forward to meeting with coaches and advisors in the coming weeks to lay out goals and establish relationships.
"I've been a varsity coach for 17 years. I know that there are some things to brag about and some things to vent about," Julson said. "I want to continue to build on our success and work with the coaching staff and advisors with each of them and work with them on some of the hurdles they face.
"I'm excited about the opportunity. I really enjoyed teaching and coaching in St. Francis for 14 years. I knew it had to be the right fit for me to leave there because I enjoyed what I was doing. But I really feel like this is a great fit."