Ask any educator, and they'll tell you they didn't enter their chosen field to garner recognition.
Milaca High School Assistant Principal Joel Foss is among that group, but he was still thrilled when he learned he was selected as Administrator of the Year by the Central Minnesota School Counselors Association.
Foss was presented the award at a Dec. 6 conference at Gorecki Center at the College of St. Benedict in St. Joseph.
This award is presented to an administrator who has promoted the field of school counseling, encouraged growth, understanding, and the importance of school counseling services to their school and community.
Counselors throughout Central Minnesota nominate outstanding administrators for this award.
"I was humbled and shocked," said Foss, who is in his eighth year in the Milaca School District. "They did a nice introduction when I got the award and they talked how they felt supported and how we help the counselors out."
Working with school counselors has become a larger part of Foss' job in recent years.
He works with counselors to assist students who are having academic or attendance issues along with mental health problems.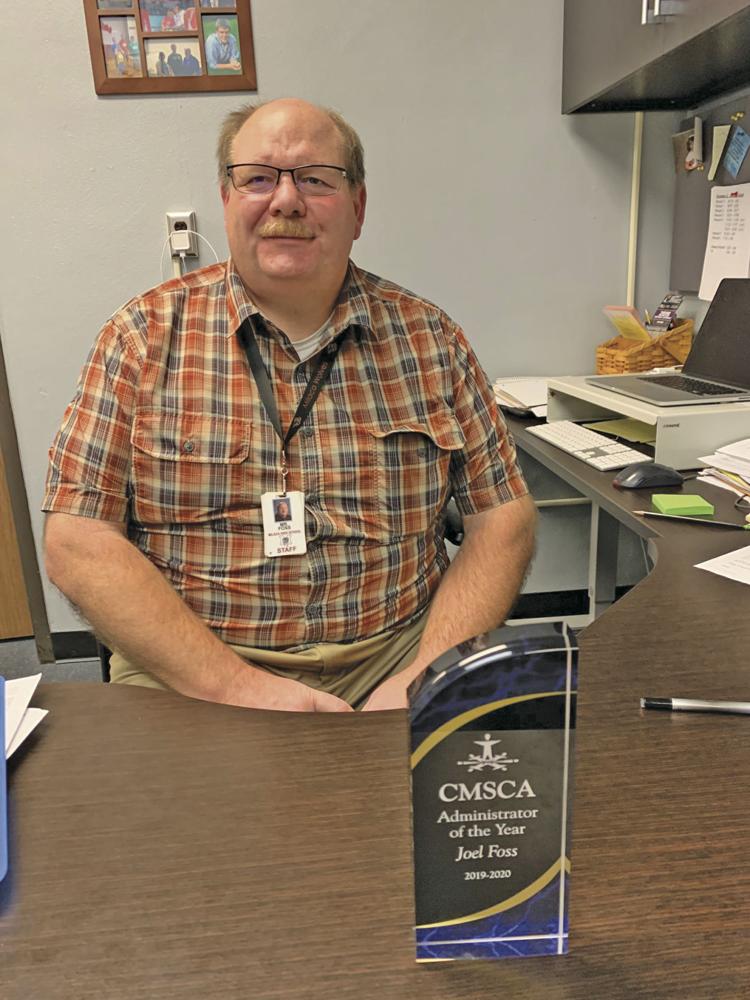 The school added a third counselor for grades 7-12 in 2018 to meet the growing need. "We work with a lot of the same kids and meet weekly as a team talking about different kids who might be struggling with different things to come up with plans to support those students," Foss said. "It's nice the counselors feel the administrative support is helpful when dealing with these issues.
"The role of student counselors has expanded so much in the past 15 years or so. There are a number of students who struggle with mental health issues, and they are people students will confide in. Plus they still have their roles as academic counselors, career counselors and helping the seniors get off to college."
Foss spent 12 years teaching science in Mora and also was an administrator there for two years prior to making the move to Milaca.
He acknowledges the job can be difficult, but he still enjoys coming to work every day.
"I like the unpredictability of the job," said Foss, who received his undergraduate degree from the University of Minnesota-Morris before getting his graduate degree from St. Cloud State University. "You never have the same day twice. You can have the greatest plans in the world and get to work on Monday morning, by 9 o'clock everything has changed.
"I hope the students think I'm fair. As the assistant principal, I'm not always popular. But I hope they think I'm fair. I had a principal once tell me if you go into everything having the best interest of kids at heart, you'll make the right decision even though it might not be the most popular one."