Princeton Fire & Rescue and the Sherburne County Sheriff's Office presented a Life Saving Award Monday night to a rural hero who rescued five people from a burning home in Blue Hill Township in mid-April.
The presentation honoring Jessie Schumacher was held at the Princeton Fire Station, 305 21st Ave. S.
On Wednesday April 17, around 5:51 a.m., Princeton Fire & Rescue was dispatched to a structure fire in Blue Hill Township in Sherburne County.
Princeton Fire Chief Ron Lawrence arrived on scene with Sherburne County deputies to find the second story engulfed in flames. Everyone was out of the house upon arrival.
The fire was noticed by Schumacher, a neighbor who was traveling through the area to go turkey hunting.
Schumacher called 911 and then entered the house and assisted the elderly homeowners out of the main story.
He then re-entered the house to get a grandson and girlfriend out of the basement.
A fifth resident, an adult male, had escaped the fire through an upstairs window and was trapped on the roof of the house.
Schumacher braced a piece of wood up to the roof to get the man to the ground safely.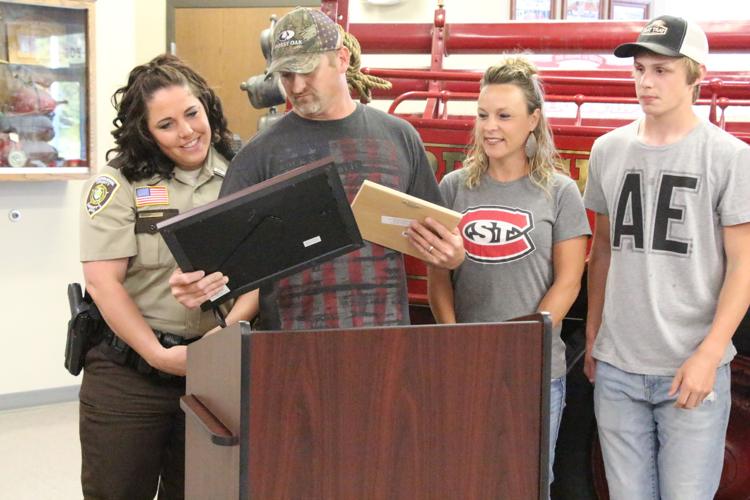 "It's not every day we get a chance to recognize a citizen for their heroism," Lawrence said. "Today, we are here to recognize the unconditional bravery of Jessie Schumacher.
Jessie set aside his own safety to rescue his neighbors,, Lawrence said.
"This act shows what a true hero is. We would like to recognize Jessie with the following two presentations. On behalf of the Princeton Fire & Rescue Department, and the Sherburne County Sheriff's Office, we would like to recognize Jessie for his courage and heroism in rescuing five people from a burning house on April 17. With thanks and appreciation."
Schumacher also received a Certificate of Commendation from Fire Marshall Bruce West and Minnesota Department of Public Safety Commissioner John Harrington.
"We encourage people to all 911 in situations like this," said Tate Mills, a Minnesota State Fire Marshal Division fire service specialist who attended Monday's presentation.
"Every situation is different, and what Jessie did is undoubtedly an act of heroism you don't see everyday," Mills added.
Sherburne County Deputy Robin McKay was the initial first responder to arrive at the fire scene.
"You could see the flame from quite a distance away," McKay said. "You could tell the structure was fully engulfed. When I arrived, Mr. Schumacher had the elderly couple who lived at the residence in the car with his young son. Two of the other residents have left in their car, and one other resident was trying to put the fire out with a garden hose. That wasn't going to work."
There were no smoke detectors in the house, she said, and the fire started in the upper most level. Schumacher not been driving by, McKay said it's likely the elderly couple who were sleeping on the main floor probably would have succumbed to smoke inhalation.
Schumacher said he didn't see flames the first time he drove by.
However, because he left his turkey hunting stand chairs at home, and had to turn around and go back and get them, he saw the flames on the return trip. "I just pulled into the driveway and reacted," Schumacher said.
Carol Foss, Princeton, one of the two elderly homeowners rescued by Schumacher, offered thanks in a May 16 letter to the editor published in the Union-Times.
That letter read as follows:
"Warren 'Bud' and Carol 'Marlene' Foss and all our family would like to thank our neighbor, Jessie Schumacher, and Brody, for waking us up on April 17, around 6 a.m. when he saw the smoke coming out of the top of our house.
"Jessie stopped and hollered into the house, 'Your house is on fire.' Warren, myself, Clay, Tanner, and Valerie all got out safe.
"Jessie put us in his car as it was chilly that morning. I called 911 on Jessica's phone, and Clay grabbed a garden hose and hooked it to the pump house nearby, spraying on the flames.
The fire department from Princeton, the Princeton police and the Sherburne County Sheriff's Office came very soon. Thank you so much.
I want to thank the people of Princeton for their generosity. The hospital doctors and nurses are wonderful people. We have a wonderful town to brag about. Thank you again."