Caring Hearts in Action MN focused on helping as many people as possible
According to a 2017 study from job site CareerBuilder, 78 percent of U.S. workers live paycheck to paycheck.
That means the majority of Americans are a small step away from financial hardship, if they're not already struggling.
The idea that most people need help at some point in their life inspired Farmington resident Mary Canada.
She first started handing out essentials to the homeless in October 2017. In January 2018, Canada and a group of other women formed a nonprofit, Caring Hearts in Action MN.
The nonprofit collected clothes, food and other essentials and gave them to people in need.
Now, over a year later, the nonprofit has expanded. Once located on Third Street in downtown Farmington, it now operates a storefront at 315 Fourth St.
Instead of delivering goods to people, Canada and her team have people come to the store. It looks much like any retail store, where people can browse through racks of clothes or pick up items from the food pantry.
Canada also has a new board to help with her mission. The new members are treasurer Kelly Bowman, secretary Alisha Fitzpatrick and at-large board member Stacie Raak. There are also two trusted volunteers, Fran Hanson and Roberta Jensen, who frequently come in and help run the store or organize donations.
Canada said the new board members are helping her to bring more of a store feel to the location that was accessible to as many people as possible.
She said the board "knows the vision of what we're trying to do."
Many of the new board members have volunteer experience. Fitzpatrick has volunteered for food pantries and done mission work and Raak is going to school for nonprofit work.
Bowman spent 20 years in financial services and has event planning, marketing and fundraising experience. She has worked with organizations like Make-A-Wish and Girl Scouts, and also has board experience.
These are also people that Canada has a personal connection to. For one, Bowman is her husband's ex-wife, so Canada said she knew Bowman "is a take-charge lady" who could be of great help.
Fitzpatrick was one of Canada's first donors, and both Jensen and Hanson were some of the first people Canada helped.
Hanson was going through a tough time during her late husband's cancer treatment, and then got sick herself. Volunteering with Caring Hearts, Hanson "knows what it feels like to be in that position of needing that help," Canada said.
"It's neat to see it all come full circle like that," Canada said.
Mission
The new board has been running Caring Hearts since January of this year, and the new store opened Feb. 5.
The store is open Tuesdays from 11 a.m.-7 p.m., Thursdays from 11 a.m.-5 p.m. and the first Sunday of every month from noon-3 p.m.
Its main focus is helping those who live in Dakota, Scott, Rice and Goodhue counties. Residents of those counties can visit Caring Hearts once every three months.
People from other counties can still come, but because Caring Hearts wanted to keep a local focus. Residents of other counties are limited to visiting once a year.
No paperwork is needed and there are no income restrictions. People need an ID or other materials, like a bill, showing which county they live in.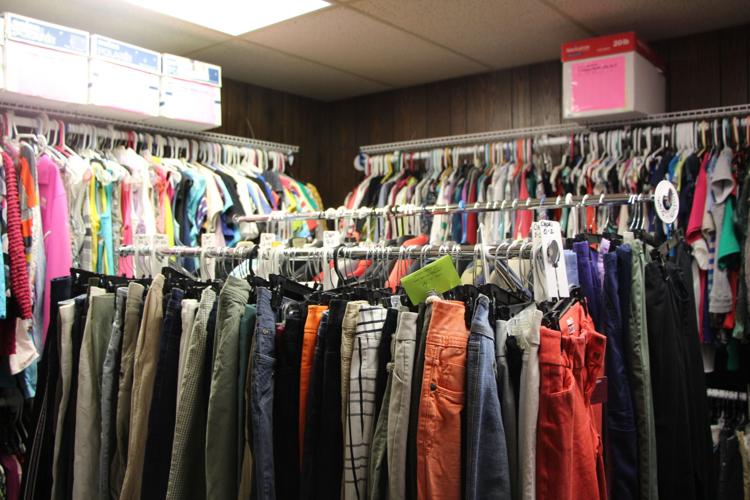 Though its focus is on helping the needy, the Caring Hearts board said anyone is welcome to come to the store.
"I don't want it to be this stigma of, 'Oh my gosh, you had to go to Caring Hearts.' I want it to be a free, open, positive — like a Plato's Closet type of feel. And that's what we're working toward," Canada said.
"We want them to come in and feel good about themselves when they leave, that they're going to be OK," Bowman added.
Canada said that people can make freewill donations if they're able, but no one has to pay to shop.
Since starting Caring Hearts, the community has been "so supportive," Canada said.
The nonprofit frequently uses Facebook to interact with the community and post what items are most needed.
When they asked for folders, Canada said they received so many that "we'll never use them all," and when they asked for hangers, half the storage room filled up with hangers.
She added that Council Member Joshua Hoyt installed Caring Hearts' shelving for free, and resident Becky Pressgrove bought the shelving.
"That's how we've gotten this far. … It's just amazing, the help," Canada said.
People who are interested in donating can donate anything from pantry food to clothing, but Canada said the most-needed items tend to be full-size toiletry items. Toilet paper, detergent, diapers and shampoo are all frequently needed.
Vision
Canada said the focus now is growing the store and getting the word out, but eventually she wants to provide even more resources, like gas gift cards and food gift cards.
Fitzpatrick added that they want to become more of a "family place" that has showers and a dining facility for community meals.
"There are so many families being displaced these days, where even when they get that housing voucher, they're still having to wait months and months because there's nowhere to go.
"Like even if they get, say, the Dakota County voucher … there's just huge amounts of waits, huge amounts of people that are in the motels, hotels not wanting to lose their kids. And it's not a choice," Fitzpatrick said.
The idea of a facility with more resources could be years down the road, the board acknowledged. In any case, the focus is to keep everything as free as possible, they said.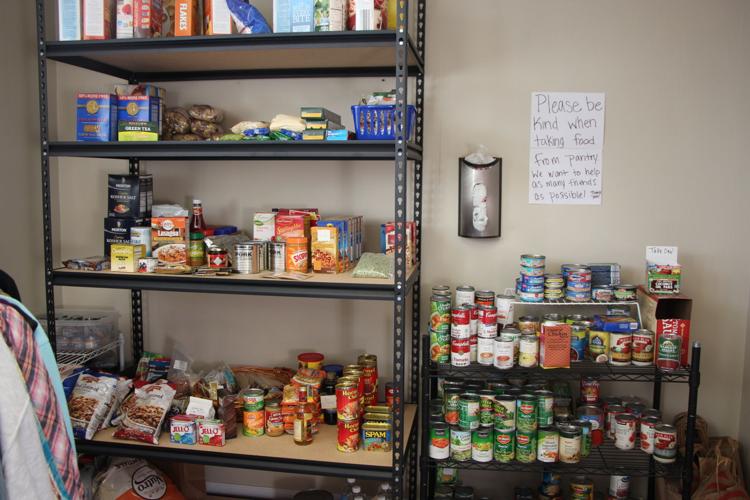 Canada said she hates telling people no, but her board helps her keep things balanced.
"I always have to tell (Canada), 'We're the bridge to the solution, not the solution,' " Fitzpatrick said.
That said, the women said they could always use help, whether it's sorting donations, breaking down boxes or doing data entry.
They said there's something for anyone to do, regardless of age. People from preschool students and Boy Scouts have stopped in to help.
In the future, Bowman hopes to organize fundraisers and is currently working on creating an access database. She envisions having clients, donors and vendors in the database so they can keep track of what items are needed and what's been donated.
The board said they also hope to find a grant writer and a corporate sponsor to help grow the nonprofit.
Whether someone needs help or is just curious, the women said people are welcome to stop by and check Caring Hearts out.
"Don't be afraid to pop in. We like lookie-loos. We'll gladly show you what we're up to," Canada said.
Most important to Caring Hearts is treating everyone like an equal, not a number, Canada said.
"The feeling they walk away with is the most important thing to us. Just leaving here knowing that we did everything we could to help them, and just giving them that hope that back," Canada said.
Canada said that the best way to contact Caring Hearts is through its Facebook page or Facebook group. People can also call 651-463-3582 or visit its website, www.caringheartsmn.org.