Local author enlists the help of Farmington eighth-graders to write young adult novel
Back in the 70s, Denis LaComb sat down at his L.C. Smith typewriter and typed up a story filled with world travel, a mysterious ancient religion and two people's quest for knowledge.
It ended up being an 800-page manuscript, but LaComb, an Apple Valley resident who has published nine novels, a business guide and two plays, didn't have his editor look at it until last year.
When his editor, Vida Raine, started tackling the manuscript, her 14-year-old twin daughters, Nedda and Amelie, mentioned that the storyline of the book sounded interesting.
That's when Raine got the idea to turn one manuscript into two books: one for adults and the other for young adults.
Though the book was originally intended for an adult audience and LaComb had never written specifically for a young adult audience, he enthusiastically agreed to the idea.
"I was absolutely thrilled. It's like, 'Go for it!' A totally new demographic that I had never thought about, but one that I was excited about," LaComb said.
Raine's twin daughters attend Boeckman Middle School in Farmington and are avid readers, she said, so they were up to the challenge. Nedda did graphic design work and created the final cover, while Amelie helped her mother edit the manuscript.
Though he said it would help to have the 14-year-olds' perspectives and insights, LaComb knew the book was a huge undertaking. Even after the original adult novel, "Follow the Cobbler," was cut down, it ended up being nearly 550 pages.
"The first thing I said was 'This is a monster,' … and Vida said, 'I don't think young adults are turned off by a big book if they find it of interest.' 'Harry Potter' is probably a good example of that, because all of those books are really huge. So I was excited about having Vida's daughters begin that process," LaComb said.
Raine said she and LaComb have worked together for about seven years, and she successfully edited the original 800-page manuscript.
"Denis has great confidence in my ability, so that probably spilled over to the kids a little bit," Raine said.
Nedda and Amelie did make some obvious changes to the book — for one thing, they changed the title from "Follow the Cobbler" to "Chasing Ophelia," since the figure of Ophelia is a central theme in the book.
Nedda also designed a new cover. The original book had a picture of Machu Picchu on the cover, but "Chasing Ophelia" features the silhouette of an oak tree against a background of Celtic symbols.
LaComb accepted these changes with no hesitation.
"I have total trust in Vida in terms of her insight — she's incredibly creative. And (her daughters) were like falling off the oak trees. So if her daughters had ideas, I was absolutely wide open for it," LaComb said.
Creating 'Chasing Ophelia'
The change in the cover has to do with the book's theme. Two characters, Brian and Katherine, meet at the Minnesota Historical Society (with the name changed in the book) and receive a mysterious message on one of the computer terminals.
After deciphering the message, they learn about an icon called "the cobbler." They don't know who or what the cobbler is, but they travel the world, picking up more clues as they go, to solve that mystery.
But another group, an ancient religious sect called the druids, is following Brian and Katherine, in search of a figure named Ophelia. LaComb said he drops hints to make readers question if there's a connection between Katherine and Ophelia — whether she's a descendant of Ophelia, a modern-day Ophelia, or something else entirely.
The new cover's oak tree has to do with the "bad guys" in the story — the druids.
Oak trees were "absolutely paramount to the druid religion," LaComb said.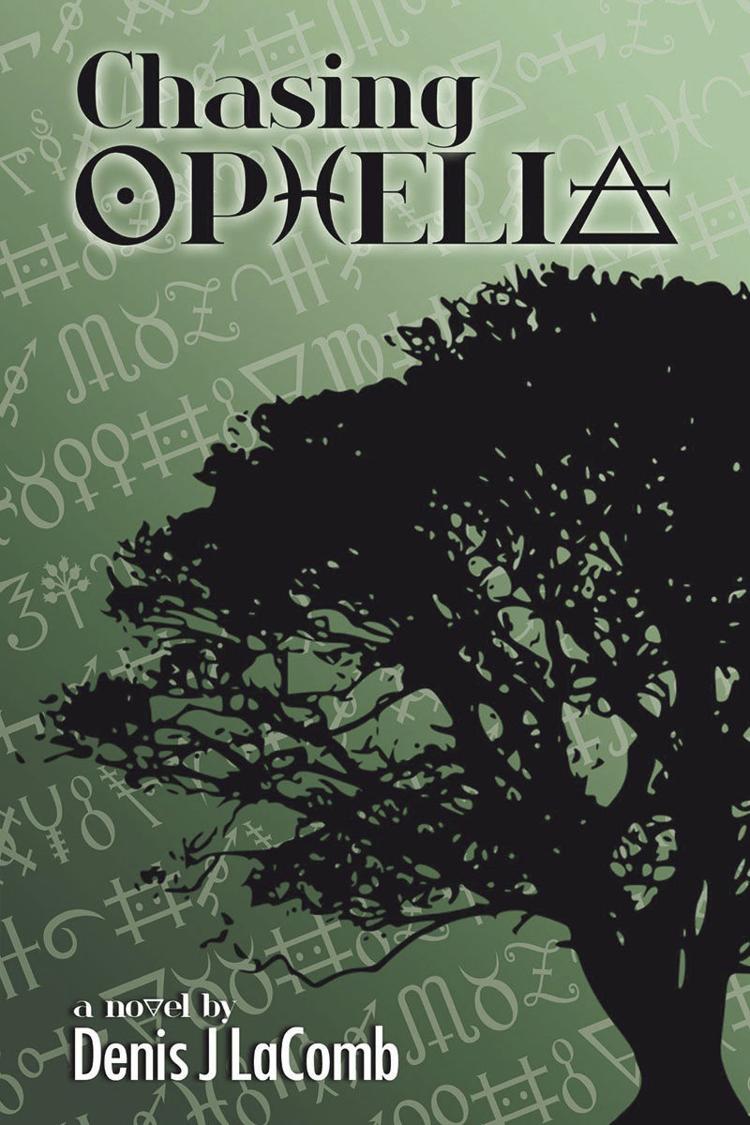 The Celtic symbols on the cover are also important because Brian and Katherine use those symbols to decipher the clues they discover.
Nedda Raine said that she and her mom bounced ideas off each other, but she was focused on making an eye-catching design.
"Kids my age normally just look at the book cover and just think, 'Well that book doesn't look interesting.' So I just wanted to take that into mind and really make it look interesting for people to read," Nedda said.
As for Amelie's job, she was in charge of helping her mom turn an adult book, which has some violence and romance scenes, into a book suitable for younger readers.
"I just thought of what kids my age were sensitive to or wouldn't exactly like to read about, so anything that came up like that, or like any swearing or nudity or whatever, I would cross that off and say, 'Write something not so inappropriate,' " Amelie said.
LaComb said he was impressed that the girls were able to cut out things they were uncomfortable with and still keep the tone of the book intact.
"What amazed me is the two girls … were able to take this scene and really take out the sex and the violence that obviously they weren't comfortable with, and yet still continue the scene so that you knew what happened — it just wasn't as descriptive," LaComb said.
The girls' success doesn't surprise their mother at all, she said.
"They're both amazing students, so handing them this challenge didn't worry me at all. I mean, they relish responsibility," Raine said.
Though it was an unexpected collaboration, LaComb said he's open to doing something like this again.
"I have five grandchildren, and obviously we really feel strongly about not only their reading, but also taking them to the theater, having that whole theatrical experience.
"So I don't see myself writing specifically for a YA audience, but what I think could happen is I would write something and then would have no hesitation to approach the girls again and say, 'Look, I've got this play or I've got a novel, and … it might work for a young adult audience,' ask them and their mother to read it and see what they say. I mean, that would be really exciting," LaComb said.
Both girls seem open to a future collaboration, too. Nedda said she's thinking of taking graphic design classes in high school, and Amelie said she'd be willing to do editing again if she was given the chance.
"I have not done anything like this before, and I honestly thought that this (would be) like a one-time thing and it would be an interesting task to accomplish. But I would love to do it again for (LaComb) if he gave me the opportunity," Amelie said.
LaComb's five grandchildren — one 11-year-old, four 9-year-olds and a 7-year-old — have expressed interest in their grandfather's work, he said.
"I don't think the 9-year-olds or the 7-year-old are quite ready for it, but … the 11-year-old is really getting into it and really enjoying it. And I've sent this out to a number of our friends who have teens or their grandchildren are that age and they're reading it right now, and thus far the feedback has been just super," LaComb said.
Decades after sitting at his old typewriter, LaComb said he's proud to see his story come to fruition.
"It is a fun read, and hopefully you take that in the sense that I'm not bragging, but I'm very proud of it. I think it's one of those page-turners, and I think it's just a fun read and it's exciting to have a brand-new demographic," LaComb said.