Organizers believe the parade's sensory zone is the first of its kind in Minnesota
Parades are staples at many community festivals, including Dew Days.
But while some people enjoy the lines of vehicles and honking horns, it's not a pleasant experience for everyone.
That was a key discussion during a Dew Days committee meeting in March.
The Farmington Fire Department wondered whether or not to use sirens during the Dew Days grand parade because some people love the sirens and others don't.
That sparked an idea for Farmington American Legion member Marissa LaCourt. Her son Zachary, 11, has autism spectrum disorder and has never been able to attend a parade.
That's because certain situations are difficult for Zachary and can trigger a meltdown, Marissa said. One of his triggers is loud noises, like sirens.
Farmington Dew Days Co-Chair Jake Cordes suggesting splitting the parade so that part of the parade route would have sirens and the other half wouldn't. LaCourt took it a step further and suggested calling the quiet area a sensory zone.
She said the sensory zone makes the parade "more inclusive" for people who are on the autism spectrum and for people with post-traumatic stress disorder.
"Those people that haven't been able to attend these events are able to now come with confidence, knowing that this part, it's not going to happen," LaCourt said.
Organizers believe the sensory zone would be the first of its kind for a parade in Minnesota.
The sensory zone will stretch along the last three blocks of the parade route. It will start at Maple and Fourth streets near Farmington Elementary School, and stretch south to the Dakota County Fairgrounds.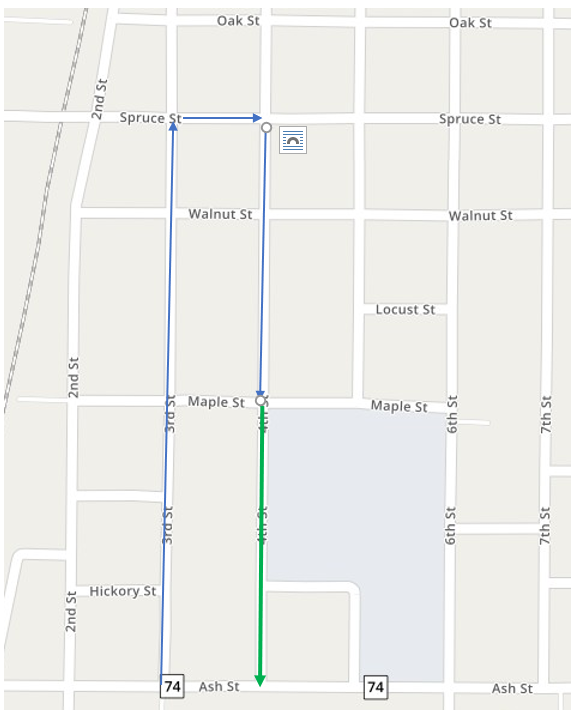 When parade participants enter the sensory zone, they will not be able to use their sirens or horns or rev their engines. All emergency vehicles or vehicles equipped with flashing lights will also not be allowed in the sensory zone.
Music will still play, but if people think the bands are still loud, there will be hearing protection provided. Taube said that the Fastenal Lakeville location donated 1,600 sets of disposable earplugs, an estimated $400 value.
He added that other local donors have helped make the sensory zone a reality. Quickship Plus in Farmington discounted printing for 10 directional signs and a 4-by-8-foot banner to alert parade-goers and participants. An anonymous donor donated money to pay for the remaining cost of the banners and signage.
So far, community feedback regarding the sensory zone has been positive, both Taube and LaCourt said.
In addition to companies helping out, they said Farmington Police Chief Gary Rutherford has offered the use of two computer-controlled signs to mark the start of the parade and warn participants when they're getting close to the sensory zone.
Response
About three weeks ago, Taube, LaCourt and Cordes spoke with Fox 9 about the sensory zone. Since then, Taube said he and LaCourt have gotten "tons" of emails and text messages from people who want to help, and many people have commented positive messages about the idea.
"It's not just us that wants this to happen. The whole community wants these people to be able to celebrate with us," LaCourt said.
As a mother, she said, she wants her child to be included, so the positive response has given her "a warm and fuzzy feeling."
But, she said, it's not just her project or the Legion's project — it's everyone's.
"It's really become this beautiful partnership between the city of Farmington and the American Legion that is bringing this whole thing to life," LaCourt said.
LaCourt said that she has heard from Forest Lake's American Legion post, and they expressed interest in starting a sensory zone themselves, possibly for their Fourth of July parade.
LaCourt said she hopes other communities follow suit, and if they want to improve upon Farmington's idea, that's even better.
"I think that next year, we'll all take note of how each other did it differently, and collectively, I think we'll make a very safe and inclusive environment," LaCourt said.
She added that her son's needs and triggers are very different from another child's, which in turn could be different from someone who has PTSD. She and Taube said it was difficult to cover all their bases since they started planning the sensory zone this March, but they are already brainstorming for next year's parade.
"It isn't just about me and my son; this is about an entire community of people. … We have a lot of work because there's so many people that need so many different things," LaCourt said.
Taube added that anyone is free to come to the sensory zone, no questions asked. Though the Legion and Dew Days organizers want to get the word out specifically for people who have autism spectrum disorder or PTSD, Taube and LaCourt said it can be a nice break for people who simply don't enjoy sirens.
LaCourt said the sensory zone offers wide open spaces with "some beautiful grassy areas to just sit on a blanket and enjoy it.
"If you're just one of those people that doesn't like the sound of sirens, please come on down, sit, enjoy the day. Be in the environment. It's completely all-inclusive. Just this particular area's not going to have sirens and blow horns.
"The band will still play, the music will still play. We've just kind of taken out a small piece of the problem," LaCourt said.
Taube echoed what Cordes said during the Fox 9 interview, saying the sensory zone "will put Farmington on the map."
"And it will be put on the map for a big reason, being that we are the first one in the state of Minnesota. That's a big deal," Taube said.
The Dew Days grand parade is Saturday, June 15, at 5 p.m. The parade will start at Ash and Third streets, heading north, then turn right on Spruce Street. Then it will head south on Fourth Street.
More information about the grand parade and Dew Days can be found at www.farmingtondewdays.com or in the special section of this newspaper.