Over 200 cars and motorcycles drove by Eric Crandall's Apple Valley home
2020 has been a hard year for Apple Valley's Eric Crandall.
About two months ago, the 73-year-old U.S. Navy veteran was diagnosed with Stage 4 bone cancer and he is now on home hospice care. His health had been declining in recent years from having skin cancer, a heart bypass and having to go on dialysis because of his failing kidneys.
Crandall has rarely left his home during the COVID-19 outbreak, except when he goes to the hospital, according to Ben Furuseth, the husband of Crandall's step-daughter, Brenda.
"I've been kind of down in the dumps in the last few weeks," Crandall said.
Crandall's mood got a lift Sunday, May 3, when a surprise car cruise to honor him and his military service came by his home on 134th Street. An estimated 250 to 300 cars and motorcycles drove by as Crandall and his wife, Dow, sat in chairs in their driveway.
"I kind of figured to get 20 or something but they just kept coming," he said. "Your family can do a lot to increase your mood and spirits. Something that started out really simple lifted my spirits. I needed it."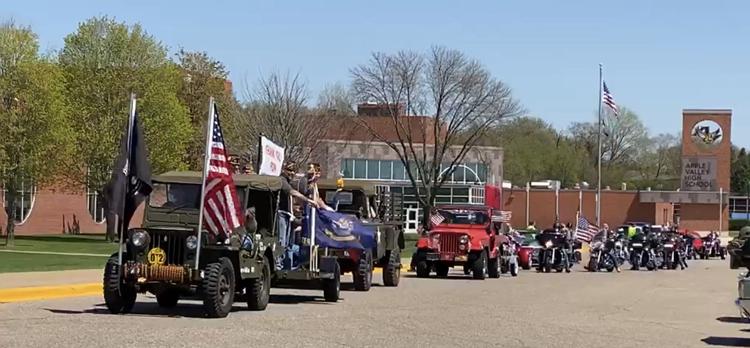 Something special
Crandall served in the Navy from 1965 to 1992. During his naval career, he was stationed on many submarines including the U.S.S. Woodrow Wilson. He served in the Vietnam and Gulf wars. He retired from naval service as a chief petty officer in 1993.
He next worked as a chef in a Georgia state prison for 13 years. His last job was working at Lowe's in Shakopee before retiring.
Crandall has always loved classic cars and hot rods and has been involved with multiple car clubs and events over the years, according to his family. He's owned many cars with his favorite being a 1956 Chevy Nomad. He currently owns a 1962 Rambler.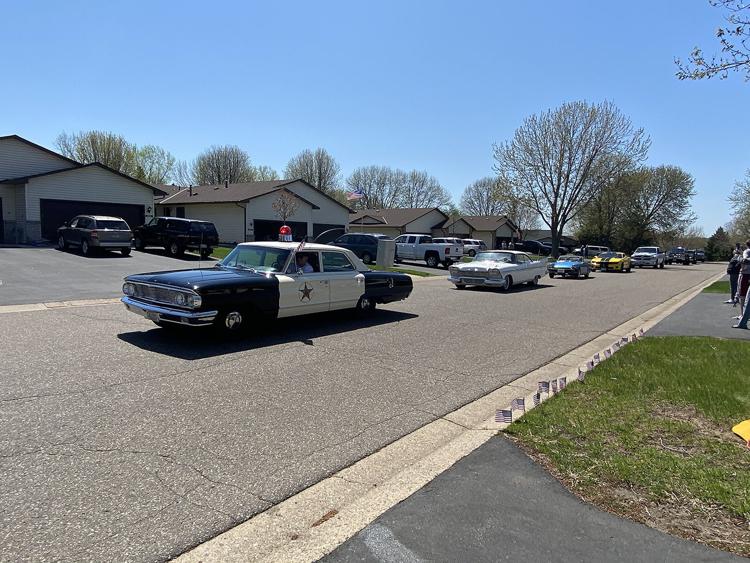 Furuseth said at the end of April, his wife, Brenda, wanted to do something to honor Crandall and lift his spirits. Her initial idea was to have a small classic car cruise go by his home. She reached out to family friend and Lakeville resident Susan Grazzini for help and advice.
"We wanted to do something special for him. He's been on home hospice. With this COVID he's at the highest risk possible. We told him he cannot leave the house," Ben Furuseth said. "We wanted to do something that was safe for him to do and still keep distance as much as possible but still show that we care and that community."
Grazzini has volunteered with different events and veteran service groups in recent years including a Tee It Up for the Troops golf tournament, Friends of the Brave and most recently the Eagle Group of Minnesota Veterans. Some of that experience has been organizing large fundraisers.
When Brenda Furuseth contacted her, Grazzini immediately agreed to help. She got in touch with people in her different circles about the upcoming car cruise. Later, Randy Pronschinske, adjutant of the Lakeville Veterans of Foreign Wars Post 210, became involved in the planning and cruise logistics, along with contacting members of different car clubs. About six people in total were involved with the overall planning.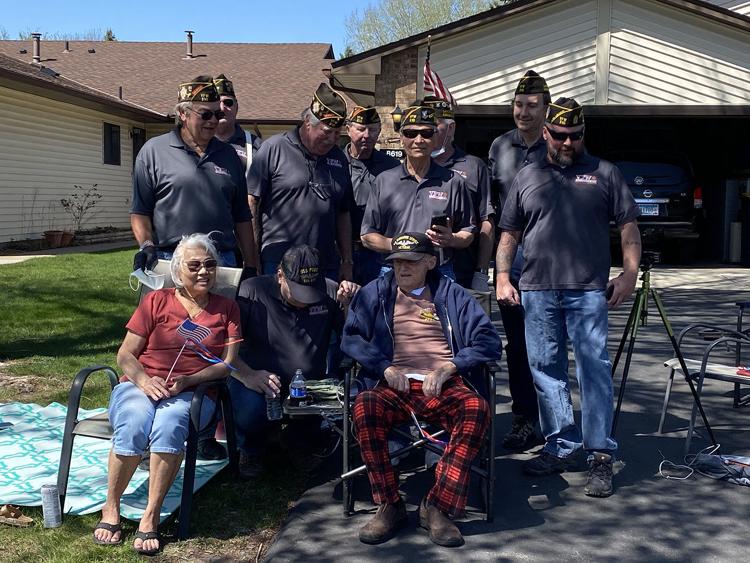 "It just exploded, which was just excellent. I had no clue it was going to be this big," Grazzini said.
Ben Furuseth said Crandall began to suspect something was up on the day of the parade when they set up some chairs on his driveway. The parade started at Apple Valley High School around 2 p.m. and the last car drove by Crandall's house a little before 3 p.m.
The parade participants included members of multiple car clubs, other military veterans, the Color Guard from VFW Post 210 and motorcyclists. Many people waved, cheered, held signs and some had even decorated their cars decorated, Furuseth said.
"The response was way more than we could have ever imagined. People were saluting, people were congratulating him and thanking him for his service," he said. "Eric just waved. I think the outpouring of community engagement was amazing. It's something we never thought would actually happen."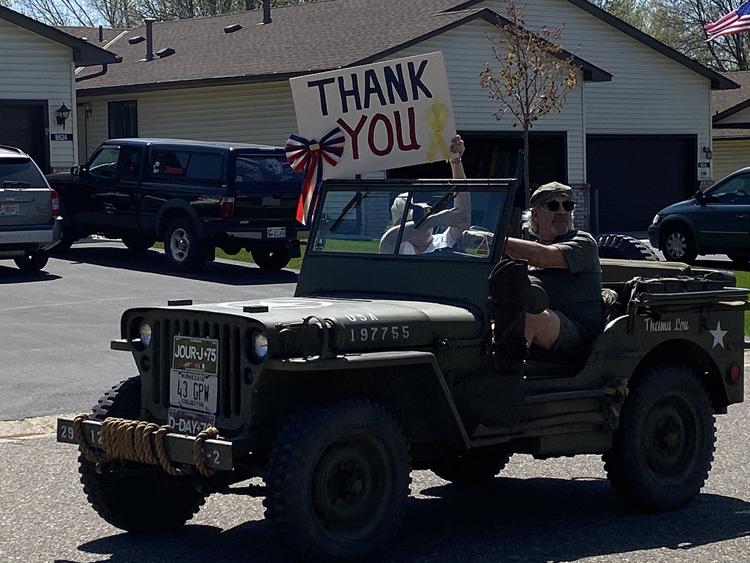 The parade was the first time in a long time that Grazzini had seen Crandall and his wife smiling. She added that Crandall is a quiet man who would never seek accolades for himself. He's always been about his family.
"Eric and Dow were smiling and legitimately enjoying themselves. Everything that's going on right now, it's like that all just melted away. I haven't seen that in a long time," she said.
Crandall said seeing everyone cheering and waving cheered him up right away.
"It was amazing," he said.
Furuseth said their family is thankful to all the people who took time out of their Sunday afternoon to take part in the parade.
Patty Dexter can be reached at patty.dexter@apgecm.com.