Staff finding other ways to keep animals stimulated without visitor crowds
Terah Grace said the Minnesota Zoo's Japanese snow monkeys typically ignore the crowds of people that pass by them on a daily basis.
Now, the monkeys and other animals have noticed something is different since the zoo closed its doors to the public March 14.
The people are gone.
Like their human caregivers, the animals have had to adjust to a new normal with the absence of the crowds and pre-COVID-19 daily schedules.
"Now as you walk by all of their faces look up at you," Grace, assistant curator of behavioral animal husbandry, said of the snow monkeys.
The monkeys, other primates and animals such as wolves, penguins and sea otters thrive on the attention and stimulation the visitors bring, according to Grace. Other normally shy animals like coyotes and pronghorns have even been more interested in zookeepers and other staff.
"How much stimulus and that mental challenge that the guests actually give the animals was a little bit, at least for me, underrated until the lack of people coming in the door," she said. "They definitely miss the people. They look for them. If we walk by, they are immediately engaged with what we're doing."
Grace said what hasn't changed is that the zoo staff are still working hard to provide "first-class" care to the 4,500 animals residing at the zoo. The staff have shifted their schedules to adhere to social distancing guidelines and taken other steps to keep the animals engaged and prepared for the eventual return of the zoo guests.
Zookeepers have rearranged features in exhibits, put up photos or different objects to keep animals visually stimulated, and they play games with the animals.
Some animals have been able to leave their enclosures to go on a walk. For example, the tortoise has been able to take a stroll along the Tropics Trail. The frequency of those walks has increased. Animal ambassadors that travel to public places like schools or libraries are still being driven to different sites to keep them accustomed to going out, Grace said.
Grace said the zoo has always done enrichment with its animals. Enrichment is the term used to describe efforts to promote natural behavior opportunities for mental and physical stimulation through change and choice in an animal's daily care.
"Enrichment treatments are to pull out natural behaviors that they don't have to do," she said.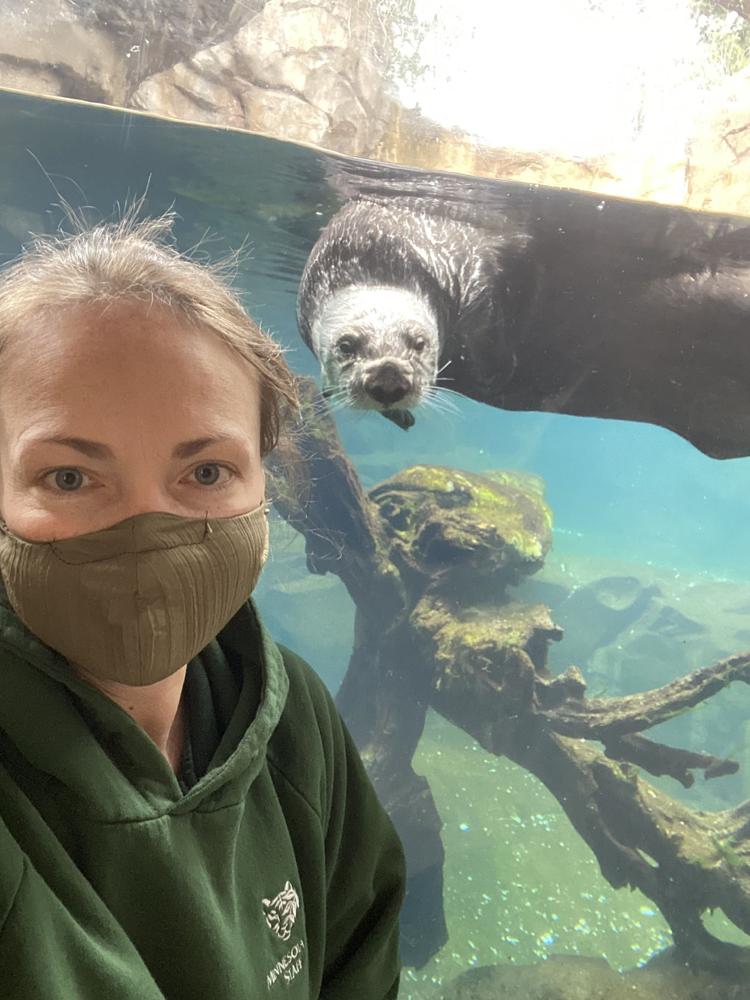 What's changed is that the zookeepers have increased the frequency of the enrichment and rotating the different types more often. Many enrichment sessions involve food, and others encourage activities like swimming or climbing.
Grace said zookeepers have had more flexibility to try new things with the animals because they're not on the set daily schedules.
"It all starts with animal observation. We have to know our animal. We have to watch them to see what behaviors they're doing and then we provide opportunities if we see any behavior is lacking," she said. "We do that every day, multiple times a day."
Grace said more animal training has been going on. This is being done to keep the animals stimulated and reinforce the goal of keeping their interactions with humans positive. The staff use positive reinforcement training to allow animals to choose to cooperate when the staff want to do something with them.
The zoo has stayed connected with other zoos around the country during the COVID-19 pandemic about protocols they're using and activities they've done with their animals, Grace said.
When asked how the animals would be prepared for larger numbers of people when the zoo opens, Grace said she believes the state's approach to gradually reopen things will be good for the animals.
"The staff is working hard to make sure that the animals are prepared. That's our No. 1 job is to make sure that the animals are ready to cope with whatever comes their way and that it's always positive for them," she said.
Patty Dexter can be reached at patty.dexter@apgecm.com.