Vista View student and teacher design artwork for sled dog race
Artwork created by Vista View fourth-grade student Emerson Stattman and art teacher Kelly Vo was chosen as the U.S. Postal Service cancellation stamp for the 2019 John Beargrease Sled Dog Racing Series trail mail.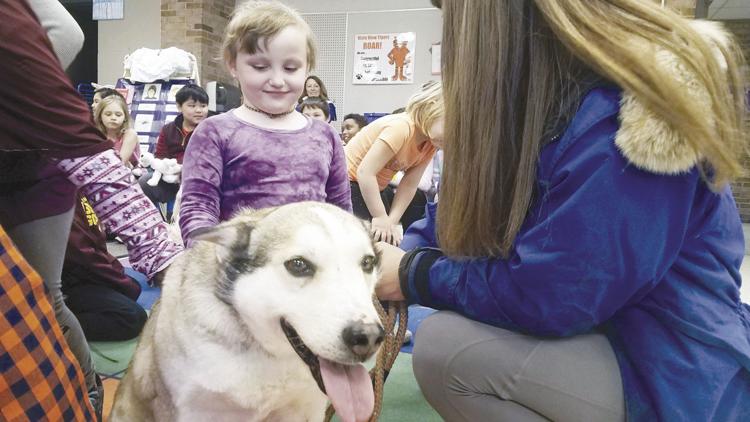 Mushers in the race carry mail with them along the course from Duluth to Two Harbors in honor of the race's namesake, who delivered mail along the North Shore of Lake Superior for more than 20 years in the late 1800s. The mail receives a commemorative cancellation stamp, which this year featured Emerson's drawing of a sled dog along with the words "Beargrease Station" and "Carried by Sled Dog."
Second-grade teacher Amy Tucci follows the race each year in her class, using it to engage students in lessons about wildlife, science, writing, mathematics and more. The learning experience makes such an impression that former students will even come back to Tucci's classroom during the races to check on mushers' progress.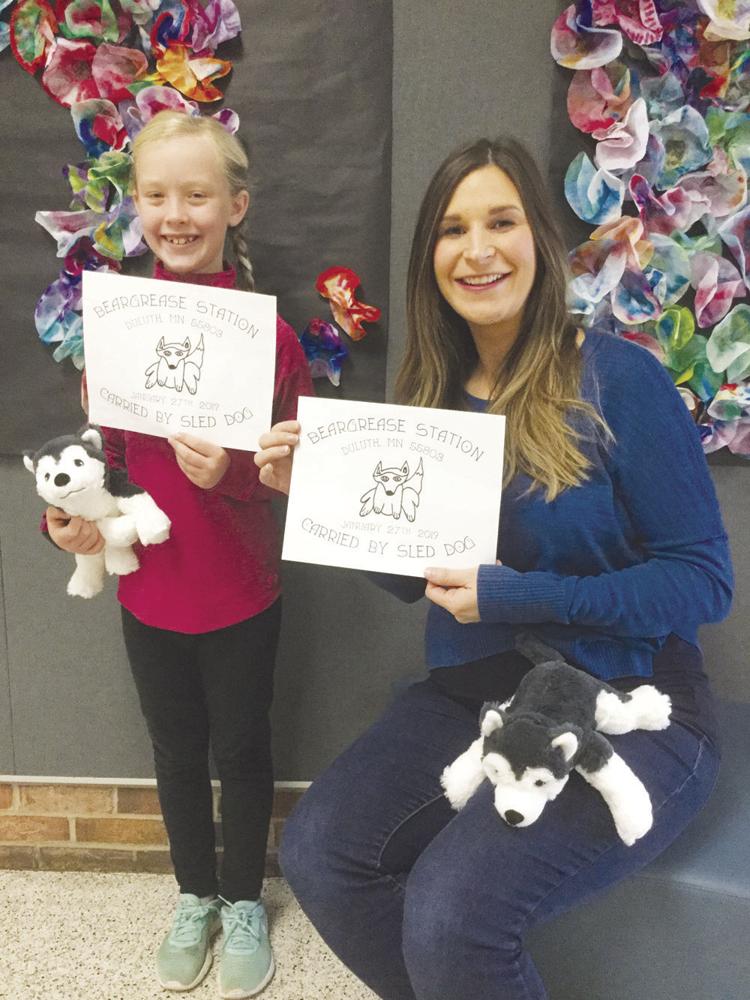 This year, Tucci's class also had a visit from Chloe and Carlie Beatty, both of whom participated in this year's Beargrease, as well as sled dog Pearl, who has raced in previous years.
Learn more about trail mail at the John Beargrease Sled Dog Marathon at www.beargrease.com/trail-mail.
District 191 Children's Art Show at Ames gallery
A Children's Art Show, featuring work from elementary students in Burnsville-Eagan-Savage School District 191, will take place Feb. 28 to April 29 (closed March 7, 14 and 21 and April 3, 4, 10 and 11), in the Ames Center, 12600 Nicollet Ave., Burnsville.
The free opening reception will be 4:30-6:30 p.m. Thursday, Feb. 28.
The exhibit will feature over 100 selected pieces of artwork by students in kindergarten through grade five from all 10 elementary schools in District 191. There will be drawings, paintings, mixed media, and a variety of three-dimensional works.
"The Ames Center show is always a 'must see' for our staff and students," said Sara Merkel, art teacher at Hidden Valley Elementary School and organizer of the event. "It is exciting as an art teacher to see how our students grow artistically through the year. We see an expansion in their ideas and in their technical ability; this annual exhibition provides an opportunity for them to see their hard work come to fruition. We can all be very proud of their artistic accomplishments."
In addition to Merkel, elementary art teachers are Dan Risinger (William Byrne, Rahn), Kathryn Petri (Harriet Bishop, Vista View), Kelly Knott (Marion W. Savage, Edward Neill), Jill Derouin (Sioux Trail, Rahn, William Byrne), Mara Schriver (Gideon Pond, Edward Neill), Kelly Rae Vo (Vista View, William Byrne), and Micayla Irmiter (Sky Oaks, Marion W. Savage).
The Ames gallery is open 9 a.m. to 5 p.m. Mondays through Thursdays. There is no charge to view the exhibit.
'Class Acts' celebrates 31st anniversary
For the 31st consecutive year, teachers will be presenting "Class Acts," a comedy variety show, to raise scholarships for graduating seniors in Burnsville-Eagan-Savage School District 191.
As a result, more than $250,000 has been presented to students at Burnsville High School, Burnsville Alternative High School and the Burnsville-Eagan-Savage Transition (BEST) program to help pay for college and further educational goals.
This year's show, dubbed "We Teach … What's Your Superpower" will feature staff members singing, playing instruments, acting, telling jokes and dancing. To get even more people involved, organizers are adding a superhero design competition for grades K-five and a "Who is your hero?" essay competition for grades three to five throughout the month of March, with winners announced at each performance. There will also be a basket raffle again this year.
"We chose this year's theme supporting all the staff, students and families in District 191 who make us the great school district we are," said Class Acts co-chair and Vista View Elementary second-grade teacher Jennifer Gandrud. "From clearing the icy sidewalks, to feeding kids, to wiping away tears and putting on those Band-Aids. We need everyone. We work as a team. We are ALL superheroes."
Performances are scheduled for April 4-6 at 7:30 p.m., with a 2:30 p.m. matinee on Saturday, April 6. All performances will be in the Mraz Center at Burnsville High School, 600 E. Highway 13.
District 191 superintendent honored by state organization
Bunsville-Eagan-Savage School District 191 Superintendent Cindy Amoroso has been named the 2019 Kay E. Jacobs Memorial Award winner by the Minnesota Association of School Administrators.
This annual award honors one female member of MASA for excellence in educational leadership. It recognizes Amoroso's distinguished and more than 30-year educational career, during which she has served at all instructional levels, including as an educational assistant, teacher, school administrator and in multiple district-level roles.
Amoroso's accomplishments during her career include founding a community nonprofit to support early learning, founding a statewide professional development organization for curriculum and instruction leaders, redesigning a school-university partnership for mentoring new teachers, and much more. She's served in leadership roles for professional organizations and civic organizations, including chambers of commerce and the United Way.
In supporting her nomination for the award, former and current colleagues cited her willingness to take on difficult work for the benefit of students and educators, her commitment to equity, support for leadership development, and her faithfulness to the vision and mission of her district.
"Cindy is constantly making connections between our decisions, budget, and their impact on student learning, instruction, and our school community with knowledge and tact," said District 191 School Board Chair Abigail Alt. "Cindy asks the tough questions and demands forthright answers, especially when these conversations challenge our status quo. She sets a strong tone and expectation that we are all in this together for all students."
The award will be presented at the MASA Spring Conference on Friday, March 8.
Transparency, accuracy earn district 31st financial reporting award
For the 31st consecutive year, Burnsville-Eagan-Savage School District 191 has received the Association of School Business Officials Certificate of Excellence in Financial Reporting Award.
Considered the gold standard and the highest recognition for school district financial operations, the award recognizes accurate and transparent financial reporting for the school year that ended June 30, 2018.
"It speaks very highly about the professionalism and expertise of our staff," said Superintendent Cindy Amoroso. "The decisions we make have to be based on accurate information, and thanks to the work of our finance and accounting team, we know they are."
For more details, visit www.asbointl.org.
Eastview chess team wins conference championship
The Eastview High School chess team won the South Suburban Conference championship on Saturday, Feb. 23.
Scoring for the Lightning were Isaac Traynor, Shrinivas Venkatasubramani, Luke Sponheim, and Yonis Hashi. Other participants included Pratik Nehete, Kenny Ta, Erik Wanberg, Peter Dehnert, AJ Neppl, Nikhil Prasad, Sage Magras, Jeyasri Venkatasubramani, Michael Borg, Sohan Addagudi, Andrew Spring, Darien Bishop, James Hertzberg, and Akul Athmaram, according to Eastview's website.
The team is coached by Bob Dettmer. The school's chess team has won the conference championship six out of the past seven years.
Eastview mock trial team qualifies for state
Eastview High School's mock trial team qualified for the state competition at the Ramsey County Courthouse, Feb. 21.
Adhvika Malarvannan, Ainsley Schwerr, Belle Brooks, Brianna Cairns, Claire Alwin, Darby O'Neil, Grace Jesch, Madison Bisek, Megan Bateman and Rupsa Raychaudhuri were scheduled to compete in the state competition in Duluth Feb. 28 and March 1, according to Eastview's website. The team is coached by Jeff Anderson, Scott Oxley and three volunteer attorney coaches: Christina Hilleary, Ken Alwin and Michele Alwin. 
District 196 converts staff day to student day after school cancellations
The Rosemount-Apple Valley-Eagan School Board on Monday voted to convert Friday, April 19, from a professional development day for staff to a day of student instruction for all students due to the number of cancellations for weather thus far this winter.
Since late January, the district has canceled school five times, twice for heavy snowfall and three times for dangerously cold temperatures.
State law requires all Minnesota schools to have at least 165 days of student instruction each year, as well as a minimum number of hours of instruction for elementary students (935) and secondary students (1,020). The District 196 calendar includes 171 days for middle school and high school students, and 169 days for elementary school students. The two-day difference is for summer literacy assessments offered to every elementary student in late August, before the school year begins.
The five days of weather-related cancellations dropped the elementary calendar to 164 days of student instruction, below the state-required 165 days. The administration recommended converting April 19 to a day of school for all students to bring the elementary calendar back up to the state requirement and make up for lost instructional time.
District 196 made a similar change to the calendar during the 2013-14 school year, when school was canceled five times for heavy snowfall and cold weather.
District 196 Budget Advisory Council to meet
The District 196 Budget Advisory Council will meet at 6:30 p.m. Wednesday, March 13, at the District Office in Rosemount, 3455 153rd St. W. As always, the public is welcome to attend.
Topics on the March 13 agenda include review of the governor's budget proposal and year-to-date performance to budget, and updates on the other post-employment benefits trust and the district's Levy/Bond Referendum Steering Committee.
The council advises the District 196 School Board on matters related to finance. The 12-member group is made up of nine parents/residents and three district employees, including a teacher, support staff representative and principal representative. The director of finance and operations and three School Board members serve as ex-officio members of the Budget Advisory Council.
For more information about the council, call the office of the director of finance and operations at 651-423-7713.
Le named statewide ExCEL Award winner
Eastview High School junior Mimi Le has been named one of 36 statewide ExCEL Award winners by the Minnesota State High School League.  
Le has a background in the arts as a participant in speech, debate and band. She is also a member of the National Honor Society, National Spanish Honor Society, Student Council, Spanish Club and Chinese Club, and is an Honor Roll student with a 3.988 GPA. In the community, Le earned the Gov. Dayton Community Leadership Award as an intern for the Legal Rights Center, is a co-chair on the Minnesota Youth Council and also volunteers as a Tu Vien Tay Phuong translator, Spanish and Homework Help peer tutor, assists the MN Education Equity Partnership and is a library summer reading volunteer, according to the school.
ExCEL – Excellence in Community, Education and Leadership – is a recognition program for Minnesota high school juniors who are active in school activities, who show leadership qualities, and who are model citizens. Each member school has the opportunity to submit one male and one female candidate for consideration.  An independent panel of judges from schools throughout Minnesota selected the state ExCEL Award recipients. State ExCEL winners will be recognized on KSTC-TV (Channel 45) during the winter state tournaments and will be honored during an on-court ceremony at Target Center on March 16 during halftime of the Class AA Girls Basketball State Championship Game.
Lakeville teacher among Teacher of the Year semifinalists
Ryan Rapacz, an English teacher at Lakeville North High School, is the only teacher in the Sun Thisweek and Dakota County Tribune coverage area to be named a Minnesota Teacher of the Year semifinalist.
Rapacz is one of 40 teachers to advance after being selected for the honor by a panel of 23 community leaders selecting from an initial field of 168 candidates from across the state.
The panel will review the semifinalists' portfolios again and review semifinalist video submissions in late March and will select about 10 finalists from among the group. The current Minnesota Teacher of the Year, Kelly D. Holstine, will announce her successor at a banquet May 5 at the Saint Paul RiverCentre in St. Paul.
Education Minnesota, the statewide educators union, organizes and underwrites the Teacher of the Year program. Candidates include pre-kindergarten through 12th-grade and Adult Basic Education teachers, from public or private schools.
The Minnesota Teacher of the Year Program also receives support from the following organizations: Education Minnesota ESI, Educators Lifetime Solutions, EFS Advisors, Harvard Club of Minnesota Foundation, McDonald's Restaurants of Minnesota, SMART Technologies and United Educators Credit Union.