District 191 students' reading bringing them closer to Final Four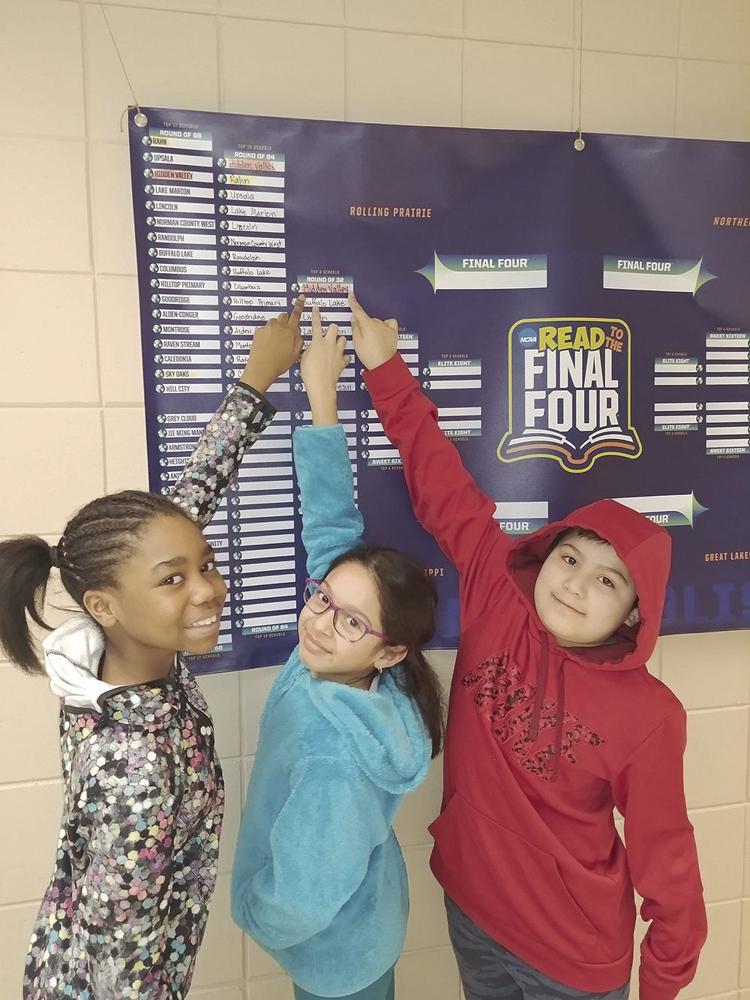 Third-graders in Hidden Valley, William Byrne, Marion W. Savage elementary schools made it into the Round of 32 in the NCAA's Read to the Final Four challenge.
The reading challenge began in November and focuses on engaging students in the 2019 Final Four host region in a positive way. Students use a program called myON to track the number of minutes read during each round of the tournament. The Round of 32 ends on Feb. 24, with qualifying schools entering the Round of 16.
In January, players from the Burnsville High School (BHS) varsity basketball team visited elementary schools to encourage students to keep reading. They also read with the class, using myON.
Nominations open for District 191 John Coskran Volunteer Award
Nominations are now open for the 2019 John Coskran Volunteer Award, presented annually in Burnsville-Eagan-Savage School District 191. Nominations are due by March 24.
The award honors extraordinary volunteers who give of their time and talents to enhance students' educational experience and achievement, and/or demonstrate the importance of volunteerism and good citizenship.
Business people, community residents, students, parents and staff members are all eligible to receive this award. Selection is based upon effort, scope and impact of the volunteer's service.
The award is named in honor of John Coskran, a former associate director of Catholic Charities, former District 191 Board of Education member and longtime advocate for volunteerism.
Nomination forms are available on the district website at www.isd191.org/volunteer or by contacting Aaron Tinklenberg, the district's communications director, at atinklenberg@isd191.org or 952-707-2042.
Past recipients of the award cannot receive it for a second time. For more information about the award and to view past recipients, visit www.isd191.org/volunteer.
Profile of next superintendent developed from community input
A candidate profile developed after hearing from hundreds of community members shows the next District 191 superintendent should – among other things – be committed to Vision One91, address the needs of a diverse student body, and build strong relationships with staff and community members.
Read the full profile below.
Input was gathered through an online form, focus groups and one-on-one interviews during the first week of February. The profile will serve as the foundation for screening and interviewing candidates to lead District 191. Interviews are scheduled to take place in mid-April.
Current District 191 Superintendent Cindy Amoroso will retire on June 30. For more information about the superintendent search, visit www.isd191.org/superintendentsearch.
Profile desired of the new superintendent
The new superintendent should be a person who:
• Is committed to the Roadmap and Vision One91 Plan, and is able to implement the strategic plan for the district with action plans creating excellence and opportunity for all students.  
• Understands and can address the needs of the wide variety of students served in the district providing exemplary, high-impact academic programs allowing all students to have multiple options upon graduation.  
• Is of high integrity, possessing excellent interpersonal skills, being approachable, friendly, creating in-depth relationships with staff, businesses and community.  
• Is an experienced, visionary leader who works well with all staff, community and business leaders to guide the district toward career and college readiness for all students.
• Has a strong understanding of school finance, budget, and can lead the district in directing and stabilizing the finances.  
• Communicates well and frequently in person, in written form, and via social media with the staff, community, students and parents.  
• Listens and considers the input received so action can be taken in a collaborative manner.  
• Will work with the appropriate community and district people to create a brand of excellence for the district, and communicate it to stakeholders.
• Listens and supports the social-emotional needs of students: furthers the cultural competency of the staff, student body and within the community so that every student feels welcomed, safe and valued, regardless of unique differences per District Policy 102 "Equal Educational Opportunity."  
• Has had experience in an evolving diverse district of a complex size similar to District 191.
• Is a visible and approachable leader who will embed herself/himself in the community long term, becoming a part of the One91 community committed to the vision of the One91 district being an excellent system of education for all students.
• Is comfortable as the "face of the district" advocating on behalf of the district in the community, with the state department, cities, county and legislature to further the image of quality educational programs and caring for students in One91.
• Supports and furthers Community Education via ECFE, and the breadth of options available to the community from birth to senior citizen status.
Metcalf Chess Club holds fundraisers
Metcalf Middle School Chess Club kicks off its 2019 fundraising season with two marquee events – a Silent Auction Fundraiser on Feb. 23 and a Taproom Tour Fundraiser on April 6. Event details can be found at: www.MetcalfChess.com/events. The public is welcome at both events.
The silent auction will feature a record amount of donations – $10,000 in items have been donated to the club and will be put up for bid. Donations were provided from local businesses, individuals and corporations, and will be auctioned off 8 a.m. to 2 p.m. Saturday, Feb. 23, at the Metcalf Middle School Cafeteria. Select items can be previewed at http://bit.ly/2Eh5YI0.
The Taproom Tour Fundraiser runs 6-9 p.m. Saturday, April 6, at Bald Man Brewing, 2020 Silver Bell Road, Eagan. The evening will feature craft beers from Bald Man Brewing, hors d'oeuvres from the Mediterranean Cruise Cafe, games, signature pint glasses, gear and more.
"We are constantly trying to eliminate financial barriers for all Chess Club participants, so that they can each reach their full potential. Our inaugural taproom event last year was a great success. From the feedback, we are anticipating even greater participation this year," said Andy Johnson, fundraising coordinator. Tickets are available for $25 through March 23 and $30 after. Tickets can be purchased online at: www.MetcalfChess.com/events. Event details can be found at http://bit.ly/2DWmv2K.
EVHS speech team performs well at home
A total of 66 members of the Eastview High School speech team advanced to the finals at the school's home meet. The following students placed in the top of their categories:
Ella Erdahl, champion in storytelling; Jordan Arntz, champion in prose interpretation; Thor Reimann, champion in creative expression; Agbara/Wipf, champion in the open division in dramatic duo; Yeno Hakim, champion of poetry interpretation; Jake Lieder, second in dramatic interpretation; Ainsley Schwerr, second in the open division of informative speaking; Alli Hering, second in U.S. extemporaneous speaking; Olson/Reimann, second in dramatic duo; Hadley Ott, second in storytelling; Natalie Browne, third in discussion; Mariam Al Araji, third in the open division of discussion; Jordan Adams, third in dramatic interpretation; Hanisa Pasupuleti, third in the open division extemporaneous reading; Esha Rao, thid in extemporaneous reading; Max Schaefer, third in great speeches; Marcus Schaefer, third in the open division of great speeches; Nyoka Hakim, third in the open division of original oratory; Samantha Corbett, third in prose interpretation; Hannah Scholen, third in the open division in storytelling; Vikash Giritharan, third in extemporaneous speaking.
Eastview students win state Japanese Bowl
Eastview students Sydney Chen, Arianna Rasmussen and Kaitlyn Wright won the state Japan Bowl for the Japanese 2 level on Feb. 16 and will be going to Washington, D.C., in April to represent Minnesota at the National Japan Bowl competition.
Bingo Bonanza to raise funds for EVHS senior party
The Eastview 2019 Senior Party Planning Committee is hosting a Bingo Bonanza 4-7 p.m. Sunday, March 3, at Bogart's in Apple Valley. Doors open at 4 p.m. with the first Bingo called at 5 p.m.
For a $45 entry fee, bingo participants will receive 10 bingo cards, three raffle tickets and free appetizers. Additional cards and raffle tickets can be purchased at the event. All proceeds support the Eastview High School Senior Party.
There will also be an online auction for this event. To view the auction, go to https://www.biddingowl.com/EastviewSeniorParty1. This auction will go live Feb. 24 and close on March 3. New items will be added frequently.
To reserve a spot for the event, send a check to: Eastview High School c/o Bingo Bonanza; 6200 140th St. W., Apple Valley, MN 55124.
Download the registration form at: https://www.eastviewseniorparty.org/fundraising or include your email and phone number in the memo line when mailing in a check.
Eagan girls present at the United Nations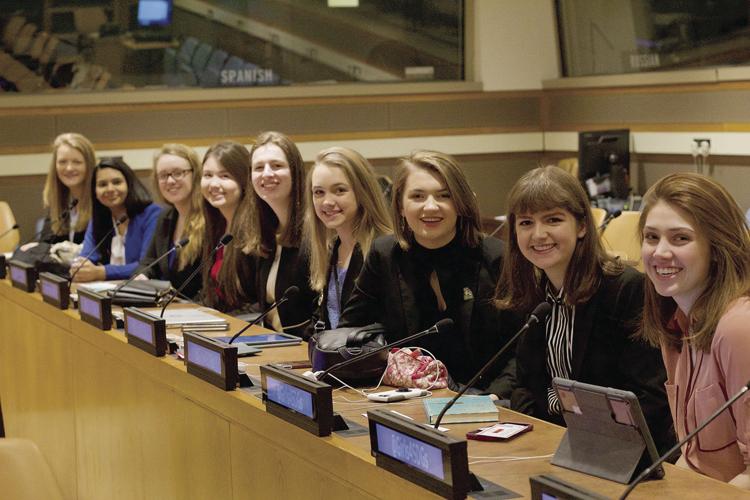 Ten girls in Robotics from Eagan presented at the United Nations during the International Day of Women and Girls in Science assembly Feb. 11 and 12.
The theme of the United Nations 2019 assembly was "Investment in Women and Girls in Science for Inclusive Green Growth." The program highlighted best practices and solutions on this theme.
Zoe Berg, Erica Broeker, Nora Dixon, Shelly Franklin, Grace Hansen, Anna Harpster, Rebecca Lundquist, Claire Myers, Anusha Sharma, and Corinn Sievwright were invited to present during the Girls in Science for Sustainable Development session.
They are from the FIRST Robotics teams Green Girls, Thunder PengWins, and Blue Twilight. Nora Dixon is also on the Technovation team Computer Glitz.
The girls presented their vision to an audience from around the world. Their specific topics ranged from "Reaching diverse and disabled groups to encourage STEM participation" to "Introducing cost effective STEM curriculum at an early age to empower young women."
The program was opened by Iraqi Princess Dr. Nisreen El-Hashemite, the executive director of the Royal Academy of Science International Trust. She uses her passion and experience as a prominent doctor and scientist to advocate for more women in science and medicine.
"We need to encourage girls and young women to pursue science and stay in science careers," she said.
The International Day of Women and Girls in Science Forum is one of the flagship events of the United Nations and a key event for women and girls in science, science experts, policy-makers and diplomats to gather and share their vision, expertise and best practices to achieve Equality and Parity in Science for Sustainable Development. The Sustainable Development Goals are the blueprint to achieve a better and more sustainable future for all.
Another strong showing for RHS speech team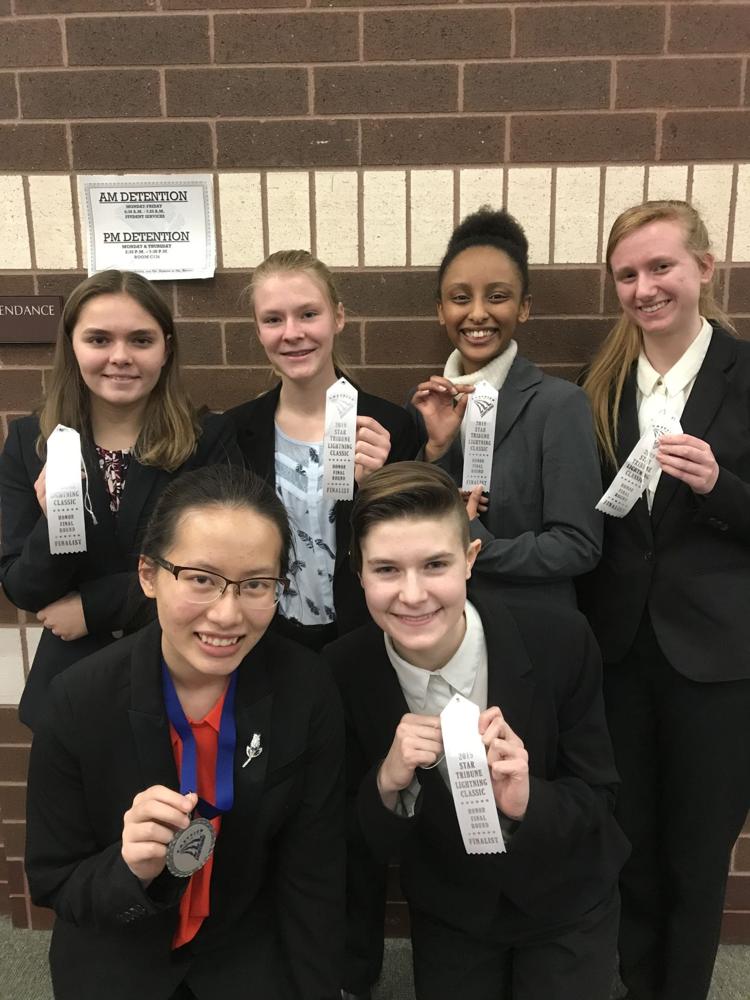 Seven Rosemount High School entries brought home awards in the Eastview Lightning Invitational. In the Championship division, Michelle Quan finished fourth in international extemporaneous speaking. Charley Eatchel finished sixth in the prose consolation round, and Olivia Betters finished seventh in the poetry consolation round. In the Open Division, Lauren Sanday finished fourth in poetry. Avery Babcock and Callie Sisel finished third in the duo consolation round, while Amelia Atkinson and Nikki Mills finished sixth. Hermela Solomon finished fifth in the informative consolation round. From front left are Michelle Quan, Charley Eatchel, and back left are Avery Babcock, Callie Sisel, Hermela Solomon, Olivia Betters.
District 194 School Board
Following is the agenda for the 5:15 p.m. Tuesday, Feb. 26, special meeting of the District 194 School Board at Lakeville City Hall.
1. Preliminary Actions
    a. Call to Order
    b. Roll Call and Board Introductions
2. Discussion
    a. EML Meet and Confer – Mr. Don Sinner
3. Adjournment
District 194 School Board
Following is the agenda for the 7 p.m. Tuesday, Feb. 26, regular meeting of the District 194 School Board at Lakeville City Hall.
1. Preliminary Actions
    a. Call to Order
    b. Pledge of Allegiance
    c. Roll Call and Board Introductions
    d. Spotlight on Education
    e. Good News
    f. Public Comment
    g. Board Communications
    h. Agenda Additions
    i. Approval of Agenda
2. Consider Approval of Consent Agenda
    a. Board Minutes
    b. Employment Recommendations, Leave Requests and Resignations
    c. Other Personnel Matters
    d. Payment of Bills & Claims
    e. Wire Transfers/Investments
    f. Change Orders
    g. Bid Awards
    h. Other Business Matters
    i. Resolution Regarding Acceptance of Gift Donations
    j. Field Trips
    k. Achievement and Integration American Indian Resolution
    l. Approval of Substitute Teacher Pay Rate Adjustment
3. Consent Agenda Discussion Items
4. Reports
    a. New Developments/Enrollment Update
5. Recommended Actions
    a. Approval of 2019-21 Medical Insurance Carrier
    b. Middle School Open Enrollment
    c. District Office Sale
    d. Ratification of 2018-20 Collective Bargaining Agreement between Lakeville Area Schools and Local No. 284 (Custodian/Maintenance)
6. Additions to Agenda
7. Information
    a. Superintendent's Report
    b. Board Members Reports
8. Adjournment