Apple Valley Police Explorers open house is Sept. 11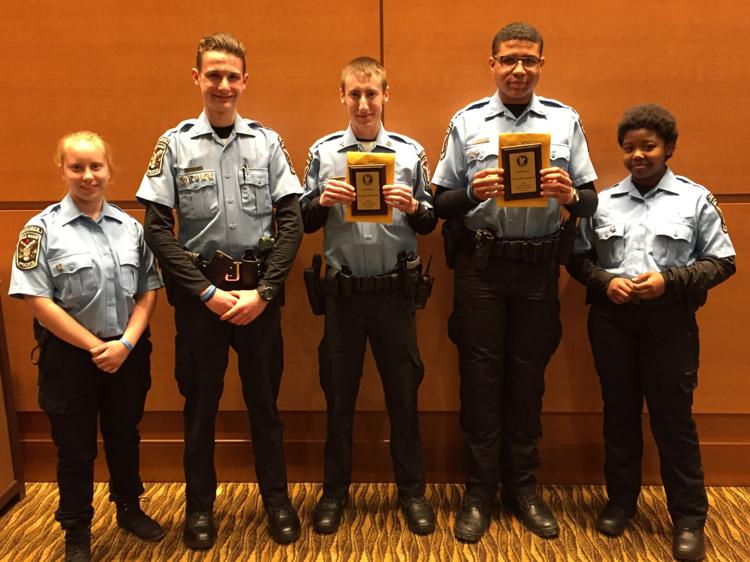 The Apple Valley Police Explorer program will hold a recruitment and informational open house 7 p.m. Tuesday, Sept. 11, at the Apple Valley police station located at 7100 147th St. W.
For the past 29 years the Apple Valley Police Department has been preparing young men and women for careers in law enforcement. Since 1989 the department has sponsored a Law Enforcement Explorer Post. The Explorer Post is designed for those interested in law enforcement between the ages of 14 and 21 years and are enrolled in at least the ninth grade in school.
Participants in this program meet weekly with members of the Apple Valley Police Department to learn about topics and acquire the skills necessary to be successful in law enforcement. Some of these topics include: how to conduct traffic stops, respond to bomb threats, crime scene investigation and hostage negotiation.
The Apple Valley Police Explorer Post has won many awards throughout the years, with their most recent victories of third place in Burglary Response and third place in Street Decisions at the 2018 competition. The Explorer Post competed against 150 other teams from 40 other law enforcement agencies across the state.
Many of those who have participated in this program have become police officers and have had successful careers. Those with a strong ambition to become a police officer or just a general interest in law enforcement are encouraged to join.
For more information about the program, contact the Apple Valley Police Department at 952-953-2700.
Oktoberfest fundraiser set Oct. 4 for Burnsville Police
Ebenezer Arbors at Ridges assisted living campus in Burnsville will once again host an Oktoberfest-themed fundraiser to benefit the Burnsville Police Community Engagement Fund. The event will be 11 a.m. to 1 p.m. Thursday, Oct. 4. Arbors at Ridges is at 13897 Community Drive.
All community members are invited to attend. Lunch will include "Butcher and the Boar" brats served on a Bavarian pretzel bun, fresh sauerkraut and stone ground mustard, homemade German potato salad, grandma's apple strudel and ice-cold root beer. The event will also include live entertainment, raffle drawings for prizes and "Police Bingo."
Cost is $5 for adults and $2 for children under 12.
All proceeds will be donated to the Burnsville Police Community Engagement Fund.
For more information on the fundraiser, contact Arbors at Ridges at 952-898-4005 or visit EbenezerCares.org.
Hydrant flushing begins Sept. 10 in Burnsville
Burnsville will begin fall flushing all city-owned fire hydrants on Sept. 10, weather permitting. The anticipated completion date is Sept. 28. Crews will flush hydrants from 5 a.m. to 6 p.m. Monday through Friday. Flushing may also take place on weekends, weather permitting.
During hydrant flushing, it is not unusual for residents to periodically experience discolored water, pressure changes and/or an increased chlorine odor.
Visible iron coloration in water is not a health issue, but may impact its aesthetic quality. If residents notice discolored water, they can correct the problem by opening all cold water faucets in their home and allowing them to run simultaneously until the water clears.
During the hydrant flushing period, residents are also encouraged to check the color of their water prior to doing laundry. Discolored water may stain clothes – particularly whites. Rust remover is available from the Burnsville Maintenance Facility, 13713 Frontier Court, for residents whose laundry has become discolored as a result of hydrant flushing.
Private hydrant flushing and maintenance for commercial buildings, townhouse associations and apartment complexes is the responsibility of the property owner, but must be coordinated with the city. To schedule private hydrant flushing, contact Linda Mullen at 952-895-4550.
For more information, call 952-895-4550 or visit www.burnsville.org/hydrants.
Dakota Gardeners Garden Club meeting is Sept. 19
Dakota Gardeners Garden Club will meet 7 p.m. Wednesday, Sept. 19, at South St. Paul High School in the lecture hall on the east side of the building, 700 Second St. N., South St. Paul.
Speaker Mary Schier, writer and editor of The Northern Gardener Magazine, will highlight 15 plants that have a place in Minnesota horticultural history and still look great in northern gardens.
All are welcome. For more information, call 651-455-2889 or visit dakotagardeners.com.
Party It Forward slated Oct. 13
DARTS, a community-based nonprofit serving seniors and their families in Dakota County, will host its seventh annual Party It Forward fundraiser 7-11 p.m. Saturday, Oct. 13, at Lost Spur Golf and Event Center in Eagan.
Party It Forward started as Mike and Lori Dalglish's birthday celebrations to raise money for DARTS, whose transportation services were instrumental during Lori's recovery from a life-threatening car accident.
Party It Forward raised $62,000 in 2017. This year, the event will utilize mobile auction bidding through the GiveSmart system. This money helps to ensure community transportation needs are met and seniors can receive help regardless of their ability to pay.
Auction items so far include homemade jewelry, professional sports gear and brewery tours, with more items arriving daily.
The festivities start at 7 p.m. with three food stations and a cash bar. A raffle booth, wine pull and live and silent auction items are up for bid throughout the night. All proceeds go directly to DARTS.
Tickets are $30 before Sept. 30. After that, tickets can be purchased at the door for $40. Tickets are available by calling 651-455-1560 or on the DARTS website at www.dartsconnects.org under events.
Dakota County volunteers blitz through forest for mushrooms
A new event providing important ecological information has sprouted in Dakota County.
A group of 45 volunteers joined Dakota County Parks staff and the University of Minnesota's Bell Museum Aug. 5 for the county's first MycoBlitz, an event to document and collect specimens of fungi in Lebanon Hills Regional Park.
Volunteers met at the Visitor Center for a presentation on the critical ecological roles fungi play in forests, and then ventured across the park to document mushrooms and made notes about where they were growing and what trees were nearby.
Volunteers collected more than 200 mushrooms, and 110 specimens representing about 90 species were submitted to the Bell Museum mycological collection for further study. These are new biological records for Dakota County, and these collections will help scientists and managers track the distribution of these fungi. This activity also informed the current drafting of the Lebanon Hills Regional Park Natural Resource Management Plan to better understand the woodlands in Lebanon Hills.
Fungi are considered the unsung heroes of forest ecology. Some fungi are critical for the survival of trees by providing nutrients in exchange for sugars. Other fungi break down woody debris left by fallen trees, conditioning the soil for new tree growth.
Future annual MycoBlitz events are planned to document the fungi in all Dakota County parks.
Immunization clinics set in September
Residents who are uninsured or whose insurance does not cover vaccines can receive immunizations at upcoming Dakota County Public Health immunization clinics.
In addition to the uninsured or underinsured, immunization clinics are also open to children enrolled on a Minnesota health care program (Medical Assistance, MinnesotaCare or Prepaid Medical Assistance Program) or are American Indian or Alaskan Native.
September immunization clinics at Dakota County Western Service Center, second floor, suite 286, 14955 Galaxie Ave., Apple Valley, are:
• Tuesday, Sept. 11, 1-3:30 p.m., by appointment.
• Tuesday, Sept. 25, 8:30-11:30 a.m., by appointment.
Call 952-891-7528 to schedule an appointment.
Walk-in clinics (no appointment needed) will be:
• 4-6 p.m. Thursday, Sept. 13, at the Dakota County Northern Service Center, fourth floor, suite 410, 1 Mendota Road W., West St. Paul.
• 4-6 p.m. Tuesday, Sept. 18, Western Service Center, second floor, suite 286.
The flu vaccine will be available by mid-September in addition to other recommended adult and child immunizations.
Minors under age 18 must be accompanied by a parent or guardian or have a signed authorization for another adult to accompany them. Forms and eligibility information are available online at www.dakotacounty.us; search "immunization clinics."
Bring all immunization records with you to the clinic. A donation of $20 for each vaccination is suggested, but people who qualify for reduced-fee immunizations will not be turned away if they cannot pay the donation. Cash and checks are accepted; no credit or debit cards.
For more information, call the Immunization Hotline at 952-891-7999.
Sheriff's office competes in lip sync finals
The Dakota County Sheriff's Office has been ranked a top competitor for the Best Law Enforcement Lip Sync Challenge Video in the country by USA Today. Four videos from each of four regions are competing for this honor; the sheriff's office is among the top competitors in the Midwest Region.
The sheriff's office is looking for the public's help in voting for its video.
A link to the poll can be found here: https://brackify.com/bracket/20006/Law-Enforcement-Lip-Sync-Challenge.
A link to the original video is here: https://www.youtube.com/watch?v=-T01NSq06SY.
Eagan Garden Club to meet Sept. 12
The Eagan Garden Club will meet 7-9 p.m. Wednesday, Sept. 12, at the Commons on Marice, 1380 Marice Drive, Eagan. Speaker Laura Opsahl will present "European Inspiration – Gardens of Yesterday, Today and Tomorrow."
Eagan Girl Scouts hold Information Night on Sept. 10
Eagan Girl Scouts will hold Information Night for girls in kindergarten to 12th grade and their adult chaperones and adults looking for volunteer opportunities 6:30 p.m. Monday, Sept. 10, at Dakota Hills Middle School, 4183 Braddock Trail, Eagan.
Attendees can visit information stations on the wonderful world of Girl Scouting. Girls will experience Girl Scout fun by participating in activities while adults learn about the Girl Scout program, forming troops by grade level and completing registration.  
GSUSA membership registration for girls and adult volunteers of $25 per person is payable at the event by check or credit card; financial assistance is available. Those unable to attend or who want more information can visit www.EaganGirlScouts.org.
Farmington Library events
The Farmington Library, 508 Third St., will offer the following programs. Call 651-438-0250 or visit www.dakotacounty.us/library for more information.
Storytime for Babies, 10:30-11:15 a.m. Thursday, Sept. 13. Stories, songs, bounces and playtime for children newborn to 24 months and their caregivers. Ages: 0-2.
Storytime for 2s-6s, 10:30-11 a.m. Friday, Sept. 14. Read, play, sing, talk and write together with stories and activities to develop early literacy skills for toddlers and preschoolers. Siblings welcome. Ages: 2-6.
Open Studio, 1:30-3:30 p.m. Friday, Sept. 14. Work on a current art or craft project while visiting with other makers. See a new sewing technique demonstrated each week and get help with individual projects.
Seed Saving and Seed Libraries, 10-11:30 a.m. Saturday, Sept. 15. Hear Dakota County Master Gardeners discuss growing heirloom plants and harvesting, drying, storing and sharing favorite seeds for generations to come.
Farmington Movie in the Park to be held Sept. 8
The city of Farmington's September Movie in the Park will feature the movie "Wonder" at approximately 7:30 p.m., Saturday, Sept. 8, at North Creek Park, 18200 Dunbury Ave.
"Wonder" will be the last Movie in the Park played this year. The event is free to attend. Bring along a blanket or chair. In case of inclement weather, the movie will be held at the Rambling River Center Banquet Room, 325 Oak St.
Event sponsors are Cosmopolitan Orthodontics, Farmington Youth Hockey, Family Vision Clinic, Immanuel Dental, Nesbit Agencies and Save the Food.
For more information about Movie in the Park, visit FarmingtonMN.gov/MovieinthePark.
Farmington Liquors Wine Club tasting set Sept. 13
Farmington Liquors will have a Wine Club tasting 6-8 p.m. Thursday, Sept. 13, at Celts Pub, 200 Third St.
Tastings provide an opportunity to sample and learn about a wide variety of wines. The event is free to Wine Club members and $3 at the door for nonmembers. Celts Pub & Grill will offer Happy Hour priced appetizers for an additional charge.
Sign up for the Wine Club at the Farmington Liquor store locations or at a Wine Club tasting.
For a list of tasting events, monthly specials and more, visit the city's website at FarmingtonMN.gov/FarmingtonLiquors.
Drop off household hazardous waste Sept. 29 in Burnsville
Dakota County residents can drop off unwanted items to be properly disposed of during the annual Household Hazardous Waste Drop-Off Day 9 a.m. to 2 p.m. Saturday, Sept. 29, at the Burnsville Maintenance Center, 13713 Frontier Court.
Materials accepted for a fee include: televisions and computer monitors, any size ($10); larger appliances such as air conditioners, microwaves, hot water heaters, water softeners, garbage disposals, trash compactors, stoves/ovens, furnaces, heat pumps, refrigerators, freezers, dehumidifiers and dishwashers ($5).
Materials accepted for no fee include:
— Household cleaners and paint – aerosols; auto batteries; cleaners; fire extinguishers; fluorescent bulbs/tubes; gasoline; lawn chemicals; paint; pesticides; propane cylinders; rechargeable batteries; thermostats; used oil/filters; most products labeled dangerous, corrosive, flammable, poison or combustible.
— Electronics – VCR/DVD players, computers (not monitors), printers, computer accessories, stereos, digital cameras, fax equipment, gaming systems, cell phones.
— Electric household items – washers, dryers, vacuum cleaners, carpet sweepers, coffee makers, blenders (without glass), mixers, bread makers, fryers, food sealing equipment, electric knives, clothes irons, shaving equipment, hair dryers, holiday lights, space heaters, radios, clocks, telephones, fans, cameras, toaster ovens, CFL lightbulbs and miscellaneous electric tools (batteries must be removed from all devices).
— Scrap metal – lawn mowers, snow blowers, power tools (fluids must be drained), metal grills (separate propane tank), metal lawn furniture and other scrap metal items.
— Tires – must be separated from rim.
— Bicycles – any size in any condition to be refurbished or recycled.
— Paper shredding – confidentially destroyed on site by a certified shredding company.
Items not accepted — carpet, furniture, ammonia-gas appliances or business waste.
For more information, visit www.DakotaValleyRecycling.org or call 952-895-4511.
Easter Job Transitions Group meets Sept. 11
Tim Voit will present "Embracing the Gig Economy" at the Sept. 11 meeting of the Easter Job Transitions Group.
The group meets 7:30 a.m. Tuesdays at Easter Lutheran Church – By the Lake, 4545 Pilot Knob Road, Eagan. Call 651-452-3680 for information.
New Sociables to meet Sept. 10
New Sociables, a nonprofit, nondenominational social group for women living south of the Minnesota River, will meet 9:15 a.m. Monday, Sept. 10, at Spirit of Life Presbyterian Church, 14401 Pilot Knob Road, Apple Valley.
Speaker David Jones will present a program on a favorite vacation spot – Mount Rushmore. His presentation is titled "Mount Rushmore: Carving of an Icon."
New Sociables welcomes women who are new to the area, who have lost a spouse or who are interested in meeting new friends. The group sponsors many activities such as book club, golfing, share-a-recipe, card clubs, biking, crafts, tours, plays, lunch adventures and community service projects.
For more information, visit www.newsociables.org.
ProAct recognizes National Direct Support Professional Week
To recognize the accomplishments and contributions made by direct support professionals to the lives of people with disabilities, ProAct Inc., which is headquartered in Eagan, and the Minnesota Organization for Habilitation and Rehabilitation (MOHR) are supporting Direct Support Professional Week, Sept. 9-15.
"We want to thank each of our DSPs for their work and commitment to ProAct and to the participants we serve," said Kim Feller, ProAct's vice president of programs and services.
MOHR President Julie Johnson said direct support professionals are at the core of the group's mission, helping people with disabilities to live the lives that they choose. "Their work is valued, needed and appreciated."
With facilities in Eagan, Red Wing, Shakopee and Zumbrota in Minnesota, and in Hudson, Wisconsin, ProAct is a nonprofit corporation which has served the needs of people with disabilities for more than 45 years.
With more than 100 disability service providers across the state, MOHR's mission is to promote and strengthen employment and life engagement opportunities as chosen by persons with disabilities.
ProAct Golf Classic wraps before rain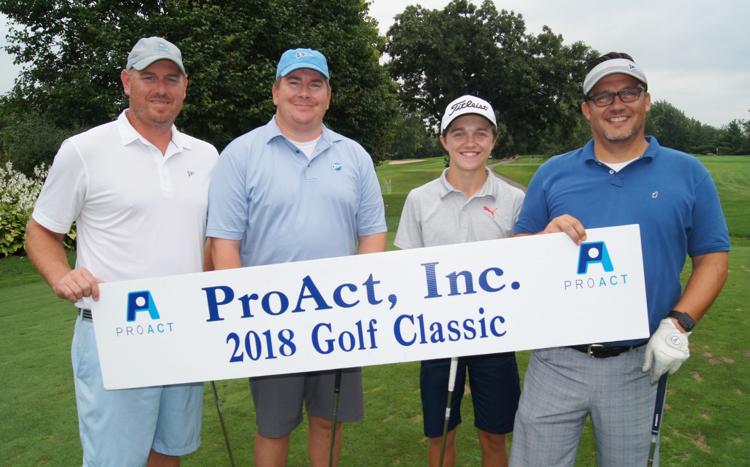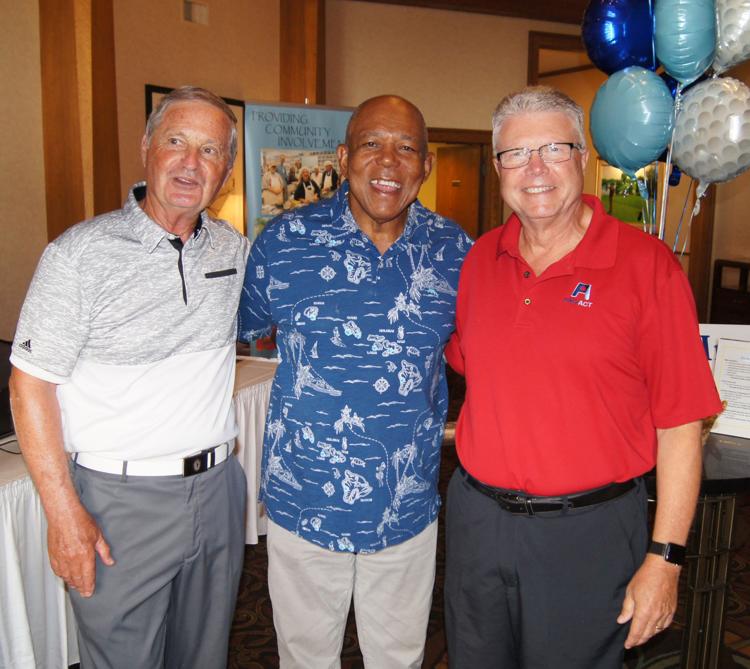 Rosemount Parks and Recreation programs
Registration for fall Learn to Skate classes through Rosemount Parks and Recreation Department is now open. Lessons will be held Mondays, Sept. 10-Oct. 29 (Session 1) and Nov. 5-Dec. 17 (Session 2), at the Rosemount Ice Arena, 13885 S. Robert Trail. Visit www.ci.rosemount.mn.us/parks to find more information on class levels and times. Cost is $75 (includes five free open skates).
Yoga, ages 50 and older, 1-2 p.m. Thursdays, Room 200, Steeple Center. Session 2: Sept. 6-27; register by Sept. 5. Session 4: Oct. 4-25; register by Oct. 3. Session 6: Nov. 1-29 (skip Nov. 22); register by Oct. 31. Session 8: Dec. 6-27; register by Dec. 5. Proper breathing and gentle postures will be taught to enhance physical strength and mobility.  Chairs are available and can be used to adapt poses for comfort. The class environment will help promote peaceful, joyful and healthy individuals. Participants are encouraged to bring their own mats. Cost: $25 per session.
Register for classes online at www.ci.rosemount.mn.us/parks, at the parks and recreation office, or call 651-322-6000 for more information.
Workforce Summit to sharpen recruitment and retention skills
To help employers overcome hiring challenges, the Dakota-Scott Workforce Development Board will host the Workforce Summit: Get Ready to Change – Make Your Team Future-proof. The Sept. 27 summit in Burnsville will feature dynamic keynote speakers, productive knowledge exchanges among attendees, illustrations of how companies have diversified their workforce and useful technology tools to recruit workers.
Keynote speakers include Deon Clark of TCI Solutions and R.T. Rybak, former Minneapolis mayor and current president and CEO of the Minneapolis Foundation. The half-day summit will also include roundtable sessions on 12 key employment topics; insights from employers and experts on hiring people from often-overlooked populations; and tips from a local human resources expert about using LinkedIn for recruiting. The event will conclude with the presentation of the 2018 Employers of Excellence Awards.
The Workforce Summit will be 7:30 a.m. to 1 p.m. at the Best Western Premier Nicollet Inn, 14201 Nicollet Ave. S., Burnsville. To register, visit http://bit.ly/DSWorkforceSummit.
Summit sponsors include Scott County Community Development Agency, Dakota County Community Development Agency, Inver Hills Community College and Dakota County Technical College.
For more information, contact Mark Jacobs, director of the Dakota-Scott Workforce Development Board, at 651-554-5622 or mark.jacobs@co.dakota.mn.us.