Project donates shields to hospitals, senior living facilities
One of Chris Lee's goals when teaching Apple Valley High School's advanced fabrication lab class is getting his students to come up with designs for solving real-world problems with the lab's machines and tools.
A project Lee has recently undertaken in the AVHS Fab Lab is providing a tangible example for students while immediately helping local medical personnel who are working during the COVID-19 pandemic.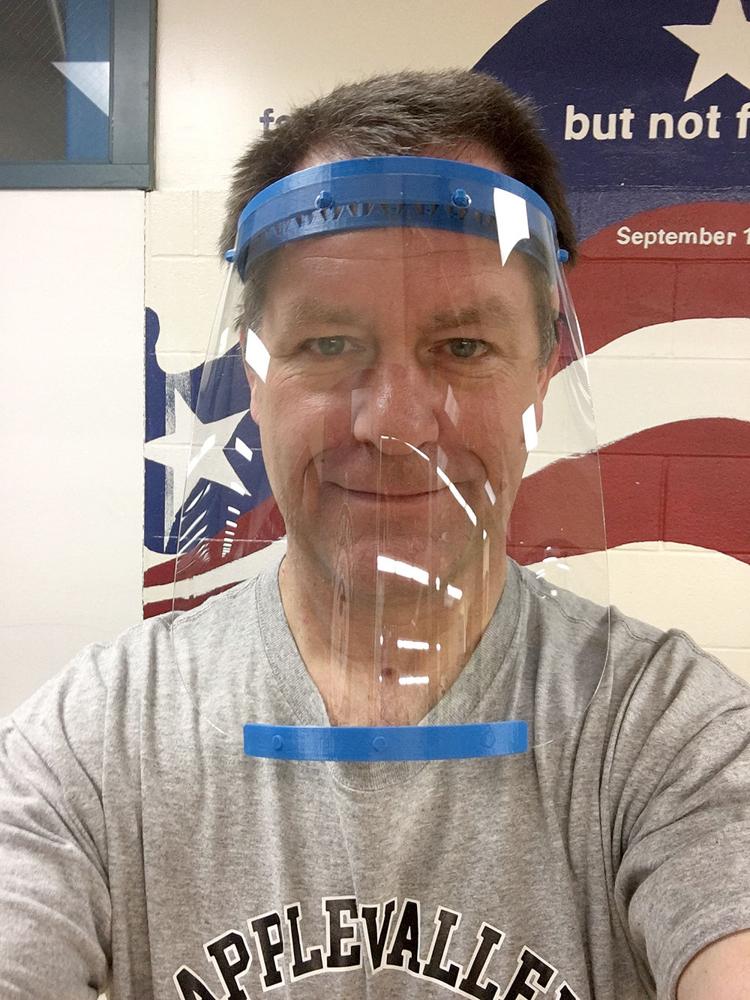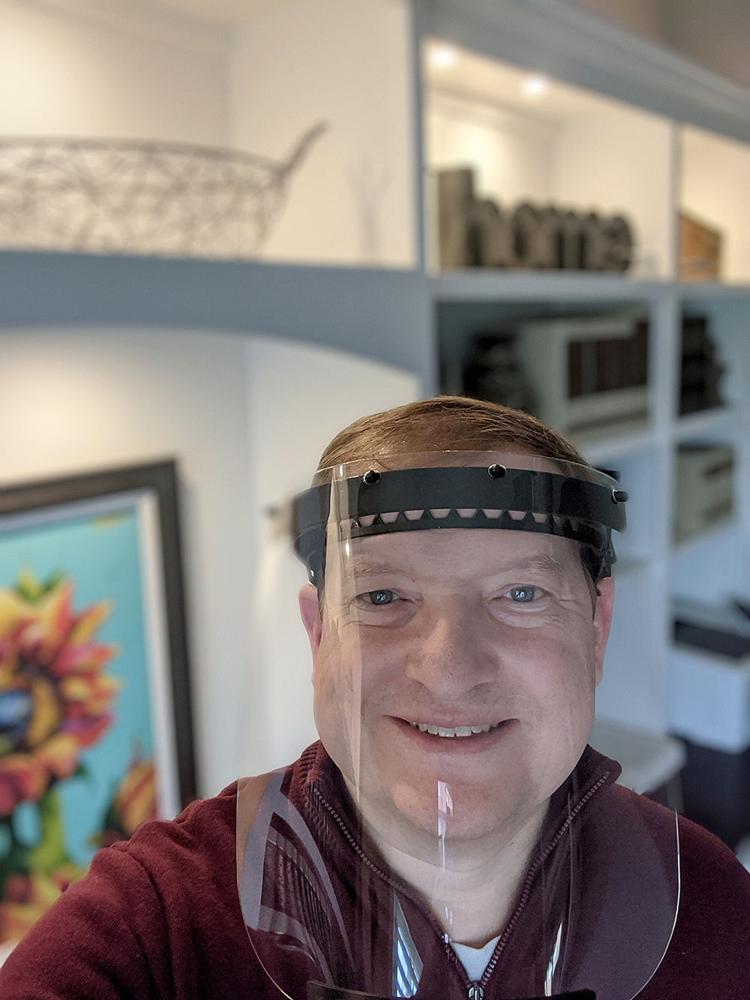 For over a week, Lee and Lakeville resident David Kujawski have collaborated to 3D print face shields that have been donated to local hospitals including Abbott Northwestern and United. Lee has been making his shields in the lab while Kujawski has created some on his personal 3D printer at home.
"The support from our E3 STEM partners has been amazing. I am glad that the Apple Valley Fab Lab can help support what the medical industry is ramping up to do to save lives," Lee said. "I hope that what we are doing will be a bridge to allow the large manufacturing companies to begin ramping up. They will be able to produce these at a much higher volume and speed."
Pitching in
The process began for Lee on March 22 when a few people, including AVHS Principal Drew Mons, told him about information they had seen on social media about a group in the Czech Republic that was making face shields with 3D printers. He learned more after joining Slack, an instant messaging platform people have been using to share information and designs related to the project.
Lee, the AVHS Fab Lab coordinator, said he knew the lab had the capability to help out when he studied the shield designs.
Through Slack, Lee got connected with Kujawski and they began working together after learning they lived near each other.
Kujawski said he hasn't owned his Prusa 3D printer more than a few months. He got it as a Christmas present originally to have as a side hobby and tinker with things.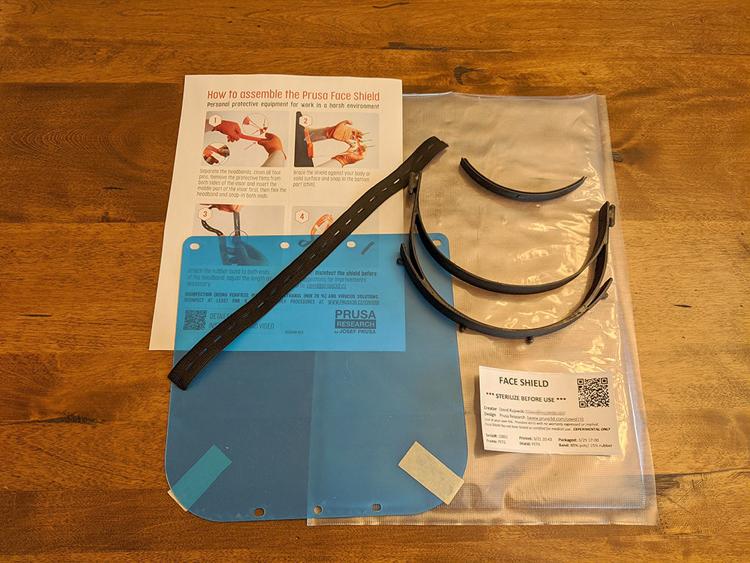 During the coronavirus outbreak he's thought about sewing masks like his sister and neighbors are for medical workers, but his sewing skills are "sub-par," he said. Kujawski knew the 3D printing was a better fit for him when he learned about the face shields.
"Everyone is pitching in and finding ways to help in anyway they can," he said.
Lee said he was able to get some of the materials from businesses in Minnesota including Adhue Graphics Resources in Blaine and Stratasys in Eden Prairie. Aeromat Plastics in Burnsville and Delmar Company in Lakeville has been helping source and locate materials.
Lee estimates each shield costs about $8 to make.
The materials have been purchased through donations Apple Valley High School received through AVHS alumni, businesses, community members and even students, according to Jim Lynch, AVHS E3 STEM coordinator.
After putting out a call out on social media, about $1,440 was raised in about three hours, Lynch said.
"I couldn't keep up with the folks who wanted to donate," he said, adding he had to turn down offers when the school had enough money to cover the first round of face shields.
Lee said the Apple Valley Arts Foundation donated an additional $1,000. In total, the donations are allowing him to make nearly 600 shields. He expected to have nearly 200 shields done by the end of the day Tuesday. Kujawski said Monday he'd completed around 55 shields but had enough material to make 200 in total.
"We're heavily collaborating. We're sharing designs and techniques and we're sharing our contacts," Kujawski said. "I consider us a team together. We're talking basically daily."
Delivery
Some of the shields have been provided to hospitals through some of Lee's former students who learned what he was doing on Facebook. He has given shields to Jena Wirt, an intensive care unit doctor at Abbott Northwestern, and Kristina Roberts, a registered nurse at United. Wirt also tested prototype shields with a disinfectant used at her hospital to make sure the filament used for the face shield frame could withstand being sanitized multiple times.
Wirt, a 1997 AVHS alumna, said medical personnel have airborne and droplet precautions, so a face shield is needed in addition to a mask. The shields allow the N95 masks to be used more than once.
Wirt said it's incredible a former teacher of hers is willing to find a way to help.
"It shows how our community in Minnesota is coming together," she said.
Roberts graduated from AVHS in 2012. She went to pick up around 65 shields from Lee on Tuesday. She and her colleagues are grateful for the donation, she said.
"It's neat the school has the technology and the equipment to make these things. Back when I was in high school, we didn't have a fab lab. STEM wasn't as big of a thing when I was graduating," she said.
Lee said he intends to keep going with the project as long as there's a demand for shields and the materials are available. His next goal is to provide face shields to senior living facilities in the area. He's already gotten a request for shields from Augustana Regent at Burnsville.
Rosemount-Apple Valley-Eagan Schools Superintendent Mary Kreger told the School Board in a March 31 email that Valley Middle School staff are also 3D printing face shields for senior care facilities in the school's fab lab.
As of Monday, Lynch said Apple Valley High School wasn't yet accepting further donations until more materials are needed. For more information about donating to the project, contact Lynch at james.lynch@district196.org.
Patty Dexter can be reached at patty.dexter@apgecm.com.