Third annual 'March On!' event features local and out-of-town performers
It wouldn't be a cliché to say that for the past few weeks, Adam Shew has been living and breathing music.
Shew, a drum major with drum and bugle corps River City Rhythm, ran through the corps' typical rehearsal schedule.
Wake up at 7 a.m., rehearse from 8-12, then take an hour for lunch. Rehearse from 1-5 p.m., break for dinner, then get back on the field from 6-9 p.m. Then the next day, wake up and repeat it all again.
It's all part of the drum corps' season, which begins in mid-June and ends in August before school starts up for many members.
Corps like Anoka-based River City Rhythm will perform at several competitions across the country before heading to Indiana for the Drum Corps International Championships.
Before the championships, though, a number of corps will have one final competition, held in Farmington.
March On!
This will be the third year Farmington hosts the "March On!" competition. The event will be held at Farmington High School's Tiger Stadium on July 31 at 7 p.m.
Corps competing at the event range from the locals to groups from California and Louisiana. The full lineup includes Colt Cadets (Dubuque, Iowa), River City Rhythm, Gold (Oceanside, California), Louisiana Stars (Lafayette, Louisiana), Vanguard Cadets (Santa Clara, California), Chops (Minneapolis) and Govenaires (St. Peter, Minnesota).
The sanctioning body for drum corps, Drum Corps International, splits North American corps into two divisions: World Class and Open Class. World Class corps are generally larger and compete and the highest level, while Open Class corps are typically smaller and often have younger members.
The Farmington show is an Open Class competition. Farmington High School band director Erin Holmes helped bring the "March On!" event to Farmington, and said it's a great way to bring drum and bugle corps to the south metro.
"We've got a lot of great high schools that have phenomenal programs: Rosemount, Eastview, programs that are growing marching-wise like ours is, Lakeville South. … We want to build that. So bringing an event like that, that's accessible for this area, is really neat to do," Holmes said.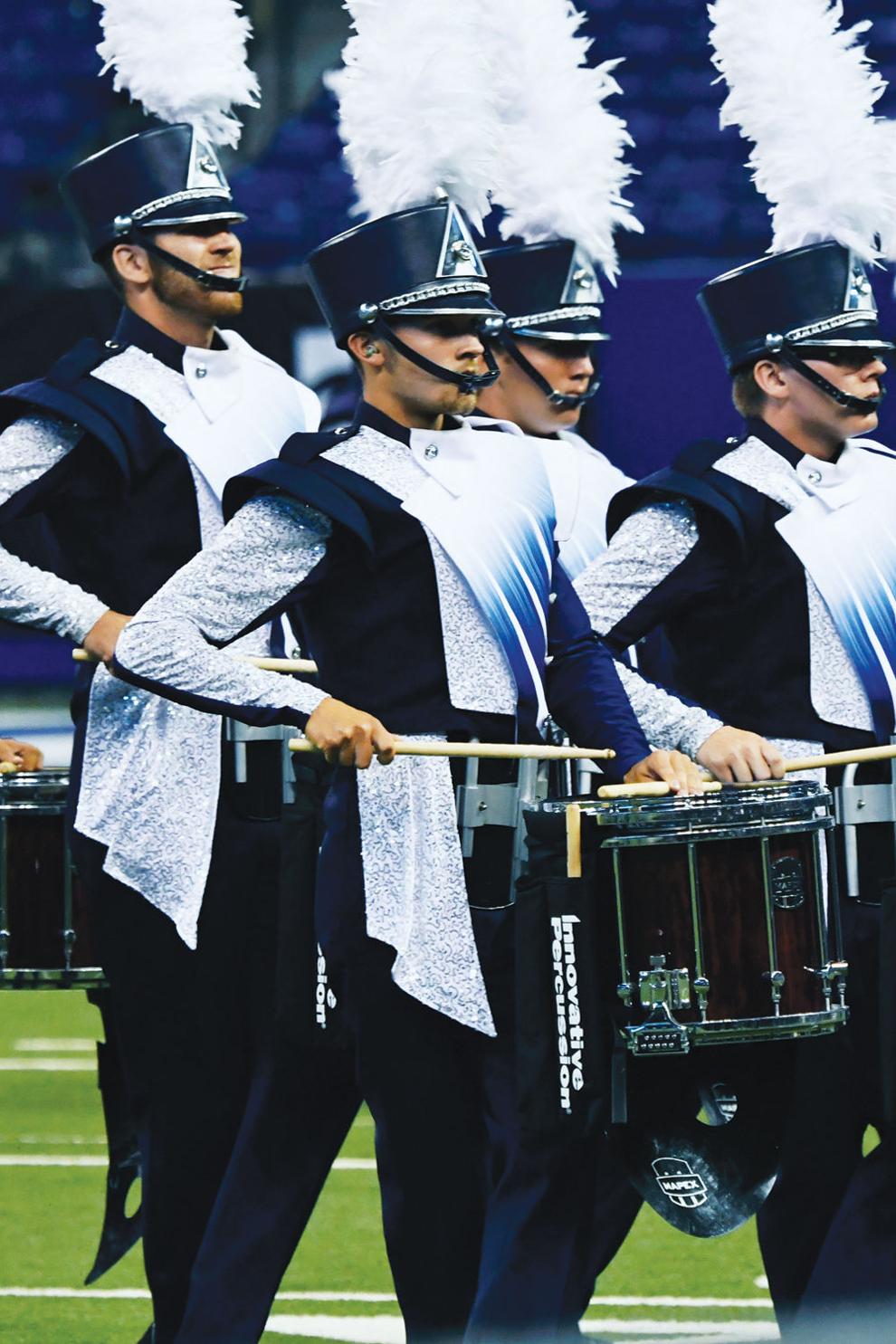 She hopes that the event will inspire students to get involved in something that "is not ridiculously well-known unless you're in the marching arts."
"It's very athletic; it's very musical. And so to combine those two elements and show the world and the community what we do and then bring it to a bigger level is phenomenal," Holmes said.
Performing near home
For some drum corps members, the "March On!" event is close to home.
River City Rhythm's director, Bojan Hoover, also directs at Rosemount High School, and Shew was one of his students. Now at the University of Minnesota Twin Cities, Shew hopes to become a music educator and said his drum corps experience has helped him get closer to that goal.
"I'm learning so much both on the field (and) off the field about music, about being a person and it's really just so growing to be here. … I almost view this as an internship of sorts.
"Getting to work side by side with some of the best music educators in the state, I'm learning so, so much, and it's truly an honor to just be with them all day, every day and get to experience that," Shew said.
Corps like River City Rhythm tour across the country over a span of about two months. Shew said the corps went to about 13 states last year and will be going to even more states this year.
That travel is a draw for many members. Shew said that Hoover tells his members there's two things he doesn't believe are a waste of money: education and travel. Drum corps provides both.
"Going to all these different shows and seeing the drum corps community come alive in all these different facets across the country, it's super, super cool to see everyone come out, and being able to travel with some of your best friends is just a great time," Shew said.
But at the end of the day, it's nice to come back home, too. Oftentimes members have no idea who's in the audience, but "March On!" is close to home for many people in River City Rhythm, Shew said.
"It's one of my favorite shows to be at for a number of reasons. Being it's so close to Rosemount and the hometown atmosphere, last year I had friends and family who hadn't seen the show yet come out and see the production, and that was just an awesome feeling to know that they were in the crowd," Shew said.
What to expect
Since Drums Corps International was established in the 1970s, a lot has changed. Jim Tarbox, board member of Minnesota Brass Drum and Bugle Corps and announcer for drum corps shows including "March On!," said the activity is less militaristic now than it was in the past.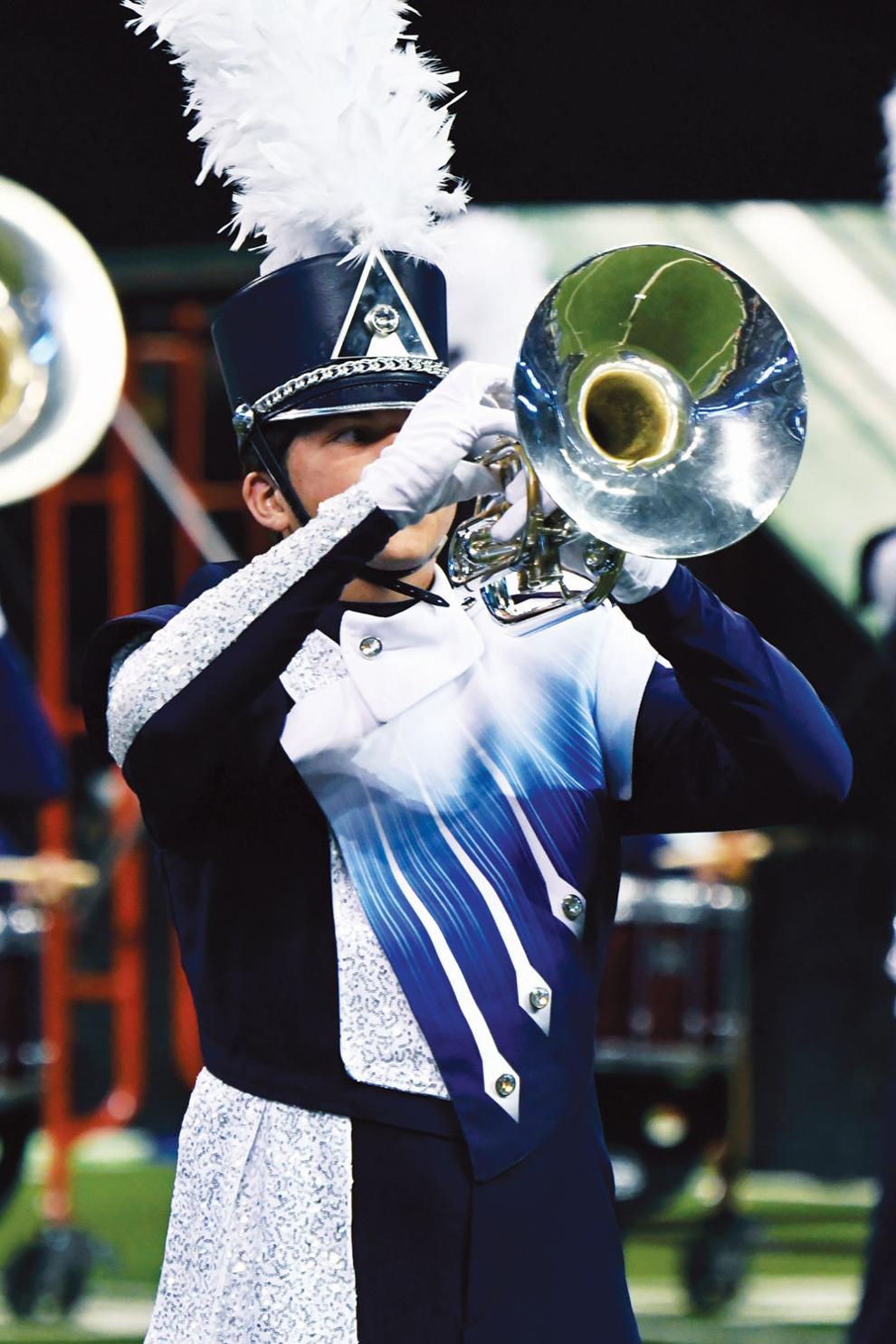 To the uninitiated, drum corps might get confused with marching band. The main difference is drum corps don't have woodwinds instruments, Tarbox said.
"If you closed your eyes, you wouldn't really know the difference," Tarbox said.
There is a lot of cooperation and crossover between marching band and drum corps, but that wasn't always the case. Tarbox was kicked out of his high school marching band back in the '60s for participating in drum corps.
"But now drum corps are staffed by band directors and bands are staffed by drum corps alumni, and there's a lot of give and take, back and forth," Tarbox said.
And some people who never marched find a new passion for drum corps. Some corps do have an age-out system where members can't be older than 21, but there are some, like Minnesota Brass, that accept people of all ages.
Holmes said the unique elements of drum corps give people an opportunity to do something they've never done before.
"It's theatrical, it's telling a story, it's musical, it's very athletic. It's very technical, too. There's a lot of props that are involved and electronics, different sounds and things like that. So it's bringing a ton of elements that you don't see in anything else," Holmes said.
The excitement of performing might be a draw for some, but Shew said he comes back for the little things. Rehearsing day in and day out makes the corps become like a second family, he said.
"At the end of the year, like when I reflect back on last season, I don't remember the competitions. I couldn't tell you the towns we were in. The memories I have and the ones that stick with me are some of the friends I've made, some of the stupid jokes that we made with each other and traditions that we made. Those are the things that really resonate," Shew said.