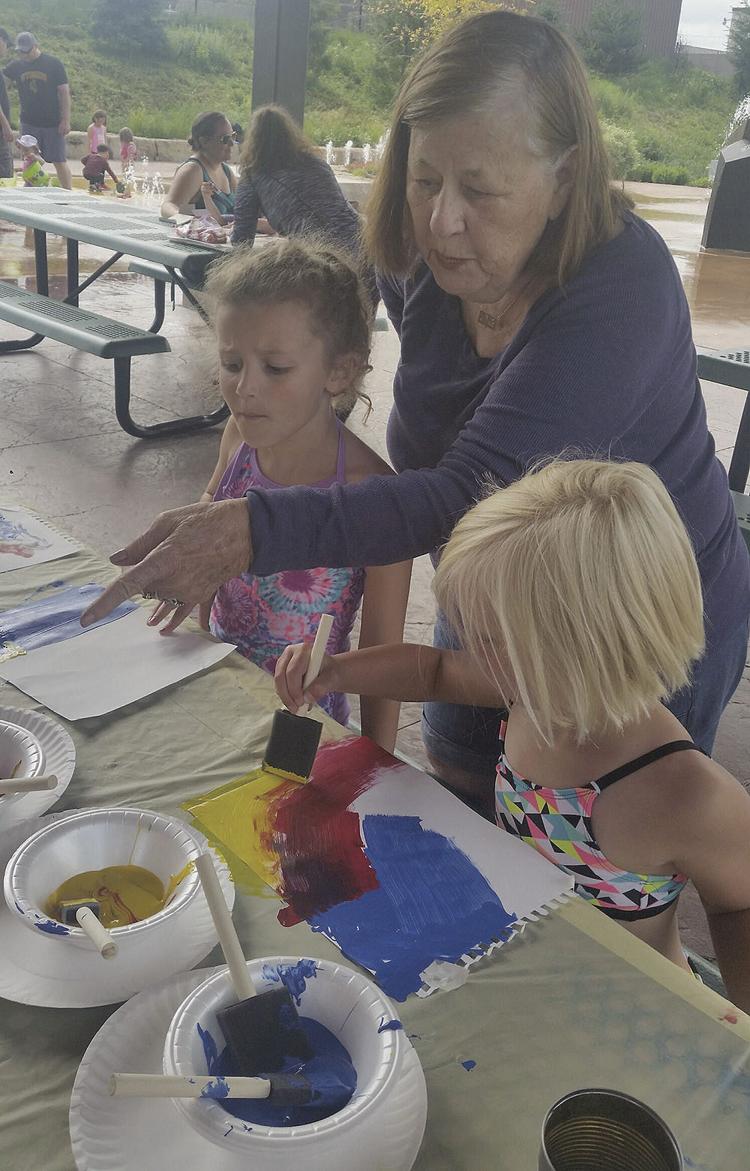 Many new additions to week-long art festival
Rosemount is about to be blasted with jazz music, square dancing, writing classes, photo contests, sculptures, paintings, woodcarving, yoga and much more.
The seventh annual ArtBlast is scheduled for June 22-28 at various locations throughout Rosemount.
It is eight days of exhibits and events for everyone. The goal is to bring a broad range of art in all its forms to the Steeple Center, Central Park and Robert Trail Library.
"We'd love to see everyone come and enjoy no matter their age or background," said Jeanne Schwartz, Rosemount Area Arts Council chair. "This is for everybody."
It started out as the brainchild of Rosemount resident Jim Kotz who wanted a celebration of the arts in Rosemount.
"We wanted to bring as many different art experiences as possible to the city for residents in surrounding area in a short period of time," Schwartz said. "We wanted to make sure most of the events were free to everybody. We wanted to be very inclusive."
ArtBlast is largely funded through the Legacy Fund through the Metropolitan Regional Arts Council. There is a fee for a few of the classes, but otherwise it's free.
Many of the favorites like the writing and photo contests along with several exhibits and classes remain on the schedule.
One popular event is back after a short hiatus.
Dick Reuter has returned to lead a square dance at 6-8 p.m. June 28 at the amphitheater in Central Park.
RAAC secretary Ann Loch said there was a conflict with a national convention the past few years preventing their appearance, but they were able to work it out this year.
"One year we had a whole group of late teens and people in their early 20s drove up from Rochester," Loch said. "They had a wild time. You can have little ones square dancing. Some come in their full dress costumes. It's pretty popular"
There are a few new additions to the lineup this year.
Genesis Jazz Orchestra, a 17-piece big band led by Conrad Miska, which features several current and former area band directors, is scheduled to perform at 7 p.m. June 24.
Native American dancers are also a new addition to the list with a performance at 6:30 p.m. June 25 at the amphitheater.
The Loft, the "premier writing group in the Twin Cities," will also host new writing workshops throughout the week for a fee, Loch said.
Loch said they recently formed a partnership with the writing group.
Another new addition is a performance from the recently formed local bluegrass band the Rosecreek Boys at 8 p.m. June 28.
"They do bluegrass and other things as well," Schwartz said. "It's an eclectic thing."
Following the Rosecreek Boys' performance is "Jammin' in the Park."
"Anybody that has an instrument can come and play," Schwartz said. "One person will start up and the whole group will start to play. You an come and enjoy the show or you can come with an instrument."
Per tradition, the last Saturday has been the Bluegrass Festival.
The Bluegrass Festival is from 5-9 p.m. June 29 at Central Park. The lineup features Blue Hazard at 5 p.m. Middle Spunk Creek Boys at 6 p.m., Blue Groove at 7 p.m. and Sawtooth at 8 p.m.
There will also be free Henna tattoos during the festival, which is new.
The Minnesota Art Truck is also new. It's essentially an art show in a semi-truck. It will be open at 3:45 p.m. June 29.
The Second Act Players Play Festival is also scheduled for 7 p.m. June 26.
Second Act is for people 50 and older "to get involved and enjoy all phases of theater." Schwartz said.
"The arts are so good for keeping older folks young," Schwartz said. "The theater is really the best to keep older folks engaged. There's a social component. There's a memory component. There's all sorts of things you can do. There's physical work."
They will perform a new original radio play by Keith Reed "The Mystery at Dunbar Mansion" along with humorous portions of "Hamlet" and "Jabberwocky."
"There's also a traditional melodrama," Loch said. "It's so fun. You cheer the hero and boo the villain."
"The Ghost of the Moccasin Mine or That's the Spirit" is scheduled for 7:30 p.m. June 25.
Other highlights include the 10th annual Photo Contest display at the Steeple Center along with the Writers Contest.
Photographs from the late Mark Freier, a longtime RAAC member, will be in the Steeple Center throughout the week along with paintings from the Steeple Center's Open Painting Group.
The library will also be home to a series of photographs from William Pringle Rodman who took photos of the Miesville Mudhens baseball team.
Fantasy filled, recycled steel sculptures from Dale Lewis will be at Central Park and the Steeple Center.
The Gratitude Wall will make its appearance at several events throughout the Art Blast.
It's a community art project where anyone can share what they're grateful for on a colored piece of paper and add it to the wall.
"It's a fun thing for all ages to engage in," Loch said.
There will also be art through movement. The event will feature yoga in the park at 9:30 a.m. June 22 and 9 a.m. June 29.
There's much more on the calendar from art classes, group projects, kids art, John Philip Sousa Memorial Band Concert, Japanese folk art, puppets and wood carving.
More information can be found at www.rosemountarts.com/artblast.