Moms on the Run inspires local women to reach fitness goals
Deep in the woods of Wisconsin, at 3 in the morning, Erin Edlund was running.
It was something she never would have pictured herself doing 10 years ago, but last fall, Edlund and seven other women ran a 24-hour race called Ragnar Trail Northwoods.
The day was "unbelievably hot," with a heat index of over 100 degrees, and the trail was difficult, but the experience was all worth it for Edlund.
"It was a tough run for all of us. But we were also all in it together, and we had so much fun, and that is an experience that I will never forget. And because of that, I am now eternally bonded to those seven women that I ran with," Edlund said.
Edlund's running journey started thanks to a group called Moms on the Run. The group is statewide, and Edlund first joined the Apple Valley-Rosemount chapter in 2011. After her family moved to Farmington about three years ago, she joined the Farmington chapter and hasn't looked back since.
It's a year-round group, but the bulk of its runners participate in the 18-week program that runs from April to August, according to Farmington franchise owner Amanda Fernalius.
The group accepts runners of all fitness levels, and depending on someone's experience and goals, they're typically matched with one of three groups: a fitness locker group, a learn to run group or an accelerated runner group.
Typically the Farmington group meets three days a week, and while some have their sights set on running a marathon, some just want some "me time" from being a busy parent.
Edlund said she joined after having her first child. She was also a busy professional and most of her friends had not yet had children, so she figured she could pick up a healthy hobby while also meeting other moms.
"(I) just wanted something that was exclusively for me. Something that was healthy for me and that could get me out of the house, and that could give me a bit of stress relief," Edlund said.
Soon after joining, Edlund found that there was "no judgment and it was just fun." She described it as a positive experience that she might not have gotten if she joined a running group at an athletic club.
"I started going and fell in love with it almost instantly just because it was like-minded people. And I mean that in the very best way. It was people who wanted to do something healthy for themselves, but also came from all different walks of life and were there to be healthy and encourage me," Edlund said.
Edlund said that if someone would have told her 10 years ago that she was going to do an "insane" 24-hour trail run, she would have laughed.
"That's not something I don't think I ever would have done, but because of these women — they push me, they encourage me, and I want to spend time with them, and I'm not afraid of challenges because I'm doing it with them. I've done things that I never thought that I could do because I'm with this great group of people," Edlund said.
Edlund said she's not a fast runner, but she doesn't mind that because she's accepted that her pace is her own, and the other moms let everyone go at their own pace.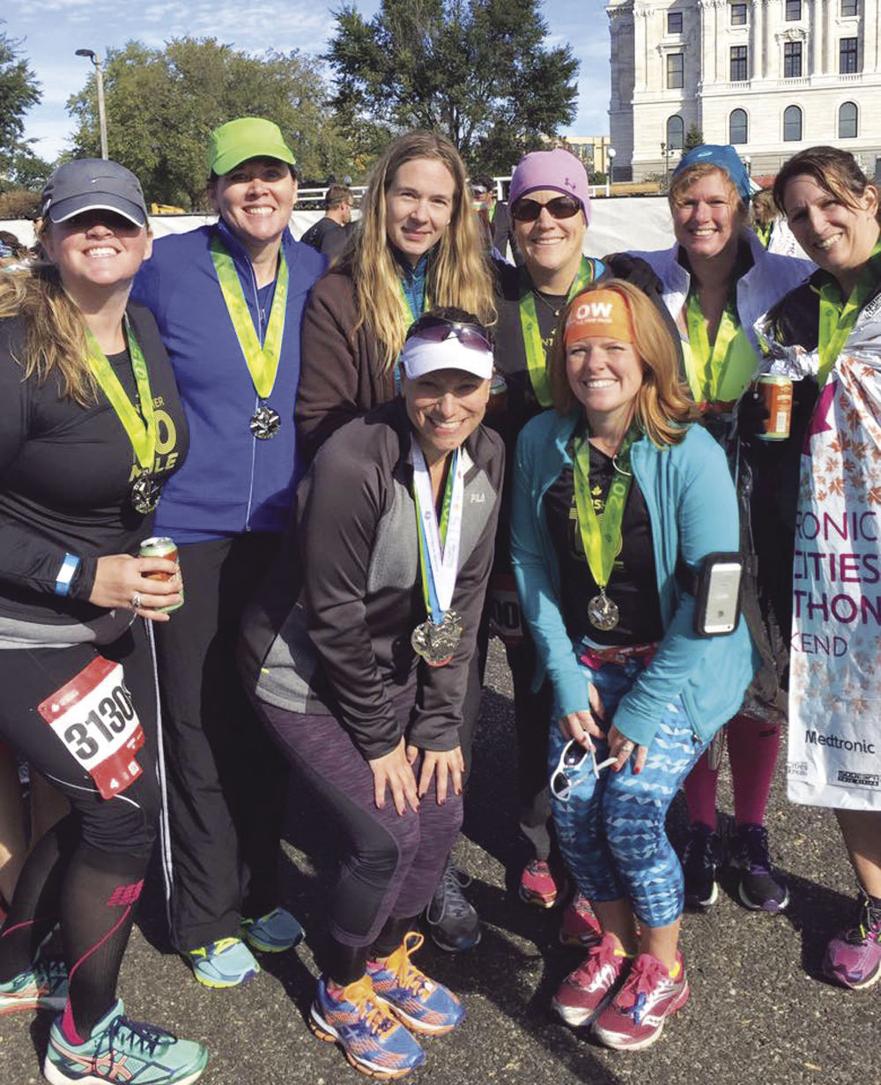 Fernalius said that many women join the group not just because of running and fitness goals, but to be part of that community of women.
"It's so much more than a running group. I fell in love with it five years ago and I haven't looked back since. I'm like, 'I look forward to every spring — seeing all these women and just reconnecting with everybody,' " Fernalius said.
Reaching those goals is an important aspect of Moms on the Run, too, though.
Fernalius said that last year, the group had a handful of new people that couldn't run for more than 30 seconds when they first joined. One of those women signed up for Goldy's Run, a 10-mile race that will take place this April.
"That would've been like a full year from the moment that this woman said, 'I could never be a runner,' and she started literally running 30 seconds at a time, and now in April here she's running her first 10-mile race. So I mean, that's so amazing to see where people can take it," Fernalius said.
For Edlund, seeing her fellow runners achieve their dreams — dreams that they thought were impossible — is one of her favorite parts of every season.
"They start off and they're like: 'I don't even know why I'm here. I'll never be able to run a 5K. I'll never do that.' And then at the end of the summer … to watch a person who didn't believe that they could run a 5K cross the finish line is one of the single coolest experiences ever. I get to see it every year and it's just unbelievable," Edlund said.
Since joining, Edlund has had two more children, and ran throughout her third pregnancy. She said the encouragement from the rest of the moms kept her showing up, and she feels like that was her healthiest pregnancy as a result.
"I have been through so much with these women now. I see them multiple times per week. They know everything about me," Edlund said.
As a parent of three children, Edlund said she appreciates that Moms on the Run fits into her busy life and is a doable program.
"What I like best about Moms is that it's really tailored to where you're at, not to some ridiculous thing that you'll never get to. It's manageable goals, it's realistic expectations — it's just real," Edlund said.
After conquering a 24-hour run, Edlund is setting her sights on other challenges that she never dreamed were possible.
"I have not yet experienced my first marathon, but there is no question that because of Moms on the Run, I will run a marathon before I'm 40," Edlund said.