Merlins Rest owners open another U.K.-style pub
The neighborly spirit of the United Kingdom has come to Eagan.
The owners of Minneapolis's Merlins Rest Pub have opened a new restaurant and pub in the former Fiesta Cancun Mexican Grill and Bar near the intersection of Lexington Avenue and Diffley Road in Eagan.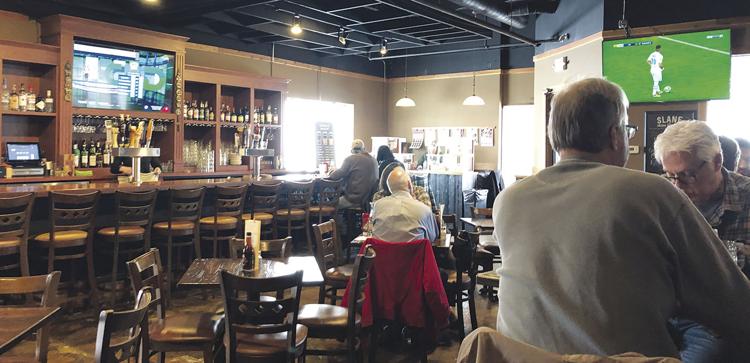 When Eagan Arms Public House publicans (owners) Lee Tomlin and Tracie Munce moved to Eagan about three years ago from Minneapolis, they found themselves spending several days at the former Fiesta Cancun restaurant for a beer and to watch football (soccer).
"We kept saying if a place like Fiesta Cancun became available, we should open another place," Munce said. "We sat here for the last two years dreaming what this would be like."
Last June, a Realtor contacted them to say Fiesta Cancun became available.
"We committed on the spot," Munce said. "It's a manifestation of dreams for sure."
About five months later they brought their brand of what has worked at Merlins Rest for 13 years to the suburbs.
"What I love about Eagan is the community feel of it," Munce said. "It feels like a small town surrounded by a big town, yet were only 20 minutes from Merlins Rest. We still get to the city every day. But, Eagan, it's more community driven. There's so many families. Everyone is supportive here."
Public House, long for pub, is meant to serve as a social center where everyone is welcome.
"We facilitate in the building of a community gathering space," Tomlin said. "That's what Merlins Rest was all about. We're trying to create that out here where people can feel comfortable and enjoy themselves."
The menu includes a variety of Scottish, Irish and English fare such as fish and chips, bangers and mash, savory pies, Cornish pasty and reubens.
There's a selection of salads, appetizers, wraps and burgers. Many selections come with a U.K. twist whether it's a slice of English Stilton cheese, Scotch egg, or Irish whiskey bacon jam.
The tap list features imported beer from England, Ireland and Scotland along with a few local selections from St. Paul and Minneapolis.
Old Speckled Hen has been a sleeper surprise, Tomlin said.
A big draw will be its selection of spirits.
Tomlin's eyes open wide when he talks about their selection of Scotch and Irish whiskey. They'll have about 150 single malt scotches on the menu along with about 100 Irish whiskeys.
On Indian Independence Day Aug. 15, they plan on opening up several Indian Amruts single malt whiskeys.
The televisions at Eagan Arms will be tuned to football (soccer) and rugby matches when available.
"We have the ability to televise Premier League games and Minnesota United games," Tomlin said.
Eagan Arms will open early on weekends primarily to show the Premier League matches.
With the Lexington-Diffley Athletic Fields, home to six soccer fields and a rugby pitch, essentially across the street, Eagan Arms expects to attract soccer fans of many sizes throughout the year.
The calendar is filling up rapidly for Eagan Arms.
Shrove Tuesday (Fat Tuesday or pancake day) is scheduled for Feb. 26.
"We'll have English pancakes, which are closer to crepes than the big fluffy American pancakes," Tomlin said.
The grand opening scheduled for Feb. 29 will feature music from Switched at Birth.
Eagan Arms has plans to commemorate the U.K. Patron Saints throughout the year, which definitely includes St. Patrick's Day.
Musical acts will also find their way to the calendar in the coming months.
Eagan Arms also offers food for catering, for pickup and to-go.
It is located at 4250 Lexington Ave.