Study takes a deep dive into recreational facilities
Could Eagan residents support a sports dome? A new art house? Does Cascade Bay need a fresh coat of paint?
Overall, Eagan residents are happy with their city's recreation options, but some of the city's facilities could use an upgrade, if not a full rebuild, according to a recent study.
The Eagan City Council viewed a presentation about potential park and recreation facility projects during a workshop Monday.
The 292 Design Group is in the middle of a comprehensive facilities study and shared the conceptual framework of potential projects for the city.
They've gathered community input and analyzed the market, but haven't estimated construction or operating costs and stressed their work is not complete. The meeting was purely informational.
Mark Wentzel, 292 Design Group partner, said they've heard from residents a desire for some kind of indoor fieldspace, such as a dome.
Residents who play field sports would like a place to play when outdoor fields are unplayable in March, April and May.
Wentzel showed options for a more expensive yet permanent, year-round, hard-shell structure, or less expensive inflatable structure.
Eagan Parks and Recreation Director Andrew Pimental said there's space for such a structure near Rahn Park Elementary that's underutilized and it's not near residential properties.
"It's all very preliminary," Pimental said.
Some members of the Eagan City Council said they were supportive the possibility, but any dome would need to be done in partnership with the school district, athletic association and/or a private developer.
Council Member Cyndee Fields noted the city has been talking about a potential dome for more than 20 years, and stated a desire to partner on any project.
The study looked at the city's four main facilities including the Eagan Community Center, Civic Arena, Art House and Cascade Bay.
Pimental noted that the youngest one, the Community Center, is already 17 years old.
"The Art House is showing its age," Pimental said. "Cascade Bay water park is 21 years old. It's one of the best waterparks consistently year over year. What do we do to make sure it remains one of the best water parks for the next 20 years? ... This is really looking at the next 20 years of facility planning."
Perhaps the most significant suggestion was completely rebuilding the Eagan Art House.
The Art House is "woefully small," Wentzel said.
"We didn't see a way to remodel or add on to the art house," he said.
He recommended more of an activity center with arts as a focus.
The concept plan included a building with three activity rooms, welcome gallery, pottery studio, kiln room, outdoor activity space, and plenty of room for storage. Although was a rough sketch, not a architectural blueprint.
Mayor Mike Maguire added that the city has been talking about rebuilding the Eagan Art House for at least 10 years.
Cascade Bay could also use an update.
Wentzel said the pirate ship is in "rough shape" and could be totally replaced.
He also suggested adding more features such as more shaded shelters, rental spaces, an enhanced concession stand and more water features.
Wentzel said they should think about adding features that cater more to teens and young adults.
Wentzel also suggested building additional space for seniors at the Eagan Community Center.
He said they've heard from a growing senior population that the Lone Oak Room at the ECC doesn't always fit their needs.
The proposal included construction of a larger space on the northwestern side of the building closer to the parking lot.
He also suggested a refresh for the The Blast, an indoor play place and climbing structure.
For the Eagan Civic Arena, the proposal included a small addition to the front for an office and lobby with an outdoor plaza on the second floor.
The study found that satisfaction with the current system is very high, according to Jeff King, of Ballard King & Associates assisting the 292 Design Group.
"We don't see these kinds of high numbers of satisfaction very often," King said. "I think it's an indication to your constituents that people are very happy with the quality of services you provide,"
"People are pleased with the recreation opportunities you have here and what you've provided for residents for the past 20 years, but we want to make sure we help plan for you the next 20 years."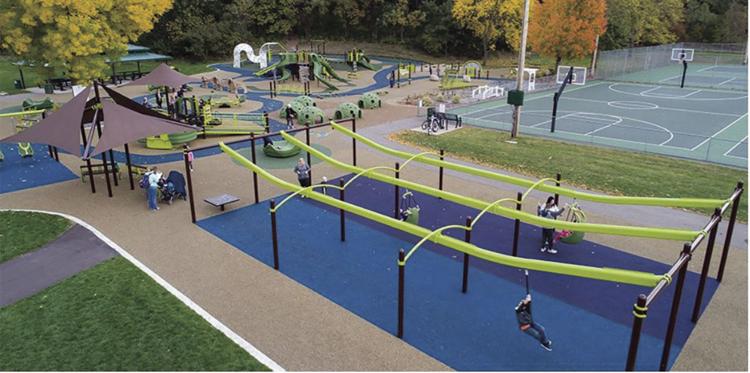 Next year, the Eagan Parks and Recreation department has plans for universal playground at Woodhaven Park, which Pimental said is an "underutilized park" at 1950 Gold Trail.
It's southeast of the Twin Cities Premium Outlets and includes tennis court, a basketball court and an open field.
"It will be something special," Pimental said. "It's something that will work well with all the multi-unit housing and the transportation in the area."
Pimental compared the playground to Woodridge Park Inclusive Playground in Cottage Grove.
Initial plans put it at 18,000 to 20,000 square feet.
"Our space would be very similar in terms of having a variety of play components that hit on every ability," Pimental said.
Other items on the 2020 plan include a pocketpark at the Eagan Civic Center, the reconstruction of the Sky Hill park shelter, enhancements to Bridle Ridge Park, and more additions to the public art program.