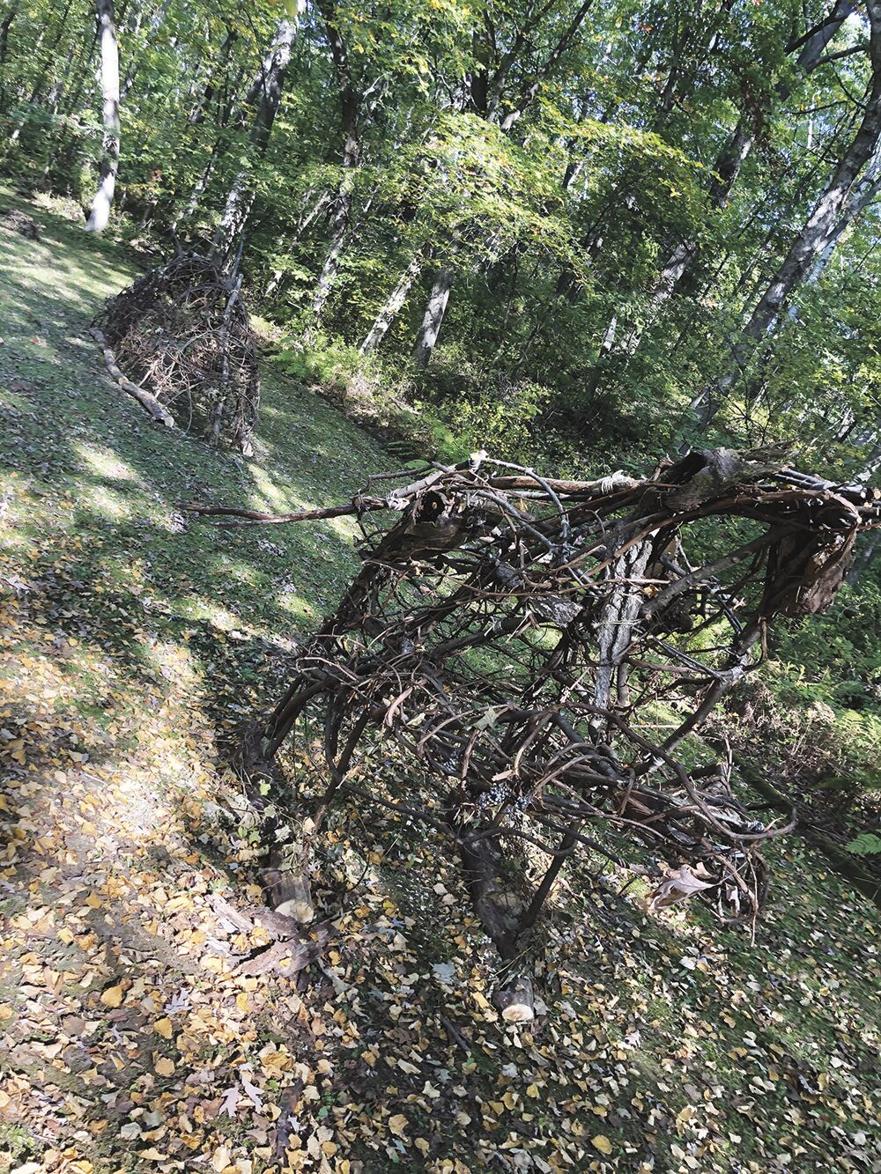 Despite cancellations, daily visitors increase
People often turn to art as a way to comfort and express themselves while feeling a little blue.
And people are feeling pretty blue in 2020.
In a normal year, Caponi Art Park would be a gathering space in the heart of Eagan filled with creative energy and expression.
The 60-acre art park is home to a wealth of annual workshops, art classes, theater performances, fields trips, tours and concerts. Like so many other sources of positivity, much of it had to be canceled in 2020.
"It's been a very weird year so far," said Cheryl Caponi, co-founder of Caponi Art Park with her late husband Anthony. "Our normal process is to start planning and promoting our summer programming by early spring, but all that's when all that activity was shut down.
"They considered parks an essential service so we opened our gates several weeks earlier than normal."
The park has received more visitors than ever before, averaging about 125 daily weekend visitors, with people walking through the miles of paths and a sculpture garden.
"We're finding out people were coming from all over the Twin Cities, and a lot of people were saying they've never heard about us or never been here," Caponi said. "We always wanted people to come here and experience the park. So many people were introduced to us by coming to an event, but they wouldn't see the rest of the park. This year is their chance. This has been really good for us."
They opened the gates early in April and plan to keep them open as long as nature allows.
"You can feel like you're part of something, and feel pretty safe at the same time," Caponi said. "That's a model that we're going to keep trying to do more going forward whether we're required or not."
Normally this time of year organizers would be planning and securing funding for its 2021 schedule.
"We have to decide if the wise thing to do is to plan for life to be still restricted," Caponi said. "How can we positively respond to things, because it will probably last for a while. We're trying to figure out what the most essential experience is here, and we're going to try to keep doing that."
One thing they will have to determine is ways to generate revenue since the revenue sources have disappeared. It's free to walk around the park, but donations are accepted.
Among its Summer Performance Series, Music+Beer evenings, daily field trips and art workshops, Caponi Art Park was drawing sizable crowds in recent years.
This summer they had to get creative.
Field trips with daycare groups who were committed to their own personal bubble started to trickle in.
"The best thing that's kept us going was working with the YMCA," Caponi said. "Many of them normally come to on-site tour with their daycare. We wanted to support them because they were supporting essential workers."
The park still offered its Yoga in the Park series, which was so successful they extended it through September. Organizers found a way to socially distance with yoga instructor Alpa Goswami.
"It's a good thing to do outdoors," Caponi said. "We're looking into other kinds of similar activities like Tai Chi and walking groups."
Like so many other classes, Caponi Art Park switched much of its art instruction to virtual through Outschool.com. They put together with a pair of workshops with plans to do more.
"We've tried to do stuff with minimal need for art supplies," Caponi said. "We're trying to keep available and help parents come up with interesting things for kids to be doing."
One reason to visit is a new art installation.
Shrines in Nature, a collaborative project between Caponi Art Park and Big Animal Productions, joined the collection earlier this month as part of the Eagan Art Block.
It features a pair of community art projects that grew throughout the month with the help of visitors.
One feature, Serpent of the Lowlands, is a 100-foot-long sculpture of a serpent made of wood and grape vines. The other is called The Observatory, which sits atop a hill.
"We're going to leave it up through the end of the season," Caponi said. "It was supposed to be temporary, but it was built so well. As long as it makes it through winter, it will be up."
Visitors were provided with materials to add their own piece of art.
"The serpent, the shell of it is created out of grape vines," Caponi said. "People can add more grape vines. With the observatory, we have these kits available and people can hang up stars."
The park is still hosting a series of walking tours with artist Christopher Lutter-Gardella, who inspired this community-assembled artwork project. There are two scheduled for Sept. 26 at 1 and 3 p.m.
He wrote in an email that Mother Nature has given him a sense of hope and belonging, and walking through the woods feels like he's "coming home."
"Who, in the midst of the haze of human struggle, hasn't paused to glance off into a sunset, at the dappled reflections on a lake, at the noble majesty of trees, or at the subtle intricacies of plants, air, sunlight and pollinators, working the miracle of life just outside our doors?," he wrote.
Walking through the park is calming and "reminds us of the wonder of creation."
Lutter-Gardella is the artist behind Kaleidoscope, the butterfly installation at the Mall of America.
Caponi Art Park is located at 1220 Diffley Road.
The late Anthony Caponi — park founder, sculptor and Macalester College art professor — created Caponi Art Park as an outdoor laboratory to teach and demonstrate how creativity is an essential part of daily living.
From 1949 to 2013, he devoted himself to integrating art, life and nature into the 60-acre sculpture park.