Variety of issues discussed in neighborhood precincts
Fewer people attended the Feb. 25 precinct caucuses in Senate District 57 than in 2018, but party leaders say they were pleased with how many came out to engage in local politics.
The Senate District 57 DFL party met at Falcon Ridge Middle School in Apple Valley, while the Senate District 57 Republican party caucused at Eastview High School in Apple Valley.
This year, the presidential primary was moved out of the caucus process. The presidential primary was Tuesday, March 3.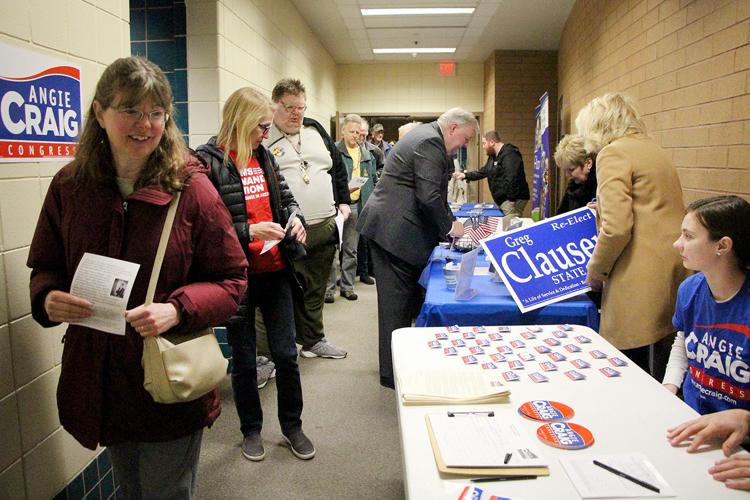 Some were energized by local candidates coming to speak to residents.
"We started off all together in the cafeteria and we haven't done that before. We had all our speakers all together and that just created a lot of excitement to be together all in one space," said Nancy Stroessner, chair of Senate District 57 DFL, adding it was a "rousing time."
Party leaders are curious about what drew people to the caucuses without the piece of choosing presidential candidate preferences.
"We weren't sure what to expect, I think we were all pretty happy with the turnout," said Kevin Ecker, Senate District 57 Republicans secretary.
Stroessner said they estimate the 2020 caucus drew about 240 people, compared to the 416 people who came in 2018 and 2,700 people who attended in 2016. She noted that 2016 was the last year Democrats could choose a presidential nominee at the caucus. In 2018, there were many contested races on the DFL ticket and a straw poll for gubernatorial candidates.
"Having 240 people who came just for party politics, just to elect internal DFL party people and to create a platform was great. All of the people who were there were committed and excited, and wanted to be involved," she said.
The Senate District 57 Republicans estimate 200 people attended the Feb. 25 caucus. In 2018, there were 150 people and the 2016 caucus drew 2,000 people, Ecker said.
Ecker said without the presidential straw poll to pull attendees, the 2018 numbers are a better reference point to compare past attendance.
"From what I did gather with conversations with attendees, it seemed like people were pretty positive and pretty optimistic about our chances for this fall," he said.
Stroessner was impressed with the diversity of the people who came and is pleased that the party is starting to reflect more of the state's diverse population, she said.
Ecker said he noticed there were many new faces, which surprised him. A lot of those new people were middle aged, but he also saw young and older people.
The issues discussed at the neighborhood precinct level varied.
Apple Valley's Felonise Pitchford was a DFL caucus convener for one of the Apple Valley precincts. She heard concerns about a lack of licensed health care professionals working in nursing homes on weekends and after hours.
She said larger issues including health care, education, the imbalance of wealth and the environment also continue to be important when deciding on which presidential candidate to support.
"For all those things, I have great values and I like to hear what each of them says about that," she said.
Stroessner agreed that people continue to be concerned with health care and education. She added climate change and guns are other big issues. She said she's personally concerned about inequities, injustice, homelessness and racial injustice.
Helen Staley, of Rosemount, volunteered at the Republican caucus. It was her second time attending a caucus and she hoped to discuss taxes during the evening.
"It seems like the middle class is taxed very high," she said.
Staley said she came to the caucus learn more about political views in the community. She believes they're still important to attend even when presidential candidates were not being chosen there.
"I feel like you can learn a lot just about what goes on in your community and your district and get a stronger hold on the politics that go on behind making new legislators, new laws," she said.
Ecker said a sex education curriculum proposed to be rolled out in schools was a big issue for some attendees. He also heard about parental choice for vaccinations.
"Perennial" issues like education and health care continue to be on people's minds, according to Ecker.
"Both of them are approached from the same direction, how much are we spending and is it being spent wisely," he said.