Space to encourage student inquiry
Visitors to the School of Environmental Studies in Apple Valley will notice a new feature near the school's entrance.
A grassy drainage basin next to the sidewalk near the southeast corner of the building is being transformed into a new outdoor learning space for students and a stormwater management tool for the nearby Birch Pond.
"It was a really exciting way to involve the larger community and to get a lot of student and faculty feedback to create this learning lab that will always be evolving," said SES Principal Lauren Trainer. "It just really supports that idea of having an interdisciplinary curriculum around a theme of getting students outside (and an) inquiry model of learning."
The process began about two years ago when SES and some other schools received a grant from the Minnesota Department of Education to support more outdoor learning opportunities for students. SES received about $25,000 of the grant, Trainer said.
The school went through a process last school year that included soliciting feedback from multiple stakeholders from within the school and broader community. SES teachers Brooks Autry and Amy Levine also attended multiple professional development workshops to learn about school gardens, Autry said.
In February, SES hosted a "community think tank" event when partners of SES including alumni, landscape architects, community garden participants, Dakota County, Vermillion River Watershed Joint Powers Organization and Conservation Minnesota, were invited to give their broad ideas for an outdoor learning space, Trainer said.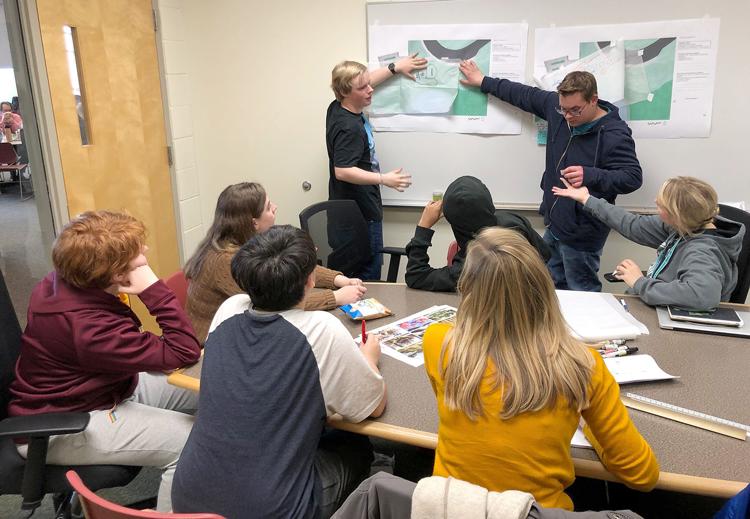 SES hired Damon Farber Landscape Architects to work with staff and students as they discussed what they wanted to see in the space, and possible locations on the school campus.
"We kind of continued to hone it down. So, eventually we got to this place where students were able to make the final decision with faculty after having gone through that whole process," Trainer said.
Autry said the goals included figuring out some sort of engagement with SES curriculum and how the students could be part of the design process.
About 30 students were heavily invested in the project planning and about 375 students had the chance to give their input at some point during the process, according to Trainer.
What resulted was what's being called an outdoor learning lab. The space includes limestone slabs for seating, an aggregate pathway, a knoll that will eventually feature native prairie grasses and native perennial plants that will support pollinators. There are also plans to move boulders from other spots on the school's campus to the site for additional seating.
"It's not a finished product yet. We're actually going to be buying more plants. We're asking for donations. We're having students participate in the planting in the fall," Trainer said.
The native plants the school intends to add later include low-growing sumac, dogwood, bush honey suckle, false indigo, hazelnut, common milkweed and wild bergamont, Trainer said. Autry said during the planning, students indicated they wanted chances for summer connections with the space. Some of this might include maintenance and plantings in the future.
One of the things Autry is looking forward to as a teacher is having students study whether the rain garden aspect of the space is having an effect on the pond and what changes are happening.
"We want to have students have that experience of seeing a project through but also being part of an ongoing investigation where they can come back in years and seeing a lasting impact they made, and see how things have evolved from students since," Autry said.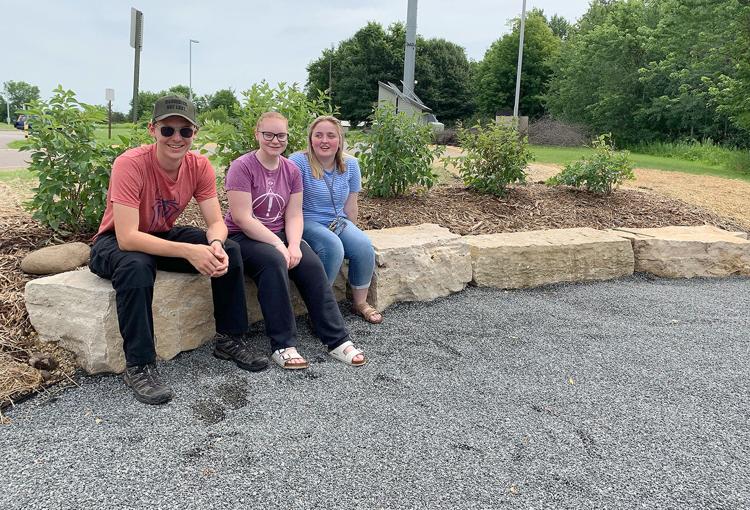 Autry said Lebanon Hills Regional Park is undergoing resource projects involving biodiversity. He sees the outdoor learning lab as a chance for students to have their own hands-on project similar to efforts at Lebanon Hills.
"One of our hopes is that we can continue to strive to be part of what Lebanon Hills is trying to do," he said.
Trainer said they expect that the outdoor learning lab will continue to change and evolve as students begin to ask questions, which is part of the school's inquiry-based learning model. The school is open to modifying the space as needed.
SES is a magnet school for juniors and seniors in the Rosemount-Apple Valley-Eagan School District drawing in students from all over the district. There are still openings for the 2019-20 school year. For more information call 952-431-8752.