'The Finders' is first book in new series
Apple Valley resident Jeffrey Burton has penned a new mystery thriller novel.
"The Finders" came out June 30 from Minotaur Books. The book centers on a golden retriever cadaver dog and her handler.
According to Burton's website, he was born in Long Beach, California, and grew up in St. Paul.
He holds a bachelor of arts degree in journalism from the University of Minnesota. He's authored short stories that have been published in multiple magazines.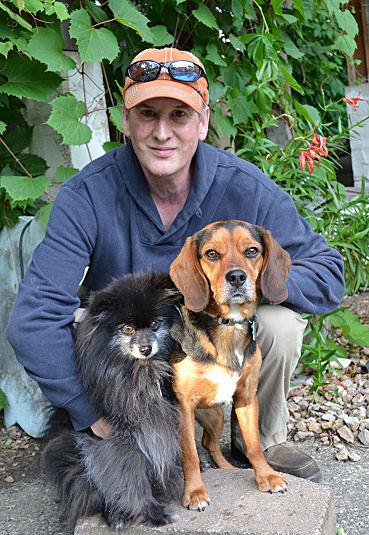 Burton responded by email to questions from the newspaper about "The Finders."
What circumstances led you to write this book?
I was heading to the Dakota County Judicial Center in Hastings, Minnesota, for jury duty, as I'd gotten selected for an impossibly complex real estate case, when I caught a blip on the radio about a nearby sheriff's department bringing in cadaver dogs to hunt for someone who'd gone missing. As I shuffled through courthouse security, I thought how there'd been stories on bomb- and drug-sniffing dogs, but a story about cadaver dogs — more accurately, human remains detection (HRD) dogs —might provide an interesting twist.
When did you begin working on the book and how long did it take you to complete?
During breaks in jury duty, I jotted down story ideas regarding plot structure and characters as well as what would draw a dog handler and his prize HRD dog into a murder mystery. Originally, these notes served as a road map for a short story, but the story was skeletal-thin and I realized it needed to be a novella. However, when I hit 40,000 words, I knew I had a full-blown novel on my hands. I turned the manuscript in to my agent in the spring of 2018 and by November of that year she had sold the rights to St. Martin's Press (Minotaur imprint).
Describe the book.
Mason "Mace" Reid lives on the outskirts of Chicago and specializes in human remains detection, that is, he trains dogs to hunt for the dead. He adopts a rescue dog with a mysterious past — a golden retriever named Vira. And when Reid begins training Vira as a cadaver dog, he comes to realize just how special the newest addition to his family truly is.
Suddenly, Reid and his prize pupil find themselves hurled into a high-stakes murder case, which will push them to their very limits. Can Vira thwart a serial killer who has now set his sights on Mace himself?
Dogs versus serial killers – what more could a person ask for?
Have you written other books?
I've previously written a mystery thriller trilogy about an FBI agent, which included "The Chessman," "The Lynchpin," and "The Eulogist."
What is your connection to Apple Valley?
I've lived in Apple Valley for the past quarter century.
What is your favorite line in the book? Where does the title come from?
I don't have a favorite line in the book, but the following line explains the title:
"I call my pack of human remains detection dogs The Finders, and would order T-shirts emblazoned with that were we to compete in softball tournaments or get invited to a company picnic."
Are any Twin Cities locations highlighted in your book?
"The Finders" takes place in and around Chicago, Illinois.
Anything else you'd like to add?
"The Finders" is the first book in a series. "The Keepers" will be coming out in the summer of 2021. For additional information, check out Jeff's website at www.JeffreyBBurton.com.
Where can residents buy the book?
Any bookstore.
Patty Dexter can be reached at patty.dexter@apgecm.com.