Nearly a decade ago, a Great Pyrenees was dropped off at the home of Aleah Wicks and her husband, Andrew Makee. They didn't anticipate how this would set events in motion that would eventually lead to a memoir about farm living.
The couple was living in a small 100-year-old bungalow in Asheville, North Carolina, during the winter of 2010. They reluctantly agreed to take Makee's brother's dog after he could no longer keep her, though they knew their home was not well suited a dog of that breed.
The dog was named Samosa, inspired by Wicks' love of Indian food.
"Her introduction ignited a spark that was deep inside my heart from early childhood. Because of her, and her needs to roam and behave like the breed she was bred to be, we purchased a farm," Wicks recalled. "Samosa gave me permission to honor my little girl dreams that always included a life with horses, and so begins the book and our first six years adjusting from city people to farmers and the many hiccups that we endured along the way."
The experience was the catalyst for Wicks to author her first book, "Fat Dog Farm: Tails of Farm Failures," which is now available on Amazon. Wicks will be back in Minnesota for a book signing Aug. 17. The time and location are being finalized.
"I launched the book over a month ago with success. People are embracing and excited about it and wanting more," she said.
Minnesota roots
Wicks grew up as Melissa Wicks before legally changing her name to Aleah Wicks in the 1990s. She attended school at Echo Park Elementary and Valley Middle School before graduating from Apple Valley High School in 1993. Her mother and stepfather, Susan and Paul Hilla, and father and stepmother, Keith and Pam Wicks all live in Burnsville.
Wicks said her passion for animals began as a young girl. Her walls were covered with posters of horses and her shelves had several Breyer horse models she admired.
"Growing up in the Apple Valley area, I did not have access to horses, outside the occasional summer trail rides at Wagon Wheel stables. Still, I adored them and saturated my life with artwork, toys, and books like 'Misty of Chincoteague,' and 'The Black Stallion,' " Wicks said. "I loved all animals, really, and begged to keep every stray cat and dog we found or that was advertised through the local humane society."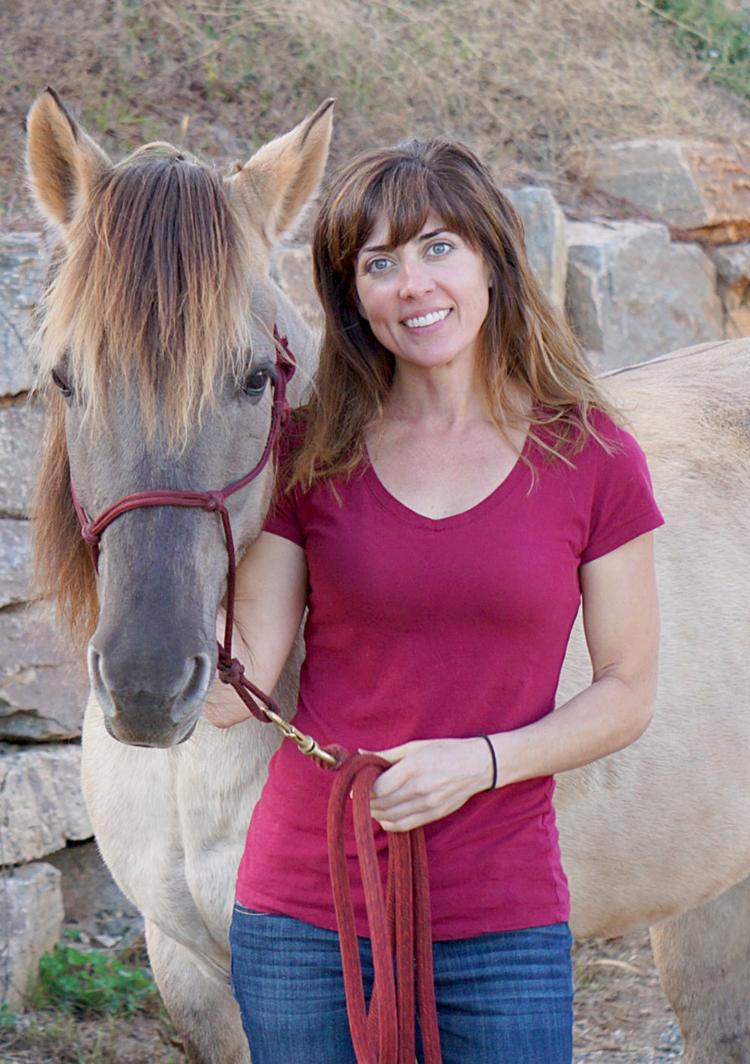 During high school, her art teacher Roger McGaughey connected her with his wife, Susan McGaughey, to work with her at Valley Natural Foods. She worked for the business on and off for 10 years and was introduced to alternative medicine, organic foods, natural remedies and farm-to-table living, she said.
Wicks said from working at Valley Natural Foods, she was torn in her academic studies. She had wanted to be a veterinarian since early childhood and ultimately decided to take courses at the College of St. Benedict to fulfill requirements for applying to the University of Minnesota veterinary medicine program. She completed an internship at the Minnesota Zoo and worked for the Burnsville Animal Clinic during her coursework.
She received a rejection letter from veterinary school after graduating from St. Benedict and shifted her life course with a decision to pursue alternative medicine. She applied and was accepted into the master degree acupuncture program through Northwestern Health Sciences University.
Wicks eventually moved to Asheville and started her acupuncture practice. There she also met Makee. They wed in 2011.
Farm life
After the couple adopted Samosa, they began figuring out how they could keep her. They decided to buy 18 acres in Tryon, about 45 minutes south of Asheville a month after they were married. Both of them had little experience with farm life, having grown up in suburban cities.
The site consisted of a "barn apartment" – a building with two stalls and a studio apartment above them – on a chunk of land that required fencing and a driveway. It was raw, but the farm was what the couple could afford with their budget, Wicks recalled.
"It was this steep learning curve that we walked into blindly and naively," she said.
The farm, named Fat Dog Farm, has housed horses, goats, pigs, chickens, mini cows, cats and dogs. There were many ups and downs during the couple's first six years of living there.
Wicks said their experiences included having horses escape multiple times and not being able to get their pigs to breed. They were the farming "newbies" in the small town.
"We were the comedy and source of entertainment," Wicks said. "One of the farmers said, 'You need to write a book about that.' "
She began writing the book in 2018. It chronicles the couple's journey from 2010 when Samosa was adopted to 2016. About 60 percent of the book details things Wicks and Makee messed up on their farm, she said.
Wicks said Samosa died a few years ago at the age of 12, but she's still a big part of the farm. They are grateful for the experiences they've been able to have on the farm so far.
"In the light and dark of it all, our hearts are so full and content," she said. "We have such gratitude to be such an intimate part of so many species on this farm."
Wicks is working on a second part to the book that she hopes to have out toward the end of the year.
Patty Dexter can be reached at patty.dexter@ecm-inc.com.