Apple Valley Bakers Square Restaurant & Pies closed its doors last week to the surprise of many customers.
The restaurant ceased operations Dec. 9 because of the property owner's plans to raze the Bakers Square building and construct a new building to house a new location for the Apple Valley Panera Bread, according to Apple Valley Community Development Director Bruce Nordquist.
Papers taped to the building's entrance doors inform customers of the closure and direct people to locations in Eden Prairie, St. Paul and West St. Paul.
"I don't think anybody was really aware they were going to close on Dec. 9," Nordquist said. "We do know that the Panera plans are in for plan review in the building inspection department. The next step is the demolition and we believe demolition will occur in the first quarter of 2020."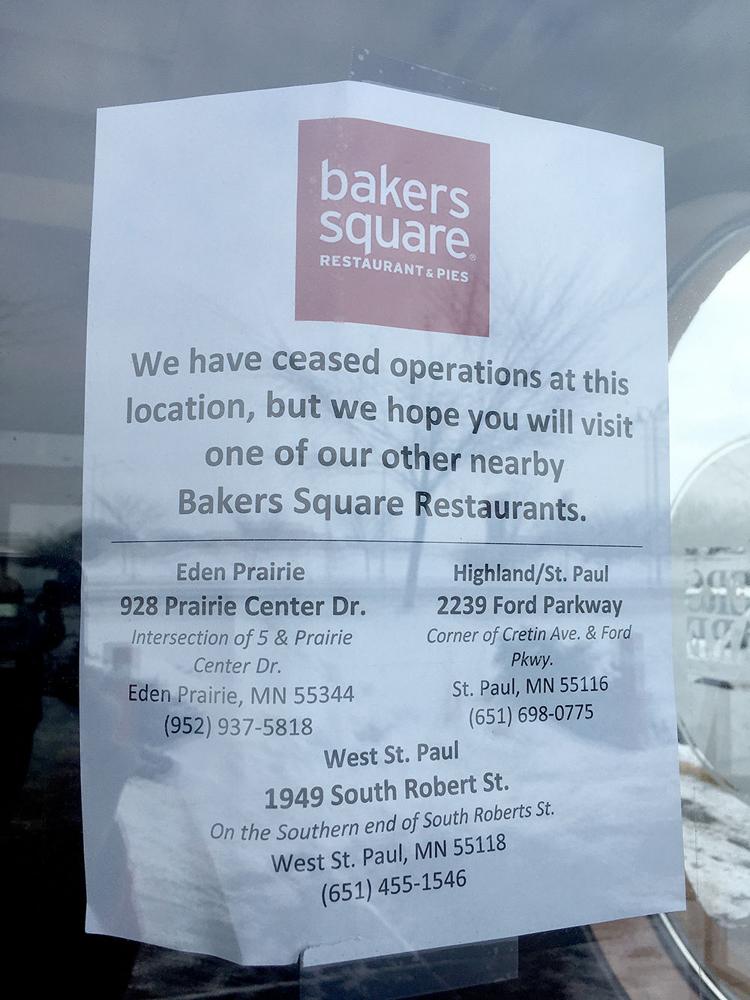 In January, the Apple Valley City Council approved a project to demolish the existing 5,738-square-foot Bakers Square restaurant at 15200 Cedar Ave. and constructing a new 4,820-square-foot building with drive-thru window service on the 1.28 acre site. Panera Bread is presently located in the Southport Centre, 15052 Gleason Path in Apple Valley.
Project proponents said at the time that Panera's lease at the current location expires in October 2020. The company had been looking for potential properties to upgrade its facility, and was in conversations with Brixmor Southport Centre LLC, the property owner, and other brokers to find a location in Apple Valley that would accommodate its growth model.
The city said in January the redevelopment of the Bakers Square site will add 23 new parking spaces, a 12-foot wide drive lane, trash enclosure and an infiltration basin on the west side of the property.
There will be a 26-seat outdoor seating area at the southwest corner of the site and decorative fencing on the west and south sides of the seating area, the city said.