Peregrine Collection to be launched into space later this year
JuliAnne Jonker can say a piece of her artwork will be out of this world.
That's because a digital copy of it will be launched into space later this year.
Jonker, an Apple Valley resident, is one of over 1,200 artists from around the world whose creative works are part of the Peregrine Collection, which is scheduled to be sent to the moon as part of a time capsule there.
The collection's digitized work and literature files are stored in two microSD cards and contained in DHL MoonBox capsules. Delivery to the moon will be made by Astrobotic's Peregrine Lunar Lander through NASA's Commercial Lunar Payload Services program. The lander is planned to touch down in the Lacus Mortis region of the moon.
Jonker said she never imagined her work would end up at a place like the moon.
"People are doing all kinds of jokes," she said with a laugh.
Jonker and her husband have lived in Apple Valley since 1989. They have four adult children – two sons and two daughters – who all graduated from the Rosemount-Apple Valley-Eagan School District, and six grandchildren. Jonker lived in Mexico, Texas and California before coming back to Minnesota.
Jonker grew up in a family of creatives, with parents who were jazz musicians. Her siblings and children pursue art media including music, writing, painting, working with textiles, hairdressing and acting.
A 1975 Burnsville High School graduate, Jonker said her first foray into art was when she sold a painting to her principal in junior high school.
"It was from the cover of an Ayn Rand book called 'Anthem,' " she said. "They also kept my Jimi Hendrix bust; I did a sculpture and they kept that at Burnsville High School for years."
As an adult, Jonker has worked with multiple art media including sculpture, photography, mixed media, water color painting and painting with wax.
She describes herself on her website as a "realist painter creating commissioned portraits and figurative works in a variety of media."
Jonker said she enjoys the connection she makes with the human subjects in her pieces, created at her home studio. Some of her works are realistic and others more abstract, depending on the focus of the piece or series she's working on.
"I think that's one reason I love painting my own family is because I know them and I really love working with clients that I've known for many years," she said.
Jonker said she's excited by another honor she's been chosen for. One of her paintings will be featured as part of the Art Renewal Center's 15th annual Salon Exhibition at Sotheby's New York in July and the European Museum of Modern Art in Barcelona, Spain from Oct. 8 through Dec. 12.
"They always say you're supposed to write down your goals. I didn't do that with my portrait studio. I just like more to let things unfold," she said. "I believe in a higher power, so I don't think I'm in control of it anyways. So I feel like obey the next thing you feel like you're supposed to do and all will be good."
Physicist and author Samuel Peralta is the curator and coordinator behind the Peregrine Collection as part of the Artists on the Moon project, which is joining NASA's scientific payloads. Astrobotic's Peregrine Mission One is the first commercial launch in history and it's believed to be the first project to place the work of women artists on the moon.
"What I thought about was how people who are like this Samuel, they think so differently than me in my little world here in my art room," Jonker said. "He's thinking about some being finding this artwork and wanting them to know what was happening in 2020."
The works being sent for the time capsule include some of Peralta's written works, and other artists' books, music, artwork and films. Many of the art pieces like Jonker's were originally displayed at galleries between 2015 and this year and their exhibition catalogs were published by Goss 183 or included in special editions of PoetsArtists magazine, according lunarcodex.com, the main site for the overall project.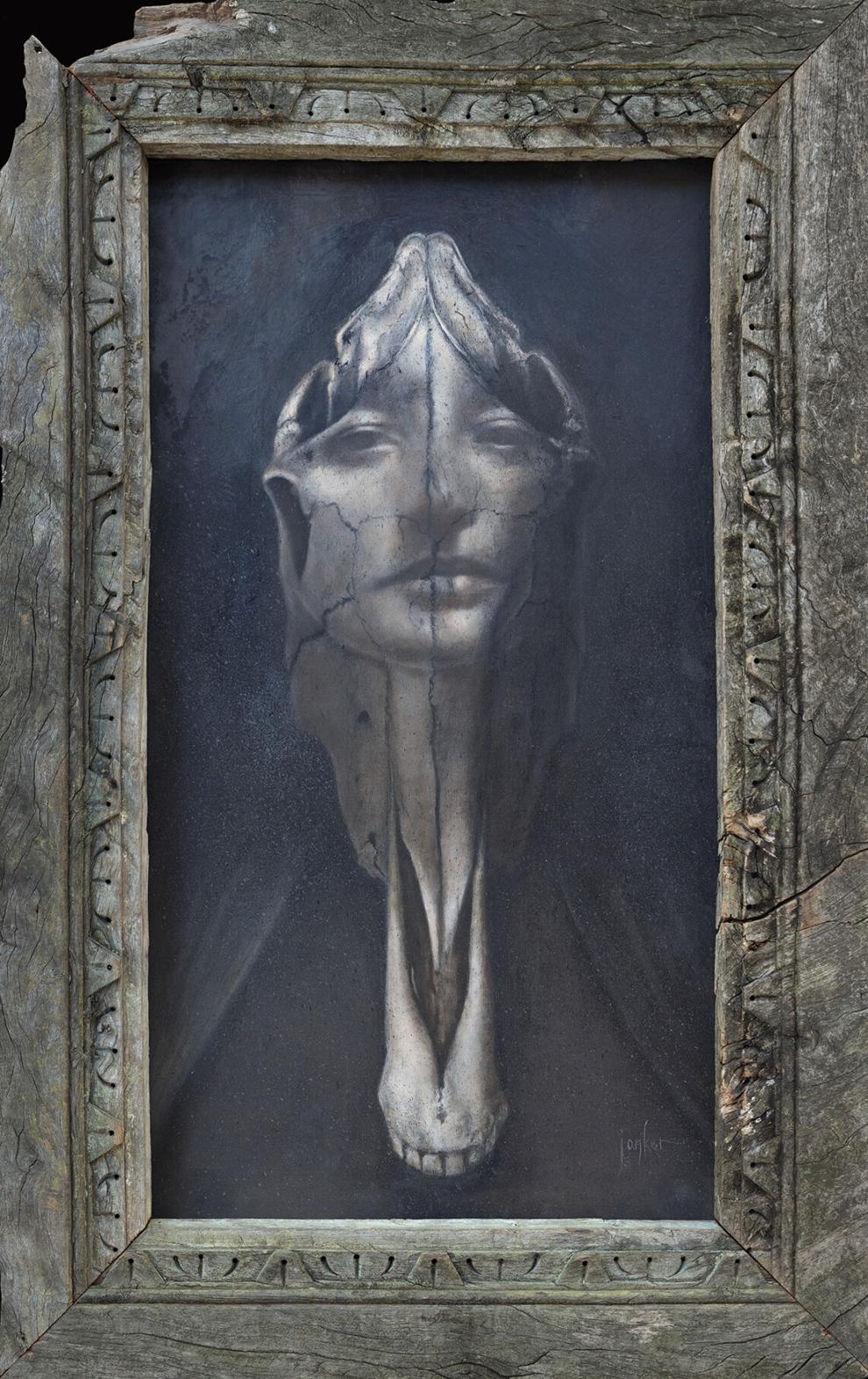 Jonker's painting, "Vision at Ghost Ranch," was featured in the collection Facing the Universe: The Cosmos Within. The selected works were originally planned for exhibit from Feb. 25 to April 24 at the Wausau Museum of Contemporary Art. This was moved to be exhibited as an online exclusive at Artsy due to COVID-19 restrictions, the site said. "Vision at Ghost Ranch" is one of the pieces that is going to the moon.
Jonker said the news that art from this collection would be included in the launch to the moon was shared with her and other artists on March 2.
"Vision at Ghost Ranch" is a composite of a portrait of American artist Georgia O'Keefe and an animal head bone. Jonker said O'Keefe was known for painting animal bones. She began researching O'Keefe about a year ago when she was asked to create the piece.
According to the site, the launch is slated to proceed in the fourth quarter of 2021, possibly in December. The works of art will travel about 240,000 miles over roughly three days before they reach the moon.
"Our hope is that future travelers who find this capsule will discover some of the richness of our world today," Peralta said in a statement. "It speaks to the idea that, despite wars and pandemics and climate upheaval, humankind found time to dream, time to create art."