Alan and Sharon Miller have put together more than 2,100 interviews for Eagan-TV
In an age of 10-second sound-bites and 33-character Tweets, local residents can still watch a half-hour interview of an area newsmaker thanks to "Access to Democracy."
Producers Alan and Sharon Miller, along with a dedicated crew of volunteers, film their long-running public access show twice a month at the Eagan-TV studios in the basement of Thomson Reuters.
The show runs throughout the week on all public access channels in the south metro.
It can also be found on the "Access to Democracy" YouTube channel, but the show predates YouTube by several years.
"Access to Democracy" is celebrating 20 years in 2019, with more than 2,100 interviews in its archives.
"We're as surprised as anyone we've lasted this long," Sharon Miller said. "But we're very grateful."
Alan and Sharon Miller are planning an anniversary show to be filmed Sept. 12 when multiple Peabody and Emmy award winner Don Shelby is scheduled to fill in as guest host.
The event will include recognition from Gov. Tim Walz, the Dakota County Board of Commissioners and city of Eagan, among others who will join with guests, guest hosts, volunteers and benefactors to mark the occasion.
"Access to Democracy" got its start on the Burnsville-Eagan Community Television station in 1999.
Sharon Miller has been on set for every episode. The host of the show Alan Miller has been there for all but two filming sessions. He needed a day off to recover from a broken femur in February. He missed one day for a doctor visit regarding his now treated thyroid cancer.
The show wouldn't be possible without the volunteers.
"I'm just a pretty face behind the camera," Alan Miller said. "Without them, we would have no show."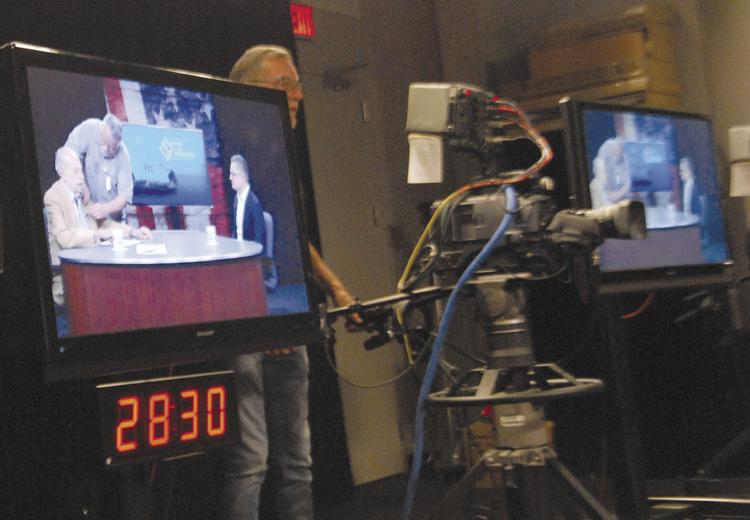 Alan Miller does the interviews with Sharon Miller producing, but in recent years, several guest hosts have sat in front of the camera.
"That's what the future is obviously," Alan Miller said. "I'm 85 now. I started this when I was 65. It was a career change for me. It's been an interesting chapter."
He can trace the show's roots to an interview with a then unknown politician Tim Pawlenty of Eagan who would eventfully becoming Minnesota's governor and run for president.
The initial host scheduled to interview Pawlenty got cold feet, Alan Miller said.
Earlier in his career, Alan Miller had worked with the Joe Franklin Show, a long running talk show filmed in New York decades ago, so the station approached him to help.
"I got along well with Pawlenty even though we're politically divergent," Alan Miller said.
But his wife Sharon Miller gave him an harsh review.
"She was pretty critical and I'm pretty competitive," Alan Miller said. "She was right. I was terrible. I knew I could do better."
The pair met while working for West Publishing, which is now Thomson Reuters, in New York. They got an offer to move to Eagan after the New York office closed in 1997.
They still do work in the building. Eagan-TV is a public-private partnership with Thomson Reuters.
The show grew from one interview, to three every other week. They've filmed specials, on-the-road episodes and debates. They've gone to Fort Meyers, Florida, to report on the Minnesota Twins spring training.
"We even did a special in New Orleans after (Hurricane) Katrina," Alan Miller said.
"Access to Democracy" found a strong audience asking for something different to the noise on other channels.
"You can't get a half hour of an interview with a politician in many places," Alan Miller said. "It's all quick 10 seconds on the news now. We can sit down a talk for a half hour and really have an interesting talk."
The shows are filmed live, and there's limited editing. If a bug somehow gets into the studio, and Alan Miller takes a swing, it makes the broadcast.
He said he does about three hours of preparation for each interview, especially if he's unfamiliar with the guest.
"I never want to be caught short," Alan Miller said. "I assume all of the people who have been guests are smarter than me, so I need to do a lot of research. I learn something every day from this."
He usually has a list of questions in mind, but he doesn't shy away from a philosophical question or two.
It's grown far beyond interviews with local politicians.
They've had lawyers, journalists, sports personalities, ambassadors, restaurateurs, mayors, city staff, and "religious leaders of all persuasions" on the show.
The show has featured five of the seven members of the current Minnesota Supreme Court. After Alan Miller was treated for thyroid cancer in 2017, he brought in his surgeon, Geoffrey Thomson, chief of the endocrinology division, for a conversation.
"He removed half the thyroid, which we actually showed the X-rays during his interview," Alan Miller said.
The most viewed show on YouTube is an interview with retired Brig. Gen. Dan Cherry and Nguyen Hong My of Vietnam, who engaged in a dogfight during the Vietnam War in 1972. They met again 36 years later. Their story is was captured in the book "My Enemy, My Friend."
Shows are booked months in advance.
Sports interviews have been popular. Dave St. Peter, president of the Minnesota Twins, is an annual guest.
About two years ago, a spin-off show "Behind the Game" began filming. The show features Patrick Klinger and Bill Robertson, who have interviewed local sports celebrities, including Mark Rosen and former University of Minnesota football player Darrell Thompson.
"Access to Democracy" can be found on Eagan-TV every week.
The regular interviews are generally aired once in the morning and once in the evening.
The anniversary show will probably be broadcast starting during the week of Sept. 15.
Regular guest hosts such as former Supreme Court Associate Justice Paul Anderson and Thomson Reuters Executive Vice President and Chief Communications Officer Rick King are scheduled to be there.
State Rep. Sandy Masin, DFL-Eagan, and St. Peter are also on the list.
There will also be interview clips from Dakota County Commissioner Joe Atkins; state Sen. Jim Carlson, DFL-Eagan; U.S. Rep. Angie Craig DFL-Eagan; and Mike Ciresi, who was recently named one of the top 10 attorneys in the U.S.
The show can also be found on the local public access channels in Lakeville, Savage, Apple Valley, Farmington, Rosemount and Town Square Television (Inver Grove Heights, Mendota Heights).
It also reaches St. Paul, Little Falls, White Bear Lake, and Northwest Community Television (Brooklyn Center, Maple Grove, New Hope).
The YouTube channel reaches anywhere with an Internet connection.
"I had someone from Germany comment on one of the shows," Alan Miller said.
As for the next 20 years?
"I just celebrated my 85th, so use your imagination," Alan Miller said. "We hope that the show will continue as our legacy, offering viewers something unique in the way of local access TV, perpetuated by either guest hosts or someone with a lot of energy and perseverance."