New to Farmington from Las Vegas, Andy Strano and his family hope to connect with neighbors
Walk into Andy Strano's garage and try not to let your jaw drop.
Not only is the garage home to a DeLorean that is a mash-up of the "Back to the Future," "Ghostbusters" and "Knight Rider" cars, but it also is home to almost every "Back to the Future"-related item imaginable.
A DeLorean graphic covers an entire wall of the garage, just visible through shelves filled with model DeLoreans, Marty McFly's light-up shoes, Happy Meal "Back to the Future" toys and countless other pieces of memorabilia.
Strano said he's a person who loves to build things — he built many of the DeLorean models himself and converted a Power Wheels Jeep into a Jurassic Park-themed Jeep for his children — but he hopes his latest project brings people together.
Recently, Strano built a Little Free Library designed like a TARDIS, a time and space machine from the TV show "Doctor Who." Strano and his wife are both teachers who recently moved to Farmington from Las Vegas.
The Stranos moved to Minnesota in June 2017 and moved into their current house in Farmington this February. Wanting a way to promote reading while also getting to know some new neighbors, Strano came up with the idea to put a themed Little Free Library in the front yard.
It seems to be working — the family had a launch party for the library June 13, with some neighbors dropping by to peruse books and enjoy Popsicles.
But Strano hopes to eventually expand the library into a reading spot with a bench to encourage community gathering. He noted that he'd love to pair with a local Eagle Scout to design a reading nook.
So far, the family is liking their new home, Strano said. Strano's wife, Kristin, grew up in Minnesota, and they felt it would be a better place to raise their children: 4-year-old Dean and 18-month-old twins Emmett and Colton.
Strano said the library "is something I could never get away with in Vegas" partly due to homeowner associations and higher rates of vandalism.
"Somebody would mess with it. I'd wake up and somebody would've spray-painted it all over. So I feel very safe in this neighborhood," Strano said.
'Back to the Future' collection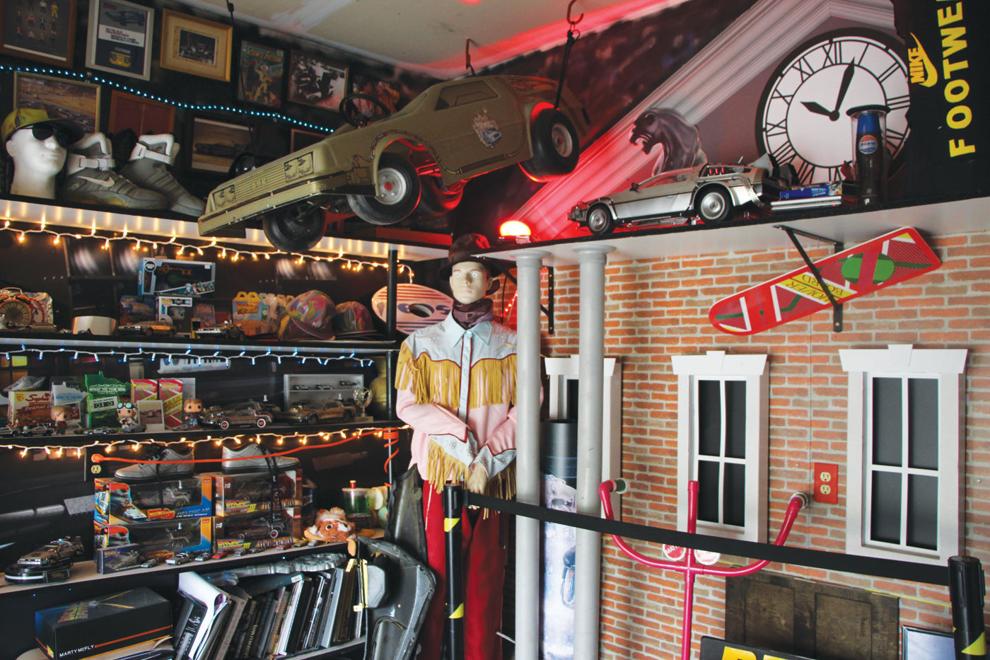 Years ago, when Strano was about 11 years old, he built his first DeLorean model after a trip to the "Back to the Future" ride at Universal Studios Florida.
He collected gradually at first, but after getting his own DeLorean car six years ago, he began collecting in earnest.
Strano rents his car for corporate events, weddings, birthdays and everything in between, and has plenty of costumes to go with the car: time-traveling Ghostbuster, Marty McFly or other characters.
Strano's collection surprised even him once he finished unpacking it, he said, and he made sure to warn his wife before she saw it for the first time.
"It's a lot to take in. When I first showed my wife, I set it all up and stuff and I had her come out, and I said, 'Now before you see all this' — because she knew I had a collection, she just didn't know how much — I said: 'This is a collection. This is what a collection looks like. I don't have two or three little toys,' " Strano said.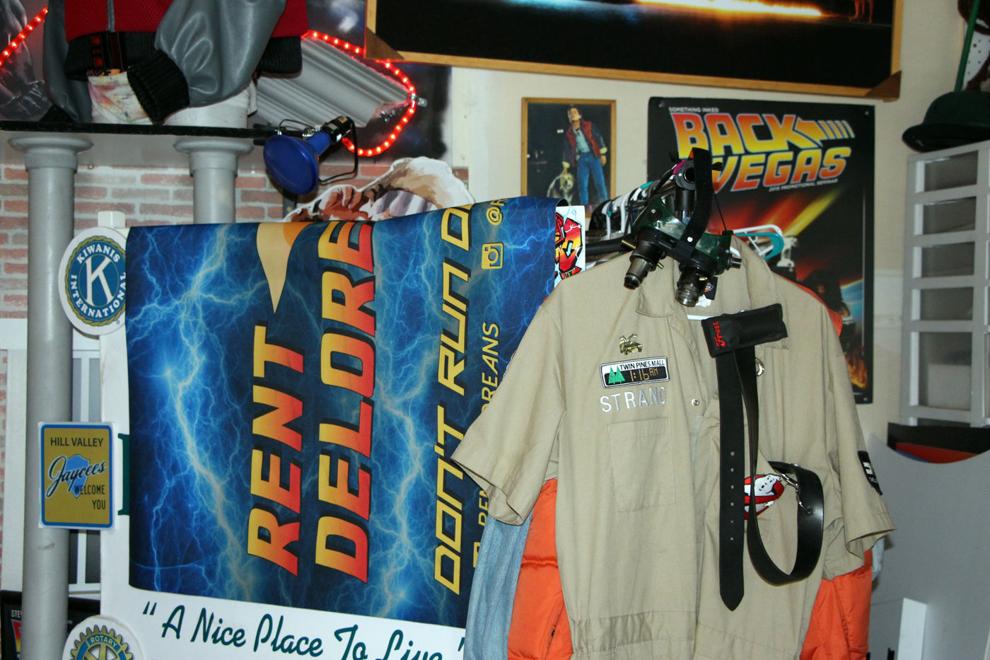 Part of the reason Strano's collection is so extensive is because he made a decision to just collect "Back to the Future" items. While he's a huge fan of movies like "Ghostbusters" and "Jurassic Park," he said he decided to focus his energy on one film universe.
What would happen if he focused his energy on say, "Ghostbusters"?
"Well, then I'd have to buy a whole other house," Strano said. "That's not in the cards anytime soon."
Why the collection?
While Strano's love for the movie "Back to the Future" is pretty clear just looking into his garage, he said he enjoys collecting and bringing his DeLorean to shows because other people get joy out of it, too.
"I just love movie cars. Because if you're driving around, it's almost like a time machine, where guys my age … see it and they think of their childhood. You know, 'I saw that when I was 10!' " Strano said.
Sometimes other fans get a little too zealous, though. Strano said it can be dangerous driving the car simply because other drivers want to get close to it.
"It's scary because you're driving and they're right next to you, because they're taking their picture. It doesn't matter if it's night or day," Strano said.
Filling up on gas is a process, too, he said, but the self-described "people person" wouldn't trade it.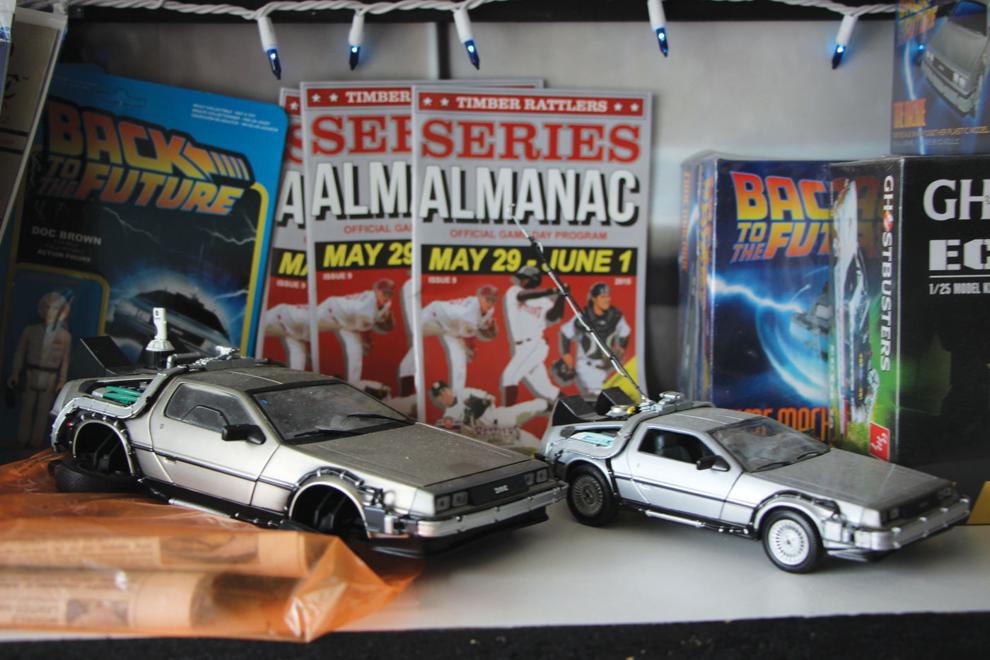 "It normally takes me about 20 minutes to get gasoline because people want to stop and talk and stuff. And I love that. That's fun. You meet so many strangers," Strano said.
In any case, Strano is having fun with it. When some neighbor children ask about a watch on the shelf, he hands over the movie prop.
"This tells you the date, too. Oh, it's a day off. See, time travel messes you up sometimes," Strano joked.
Strano said he has "no idea" how much he's spent over the years, but his collection is priceless to him.
"If I was ever in a huge financial pinch, I could part out this — I don't want to. I enjoy having people come and check it out. It's really neat to have people see all this fun stuff," Strano said.
And if people want to stop by to see his memorabilia museum or use the library, they're more than welcome to, he said.
"People don't do that anymore, you know. It's hard to meet your neighbor. Normally if you knock on your neighbor's door, they think you're going to try and sell them something. That's why you see all these 'No Soliciting' signs all over the place. But it's good to get to know your neighbors, I think."