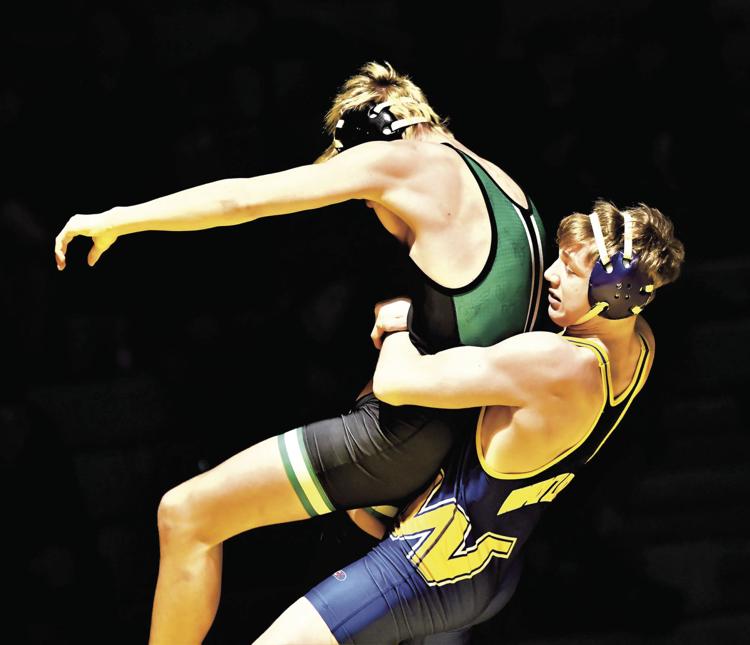 April, May and June are usually off-season wrestling months for the grapplers from Wayzata High School, but the COVID-19 situation has put the Trojan wrestlers in lock-down mode.
"We're not alone," Wayzata head coach Eric Swensen said last week. "No school in the state has its guys working out."
That is not to say the Trojans are idle, however. They can't get on the mats yet, but state 138-pound champion Cael Swensen has been leading outdoor conditioning. One of his favorite training regimens is running the bleacher stairs on the home side at Wayzata High Stadium.
"When will we be able to start? That's the million-dollar question," Eric Swensen said. "This is the longest my kids [Cael and younger brother Logan] have ever been away from the mat. It is super frustrating for them and for our other boys."
During the spring and summer club seasons, there are youth and high school wrestling tournaments all over the country. The opportunities to wrestle in Minnesota might be minimal, with Gov. Tim Walz taking a cautious posture for sports across the board. For instance, summer baseball opened weeks earlier in North Dakota and South Dakota than in Minnesota.
"Because wrestling is such a physical sport, some of the school districts [in Minnesota] are nervous," Eric Swensen said. "There is no question that COVID-19 has been a threat to millions of people. Wrestling clubs in Wisconsin, Iowa and South Dakota are fully going. Oklahoma was the first state to open for wrestling this spring. Our guys will do anything to wrestle this summer. Hopefully, there is something on the horizon. But we want to make it as safe as possible. We can't get in our wrestling room yet because the mats are being fixed. Jaime Sherwood [Wayzata's athletic director] and I are working on a plan for the summer." That plan might involve wrestlers working out in small groups.
Since the Wayzata wrestlers haven't been on the mat yet, some of them have gained weight since the end of the high school season on Feb. 29. Cael Swensen weighs about 160 pounds, his dad noted, adding that Cael could move up two weight classes to 152 pounds this winter.
"We are excited that Cael has made his college decision," Eric said. "He has verbally committed to the University of South Dakota."
Cael has a good chance to set Wayzata's all-time record for wins and easily should surpass the 200 mark for his career. In the 2020 state finals, Swensen dominated New Prague's Nick Novak, earning a 9-2 decision. Cael will go into his senior season with 184 victories.
Also returning for his senior year will be Cayden Homme, the state Class AAA runner-up at 182 pounds.
Cal Lonnquist, a sophomore, is hot on Cael Swensen's pace for the school victory record. He finished third in state at 113 last season.
Kyler Wong returns after placing fourth in state.
"One big event some of our guys are looking forward to is the Super 32 in October in Greensboro, North Carolina," coach Swensen said. "This is a massive tournament, which will bring together the best wrestlers from across the nation."
High school coaches have only a small window to work with their wrestlers during the summer, and the fall is a dead period for coaches' involvement. But coach Swensen can travel to tournaments and watch the action from the stands. He is always there to support the Trojans' passion for wrestling - even in hard times, like the COVID-19 hiatus.
Follow the Sun sports writers on Twitter @MNSunSports and on Facebook at facebook.com/SunSportsStaff.