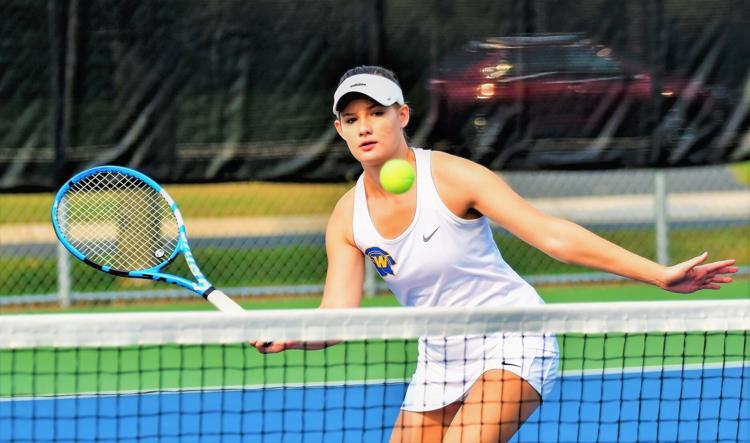 Senior captains Emma Hawkinson and Emily Mendel refused to let the Wayzata girls tennis team lost to Maple Grove in the Section 5AA title match Oct. 14 on the Maple Grove High courts.
It took them 3 hours, but Hawkinson and Mendel ended their prep careers with a 6-2, 4-6, 7-6 win over the Crimson team of Sarah McGraw and Anusha Patel in the No. 2 doubles match. With that victory, the Trojans won the dual meet 4-3.
Near the end of the second doubles match, the wind increased so much that the players on both teams had trouble keeping the ball in play. The tie-breaker ended up 10-8 in Wayzata's favor.
"It came down to those two senior captains," Wayzata head coach Kathleen Farmer said. "Emma and Emily had everything on their shoulders."
The wind was gusting to 45 miles per hour around 6 p.m., but no spectators left with such an exciting match still in progress.
"We knew it would be a close one with Maple Grove," Farmer said. "They were seeded No. 1 and we were No. 2."
Maple Grove is strong at the top of the lineup with junior Zoe Adkins at No. 1 singles and senior Grace Bakke at No. 2 singles. Adkins held off the challenge of Wayzata's Miriam Shteyman, 6-2, 6-2, and Bakke defeated Wayzata ninth-grader Greta Holmes in three sets, 6-3, 1-6, 6-3.
With those points gone and an injury withdrawal at first doubles, the Trojans were in a 3-0 hole and needed to win every other point to get a 4-3 win.
Ninth-graders took care of the third and fourth singles points for the Trojans, with Tasha Piyabongkarn winning 6-1, 6-2 at No. 3 and Lucy Nabedrick winning 6-0, 6-3 at No. 4.
Wayzata's senior third doubles team of Sydney Polencheck and Elise Koltonowski was good as gold with a 6-2, 6-3 win. That left the dual meet in the hands of Hawkinson and Mendel.
"It was such a great win," said Farmer, whose Trojans also won the section team title in 2019. "I am so happy for all of our seniors. It has been a tough season with COVID-19 and I am so happy that the girls were able to play a full season."
Entering the championship match, Maple Grove's season record was 12-0. Wayzata stood 9-3 with losses to state powers Minnetonka, Edina and Breck as the only blemishes.
Coach Farmer praised Wayzata activities director Jaime Sherwood for supporting the tennis team as well as all of the other high school sports.
"Jaime came at the beginning of the match and stayed until the very end," Farmer said.
With the championship in hand, Wayzata looks to a promising future for the 2021 season and beyond. The Trojans will have to rebuild their doubles next year with all six of the starters graduating. However, on the singles side, they will start the season with four key players returning - Holmes, Piyabongkarn, Nabedrick and Ondine Scrimgeour. The most experienced doubles player returning, Michelle Cao, played exhibition doubles against Maple Grove in the Oct. 14 match.
Follow the Sun sports writers on Twitter @MNSunSports and on Facebook at facebook.com/SunSportsStaff.