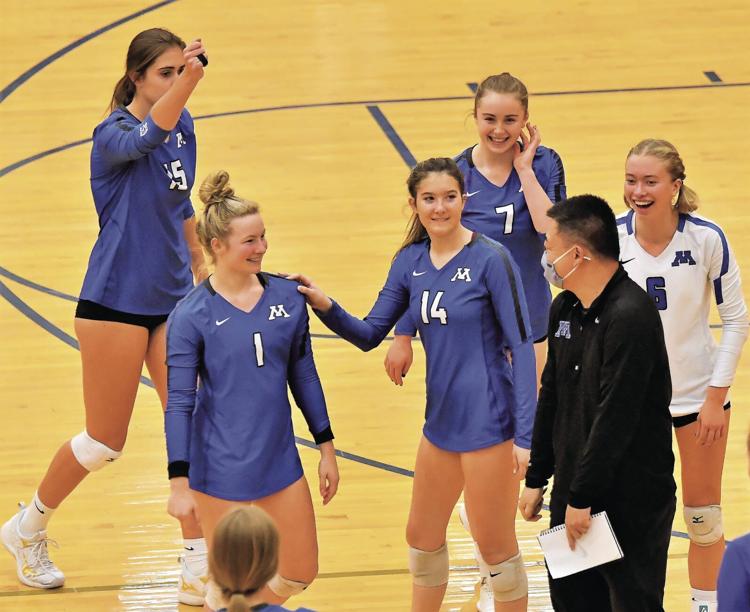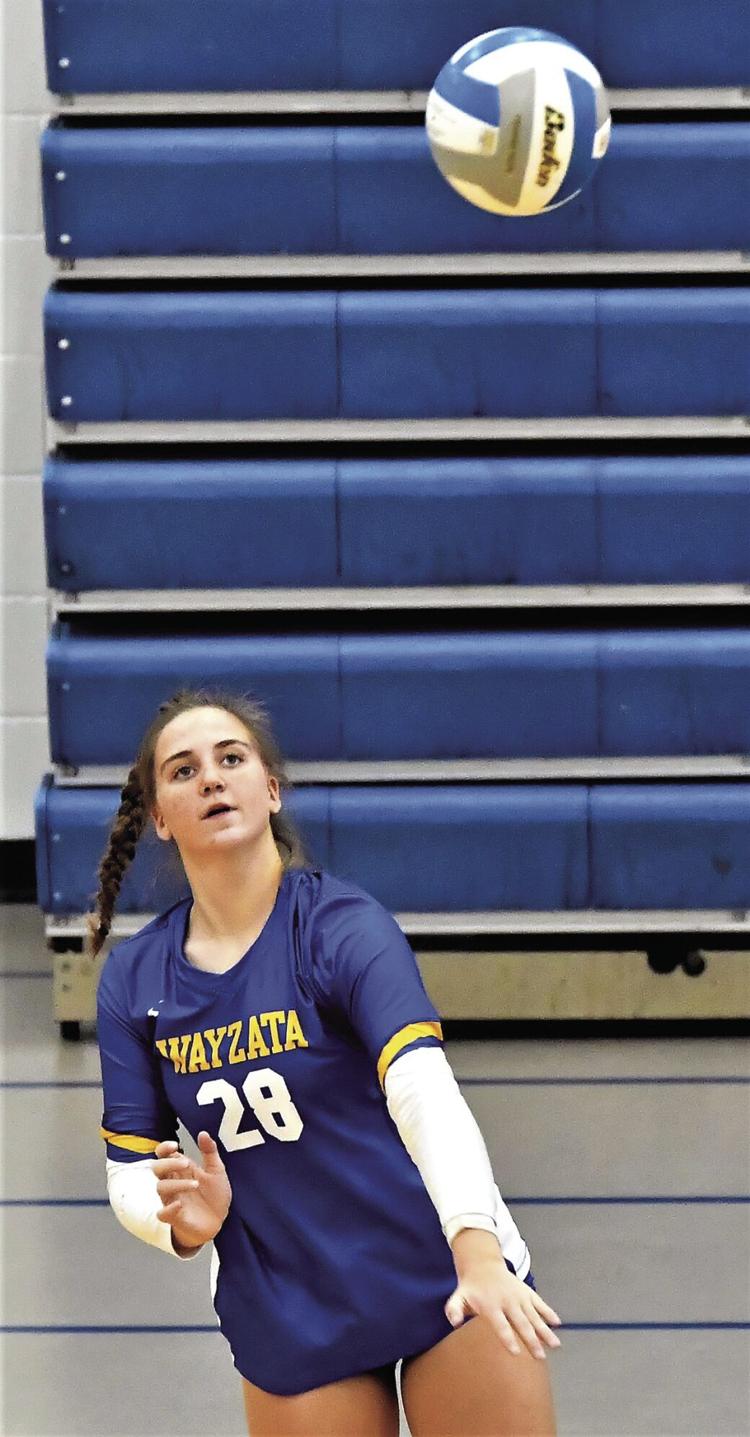 Ever since Karl Katzenberger became the head girls volleyball at Minnetonka High 11 years ago, the Skippers main rivals have been the Wayzata Trojans.
Usually, the stands fill up anytime the Lake area rivals meet, but with COVID-19 attendance restrictions this year there are smaller crowds and no student fans watching the matches.
Those unable to see the latest match-up, Nov. 10, missed a good one as No. 1-ranked Wayzata won in five sets on its home court - 23-25, 25-17, 25-22, 20-25, 15-9. In all, Minnetonka, the state's fourth-ranked Class AAA squad, scored 99 points to 109 for Wayzata.
"This has been our rivalry for so many years," Katzenberger said. "When we play Wayzata, all of the cards are on the table. They play to their strengths and we play to ours. This time, they were a hair better than us. We will see them later this season at our gym [7 p.m. Monday, Nov. 23]."
Part of Wayzata's edge came from the hitting of ninth-grader Olivia Swenson and Katy Riviere, who each finished the night with 16 kills. Sierra Moore added 10 kills for Wayzata. Minnetonka countered with 17 kills from senior captain Kali Engeman. Morgan Rooney added 11 kills and 6-4 sophomore Kate Simington was good for 10.
"There were stretches when we played really well," Katzenberger said. Senior setter Olivia Koeppen, in her second season as a starter, had 45 set assists in the match. Sophomore outside hitter Abby Stanwood was a factor offensively and defensively with nine kills and 20 digs.
"Abby's calling card is her hitting," Katzenberger said. "But her defense [against Wayzata] showed that she is working to be a top-notch, two-way, elite player."
Morgan Ryan, Minnetonka's scrappy junior libero, played alongside Stanwood in the back row and also came up with 20 digs. In addition, Ryan led Tonka with three service aces.
Wayzata's leader, ninth-grade setter Stella Swenson, not only set up her hitters with 42 assists, but also had 12 digs, five kills and three blocks. She is probably the most valuable player in the Lake Conference after five weeks.
Sophia Johnson and Ella Voegele did a good job on defense for coach Scott Jackson's Trojans with 15 and 14 digs. Riviere was solid in the back row, as well, with 11 digs. Wayzata's top blocker, Emma Goerger, contributed five blocking points. Teammate Avery Seesz performed well in her role with two service aces.
Minnetonka has played three five-set matches this year, winning one and losing two. The Skippers only other loss was to Eden Prairie in five sets. In the other match against Eden Prairie, the Skippers won in five.
In its other match last week, Minnetonka made quick work of Edina, winning on Senior Night -25-15, 25-21, 25-10. The seniors on Minnetonka's roster are Engeman, Koeppen, Rooney, Grace Arndt, Ahna Carlson, Sonia Dahlin, Abby Gabler and Audra Smith.
"All but one of the seniors played heavy minutes - the other senior was injured," Katzenberger said. "I remember when all of them started out in elementary school or middle school. I have known some of them since they were in third grade, and each one of the seniors has a unique story. Ahna Carlson didn't make any of our teams as a sophomore, but took volleyball very seriously and came back to make the team as a junior and as a senior. When I first met Grace Arndt, I remember she had trouble getting the ball over the net on a serve. In the Edina match she had six kills on only eight swings."
Katzenberger added that he is thankful for every one of the 10 matches Minnetonka has played this season. With COVID-19 cases rising in Minnesota and across the nation, every chance to continue playing is a blessing, the coach noted.
Wayzata had a tough schedule last week and won Thursday night in four sets over Eden Prairie - 25-22, 19-25, 25-22, 25-23. Point totals were 94 for Wayzata and 89 for Eden Prairie.
In preparation for their rematch Nov. 3, Wayzata (10-0) and Minnetonka (8-2) both will play Lake Conference road matches at 7 p.m. Thursday, Nov. 19, with Wayzata traveling to Buffalo and Minnetonka playing at St. Michael-Albertville's gym.