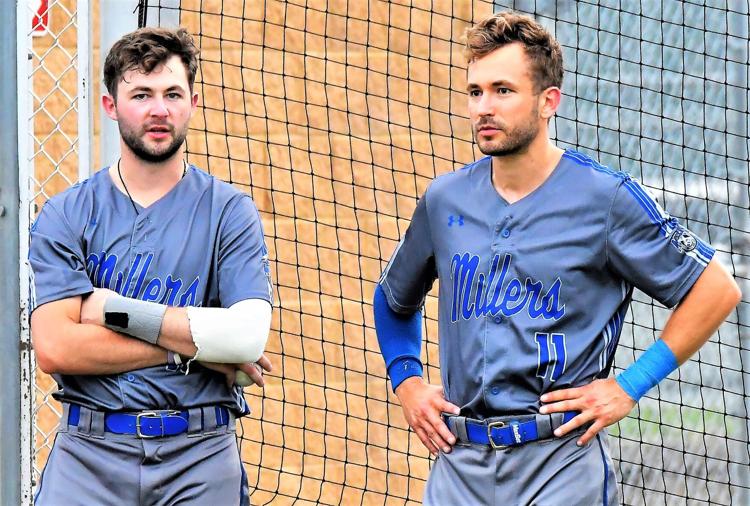 The first time a Wayzata neighbor saw Ryan Poppitz wearing a Minnetonka baseball uniform, he asked, "What are you doing?"
With the rivalry that has always existed between Wayzata and Minnetonka, others might have wondered the same thing. But later on, all would realize why Poppitz was playing town ball for the Minnetonka Millers.
"This is my eighth year with the Millers," Poppitz said after helping his team to the State Class A Amateur Baseball Tournament title Aug. 23 in a 9-6 win over the Minneapolis Cobras.
"One of my coaches, Adam Goethke, suggested that I join the Millers," Poppitz said. Goethke, a 23-year veteran pitcher, is the senior member of the Millers roster.
"I never thought I would trade Wayzata blue and gold and get used to Minnetonka black and blue, but playing for the Millers is a great experience," Poppitz said
Poppitz's career with the Millers has been filled with highlights. He used to pitch and play infield, but now he's off the mound and starting full-time at third base.
"The Millers are not only a winning team, but also a team with a real family atmosphere," Poppitz said. "No one on the team cares if a player graduated from Minnetonka High, Wayzata or Eden Prairie or any other school."
This is a baseball family; a melting pot of talented players.
"We enjoy the good times that come from being around each other," Poppitz said.
Two of Poppitz's teammates are former Wayzata High stars Zack and Connor Trygstad. "I was kind of the bridge between the Trygstad's on the Wayzata varsity," Poppitz said. "Zack graduated in 2010, I graduated in 2012 and Connor graduated in 2014. Zack played for the University of North Dakota and I played for Concordia-St. Paul. Connor started out at North Dakota, and then transferred to Concordia-St. Paul when North Dakota dropped baseball.
"I have been Zack's friend and teammate for 11 years, ever since my freshman year in high school," Poppitz continued. "We've always been next to each other in the lineup - 4 and 5 at Wayzata High School, 6 and 7 now with the Millers. Zack comes from a great family and we will always be friends."
Since the Poppitz and the Trygstad brothers all work in downtown Minneapolis, they get together for lunch periodically. Poppitz is an external auditor, Zack works for a Ascent Private Capital and Connor works as a data analyst.
Connor grew up idolizing his older brother.
"Because of the difference in our ages, I never played on a team with Zack before I joined the Millers," Connor said. "But I was always Zack's biggest fan, and I wore his number growing up. A lot of times now, he hits in front of me in the lineup. Early in my time with the Millers, we won back-to-back-to-back state championships. The people I shared that experience with made it twice as amazing."
While he reveres his brother, Connor said he also has great respect for Poppitz. "Ryan is the epitome of a gamer," Connor said. "When the team needs a hard-nosed, gritty play, he is always there for us. Joe Abellera [a Hopkins High graduate] is the same way. He grinds it out and plays through injuries."
One of the best things about the Millers is the team depth, Connor observed.
"Even though we have some really good players, there aren't any egos," he said. "Some of the best players I ever played with are Joe Shallenberger, Joe Abellera, Blaine Rutledge and Mike Davis. Those guys are as humble as ever, and they welcomed me to the team with open arms when I came in [as a college freshman]."
Poppitz gave his thoughts on Shallenberger: "Joe will go down as the greatest town ball player ever."
In high school, Zack Trygstad might have been the best catcher in the state and one of the best left-handed hitters as well. Some predicted he would make the Major Leagues someday. An injury to his right shoulder took him out of full-time catching, but there are still times when he puts the tools on and recaptures his high school glory days.
The older Trygstad brother came to the Millers at the end of the 2010 season after finishing his commitment to the Wayzata Legion team.
"I didn't know much about town team baseball at the time," he said. "One of the first games, I didn't even have a uniform, but I got my first at-bat and hit a single through the right side of the infield."
The next season, in the summer of 2011, Zack hit his first home run as a Miller.
"I pride myself on getting on base," Zack said. "With all the good hitters in our lineup, I figure if I get on someone will bring me home."
Zack is valuable to the Millers for his versatility. He can play first base or outfield, and he is often in the lineup as the designated hitter. In addition, he is the first to welcome young players to the team. The Millers were loaded with quality rookie talent this summer, and Zack was there to provide encouragement and answer questions for the new guys.
"For me, part of my responsibility is to pass the Millers tradition," Zack said. "I share the little things that other Millers shared with me when I was a young player. We had two rookies in the starting lineup at state, Jack Hanson and Jarod Wandersee, and they both had tremendous seasons."
Zack was thrilled when his younger brother joined the Millers in 2015. "Connor is more of a free swinger than I am," Zack said. "He has a lot of pop in his bat. Being able to play alongside my brother is something I cherish."
Other Wayzata players have followed the Poppitz and the Trygstad brothers to the Minnetonka Millers - Connor Olson, Jamin Hesby and Thomas Skoro to name a few. Skoro got the start in this year's state-championship game and kept the Minneapolis Cobras in check, except for a towering home run by Sean Borman, the former Hopkins High third baseman.
"Tom has been in tough situations over the years, and he always does the job," Zack said. "He has a great mentality for a pitcher."
Zack talked about his future in town ball. "I would like to play as long as my body allows and I am able to contribute," he said.
Follow the Sun sports writers on Twitter @MNSunSports and on Facebook at facebook.com/SunSportsStaff.