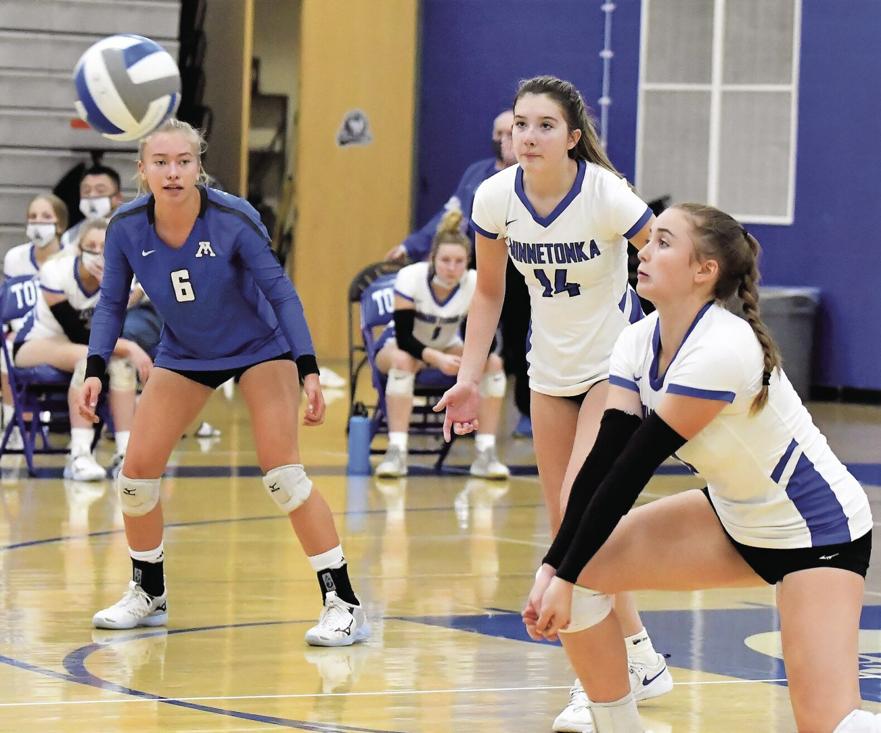 Any volleyball match between the Minnetonka and Eden Prairie High School teams is likely to be settled in a fifth set.
That was the case Oct. 12 when the Eden Prairie girls visited Minnetonka's West Gym for a Lake Conference match that the Skippers won 21-25, 25-23, 18-25, 25-17, 15-11.
Senior Morgan Rooney led the Skippers with 20 kills, most of them on left-side sets from senior Olivia Koeppen. Abby Stanwood added 11 kills and Kali Engeman had 10.
"Eden Prairie played better than we did the first three sets," Minnetonka head coach Karl Katzenberger said. "Then we took care of sets 4 and 5. Morgan Rooney has been given more responsibility this season, and she followed the game plan."
Rooney consistently hit balls just inside the Eagles backcourt line.
The other Morgan in Minnetonka's lineup, libero Morgan Ryan, had an outstanding match. "She has met and surpassed the expectations we had for her," Katzenberger said. "Kali Engeman had a good match, too. She is one of the most responsible kids I've coached in 20 years. Kali is reprising her role as captain this year. She is a leader on and off the court and a straight-A student."
Eden Prairie's girls, led by veteran coach Chad Becker, are short on seniors this year with only five of them on the varsity roster. The captains, Mallorey Madson and Jess Nelson, are joined by three other seniors - Emma Potter, Adisa Preston and 6-1 middle blocker Livia Hagberg. Kendall Minta is another Eagle middle blocker, and the tallest player at 6-3. Junior Paige O'Connell is a competitive all-court player and sophomore Evelyn Skattum is the Eagles' other 6-footer.
It didn't take the Eagles long to shake off the tough loss at Minnetonka. In their next Lake Conference match Oct. 14, they made quick work of the Edina Hornets, winning in straight sets, 25-18, 25-19, 25-9.
Minnetonka's Katzenberger sees a four-team battle for the Lake Conference title.
"Wayzata and Eden Prairie are always in contention along with Minnetonka," he said. "And I wouldn't discount St. Michael-Albertville. They have a well established program."