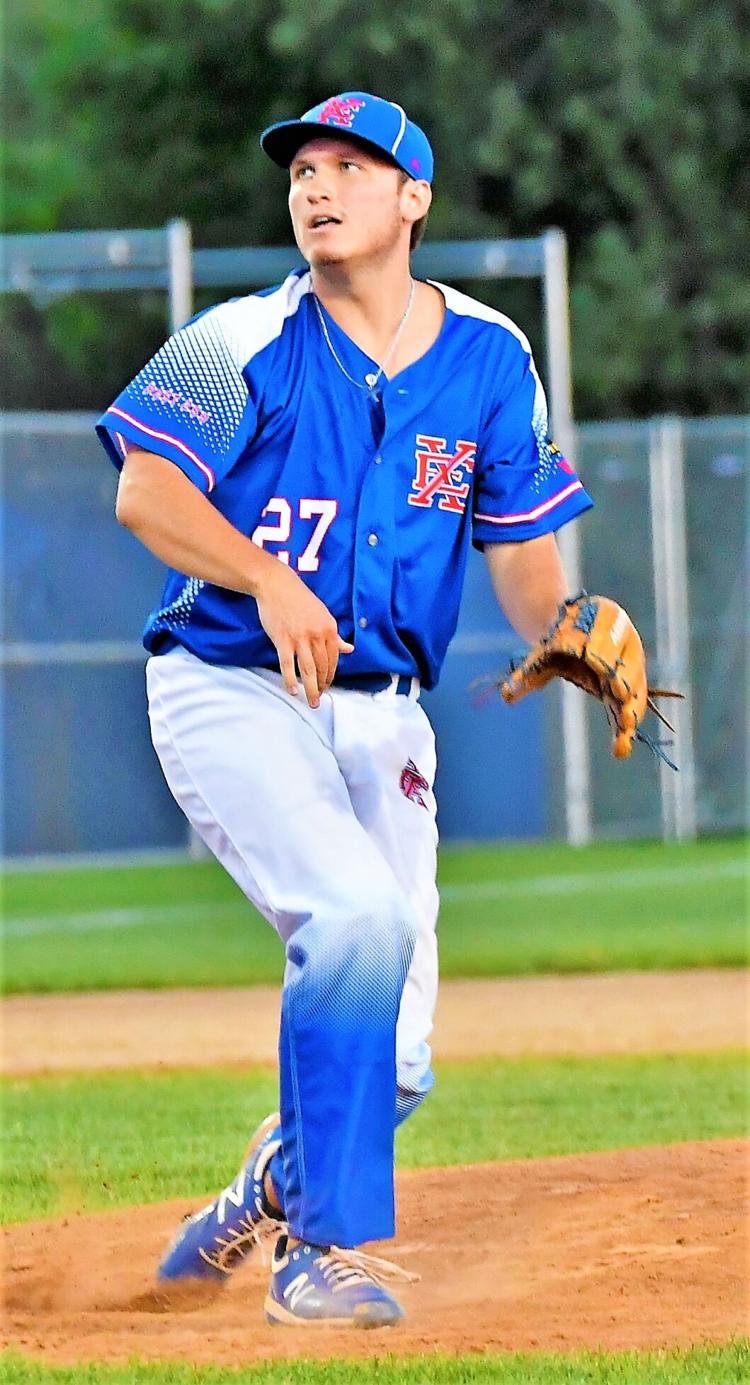 A pitcher who knows a lot about winning streaks led the Excelsior Fire Club 19-and-Under baseball team to a 9-0 victory July 30 at Wayzata.
Garrett Synstelien, who has a 13-0 overall record in two years with the Fire Club, shut down one of the best hitting teams in the metro area, allowing only one hit - a single by Brandan Brolin with two outs in the sixth inning. Synstelien had five strikeouts and his fielders played a clean game behind him.
"When Garrett pitches a great game like this, I am not overly surprised," Excelsior head coach Rob Hager said after the game. "He had his best stuff tonight. This season he has pitched one-hitters against Wayzata and St. Michael, two of the top teams in the state."
Synstelien said all three of his pitches were working in the Wayzata game - a fastball, a cutter and a 12-6 curve.
Picture a clock on the wall, and you'll understand the movement of a 12-6 curve. It starts at noon and winds up at 6 p.m. when it's thrown correctly.
"With a curve like that, you need a mobile catcher," Synstelien said. Sam Karrick certainly filled the bill in the Wayzata game, aggressively blocking the few balls Synstelien threw into the dirt.
Synstelien characterizes himself as "a breaking ball pitcher," although an 87-88-mile-per-hour fastball that he throws is good for a high school pitcher.
Last summer with the Excelsior American Legion team, Synstelien had an 8-0 record, as the club finished first in state with an overall record of 56-4. Among Synstelien's highlights were a pair of no-hitters.
"Playing on that team was a once-in-a-lifetime opportunity," Synstelien said. "The biggest improvement in my pitching since last summer is definitely my velocity. I hit the weights."
At the beginning of this season, Synstelien missed the 14 teammates who graduated from last year's Legion team.
"At the beginning of this season, we needed to become mentally tougher," he said. "The players back from last year [Nick Thimsen, Evan Steingas and Sam Tyrpa in addition to Synstelien] have helped the younger guys get better."
The win over Wayzata gave the Fire Club seven wins in a row and an overall 19-8 record.
What does the future hold for Synstelien, who will be a freshman at the University of Minnesota this fall?
"Maybe I will try to walk on with the baseball team," he said.
The last Minnetonka High graduate who played for the Gophers is Sam Thoresen - also a right-handed pitcher - signed a pro baseball contract with the Cincinnati Reds last month.