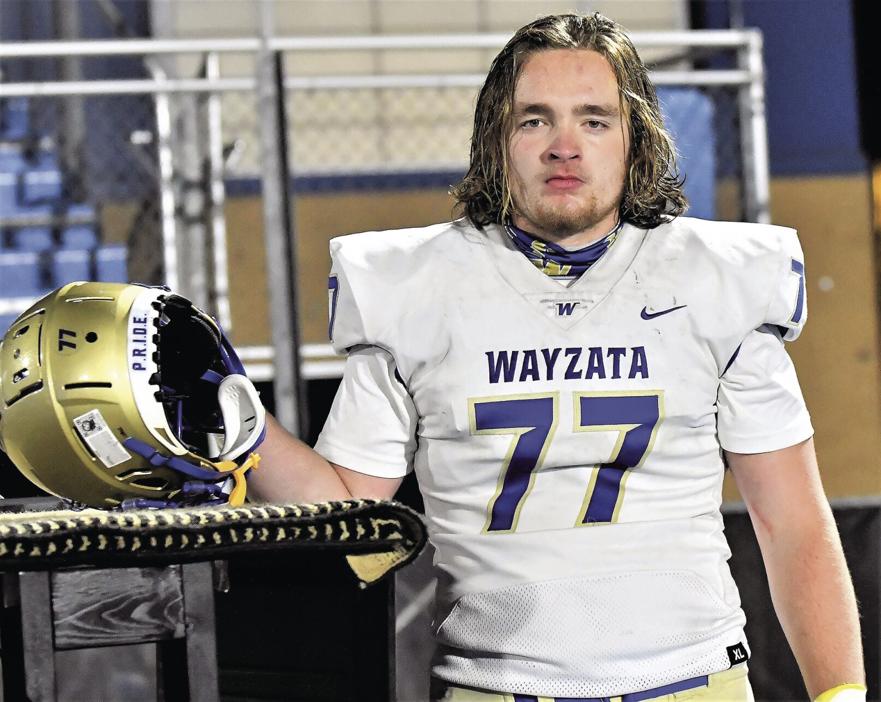 When Tyler Magnuson first became a Wayzata High varsity football player as a sophomore, head coach Lambert Brown noticed right away that he was more than just a big body.
True, he has tremendous size, especially now that he's a senior at 6-6 and 270 pounds. But even as a sophomore, Magnuson had all of the intangibles - football instincts, quick feet, broad shoulders and an aggressive nature that has served him well.
Syracuse University saw all of those qualities, and Magnuson will join the Orange as an NCAA Division I scholarship player next season.
Magnuson talked about the recruiting process in an interview last week.
"After I committed to Syracuse, other coaches stopped calling me," Magnuson said. "There was a good vibe at Syracuse - a family atmosphere that reminded me of how our team is at Wayzata. Syracuse is a historic program. Jim Brown played there. I was grateful to get an offer to play there."
Magnuson will officially sign a national letter of intent in the spring. Until then, he will spend time becoming even stronger than he is now.
In his junior season, Magnuson first began getting major-college interest. He played right tackle alongside senior right guard Graham Viggers, and they graded the road to the end zone for star halfback Christian Vasser, who scored five touchdowns and ran for 285 yards on 49 carries in a 35-20 Prep Bowl victory over Champlin Park.
"Graham and I loved blocking for Christian," Magnuson said. "We got on top of our guys and watched him run by."
The magnitude of winning the state Class 6A championship was overwhelming for everyone on the Wayzata team - from Vasser to the outside backs on the kick-off team. And the electricity of playing on a pro field at U.S. Bank Stadium was unforgettable, Magnuson assured.
"It was a great feeling of accomplishment walking off the field that night," Magnuson said. "We finished the season undefeated [13-0]."
This year didn't go quite as well for Wayzata, which finished 3-5 (counting a forfeit win over Burnsville in sectionals). Burnsville had a COVID-19 outbreak that forced the team to cancel out of the playoff opener. Wayzata then played Blaine for the section title and lost a 42-28 decision on Blaine's home field.
Wayzata's main running backs this year, seniors Anthony Richmond and Sean Diedrich, did their best to make up for the graduation loss of Vasser. Richmond and Diedrich are both 5-8, compared to Vasser's 6-2, so they darted in and out between Wayzata's big line that averaged 6-4 per man. In the final stats, Richmond rushed 147 times for 726 yards, an average of 103.7 yards per game. Diedrich had more than 300 yards on the ground and also caught passes out of the backfield, so in the aggregate, the Wayzata backs had better than a 1,000-yard season in only seven games.
"Anthony is a lot like Christian," Magnuson said. "He likes to run after contact. It was fun blocking for the two guys from my class. I grew up with Anthony and Sean."
Wayzata showed a diverse offense this season with a solid rushing game, plus the passing skills of junior quarterback Ryan Harvey, who targeted his favorite receiver, junior Julian Diedrich, for 37 catches, covering 709 yards. Julian scored six touchdowns and gained 101 yards per game. Another capable receiver for the Trojans, senior tight end Luke Bodine, scored three touchdowns.
The biggest win for the Trojans was 19-3 over Minnetonka in the annual battle for the Bay Bell trophy.
After the game, Magnuson called the offensive line together for a photo with the trophy. Magnuson stood in the middle with 6-6, 280-pound senior tackle Alec Rasmussen, who held the trophy. In the old days, someone might have called it a Kodak Moment, but for Magnuson and Rasmussen, it was the sheer pride of a win over Wayzata's neighboring rival.
Magnuson was honored to present the Bay Bell to coach Brown following the victory.
"He has been a great coach for me," Magnuson said. "He always tells us to follow our dreams."
When Magnuson's brother Steven decided not to play football this year, coach Brown kept the message consistent.
"Steven wanted to focus on music, live performances," Tyler said. "Coach Brown encouraged him to follow his dream."