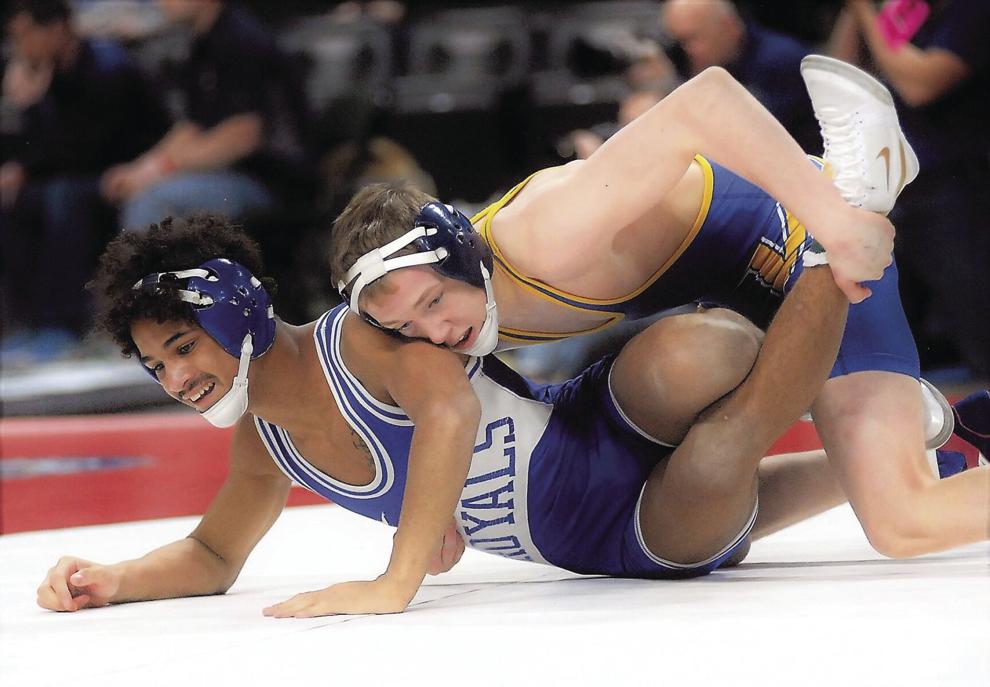 After committing to South Dakota State University earlier this year, Wayzata High state wrestling champion Cael Swensen made it official recently by signing a national letter of intent.
"South Dakota State is building a great program," Swensen said. "There are seven recruits in my [graduating] class, and five of us are ranked nationally."
Swensen, who won the state title at 138 points last season, is not the only Minnesotan headed for South Dakota State. In addition to Swensen, who had a 52-1 record in 2019-20, the Jackrabbits have signed Forest Lake's two-time state champion Derrick Cardinal (47-0 at 126 pounds last season) and Stillwater's state champion Roman Rogotzke (46-4 at 182 pounds).
"I love the coaches at South Dakota State and the school's investment in athletics," said Swensen, who is entering his sixth varsity season with an overall record of 184-37. If he wins 15 matches this season, he will become Wayzata's all-time leader in career wins.
There wasn't much amateur wrestling in Minnesota this summer due to COVID-19 restrictions, however, Swensen found meets out of state. He went undefeated in four dual-meet tournaments and went 8-2 for fifth place at the Super 32 Nationals in Myrtle Beach, South Carolina.
"I was happy to be able to compete, and at the same time, not get sick," Swensen said. "There was no COVID at any of the tournaments I was in. When you wrestle, there is a limited number of people you come in contact with."
Swensen, the son of Wayzata head coach Eric Swensen, has been wrestling almost as long as he has been able to walk. Coach Swensen's other son, Logan, also has a passion for wrestling and could wrestle varsity as an eighth-grader this winter.
Looking forward to collegiate wrestling, Cael Swensen said, "Making the jump to the college level, I know it's going to be more physical. I have to be a lot stronger and also sharpen my technique. Unfortunately, with COVID-19, I couldn't go on any official recruiting visits, but my first choice South Dakota State."
Swensen is looking forward to leading the Wayzata High team this winter. "We're a potential state-championship team," he said.
The Wayzata senior has grown since last year and plans to wrestle at either 152 or 160 this season. "In dual meets I'll go where the team needs me," he said.
In the Section 5AAA finals last year, St. Michael-Albertville won a close decision over Wayzata. "We won eight of the 14 matches, and still lost the meet," Swensen said.
Growing up in the same home as a wrestling coach, it was natural for Swensen to gravitate to the sport.
"My dad and I always talk wrestling at home and we watch wrestling," Swensen said. "My dad helps me and my brother stay motivated. He encourages us to run and go to club practices."
Commenting on the 2020-21 high school season, coach Eric Swensen said, "My goal is to see the kids happy and healthy. I know what the importance of socialization for teenagers is."
Eric is pleased that his eldest son has chosen a college that is fairly close to home. The Swensen family will be able to make the three-hour drive to see some of South Dakota State's weekend meets.
"Cael met one of his goals when he signed his national letter of intent," Eric said. "He is very excited."