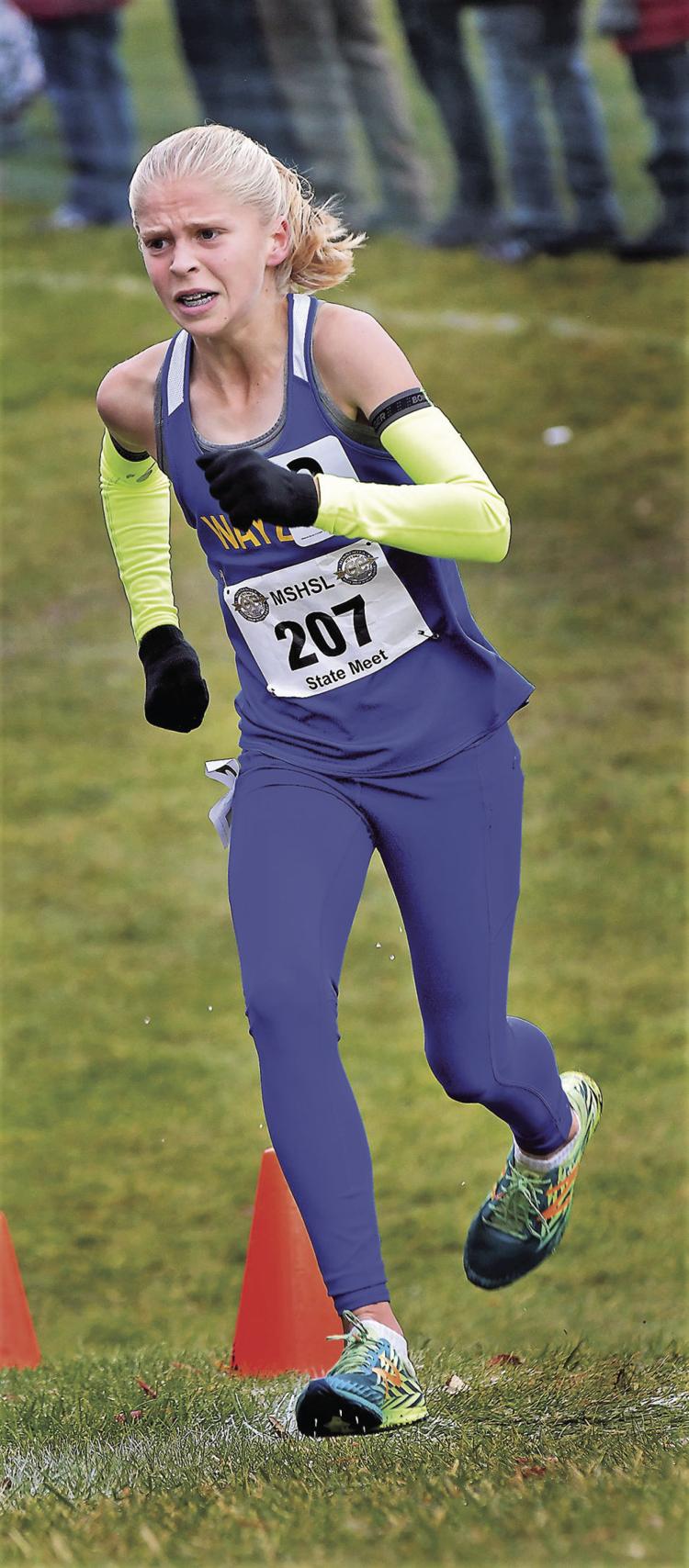 The All-Lake Conference girls cross country team for 2019 is without a doubt the youngest ever with six ninth-graders, two eighth-graders and one seventh-grader.
At the same time, there are only two seniors on the honor list - Liesl Paulsen from Eden Prairie and Morgan Richter from Edina.
Cross country is one Lake Conference sport that goes strictly by the times run in the conference meet, which is held annually at Gale Woods Farm in Minnetrista. Ninth-grader Abbey Nechanicky from Wayzata won that race with a 5K time of 18:09. Two weeks later, she ran 18:00 to win the Section 6AA race at Gale Woods. Ali Weimer of St. Michael-Albertville placed second in the Lake Conference Meet, while Hopkins seventh-grader Sydney Drevlow crossed the finish line in third place.
"Abbey Nechanicky is a champion because of her focus, grit and drive," Wayzata head coach Addy Hallen said. "She ran 18-flat in the section meet, running all alone. Abbey is a team runner."
Nechanicky went on to place second behind Analee Weaver of Stillwater in the State Class AA Meet at St. Olaf College with a career-best time of 17:52.
Edina won the conference title with 48 points to Wayzata's 53. The Hornets had four finishers in the top nine to eke out the narrow victory. Wayzata had five all-conference selections, including three ninth-grade runners.
"We raced with a lot of energy to win the conference, Section 6AA championships and the State Meet," Edina head coach Matt Gabrielson said. "Our girls listened and executed the race plan."
The Hornets dominated the state meet, with two other Lake teams, Wayzata and St. Michael-Albertville, finishing second and third.
Edina's girls went on after the state meet to win the championship at the Nike Heartland Regional in Sioux Falls, South Dakota. Lake Conference runners did well individually in the Heartland Regional, as well, with Eden Prairie's Paulsen, Hopkins' Drevlow and Wayzata's Nechanicky placing in the top 10. Edina's top finishers, Maggie Wagner and Lauren Cossack, placed 20th and 21st.
Wayzata placed third in the Heartland team standings, while Minnetonka made a strong showing to place 10th.
Edina: Senior Morgan Richter, sophomore Maggie Wagner and ninth-graders Lauren Cossack and Mary Velner.
Wayzata: Junior Grace Link, sophomore Ella Braufman and ninth-graders Abbey Nechanicky, Teegan Anderson and Grace Weber.
Minnetonka: Juniors Kate LeBlanc and Anna Cherian and eighth-graders Elizabeth Weider and Ella Graham.
St. Michael-Albertville: Sophomores Ali Weimer and Katie Sigerud and ninth-grader Emma Windingland.
Eden Prairie: Senior Liesl Paulsen.
Hopkins: Seventh-grader Sydney Drevlow.
Edina 48, Wayzata 53, Minnetonka 75, St. Michael-Albertville 88, Eden Prairie 128, Hopkins 135, Buffalo 195.