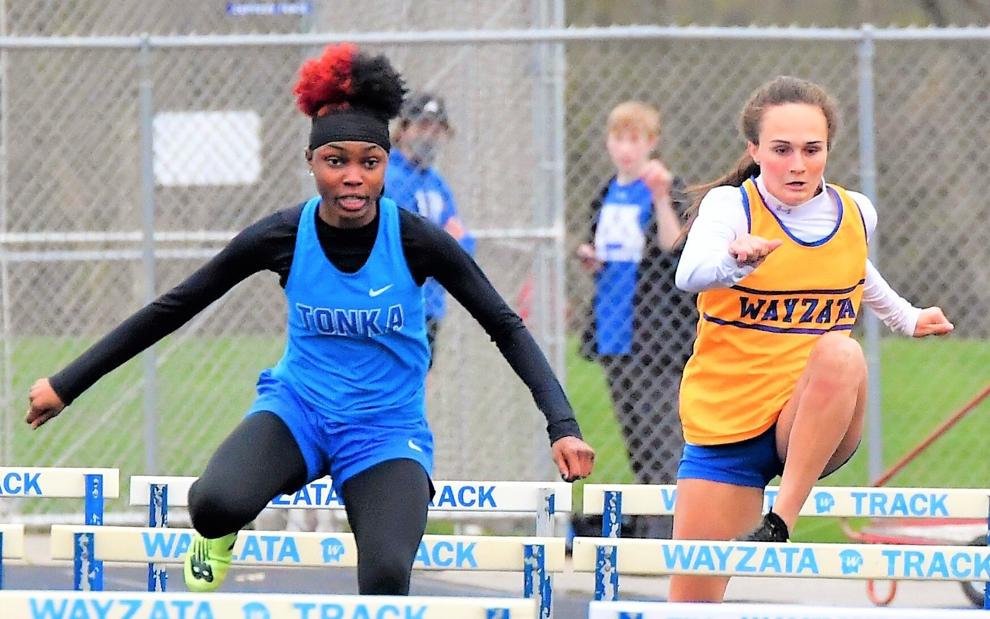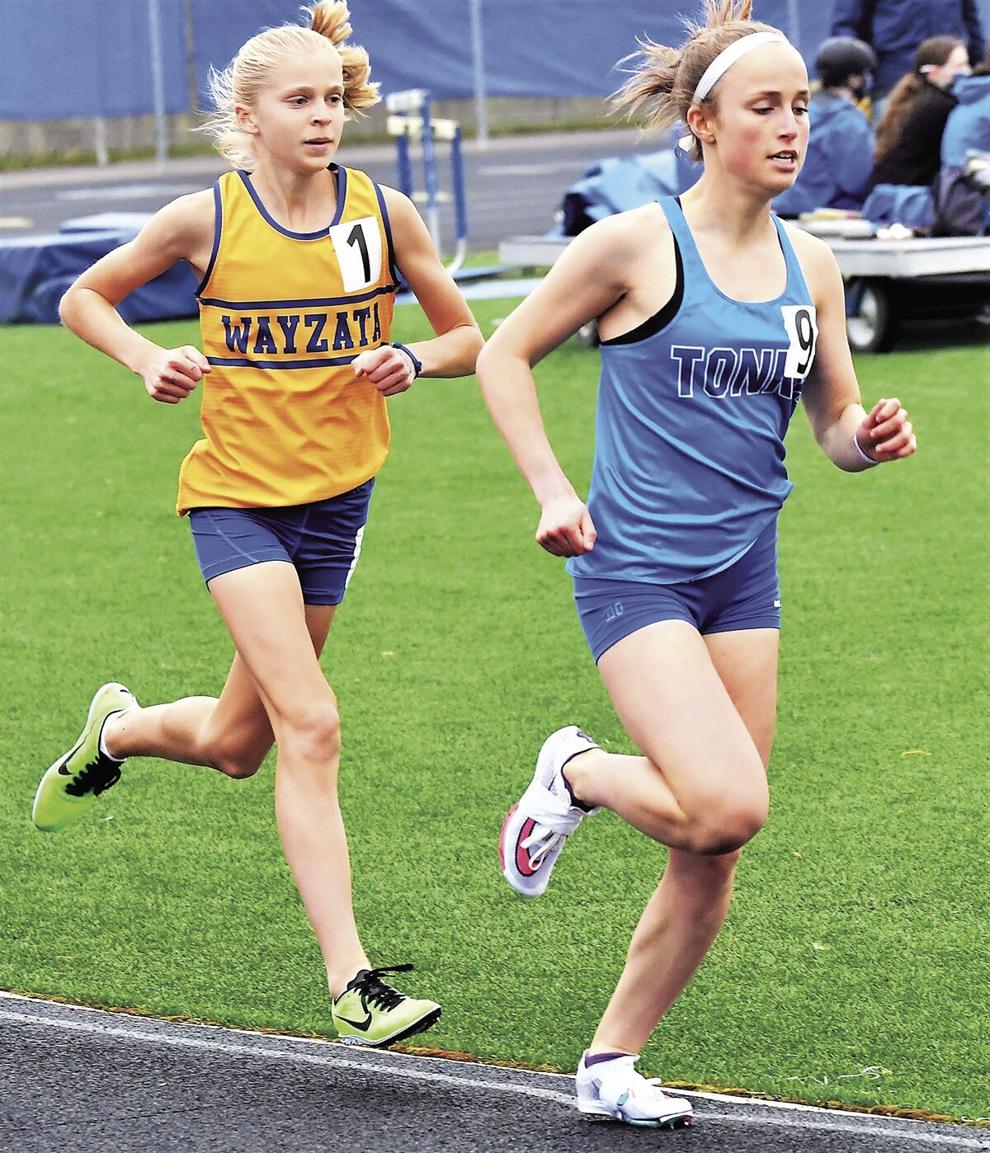 Even at this early point in the 2021 season, it was easy to pinpoint the most anticipated event in the Wayzata-Minnetonka girls track and field meet April 23 at Wayzata.
The mile run, officially called the 1600, featured two of the best sophomore runners in the state - Wayzata's Abbey Nechanicky and Minnetonka's Maya Mor. The two girls ran together for the entire race on Friday, with Mor leading for all but about 40 meters of the race. Nechanicky used a strong finishing kick to pass Mor on the backstretch to break 5 minutes with a time of 4:59.37, while Mor finished in 5:00.80.
Mor was drained, but also excited after the race. She had proved herself. "It is an honor to race against Abbey," she said.
Honors for the day went to Wayzata 86-60. It was the Trojans second win of the Lake season after a victory over Buffalo in the season opener.
"We had a lot of good performances," Wayzata head coach Alicia Pierskalla said. "Miranda Travis went over 6 feet in the shot put, Grace Link ran a fast 400 and we won the 4x800 relay with a good time. And Abbey breaking 5 minutes in the 1600 was also a highlight. Ninth-grader Rose Schaeffel had good 100 and 200 races. Mini Jallah had a fast time to win the 100."
The 13.08 that Jallah ran in the 100 put her in the next tier of the Lake Conference behind All-State runner Maddie Dahlien of Edina. Ava Cortright of Wayzata was second in the 100 on Friday with a time of 13.42. Third place went to Wayzata's Zolia Dabet. Wayzata finished 1-2 in the 200-meter dahs with Ava Mateega and Schaeffel. Claire Kohler and Lucy Hiller of Minnetonka finished third and fourth.
Grace Weber won the 400 for Wayzata in 1:00.19. Mara Gillem of Wayzata took second and Ella Graham of Minnetonka ran third. In the 800, Lauren McCollor and Emilia Arnone of Wayzata finished 1-2 and Kira Leblanc of Minnetonka was third.
Anna Cherian and Kate Mindak of Minnetonka were 1-2 finishers in the 3200 with Cherian running 11:50.55. Greta Herbeck and Madison Jacklitch of Wayzata were third and fourth.
Wayzata won three of the four relay races, yielding to Minnetonka only in the 4x400.
Minnetonka won both hurdles events. Minnetonka sophomores Ruby Pajibo and Ashlyn Baker were 1-2 in the 100s, while third and fourth places went to Brianna Monahan and Allie Barrett of Wayzata. Pajibo's winning time was 16.47.
Ninth-grader Claire Kohler of Minnetonka won the 300s in 49.15. Barrett of Wayzata was second and Pajibo of Minnetonka was third.
Travis of Wayzata won the discus with a best of 36 feet, 1/2 inch. Stella Knight of Wayzata placed second and Minnetonka earned third and fourth places with Lily Peterson and Elaine Olson.
Emma Hawkinson of Wayzata won the discus with a best of 106-8. Minnetonka's Peterson and Wayzata's Travis placed second and third.
Minnetonka ninth-graders Kira Leblanc and Mya Folken tied for first in the high jump at 4 feet, 10 inches. Bryn Senske of the Skippers was third and Kailee Kohrt of Wayzata placed fourth.
Molly Lund of Minnetonka won the pole vault with Mara Prochaska, Kalea Dale and Kenzie Jorgensen placing 2-3-4 for Wayzata.
Wayzata's Kohrt won the long jump with a best of 16 feet, 1/2 inch. Minnetonka's Pajibo and Hiller were second and third and Wayzata's Kendel Vanterpool took fourth.
Minnetonka's Anna Shoemaker was first in the triple jump with a best of 31 feet, 5 inches. Wayzata's Vanterpool and Kate Adams finished second and third and Senske of Minnetonka was fourth.