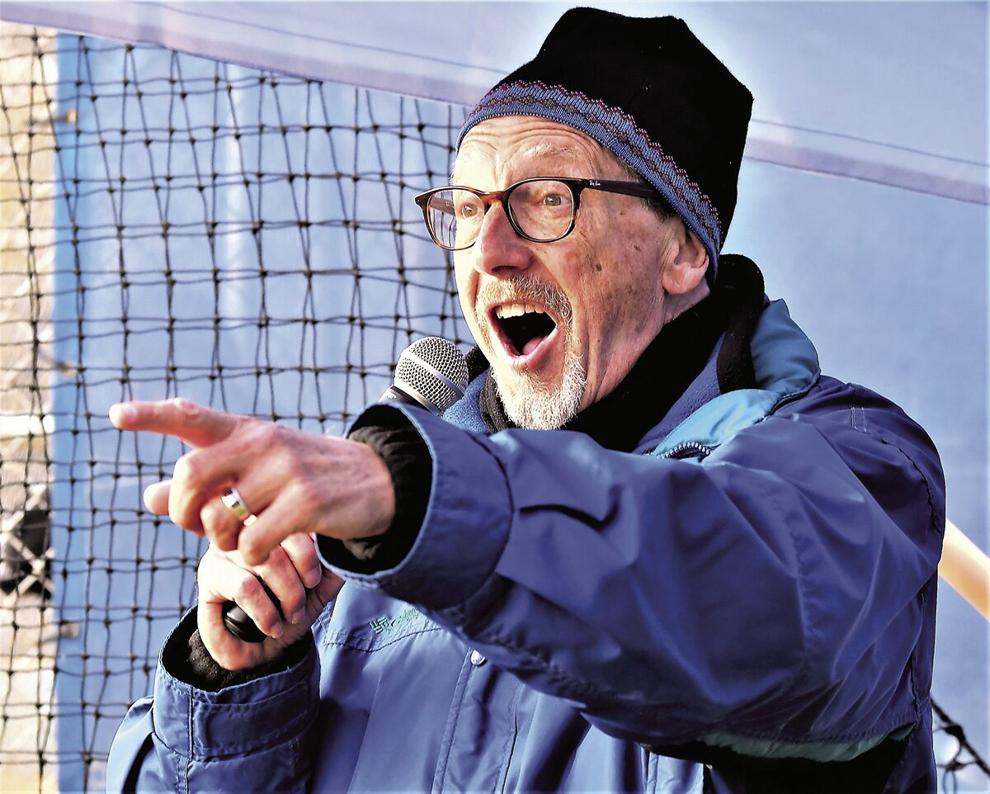 Most high schools in Minnesota are fortunate if they have one exceptional public address announcer in their athletic program, but Minnetonka is blessed with two - and at times - three.
Tony DeLorenzo and Greg Lincoln do the lions' share of the announcing, with Dave Langholz helping out during hockey season.
DeLorenzo, a Minnetonka High English teacher for 27 years, is one of Minnesota's most accomplished sports announcers. In addition to working at Minnetonka, he has announced for the Minnesota United Football Club (professional soccer) since 2013. He is also the super-sub announcer at the University of Minnesota for a variety of sports, including men's and women's basketball and baseball, and is the main announcer for Gopher women's soccer.
Lincoln, who has a background in advertising and marketing, became Minnetonka's soccer announcer 12 years ago when his son played for the Skippers. He has since branched out to announce for wide array of Skipper sports teams, including both soccer squads, both lacrosse squads, girls softball and boys hockey.
DeLorenzo started as the Skippers' football announcer, at the request of Tonka's hall-of-fame coach Dave Nelson. Shortly thereafter, he branched out to add a variety of sports - baseball, boys and girls basketball and girls volleyball.
Langholz, Edina's "Voice of Braemar" for almost 40 years, announces girls hockey at Minnetonka and occasionally takes on a boys assignment in relief of Lincoln.
"Tony sets the tone for announcing in the Minnetonka program," Lincoln said recently. "I am unbelievably happy to have the opportunity to partner with him. There are times when he covers for me or I cover for him."
DeLorenzo said he and Lincoln get along so well because of their shared passion for announcing.
"Greg is the real deal," DeLorenzo observed. "He walks into every game ready to give his best effort. Announcing gives us an opportunity to participate in sports in a unique way. I just enjoy being a part of it - to work in a great community like Minnetonka."
DeLorenzo has not coached athletics, but he did coach debate and speech earlier in his Minnetonka teaching career. "But I left those roles and sought another way to participate in the school through activities. I was never much of an athlete, as I found my strengths in the performing arts. But I was always a sports fan. As an announcer, I have been somewhat of a super fan. Announcing has helped me connect with students outside of the classroom and play a unique role for those in the Minnetonka community."
Greg Lincoln first became a Minnetonka announcer the night before the first game of the soccer season 12 years ago. Skipper boys coach Mike Rogers asked if any of the parents would be interested in announcing at the games, and Lincoln raised his hand. "Sure, why not?" he said.
He has been a fixture on the mic ever since.
"At first I thought I was volunteering," Lincoln recalled. "Then coach Rogers told me, 'You'll be employed by the Minnetonka athletic department.'" Checks have been coming ever since.
Neither DeLorenzo nor Lincoln announce for the money. They do it because they love sports.
"Tony and I have different styles," Lincoln said. "He has that big voice [and announces theatrically]. My style is more conversational."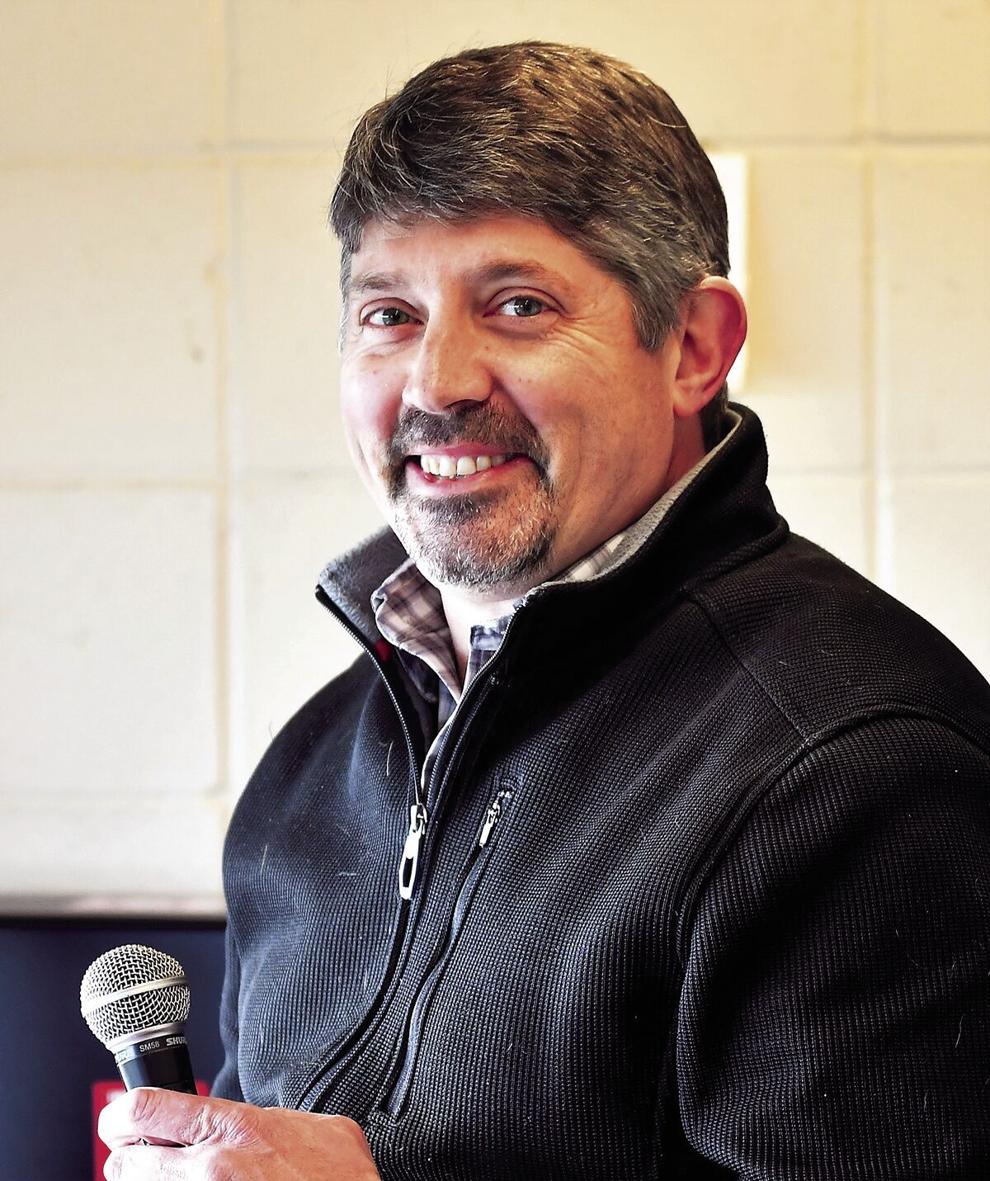 Each of the two has a signature call that fans wait to hear.
Lincoln opens each Minnetonka soccer match with his favorite line: "It's time to play the beautiful game."
When he's announcing football, DeLorenzo engages the crowd with his signature call. He says, "And that's another Minnetonka Skipper _____________." And the fans add in unison, "First Down!"
Other schools have tried to replicate that call, but lack DeLorenzo's timing and finesse. He is often imitated, never duplicated.
DeLorenzo lives for nights when the Skippers make 25 first downs. He likes it when Tonka moves the ball 10 yards at a time, but he also loves making the call when the Skippers score on a long run or a long pass.
At a girls softball game against Wayzata this spring, Minnetonka ninth-grade center fielder Izzy Guttenfelder hit a home run in the bottom of the seventh to give her team a 6-5 win.
Instead of calling the play immediately, Lincoln let the fans cheer as Izzy rounded the bases. In short, he let the action speak for itself.
When the cheering died down, Lincoln announced, "That home run by Izzy Guttenfelder ends a well-played game between two quality Lake Conference teams."
Lincoln is always complimentary to both teams. As intense as the boys soccer rivalry is between Minnetonka and Edina, the Hornets always get a fair shake from Lincoln when they visit Minnetonka's Field of Dreams.
After one game two years ago, an Edina parent said, "It's refreshing to go to an away game and not get booed. The announcer here calls it down the middle and gives both teams equal credit."
"To me, it's more about the competition that about winning," Lincoln said. "When I announce a soccer game - that might have only two or three goals scored in 80 minutes - I try to call out the great plays."
Explaining his respect for visiting teams, Lincoln said, "I want to treat the visitors the way we'd like to be treated when we go on the road."
Lincoln, like DeLorenzo, is so passionate about announcing that he will take on any assignment.
"I have announced semi-professional football and soccer games and a few college baseball games," Lincoln said. "On the other end of the scale, I announced a church kickball game last year. One of my favorite assignments was working all day for Breakdown Basketball. Seven games in a row made it a long day."
There is no end in sight for either of Minnetonka's main announcers.
"My personality is to go all-in," DeLorenzo said. "I'm always having fun, doing what I like to do. I haven't missed a Minnesota United game in seven years. It is a privilege working at Minnetonka football games where the crowd is right in front of me."
DeLorenzo announced all of the Minnetonka High baseball home games this season and marveled at the way the Skippers rebounded from a 2-5 start to make the final four in the State Class AAAA Tournament.
"That's the special thing about sports," he said. "It's so much fun when everything comes together."